Midwest MTB Racing Report
August is probably the busiest month on the calendar for mountain bike racers in the Midwest. Doesn't get much better with series action at the boiling point, riders in all classes battling for precious points, bootleg races providing the old school feel, epic point to points dotting the calendar and a handful of tough Midwesterners venturing west for races like Leadville 100 and the Breck Epic. This weeks report includes recaps from Black's Grove River Crossing, both series races in Minnesota and Wisconsin, high school highlights from this growing and exciting program and a look head.
Black's Grove River Crossing
Saturday morning my youngest son Jens and I made the hour journey to the Wadena area to compete in the Black's Grove River Crossing MTB race. I had been here once before in the late fall when a beautiful thin layer of ice and snow coated the trails making riding conditions even more awesome. I was looking forward to a return trip and the race provided a great opportunity to check out the trails in race mode that were in immaculate condition, thanks to fine tune care by the Black's Grove Mountain bikers, who take great pride in their secret mountain bike venue, just minutes from the busy nearby highway 10.
Entering "Blacks", one is greeted by towering old growth spruce trees that edge a gently flowing river, providing a scenic peaceful venue. Jenses race was first at 9:30 and he lined up with a handful of other whippersnappers to take on a 5 mile course. The kids did a loop in the park which allowed parents to take in the action before they disappeared into the woods via fast twisty singletrack. Upon completing a loop in the woods, they popped back out to cross the river over a bridge and head to the finish line. Jens had a blast and was ready for more racing back on the way home.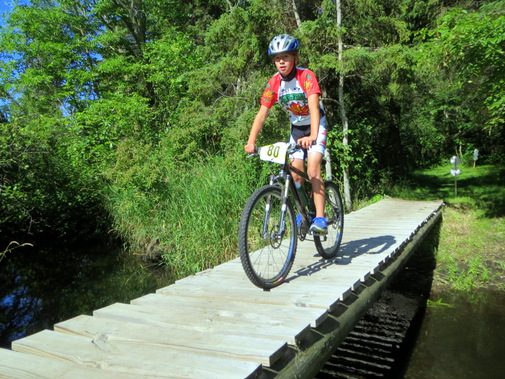 The turnout was light but the riders in attendance were eager as the second race took off at 10:30. The pre-race warm up for me included riding through a auction site and through a barn that was live! Off the start, I rolled through the start loop in the park with David Jenson hot on the wheel as we made our way to the technical singletrack. Once on track, the course required constant attention with quick ups, downs and sudden, unexpected changes in the course. There is a section named "tight and twisty" that defines the term to perfection. For maybe 3-4 minutes, the hand is gripping the rear brake to keep the speeds contain in the single digits, only releasing when there is a small area to roll faster. Other highlights of the course included bumpy rootsy off camber sections with multiple makeshift bridges.
The course (and race) reminded me of many of the mountain bike races I first participated in when I started racing back in the early 90's. It was disappointing not to see more riders from the northwest as the day was as good as it gets and hard to turn down racing opportunity just a short distance away on a most challenging course.
Photoset:
Blacks Grove Crossing
23 photos
( )
Border Crossing
Racers in the Minnesota series jumped across the river to compete at the ultra-tuned White Tail Ridge that presented riders with dusty conditions. Large fields dominated the venue and the Elite fields posted a rare larger turnout than the Wisconsin series! The Sport results caught my attention as well as four riders in the top 10 were 16 and under including 15 year old Samuel Olson taking the win. Burnsville high school product Jordan Horner made it four in a row, taking the win in a tough female sport class and provides a nice report from the day:
The Horner family had to wake up pretty early to get to White Tail Ridge in time for my brother Wyatt's race. That's a price of having everyone in the family race I guess. But that morning I could tell it was going to be a beautiful day. Overcast and the perfect temperature, though some people might say it was too cold for summer!
Kids comp had a great sized field with 31 kids in all! It was a blast seeing the kids sprint of the line to the huge hill. My dad rode with Wyatt to give him some pointers along the way, but said he didn't need many! We watched as Henry and Leo came flying into the finish, and were excited to see Andrew come through and Wyatt sprinting to catch up! He ended up 4th overall and 3rd in his age group because the 9-10 class is so strong!
My brother Devon and sister Taylor were up next in the citizen class. Watching them was a blast as well! Devon came through looking strong and ready for another insane lap. Taylor came through looking good but pretty tired, then my dad noticed she was in her big ring and let her know! After the race she told us she had done her whole first lap including the first hill in her big ring, and was super happy because she made it up everything! Devon ended up 24th overall and 1st in his age group, where Taylor placed 13th for the ladies and 1st in her age group.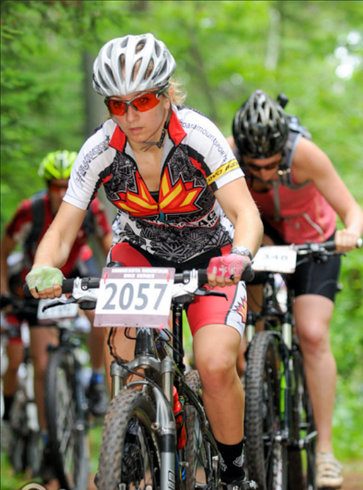 After asking them how it went it was time for me and my mom to go warm up! The warm up came with a couple of scares and freaking out while my dad got tools out to pull my bike apart! I got to the start line with my blood pumping and heart racing from nerves, and it only got worse when I saw the number of ladies there were! I say there trying to remember the last race I saw 25 women at the line! The next thing i remember is the whistle blowing and we were all sprinting to the hill. I got settled into a rythm up the hill while people told me I had a good lead, but when I looked back Cori was right on my tail. I knew that I would have to fight a little harder for first this time. She definitely gave me a run for my money. We went back and forth the whole first lap until I decided to go harder up the climb the second time around, that put a little gap between us and I knew I just had to ride a clean second lap. I manage that until one of the last corners when I wiped out hard! Took a dust bath, and got the wind knocked out of me but I knew I had to get back on and go! As I went through that silly pinwheel of death I saw Cori come out of the woods and heard my dad yelling at me to sprint to the finish, I knew I had it but I did anyway. I cooled down around the finish to watch my mom come in 5th overall. Then went to clean my mess off before watching my dad go out in the comp race.
He started fast and clean but mid-pack, he looked strong and ready! We stayed on the hill to watch the other waves go off, watched Lucas Hieb ease up that first hill with his wave chasing after him! Dad came through onto the second lap with only one comp guy ahead of him, we cheered him up the hill and didn't have to wait too long to cheer on Lucas and then run to our awards. Going to their last lap the order didn't change much except Lucas had passed a bunch of guys, they both looked strong but ready to be done! My dad finished 10th overall and 1st in his age group, and Lucas placed 3rd overall and 1st in his age group!
The day was filled with great racing and we thank KORC for the great trail and putting on a great race!
Sunburst Showdown
Another good "Showdown" in the WORS series as riders shredded the course at Sunburst. Elite rider Brian Matter reports on his blog:
Another good battle took place at the WORS Sunburst Showdown yesterday. This time it was myself, Cole House, Tristan Schouten, and a dangling Joe Maloney. Tristan was off the front early after Cole took an early spill and then Corey Stelljes took an early spill that had me chasing for the first two laps. Finally was able to close the gap at the end of the 2nd lap w/ Cole who then took over at the start of the 3rd lap. Cole had the pressure on up the steep climbs, but was racing with no rear brake on a tight course so was limited on the descents.
Singletrack Times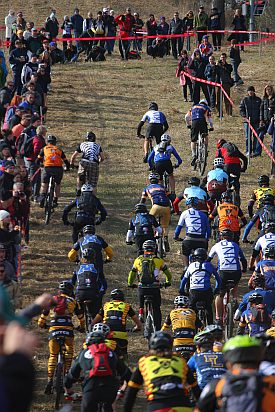 The growth and energy of high school racing in Minnesota is quite exciting. I think it is safe to say we are already seeing the affect of the surge in youth racing in Minnesota as the result sheets from the Minnesota Series is peppered nicely with jr riders from Citizen on up to Elite who raced the inaugural high school season last year. It will be interesting to see where some of these riders go with their cycling after high school. When my son Jake was racing Juniors on the National scene, I was concerned and raised voice to officials that the distances and times were too long and kids would not hang on. I think locally the understanding is races need to be short, fast and intense much like high school Nordic skiing and cross country running where finishing times are in the 12 to 20 minute range. As a ski resort owner, I am tinkled pink by the growth in Nordic skiing and see this happening with mountain biking as is happening in the metro right now.
Gary Sjoquist, president of the Minnesota High School Cycling league, highlights the exciting new events happening this season in the latest edition of the Singletrack times. One item to note is the last Thursday night at Buck is happening this week and proceeds will go towards the cycling league, thanks to Penn Cycle. I wished I lived closer to Buck so I could race Thursday.
Riding in the White Earth State Forest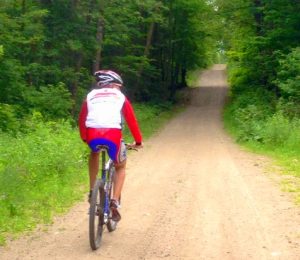 Sunday I had thoughts of heading down to River Falls but opted a day with the family near Naytauwaush on south twin lake. Like I have been doing the past 23 years, I took time to sneak a few rides on my favorite routes including a ride with son Jon, in the White Earth State Forest. The roads and trails have certainly changed over the years with simple quadlike trails not being visited very often to now seeing traffic on a regular basis by atv enthusiasts. Also, many of the forest roads have been upgraded to provide a nice surface for the snow which to fall upon so the snowmobile trails can be the best possible in the winter time for winter travel.
One of the favorite routes is the west to east running Norris trail which starts from a low point of 1500ft and eventually climbs over rolling wooded terrain to a high point of almost 2000ft. Needless to say, the ride going back to the low point is a load of fun with high speeds and interesting corners and turns. The more open forest roads you can really get moving and a 29er would probably feel like they had walked in to a candy store. Jonell and I have put some miles on the tandem in years past and the long downhills that seem to go on forever probably best traveled with the tandem.
A few years back, I led a ride from Pinehurst Resort to Maplelag Resort with thoughts of one day running a point to point race. The thinking now is to run gravel grinder type event with many possible scenarios for a 25 to 100 mile event on the awesome network of trails which sits just west of Itasca State park.
I always say this is perfect training for Chequamegon with very similar riding to that found in the Chequamegon Short and Fat and Fat Tire 40 races. If you are ever in the area, be sure to check it out. I have found the snowmobile maps available at Pinehurst resort to be a nice guide but like most trail areas, I just head out and ride until it all make sense.
Looking Ahead
A second round of racing this year at Cuyuna as riders tackle up to 100 miles of purpose built riding with other shorter options and team categories for those not going huge on the solo attempt. As of press time, 129 riders had been registered with still some openings. All proceeds to benefit the Minnesota Off Road Cyclists.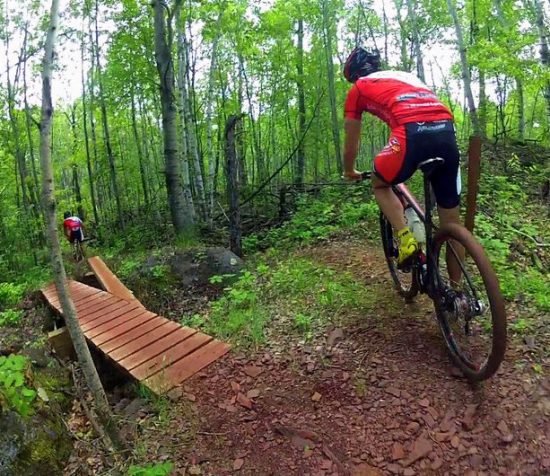 The popular point to point race in the UP of Michigan traverses a wide variety of trail including ripping fast atv and forest roads to rocky bedrock hike a bike sections and eventually making way to Marquette via the Noquemegon ski trails.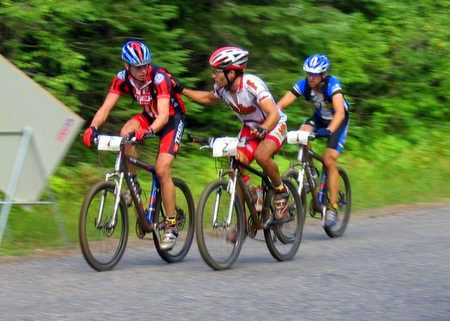 Always drawing a strong crowd from the Midwest, the Leadville 100 includes a hundred miles across the high-altitude, extreme terrain of the Colorado Rockies. The event is celebrating their 20th anniversary in 2013, created "for only the most determined athletes". The race starts at 10,152 feet and climbs to 12,424 feet
The third running of The Flugly will take place on August 24th with a time trial added for the 23rd. The concept started 4 years ago by a few guys who thought, let's make a mountain bike trail in the flattest place in the upper Midwest. Better yet, let's have a race! And so it was born. The Flugly which stands for "Flat and Ugly". The trail is mainly singletrack with short punchy climbs. Flowy pump sections combine with banked corners and tacky soil to provide for fast ride.
Race organizers from Seely touched base with the skinnyski headquarters to report all systems go and in place for another great Seely Pre-Fat. A great tuneup for the big Chequemegon fast approaching!
Keep the wheels moving!
About the author...

Jay Richards maintains a very active lifestyle. He somehow finds time between managing a full-time resort (Maplelag) and bringing up a family of four boys with his wife Jonell, to compete in both mountain bike and a few cross-country ski races. Jay rides for Maplelag Resort, manages the Maplelag/Paramount mountain bike team and enters his 23rd year of racing and promoting mountain bike races.