Midwest MTB Racing Report
A busy weekend of mountain bike racing in the books as warm weather returned adding an extra challenge for some events. This weeks report includes a report from the hot Mah Day Hey 100, the Dirt Spanker Classic, SSUSA, and the Gear Grinder in North Dakota.
Mah Day Hey 100
Talking to riders before the heat about the Mah Day Hey, the distance of 100 miles of riding in the badlands of North Dakota wasn't so much the challenge but the forecasted heat that has been absent most of the summer. Sure enough, the blazing sun and temps reaching over 100 degrees took its toll on the field as race organizers were forced to call the race at the 80 mile mark. Brendan Moore was up in the mix with the leaders but was one of the riders giving in to the heat despite riding over 100 miles! I have to give a shout out to everyone involved with this event from the participants, organizers and support staff. Tough stuff!
Matt Engen provide a nice recap:
The second annual Maah Daah Hey 100 is in the books. Nick Ybarra and crew did an amazing job of mowing and marking the trail. The heat was the biggest issue this year. My Garmin read a high of 100 degrees.
A total of 160 rider participated, of which 96 rode solo. Of the 96 solo riders only 15 finished the race. Dave Simmons was the only Maplelag rider to make it the entire distance in 16 hours and 15 minutes. Greg Ames, Jeff Beck and myself all succumbed to the heat.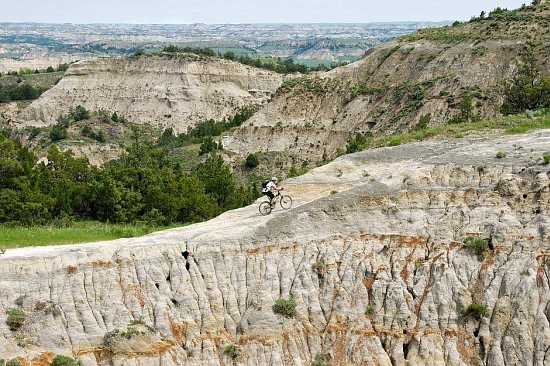 The race started at 5am on Saturday, August 17th. Temp was already in the mid sixties. The first 25 mile to checkpoint 1 are the furthest north and the least traveled and maintained. There were a handful of creek crossings and a five mile section of cow trampled trail but the first 25 miles went by fast. The second leg to checkpoint 2 was in very good condition and flew by ending at the top of a steep switchback right after wading across the Little Missouri River. The third and longest section was well marked. There were a few hike-a-bike sections where mudslides had occurred. The biggest issues was now the heat. With temps exceeding 90 degrees and not much cover riders started to drop like fly's. From checkpoint 3 (the final aid station) to the finish at Dakota Cyclery in downtown Medora was approximately 25 miles. Total mileage was 104 miles with over 11,000 ft of climbing. There were three ambulance calls for dehydration but everyone was accounted for and safe. Scary stuff but Nick and crew did a fantastic job putting on one of the toughest races around.
Men's Solo:
1st - Michael McCalla 10h 13m
2nd - Erik Tonkin 10h 15m
3rd - Kelly Magelky 11h 12m
Ladies Solo:
Chelsey Magness 14h 21m
I heard talk of singlespeed gatherings near Winona before the weekend but didn't know much about what was going on until the weekend when the social networks heated up. Josh Bauer provides a report:
Single Speed USA was a good punishment that made for an exciting day. All the racers received an email a few days before the event telling us what to expect. Email said that it would be a 35+ mile race with 4000+ feet of climbing and they expected riders to be out on the course for 3-5 hours. As riding a single speed you stress about what gear you want to ride, especially with that much climbing. I opted to go with a 2 to 1 ratio…32x18. We made the decision to drive down the morning of which would haunt later in the day. Entering into Winona there was thick fog coming off the river and a bit of a chill the air but felt like it would be a phenomenal day for racing a bike.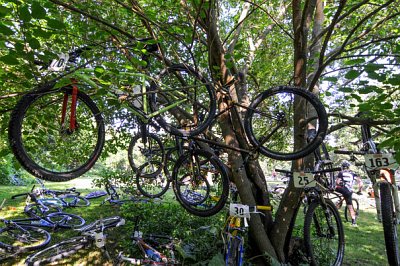 I strapped on my shoes and zipped up my skin suit and headed to the racers meeting at 9:30. After the racers meeting we had to drop off our bikes and get ready for a Le Mans start. We all dropped our bikes off in a park and then walked back to the Holzinger Lodge where we stood on the start line ready for the final go. The National Anthem was sang and the countdown began. Off the racers went. We had to run about a quarter mile of single track to get to the park where our bikes were ready to punish dirt. I had a good start on the run sitting in about second or third, I ran to where my bike was supposed to be but it was no longer there, something about bike elves. Apparently most bikes we rearranged. I searched and searched but couldn't find it. Seemed like an eternity but it was less than a minute. I heard someone say "check the trees" my bike was hanging in a tree. I yanked it down as hard as I could, clipped into my full rigid steel 29er and started to pedal.
We started out on some rolling double track. The pace was very fast and I was feeling good getting passed by some and passing some others. The first initial climb was steep and hard to pedal, it ended up causing a bottle neck and it was hike a bike we go. Finally getting to a much easier place to pedal we clipped in and we were off again. Flowing through single track we reached a grassy descent. A good minute or two on the brakes screaming down this hill.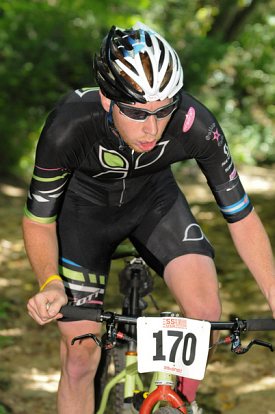 At the bottom of the descent we reached a road. This four mile road connected us between the bluffs. I was all alone spinning as fast as I could to catch up to the group that was ahead of me trying to keep composure. We hit Cherry Hill which was a very long gravel and rocky climb. The group ahead of me had a 20 second gap on me. I put in a huge effort and caught them on the climb. This group hammered up the climb and I found myself with fellow THC teammate Barry Tungseth. Barry grabbed my wheel along with Joshua Blum and we put on the hurt ripping through double track and singletrack. I bridged a gap on those two and it was onto another climb, NSP. I could only ride a little bit of it before my legs could not spin anymore. Time to hike a bike again, started chatting with other racers to take my mind off the pain in the calves. We reached the top and it was onto Sugar Loaf bluff, yet another climb. The descent on Sugar Loaf was the hardest descent I've ever done before, sandy, rocky and very steep drops and after riding 25 miles my arms were turning to jello from riding rigid. There were two options you had, not to hurt yourself or ride it; I chose not to hurt myself so walked down the gnarliest part. That put us on the road back to the Holizinger Lodge. Me and two other riders arrived at the Lodge after riding and working together on the road to realize we only had a lap at Holzinger left and it was on. I was sitting in 14th overall according to a reliable source, my mom. I road with the two others as long as I could but fatigue was starting to set in, food management because of the early (Photos: Todd Bauer)

I have never climbed on bike as much as I did for SSUSA but I'm glad I got to do it on a single speed. Congrats to Twin Six riders Jesse LaLonde and Danielle Musto for amazing 1st place finishes and to my teammate Devin Curran on his 4th place finish and all other teammates for showing up and representing Team Hollywood Cycles. I want to thank all the volunteers and Winona for making it such amazing event! Also, thanks SSUSA for making the suffer fest one of the best and memorable days I've had on a bike. As gruesome as the race was I still had a smile on my face the whole time, I got to meet a lot of great people from around the nation and some really strong Minnesota dudes I've never raced against. I'm looking forward to Michigan in 2014!Minneapolis departure. I had eaten all my energy, so I chugged water to help prevent my body shutting down. I road through the climb as long as I could and ended up having to pull off the side. Riders passing I asked for food or water, I got a bar from another rider, thanks dude. Things slowly started coming together and was close to finishing. It was only one more descent to the finish all I needed to do was keep it together and I could eat. Made it safely and crossed the finish line in 25th.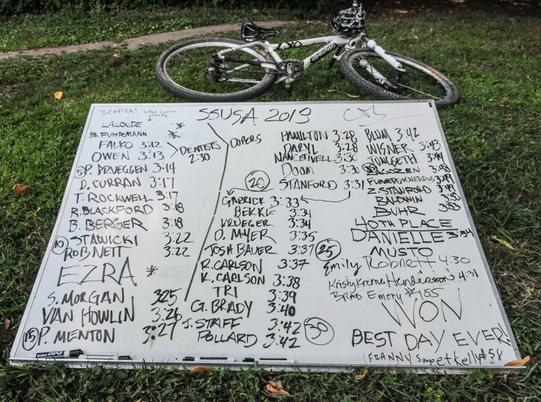 Dirt Spanker Classic
Sunday morning I made the trek east with my son Jack to hit up the slopes of Mon Du Lac for the Dirt Spanker Classic. I was lucky enough to participate in the first Dirt Spanker back in the 90's which featured some switchback climbing on the ski slopes followed by some sweet rolling singletrack "up on top" This years version included the trademark climb straight to the top followed by the rolling singletrack...with new section of trail added for 2013. The main change I noticed since racing here last were the added berms on the downhills with a bit more twisty and turning instead of the bomber ridgeline descent. The course at Mon Du Lac is what I call a "true" mountain bike race. With around 600 feet of climbing per lap, fast flowing singletrack with berms, pump sections and roots requiring constant attention, it truly tests a riders all around skills. Great stuff.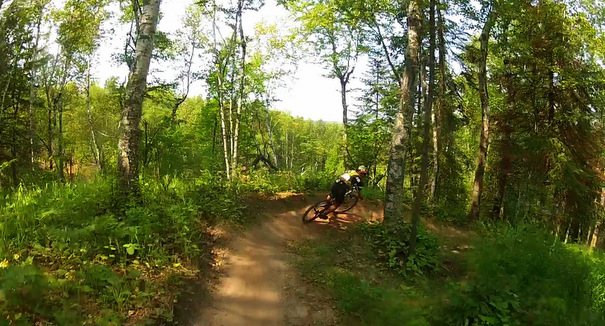 Once again there was a solid expert field with over 40 riders on the line. Off the start, Paul Hanson, Mason Bacso, Eric Thompson and Jesse Rients to name a few sprinted to the front. The field was quickly strung out on the half mile climb as riders jockeyed for position. Once on top, a quick descent that was super dry and filled with 6 inches of powdery dust at the bottom, greeted riders before a short quick climb to the "fun stuff". I took an outside line trying to get around someone at the bottom of quick descent only to find myself weaving around like a drunken sailor. Managed to hold it together and settle in with a group on the singletrack.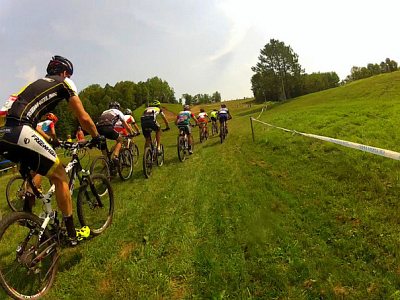 After the climb, riders agreed the nature of the singltrack was a matter of keeping in control, flowing smooth. One of the riders in my group, Jeff Colbert, turned his front wheel just a tad too much and the nearest poplar took advantage and karate chopped his wheel, cracking it in two and race done. Our group continued along with Jan Rybar thriving on rim brakes "I betz thezes iz za only bike in zee 500 mile radiuz with rim brakez" Jan said afterwards. Unfortunately the brakes didn't prevent Jan from going through a section of trail that had the taped blasted off. Eric Oftedahl behind realized we needed to turn around and go back. At the same point, I lost my water bottle and found myself disconnected from the group but wasn't concerned as I would try to bridge back up on the soon approaching climb.
I was never able to bridge back up but road with different riders before latching on to Josh Bauer for the last lap. I rode the wheel of Josh the first half of the singletrack than he let me go by and I pulled him the second half. As expected, Josh made a move at the bottom of the climb before descending to the finish, as he caught a few riders on the last climb in the process. Nicely done considering he put in some nice racing miles the day before! The descents were a bit dicey for me as I had air in my hydraulic brake line and some downhills my lever was pulled to the bar but not braking!
All in all a great day of racing with the warm sun beating down on the the climb making it feel like summer. Thanks to the organizers, volunteers and racers making it happen and a big thanks to my son Jack doing water handoffs and Matt Johnson for the nice refresh climbing up.
Gear Grinder
The Pipestem Dam near Jamestown was host to the Gear Grinder, a annual mountain bike event on the specifically built trails in and out of the coulees. Tom Heilman provides a quick recap:
It was the best of days it was the worst of days. I think that can sum up the weekend for a lot of riders after the stretch of acclimating to temps in the 60s and 70s only to suddenly thrust back into the race season full heat and full humidity.
The 2013 Gear Grinder was a well attended, well organized event with multiple race categories and age divisions. For those who haven't ridden the Pipestem Creek trail, it's a solid mix of varying terrain with everything from gravel to sweeping open prairie to treed riding to steep lung busting climbs. It was a mass start as typical with many XC races. The pace started of pretty manageable with a group of about 10 riders packed up heading north on a gravel road leading to the start of first section of open prairie singletrack.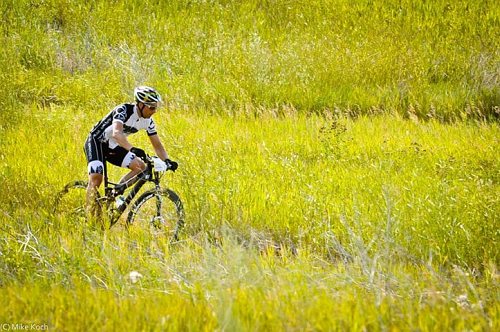 The Epic team was well represented with 4 racers in the group and working together. I was content just sitting and keeping pace knowing the course would eventually get challenging and a person would need some gas in the tank down the stretch. About 6 miles two Epic riders broke off and I followed. It was a small gap but growing. A dip down into some tight treed areas allowed for me to feel at home and put forth little energy and still stay with the lead group. On the next steep climb one of the Epic guys (weighing about 120lbs wet) flew off the front and pretty stayed off for the next hour of racing and won. As for me I stayed in second for quite and felt great but a steep climb followed by a blind tree which I throttled just took me out of the race. Not sure if it was overheating or concussion, but the inability to produce any wattage and a total loss of whits ends a race pretty quickly. So for me it was the best of days, it was the worst of days. Nonetheless, it was another fun day on the bike and great seeing many local friends. (Photo: Mike Koch)
Looking Ahead
The Flugly which stands for "Flat and Ugly", is "the premier MTB race in the Fargo Moorhead [immediate] area. In all seriousness, it's a real good time and the riding is a blast," reports Tom Heilman. The trail is mainly singletrack with short punchy climbs. Flowy pump sections combine with banked corners and tacky soil to provide for fast ride. I had a chance to check out the track a few weekends ago and indeed, it is fast and surprisingly good fun along the shores of the mighty Red River.
Conditions looking dry and fast for racing in the Chequemgon forest. Tom Gaier reports a change in the classes with a fat bike category added to all citizen, sport, comp/expert races. If someone has signed up and would like to switch, we can do that, states Tom.
The "Ramble" is definitely a bit different than other WORS events with longer laps containing a mix of single track, double track…..and the energy zapping rolling hills that have become a must have feature of the Reforestation Ramble. "The laps are fast, the single track flows, the double track is wide open…..the speed trap will be in full effect and pack racing may just be the ticket…..if you can hold on to the wheel in front of you?" reports race organizers. The late August date serves as a nice warm-up for the Chequamegon 40, which takes place just a few weeks after the Ramble.
Keep the wheels moving!
About the author...

Jay Richards maintains a very active lifestyle. He somehow finds time between managing a full-time resort (Maplelag) and bringing up a family of four boys with his wife Jonell, to compete in both mountain bike and a few cross-country ski races. Jay rides for Maplelag Resort, manages the Maplelag/Paramount mountain bike team and enters his 23rd year of racing and promoting mountain bike races.