Minnesota State Meet Preview
February 11, 2014

Perhaps the biggest news surrounding the 2014 Minnesota High School Nordic Skiing Championships (aka State Meet) is that the weather looks to be "normal"! After enduring some of the coldest weather in possibly decades, the temperature forecasts for Giants Ridge on Thursday look to be in the mid-teens - almost balmy this season.
There are no major changes in the event format or race courses for this year. The morning will feature freestyle (skate) racing with individual starts, using the tough and technical terrain of the Silver course. In the afternoon, crowds will line the course to watch the exciting classical pursuit races on the Cedar and Gold trails. With the current forecasts, there shouldn't be any need to delay or change the schedule.
Individuals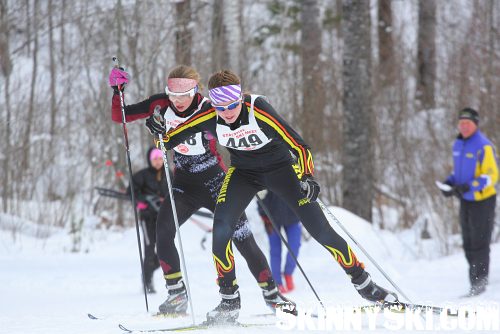 The girls race will feature a class of some of the most talented skiers in State Meet history. Most of the seniors have been competing head-to-head for years now, and can hold their own with many of the best skiers in the nation. They've developed their skills competing at Junior Nationals, as well as national level development camps, and some have even competed against top rivals in Europe. The state meet victor should come from one of the top four ranked skiers: Vivian Hett, Burnsville, Mattie Watts, Irondale, Rocci Wohlk, Forest Lake, and Alayna Sonnesyn, Wayzata. Hett is the favorite -- she has been rock solid in races, week in and week out, and competed very well against even collegiate level skiers. Watts has shown remarkable improvement in sprints and classic skiing this season, and if she can pull out a top skate Thursday, could pose a serious threat. Wohlk seems to be improving every race, and being an underclassman, may have the least pressure - she could just surprise them all. Sonnesyn hasn't put her best set of races together yet this season, and that's scary considering she is the reigning National Champion; if she hits on all cylinders, she could take it. Hannah Rudd, Armstrong, and Caroline Brisbois, Roseville, represent two dark horses. Rudd, a sophmore, has all the signs of being the next State champion - could she arrive "early"? And with Brisbois, look at her performance at the State Cross-Country Running Championships last November, where she topped every one of these skiers, including then top ranked Anna French. Our call: Hett, Wohlk, Watts.
Zak Ketterson, Bloomington Jefferson, has shown to be nearly unbeatable when operating at his full potential. However, should he be off his game, the contenders are more than ready to usurp him. Nick Gardner, MPA, and Leo Hipp, Forest Lake, have been a pair of rockets the latter half of the season, shooting up the rankings. Gardner, a senior, might hold a slight edge in experience, but Hipp is a dynamo. Expect yet another tight battle with these two. Steve Hokanson, Mounds View, is the highest returning skier from last year's State meet, next to Ketterson, and may be peaking just in time. Scott Harrison, Mound Westonka, and possibly Andrew Egger, Benilde-St.Margaret's, round out the first cut. Harrison is built for skiing while Egger just needs to pop a great skate to match his classic. The boys field has such parity though, that one shouldn't be surprised if any of the top 10 or even cusp skiers cracks a podium finish Thursday. Our call: Ketterson, Gardner, Hipp.
Teams
Unless beset by injuries or illness, the Wayzata girls appear to be the closest thing to a sure bet to take the team title. All four girls - Sonnesyn, Anna French, Nicole Schneider, and Michaela Keller-Miller, should be ranked or on the cusp skiers, and then add in teammates that would be first or second place skiers on any other team, and you've got an unbeatable combination. Hoping to prove the rankings wrong, the Stillwater and Armstrong teams will put up a strong showing and should provide an exciting battle for second place at the very least. Northern powerhouse Duluth East always seems to perform exceptionally well on their "home course", though it might be considered a minor upset if they can push their way onto the podium this season. Our call: Wayzata, Stillwater, Armstrong.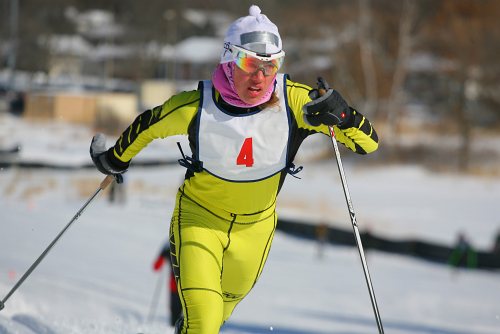 Young guns - that's the Forest Lake boys team. With not a single senior on their State Meet squad, these kids bring an exciting energy to every meet. If they can repeat their high performance output from sections, led by Hipp and Quinn Duffy, especially with the stepped up results from Tommy Babcock and Davis Long, they should collect their State Meet championship trophy. Eagan, Duluth East and St. Louis Park all might have a shot at muscling in, but most likely will be fighting each other for that second tier step. And keep an eye on Andover, they seem to peak well for State. Our call: Forest Lake, Eagan, Duluth East.
A few comments to wrap up... Before anyone gets too worked up about the predictions, bear these points in mind -- a) Historically, we have a pretty poor record of picking the exact results - heck, even picking the winners has been tough many years; b) There can only be one skier at the top of the podium, but there will surely be lots of winners on Thursday; c) This is single race -- one event in a season, one milestone in a career - don't let it define who you are. There will be many more races ahead and bigger trophies to collect - enjoy the competition and your place in history!
As usual, we'll be on-site Thursday capturing the sights and hopefully sounds of the big day. And look for a complete recap next week.
Best of luck to all the competitors - Bring It!