Midwest MTB Report
by Jay Richards
August 2, 2016
It was a lighter weekend of racing in the Midwest this week. The Wausau 24 was a key event held under great conditions and reports of one of the best versions yet. This weeks report includes a couple of recaps from out of state events including a member of a Minnesota based team that competed in the Singletrack Six, a multi stage race in British Columbia, a special report from the Yeti gathering in Colorado, News and Notes and a look ahead to a busy weekend.
Singletrack Six
The Singletrack Six is a multi stage cross country race featuring incredible trail, scenery and racing in southern British Columbia in the heart of the Canadian Rockies. Duluth native Dianna McFadden made the trek west to compete in the women's team and files a recap. Also competed in the men's solo event was West Hawk Lake, Manitoba resident Chris Benson who recorded an impressive 2nd overall in the timed descent along with a 12th overall in the men's open solo division. Benson has been a regular visitor in one of the final series races in Minnesota.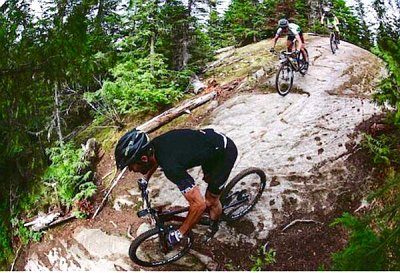 (Photo: Chris Benson racing in the Singletrack Six)
Dianna's report: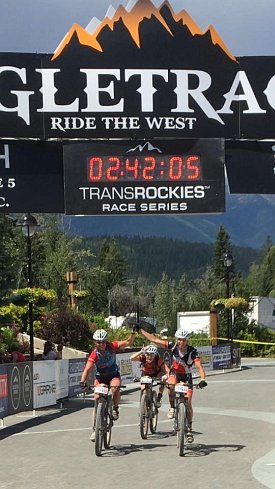 AC/DC made the Highway to Hell famous, but 2016 Singletrack 6 made the lyrics epic. For six days, dozens of dedicated race organizers and volunteers cued "Highway to Hell", counted down and took riders through four mountain towns, up 25,000 feet of climbing, and across 143 miles of some of the best singletrack the Canadian Rockies has to offer.
So what makes some Midwest flatlanders decide to drive 20 hours, tackle 45 minute climbs, and spend hours traversing grizzle country? Peer F'ing Pressure (PFP) over a few beers. Rachel Howard convinced Diana McFadden (both of Duluth) to be her Duo team partner and Team PFP Cycling was born. Rachel and Di then talked Lisa Krayer (Denzer, WI) and Michelle Peariso (Bend, OR) of Adventure 212 to join the trip. Michelle suffered an injury this spring that didn't allow her to race so the Duluth duo became an unofficial trio. Rachel and Di finished 2nd in the Duo Women's Open category and Lisa Krayer finished 8th in the Women's 40+ category in the total time of 19 hours 29 minutes over the six days.
The racers got to experience new diverse singletrack trails, fast technical descents, epic climbs, and one of the best organized and supported races around. This race isn't for the faint of heart. It challenged rider's fitness and technical skills. Conditions ranged from greasy rooty loamy trails, scree fields, rock gardens, dusty skeleton lined paths, steep drops and fast flowy machine built trails. Each stage included a timed descent that was a race within the race. Racers came from all over the world. New friends and memories were made.
"Stage 7" included a banquet finale and a few days of vacation in the Banff/Canmore area. What the duo thought would be a 'once in a lifetime' trip is being challenged by their 2nd Place prize of 75% off an entry to the 2017 Singletrack 6. Stay tuned....
Yeti Tribal Gathering
The 15th Annual Yeti Tribal Gathering took place near Montrose, Colorado on July 21-24. Minnesota resident Dale Valliancourt was a participant and files a report:
The "Tribe" consists of Yeti employees and anyone who owns a Yeti. The gathering moves to a different town in Colorado each year. This year there were 250 in attendance, likely the first year of an attendance decline compared to the year before...mostly due to the relatively remote location. Last year was in Steamboat Springs, Colorado.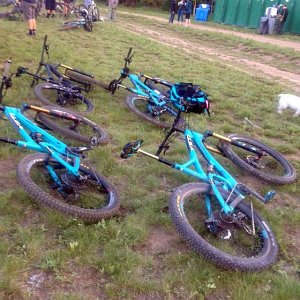 The 2016 gathering took place roughly 25 miles outside of Montrose, at 9500 feet, in an opening of a mountain Aspen grove. Tribe, as Yeti refers to it, was a camping, socializing, riding, and rip roaring party taking place over 4 days.
By virtue of my purchase of a 2015 ASR-C Yeti (quite possibly the best purchase of any kind that I have made in my life), I am an official member of the Tribe. I had been eyeballing this trip for a while, and having known riders who attended in the past, anticipated some epic riding and more than epic celebrating of outdoor and mountain bike culture and amazing bikes.
News and Notes
Rio Olympics
The final days to the summer Olympics are here. Midwest mountain bikers will be keeping close eye on Chloe Woodruff who, naturally, is hoping to cash in on the "best form in her life". The 29-year-old who now resides in Prescott, AZ, has spent the last five years competing against some of the best riders in the world, and now she'll take them on at the biggest stage of them all.
Although Rio's man-made course is a bold contrast to the natural environment that mountain bikers are accustomed to riding, the make-up of the Olympic trails are similar to the natural landscape found in Prescott.
"Clipped in" recently featured Woodruff with a nice video clip.
High School Mountain Bike Camp-Shredding Cuyuna
True Base North Camp, sponsored by the National Interscholastic Cycling Association (NICA), and the Minnesota High School Cycling League, offered skills clinics, presentations, and three days of fun as part of a pre-season high school camp. Volunteer coaches helped the campers set up their tents, conducted safety and mechanical checks on helmets and bikes, and then welcomed the campers in an ad hoc outdoor classroom. Minnesota photo journal recently captured the action and featured on their website.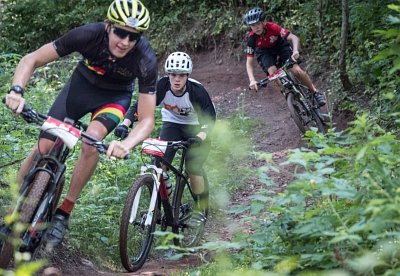 (Photo credit: Stephen Garrett)
Vida Mountain Bike Camps
Vida mountain bike camps will be coming to Minnesota and stopping at Lebanon Hills, located less than 30 minutes from downtown Minneapolis. Lebanon was chosen for an ideal location to work on skills to tackle the variety of Minnesota's vast trails. With miles of looping single- and double-track in addition to a purpose-built skills park, VIDA Coaches will endow riders with a new perspective to conquer any challenge on the bike. Join the crew August 27-28, 2016 for this exciting new addition to the VIDA MTB Series Flagship Clinics.
Northern Minnesota New Trail
The Grand Rapids Itasca Mountain Bike Association (GRIMBA), Minnesota DNR and City of Cohasset are planning a new mountain bike trail and park in Itasca County.
Organizers seek to locate the new park at the Tioga Recreation Area in Cohasset, already a popular spot for fishing, swimming and picnics. They're piecing together funding now. The finished project will likely cost $1 million.
After 10 years as an official mountain bike club, GRIMBA member Dave Parrish says that they have finally grown enough to handle a project of this magnitude. "Up to this point we have been hand-building trails with no machinery or equipment, but you can't move big rocks or trees or roots, now we'll be able to do that," said Parrish.
... "We are envisioning a sort of roller-coaster design, with lots of terrain, inclines and declines and corners," Parrish said
Full article in Minnesota Brown online
Looking Ahead
The Maah Daah Hey 100 kicks off a busy weekend in the Midwest featuring one of the most challenging ultra endurance events in the Midwest. The heat has always been one of the biggest challenges and it looks like, at this point, riders could get a bit of a break. The course runs on the famous and intriguing Maah Daah Hey trail.
St Cloud mountain bikers are set to host race #7 in the Minnesota Series on the popular "Jail Trail" that features fast and fun riding with tight twist and turns on signature hand cut singletrack. The event serves as the primary fund raiser for the St. Cloud trails and will be giving away a Blue 2016 Salsa Mukluk 2, size L, from Revolution Cycle and Ski worth $2,000.00 in the raffle ($20 for a set of MMCC Jail Trail socks and ticket). The race will be held rain or shine and also featuring $100 payout for both male and female in the marathon division.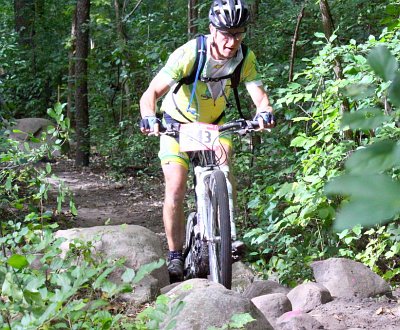 (Photo: Riding one of the infamous rock gardens on the "jail trail" September 2011)
Organizers report: As always we will be putting on the brats and veggie burgers for after each race and each overall winner will get a custom St. Cloud granite trophy! Course will be closed Friday night for marking and open all day Saturday for pre riding. We look forward to welcoming all of our friends and fellow racers back to St. Cloud's fun atmosphere where all of the proceeds are directed back to the trails.
Hixon Forest Epic organizers and the City of La Crosse announce they are excited to host the 7th event in the 25th year of Wisconsin Off Road Series racing. Hixon Forest is over 800 acres of bluffland overlooking the Mississippi River Valley in the heart of the Driftless Region–La Crosse, Wisconsin. An uphill rolling meadow start to heat up the legs and spread out the pack. Sport, Comp, and Elite riders will endure the spectator-favorite downhill section followed by a long, steady climb up the Vista Trail. Racers can relax for only a short section of road riding before diving into the technical single-track portions of the course. All riders can expect to find thrilling challenges through rock gardens, root tangles, and punchy climbs with fast descents.
Keep the wheels moving!
About the author...

Jay Richards maintains a very active lifestyle. He somehow finds time between managing a full-time resort (Maplelag) and bringing up a family of four boys with his wife Jonell, to compete in both mountain bike and a few cross-country ski races. Jay rides for Maplelag Resort, manages the Maplelag/LaMere/Paramount/Jake's Bikes mountain bike team and enters his 26th year of racing and promoting mountain bike races.

Have an event or mountain bike related information to share from the Midwest? Feel free to contact Jay at