World Junior/U23 Championships - Lahti, Finland: January 20-23rd Recap
by Caroline Brisbois
January 24, 2019
With the new year comes another round of international ski racing, including the World Junior (WJC) and Under-23 (U23) Ski Championships in Lahti, Finland. Twenty-two athletes from around the country below the age of 23 earned their spot on the WJC (U20 or U18 age groups) and U23 teams after achieving top results at the US Cross Country Ski Championships in Craftsbury, Vermont earlier this month. We report at the halfway point of an exciting race series that began on Sunday January 20th and will conclude on the 26th. Races include a classic sprint, individual start skate, mass start classic, and junior relays. This years classic mass start replaces the skiathlon format used previously.
Midwest representation at the championships includes a couple international ski racing veterans as well as some new faces. Ian Torchia and Alayna Sonnesyn, originally from Rochester and Plymouth, MN respectively, qualified for the U23 team. Torchia, in his senior year at Northern Michigan University (NMU), is competing at his 4th WJC/U23 Championships. Sonnesyn is having a great first year as a professional racer with Stratton Mountain School's Elite Team (SMS T2), after a successful collegiate career at the University of Vermont (UVM). This will be Sonnesyn's 3rd trip to a WJC/U23 Championships but 5th time qualifying. Also racing for the U23 men's team is Daniel Streinz, a sophomore at NMU. A pair of outstanding sprint results at US Nationals qualified Streinz for his first U23 Championships. Finally, Mara McCollor from Plymouth, MN and Minneapolis Ski Club (MSC) is having a fantastic start to her season, and qualified for her first international competition in the junior division. McCollor is in her senior year at Wayzata High School and we look forward to watching her race back home next month.


Classic Sprints
Overall, team USA had a strong start to a set of competitive races with impressive performances from all. Skiers battled in cold temperatures on tough World Cup courses. Racing kicked off on Sunday January 20th with WJC classic sprints on 1.4km and 1.6km courses for women and men. Sydney Palmer-Ledger of the Sun Valley Ski Education Foundation (SVSEF) qualified for the heats and finished 25th overall. McCollor fought hard in the qualifier and finished 43rd overall, just a few seconds away from the top 30. Also racing for team USA was Sophia Mazzoni (SVSEF) in 49th and Waverly Gebhardt (Steamboat Springs Winter Sports Club, SSWS) in 51st. On the men's side, all 4 American's qualified for the heats and finished in the top 20. Ben Ogden (UVM) skied to 8th overall in the heats after a great qualifier performance landing him in 3rd. Noel Keeffe of the University of Utah (UU) and Gus Schumacher of Alaska Winter Stars (AWS) battled for 12th and 16th respectively. Not to be overlooked, Luke Jager of Alaska Pacific University Nordic Ski Center (APUNSC) finished in 20th overall.
The U23 women had a strong showing in their 1.4km classic sprint on Monday January 21st. Hannah Halvorsen and Hailey Swirbul both of APUNSC finished 23rd and 24th respectively. Julia Kern (SMS T2) skied well to finish 27th overall after qualifying in an impressive 16th place. Also racing for U23 women was Evelina Sutro (UVM), finishing in 37th. For the U23 men, Peter Holmes (SVSEF Gold Team) was the top American in the 1.6km classic sprint, qualifying in 20th and finishing in 27th overall. Streinz just missed the heats, finishing in 41st. Hunter Wonders (APUNSC) and Braden Becker (Williams College) also gave strong efforts to finish 56th and 63rd in one of the deepest fields at the championships.
Distance Skate
The junior skiers were back on Tuesday January 22nd for another round of competitive racing, this time in an individual start skate format. In the women's 5k, Kendall Kramer (Fairbanks XC) landed the top American result in a hard and fast race for 15th overall. Palmer-Ledger and Novie McCabe (Methow Valley Nordic Team) also grabbed top 30 results with 20th and 29th respectively, and Gebhardt gave another good effort for 65th. In the men's 10k skate, Schumacher performed exceptionally for 6th place overall, just 44 seconds out of 1st, and the best result from any American so far. Zanden McMullen (APUNSC) and Johnny Hagenbuch (SVSEF) had great results for their first races of the championships finishing in 32nd and 34th respectively, while Keeffe posted a solid 58th.
Wednesday January 23rd brought the U23 athlete's out to battle with the women's 10km and men's 15km skate races. The U23 women had an outstanding showing as all 4 racers placed in the top 30. Kern had her best distance finish at a WJC/U23 championship with 12th overall while Sutro had a breakout performance for 18th. Swirbul and Sonnesyn had solid races as well snagging 26th and 27th place respectively.
We caught up with Sonnesyn after Wednesday's race:
"Racing at this international level is always very eye-opening. The field is incredibly deep, full of World Cup athletes and the courses are no joke. We had pretty nice conditions for the 10k freestyle race and although I was hoping for a better result on paper, I am proud of the way I raced. I feel like I was skiing technically really well and I raced it very consistently. I gave it everything I had and I'm not sure where I could have skied faster on the course. Overall, really pleased and excited for a 15k coming up soon!"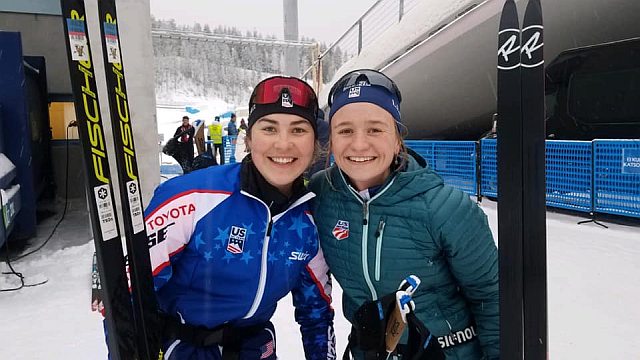 On the men's side, Wonders led the U23 Americans in 43rd followed by Holmes in 48th and Becker in 53rd for three respectable results. Torchia was set to race but has unluckily been sidelined by sickness. We wish him a quick recovery.


Next Up
Racing continues Thursday January 24th with the WJC classic mass start 15km for women and 30km for men followed by the same race formats for the U23's on Friday. Wrapping up the week are the always exciting WJC relay's on Saturday. The junior boys made history at last year's WJC/U23 Championships in Goms, Switzerland with a silver medal winning performance, the first ever WJC medal for USA men. Ogden, Jager, and Schumacher were all members of the historic relay in 2018, and all three will have the chance to compete on this year's relay together again. Junior women will compete in a 4x3.3km relay and men in a 4x5km relay, with 2 classic and 2 skate legs. Live results are available as well as live streaming (pay per view).
About the author...

Caroline Brisbois grew up in Falcon Heights, MN playing tennis, running cross country and track, and Nordic skiing at Roseville High School. After graduating from Northern Michigan University in May 2018 where she competed collegiately in skiing and running, Brisbois moved to Anchorage, AK to pursue her passion for adventure and begin a Masters in Environmental Science at Alaska Pacific University. Brisbois loves rock climbing, mountain biking, ski training, and hiking in the mountains with her dog.