World Junior/U23 Championships - Lahti, Finland: January 24-26th Recap
by Caroline Brisbois
January 26, 2019
It was an exciting and historic past few days for team USA at the World Junior (WJC) and Under-23 (U23) Ski Championships in Lahti, Finland which wrapped up with the classic mass start races and WJC relays. Whether it was watching the live stream in the middle of the night or looking up results first thing in the morning, these young athletes had the whole American ski community cheering them on. Team USA is coming home from these championships with numerous top 20 results, near podium finishes, and best of all, a gold medal in the men's WJC relay! This year's WJC/U23 Championships conclude with no doubt the best combined results for team USA ever.
Classic Mass Starts
The excitement began on Thursday January 24th with the WJC classic mass start 15km for women and 30km for men. Kendall Kramer (Fairbanks XC) and Novie McCabe (Methow Valley Nordic Team) fought their way up to the top 10, finishing 4th and 10th respectively. This was especially impressive as McCabe started in the very back of the pack and Kramer started deep in the middle! Kramer was only 32 seconds away from the podium. Midwest's own Mara McCollor (Minneapolis Ski Club) also skied a great race for 24th overall and Sophia Mazzoni (Sun Valley Ski Education Foundation, SVSEF) had a good effort for 48th. This was the first 15km race ever for many of these young women, so at a big stage like this they handled the nerves and longer distance very well.
Inspired by their teammate's performances, the Junior men dominated their 30km mass start with all four Americans finishing in the top 20 and often controlling the race from the front. Leading them out was Gus Schumacher (Alaska Winter Stars) landing in 4th, just missing the win by 0.7 seconds in a 4-way sprint for the finish. It was an impressive podium worthy performance. Also in the top 10 was Ben Ogden (University of Vermont, UVM). Helping push the pace and his teammates throughout the race, Ogden finished in 10th, only 9 seconds out of first. Luke Jager (Alaska Pacific University Nordic Ski Center, APUNSC) and Johnny Hagenbuch (SVSEF) were right up there as well, landing in 13th (+14.9) and 17th (+25.6) respectively. As no other country had all four of their racers place in the top 20, it was an outstanding and historic day for the junior US men.
The U23 Americans had their turn for classic mass start 15km and 30km races on Friday January 26th. In the women's 15km, Hailey Swirbul (APUNSC) skied a smart race to fight her way into the top 10 finishing 10th overall. Another valiant effort by Julia Kern (Stratton Mountain School Elite Team, SMS T2) landed her just behind Swirbul in 16th. Alayna Sonnesyn (SMS T2), a Minnesota native, had a solid performance as well in the deep U23 field finishing in 23rd, and Hannah Halvorsen (APUNSC) rounded out the American women in 54th.
Peter Holmes (SVSEF Gold Team) led the American U23 men in their 30km race finishing 33rd overall. Hunter Wonders (APUNSC) posted a solid 40th place finish and Braden Becker (Williams College) landed in a respectable 53rd. Also racing for the men was Daniel Streinz of Northern Michigan University (NMU), placing 66th. Streinz courageously took the place of teammate Ian Torchia (NMU), a top US and NCAA distance racer, who had to forgo the race due to sickness. For more details on our four midwestern athletes that competed at WJC/U23 Championships, check out our article earlier this week recapping the first few races.
WJC Relays
Relays are the best way to end a championships. Although cross country skiing is often an individual sport, there is always a team behind each athlete, and nothing compares to coming together to represent your country in a relay. With fans, non-racing teammates, and coaches all lining the course in support, the energy is high and the cheering is loud. The WJC relays consist of four athletes, the first two of which race a classic leg and second two race a skate leg. Women each race a 3.3km loop and men a 5km loop. With distances this short, racers have to be tactical and observant, each trying to tag off to their teammate in a good position.
The US junior women gave it everything they had and finished 4th, just 7 seconds behind Sweden in 3rd, Russia in 2nd, and Norway in 1st. McCollor took it out on the first leg, classicing strong to tag off to Kramer in 5th place. Kramer kicked her way up to 3rd place and Sydney Palmer-Ledger (SVSEF) skated well to maintain her position in 3rd. Palmer-Ledger tagged off to McCabe who had a fantastic anchor leg and just couldn't hold off the quick Swedish anchor. Overall, the American women skied an amazing relay to close out their week, improving on last year's finish of 8th place.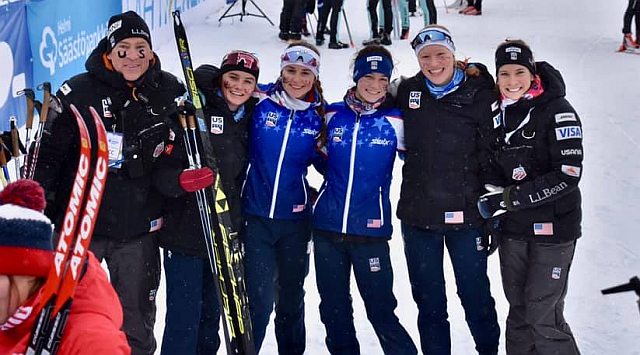 After their incredible classic mass start results and last years silver medal in the men's WJC relay, there was no second guessing the American men this year. Jager, Ogden, Hagenbuch, and Schumacher controlled the race from the beginning and secured their gold medal by 3.8 seconds over Russia in 2nd and Germany in 3rd. The team was a near carbon copy to last year's, with Jager and Ogden skiing the classic legs, Hagenbuch skiing the first skate leg where Wonders raced previously, and Schumacher anchoring. Jager started the classic scramble leg strong and confident, tagging off to Ogden in 1st place. Ogden skied another great leg, maintaining his position in 1st. Then, Hagenbuch skied tough to hang with the group and tag off to Schumacher in 3rd, just behind Germany and Norway. Schumacher had his work cut out as the Russian anchor, the WJC sprint champion, was coming up hard. But Schumacher held his own and in Klaebo-like fashion, made a move on the last climb to create some separation and coast to the finish line and his joyful teammates. Team Norway was no match for the speed of Germany's anchor leg, and was overtaken to finish in 4th.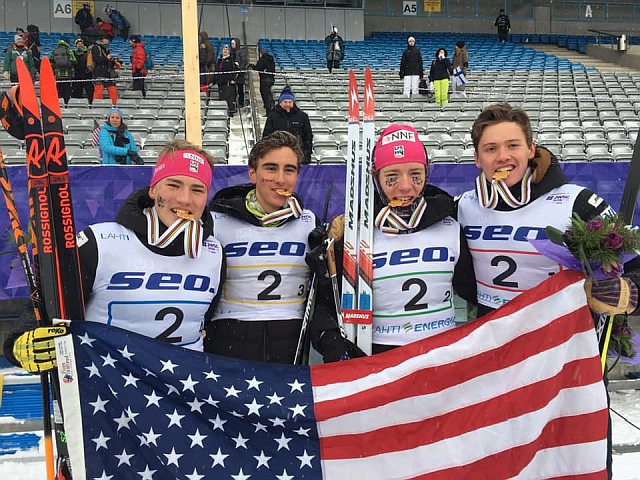 History was made for US cross country skiing this week. From Jessie Diggins and Kikkan Randall's 2018 Olympic gold medal, to the fantastic efforts by all the Junior and U23 American's in Lahti culminating in the junior men's gold medal, USA continues to prove they are on the rise. The future is bright and the stoke is high. We hope to see the momentum continue for athletes representing the US at World Championships coming up in Seefeld, Austria February 20th through March 3rd.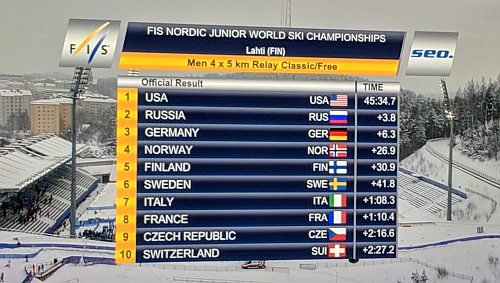 About the author...

Caroline Brisbois grew up in Falcon Heights, MN playing tennis, running cross country and track, and Nordic skiing at Roseville High School. After graduating from Northern Michigan University in May 2018 where she competed collegiately in skiing and running, Brisbois moved to Anchorage, AK to pursue her passion for adventure and begin a Masters in Environmental Science at Alaska Pacific University. Brisbois loves rock climbing, mountain biking, ski training, and hiking in the mountains with her dog.