Midwest MTB Report
Summer like weather has returned this week putting smiles on those that like the warmth and humidity. A busy weekend past with another mighty Chequamegon in the books which includes a special recap from female 40 winner Jenna Rinehart, who put her self in a distinctive category being the only seven time winner, male or female. Other highlights in this weeks report includes recaps from events a few weeks ago and a look ahead to a couple other shred fests as we enjoy one of the best times of year to mountain bike.
Chequamegon Fat Tire Festival
The 37th annual Chequamgon Fat Tire Festival had a different look and feel this year, most noticeable by the two separate starts for the 40 and a new finish line (and start for the Short and Fat) which used the Birkie start area. The 10am start for the 40 was a age class race that had the feel of years past with the massive field of bikers rolling down main street Hayward. At 1pm was a separate Pro race that featured 43 men and 13 women on the start list. Steady rain for three days definitely made for a wet course but drying Friday afternoon and evening followed by a gorgeous day on Saturday made for fantastic conditions. Although the word "mudder" was tossed around, personally I thought it was more wet on than any mud and this was mostly on the atv trails. This was confirmed at the finish line with sand being the only thing really covering most riders from riding through the scattered puddles on the course.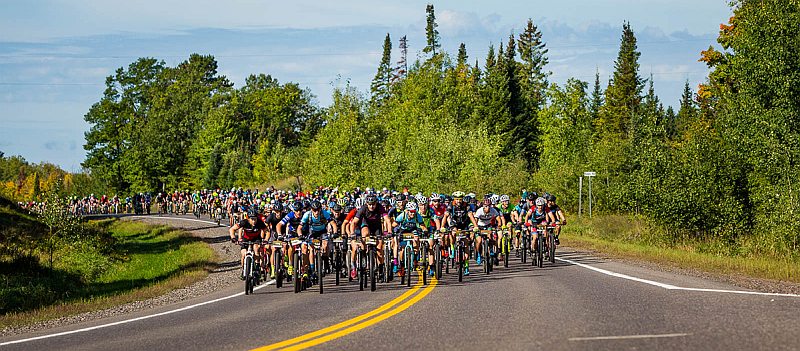 The finish line was moved to the Birkie start area and included vendors, live music, beer gardens and food trucks that had a very electric atmosphere when the races were finishing up.
The Pro men featured a new rider at top and one I missed completely in the preview. Alex Vermeulen pushed the pace early and held on to a convincing win, coming in solo over six time winner Brian Matter. Jordan Wakely who was in the early chase group of 17 bridged up to take the third spot. Ben Senkerik continued his strong season to date and moving up the ranks to take fourth and a rider to watch for future Chequamegons Former 40 winner Corey Stelljes took home $250 at the fifth spot.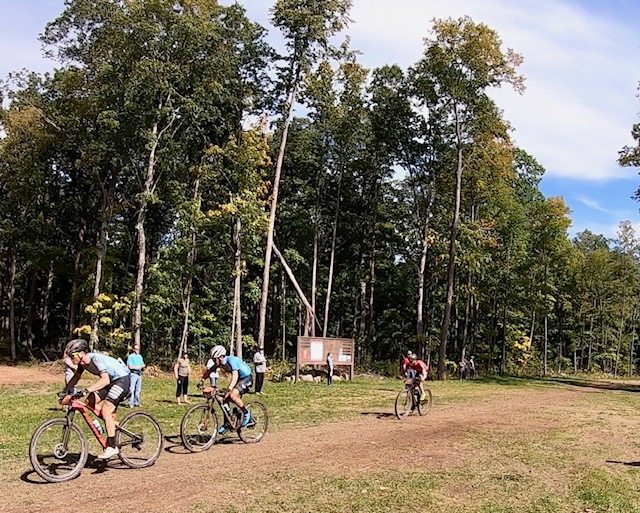 Jenna Rinehart put her self in a very distinctive category when she crossed the line first on Saturday. Rinehart became the only seven time winner, an incredible accomplishment. Rinehart broke free from second place finisher Leah Schneeberger (Rollins) in the later part of the race to put an convincing win by over 2 minutes. Absent from the racing scene most of the year, Sara Kylander Johnson went home with a nice check in the third spot as Stacy Kalemkiarian and Holly Mathews rounded out the top five.
We touched base with Jenna for a recap and she provides great insight into the race and event in general:
The Chequamegon 40 holds a special place in my heart. I am drawn back to it year after year. The format and the course really suits my riding style. This year I was thrilled to have taken my 7th career win!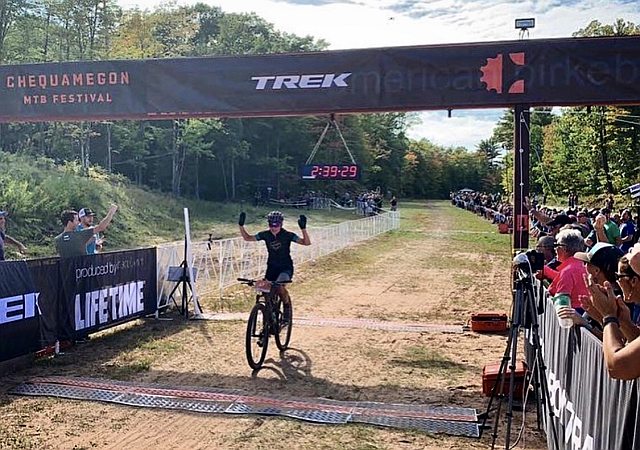 I never had any issues with the mass start but was excited to try the new later pro race start format in hopes of a little safer roll out on the highway. The speeds were just as fast this year but I felt much safer with smaller more experienced group. All in all there were about 50 to 60 of us men and women. There was a bit of a separation in the women's race after Rosie's field. I and Leia got a small gap on the next group of women. We worked together and that gap slowly grew as the race went on but was about 2 mins at Hwy 00. Leia and I stayed together until the Birkie trail after Fire Tower. Those few miles of trail have been such a critical section for deciding the race in the past and this year proved the same. I was able to get a gap on the never ending climbs and soon I was out of sight. I pushed the pace to grow that gap to around 2 mins when I crossed the finish line.
I was excited to experience the new format and overall would say that it was good. The roll out was safer for sure but it was a ghost town at the start line for us. Kind of felt like we showed up on the wrong day. =) The flip side of that though was the finish line atmosphere was awesome! There were so many cheering fans as we finished it was really cool. I think it would be cool if they moved our start up by 1 hour and then had lead motos for both the men's and women's field. That way there would be even bigger crowds at the finish. Once on course the group sizes were definitely smaller than normal. I'd say overall I probably went at a slower speed as we only had 3 of us working together vs the normal 10 to 12.
Despite the wet conditions I stayed with my Full Suspension Specialized and kept my dry condition tires on. There is so much sand in the soil on the course that it usually never gets too slick and with all the gravel road I wanted to keep a lighter weight faster rolling tire on. I was happy with my decision and the bike set up was perfect.
I am really happy with how Peter and the team at Lifetime pulled the race off with the challenging conditions. The course reroutes made sense and were easy to follow. I would really like to applaud them for their equal pay for men and women stance and how they brought all of us both men and women up on the podium together at the same time.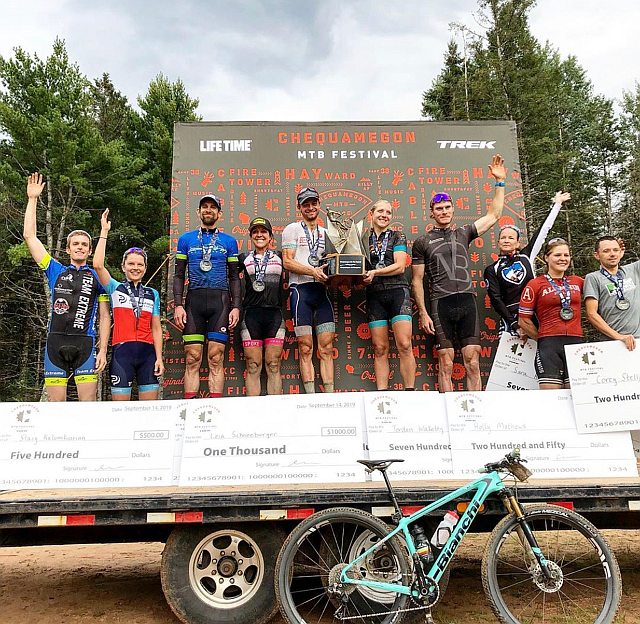 After missing out on the big race for nearly 10 years, I found myself on the start line Saturday morning at 10, lined up in the back of the first wave ready for a day of racing in fun conditions after the opportunity to quickly chat with new race director Peter Spencer before moving into the corral where I caught up with John Munger right up until the start. The day before I pre-rode about 8 miles of the course after OO and right before I turned off course, to head back to my starting point, I ran into Mr. Fatman himself, former race director Gary Crandall, instructing a group of volunteers from Canada for course marshaling on Saturday. It was almost surreal and a very special moment on the weekend having many fond memories with Gary dating back to 1990 when I did my first Chequamegon event, the Short and Fat.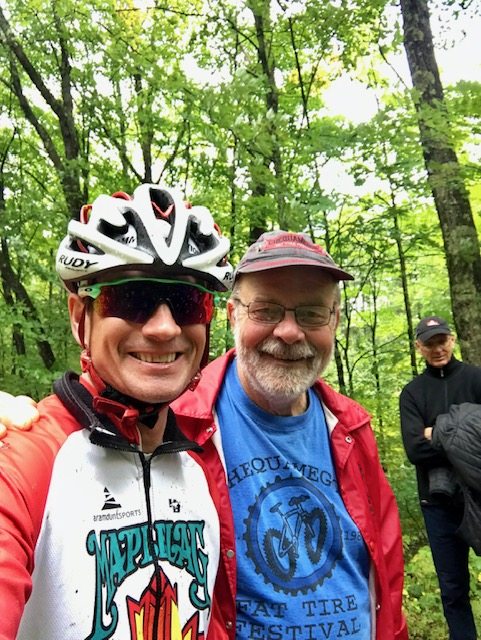 The race itself was one of the more fun versions for me. The rollout was clean and smooth with nothing crazy happening that I witnessed. The wet conditions added a technical element to the race and the segments used to bypass the Birkie trail were fun fast riding. The deck had definitely set up compared to the soggy and soft conditions experienced on the Friday pre-ride. Slowly moving up to the first couple rows before Rosie's field, I settled in and worked with a few groups, gradually moving up the field. Brandt Elson was kind enough to provide feeds for me and not paying 100% attention, I missed the bottle on the first feed. I had already dropped my one to exchange before and suddenly thought I could be in trouble later. But I didn't panic, stayed calm, said a quick prayer. Within two miles a rider that had a major mechanical and was done for the day, handed me a full bottle. Unreal. I didn't catch his name but thank you very much to this person! Brandt hustled to the later part of the course to provide another feed and a nice boost for the finish.
By the time we hit the final Birkie rollers, I had moved up to 13th and was feeling really good on the climbs considering 35 miles of racing was under the belt. I was in the front of the group feeling in control and confident to hold this position to the finish. Not knowing the exact finish would come into play as the group behind me got organized and we were set for a sprint finish as the course ran longer than I expected. This included the exact finish line as I went too early in the sprint, only to be told I still had 500 meters to go including a small climb before a fast slight downhill finish. Final spot was 17th and I was more than happy with the result and capped off a great day of riding in the forest. As usual, it was great to connect with many people in the mountain bike world I have met the past 30 years, many I haven't seen in a decade or so, after the finish. Thanks to all the volunteers, race officials and individuals that made it a great day and a special shout out to my wife Jonell for her support before and during the weekend.
The Short and Fat races were dominated by the junior riders, especially in the male division with 19 of the top 20 all under 18! Strongman Braeden Anderson took the win in a exciting finish that saw the top seven riders all within 30 seconds of each other. Rounding out the top five were Pavel Nelson, Barrett Hall, Aidan Lemorande and Elijah Johnson.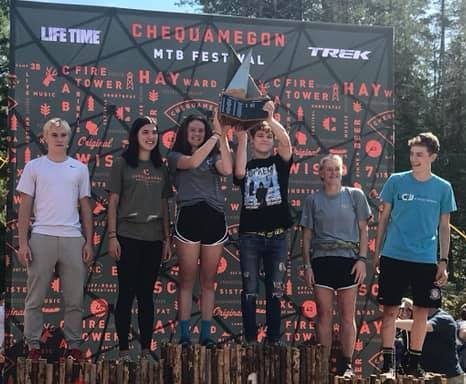 Zoe Camp defended her title in the female division, putting in a dominating performance to win by over 4 minutes over Lauren Munger. Master rider Kelly Skillicorn was third followed by Josie "Jet" Andre and Lindsey Sova. Many of the high school riders would race the next day on a new course that ended up being shortened due to weather.
Copper Peak Trails Fest
Aaron Swanson reports from the Copper Peak Trails Fest held two weekends ago:
There's a string of communities between the Midwest MTB triangular meccas of Cable, Duluth & Marquette/Copper Habor that have some unique trails & great community MTB races each year. One being my hometown of Ashland WI, where every 3rd weekend July for over 20 years has hosted the Mudrutters Off Road MTB race. A challenging, not completely typical MTB race but something for everyone & always memorable for some great stories afterwards.
The other being more newly formed race in 2017 at the Copper Peak Ski Jump area on the western Upper Michigan border near Ironwood. The dedicated organization known as SISU Dirt Crew over the past half dozen years has created a most delightful trail from the top of Copper Peak to the base of the hill near the Black River & back up. They have somehow magically transformed 600 feet of topographic vertical diversity into a playground of fun for riders of all ages & abilities. The downhill of the trail is ear to ear grinning great & mind boggling long given the seemingly small area. The climb back up while significant is laid out well, gets one to the top soon without a leg-tearing-off bad gradient.
I certainly haven't hit all the trails of the previously mentioned Triumvirate Midwest MTB Meccas, but in near blasphemy I'd say what Copper Peak has rivals or exceeds the best stuff those well known areas have to offer.
Saturday September 7th on what could only be described as a near perfect prescription for fall MTB race weather, SISU Dirt Crew put on their annual Copper Peak Trails Fest - a collection of MTB races (long & short) and trail running races. Having gone to the inaugural race in 2017 I was hooked on this race like a grandma baking chocolate chip cookies. I've found riding the trails at recreational speed is fun but racing them brings that whooping good time to a whole new level.
I had a buzz filled day ahead of me having to split time coaching soccer that AM in Hayward, then rushing over to Ironwood for the 12:30 race. Fortunately arriving in plenty of time for registration, I got in a quick warm up spin on the access road that makes up the starting climb of the race. This years start area was a plethora of good time family activities & eats. First class efforts in making it a great event. In truth, I was eyeing up the bouncy house as a viable alternate to hitting the start line, but the inflatable slide was a biggest draw to my oversized 8yr old inner self.
Alas one must turn a blind eye & go to the start line. As always, I'm looking for new & familiar faces at any race to see long time friends & fellow competitors. This year it'd be once again that strong brute from Iron River Casey Lajoie, his better half & more charming wife Ronnie (heck of a racer too by the way), Nikolai Anikin of Duluth, Jason Rouesch of Medford and a host of others that would start getting the list a bit long.
The 16 mile expert race kicked off with host of racers jostling for the front on the pavement lead out, with Casey eventually throwing down a hard surge & making the rest of us submit to his driving force. Once the opportunity came for a hard right turn onto the two track off-road portion of the race I did the ole slingshot around Casey & edged up the pace on the steadily increasing grade of a semi wet at times sloppy slope. Glancing backwards there was band of merry travelers in single file, steadily holding the pace. Not what I was expecting. So at the next turn upwards on a gravel section I amped it up just alittle more. At which point things behind started to sputter a bit & gaps formed. At one point, I heard an exclamation behind me, no doubt from Nikolai, it was along the lines of "Uh, Aaron, my legs are starting to hurt now, you can quit that any time". Thanks for the tip Nikolai.
Shortly thereafter the riders behind me went into a more desirable pace while I pushed on to the first single track knowing many of them likely had a weight & skill advantage over me when it came to the next 2 1/2 miles of sweet luscious downhill corners, berms & jumps.
Feeling like I put in a very hard effort I arrived at the top of the hill almost 10minutes into the race, albeit without the luxury to enjoy the amazing view one deserves. The consolation wasn't bad though, it was into the downhill portion of the race. 1.5 miles to the parking lot/start area to the cheers of the spectating crowd & then another mile plus to the Black River bottom. It was self interest & pure joy that I was doing everything in my skillset to pin it around the corners. Dropping the outside foot, staying balanced over the bottom bracket, keeping my vision up, elbows bent. Everything I'd learned from a Ride Better downhill riding clinic I'd taken years before. Can't say I wasn't feeling rusty, ok alot rusty & that I almost smoked myself over a corner or two, but both bike & I made it to the bottom in one piece.
No idea as to the gap behind me but safe to assume Casey & Nikolai weren't far behind I keep up the effort to best of my ability & reasoning. I figured the ensuing uphill would be to my advantage so I pressed harder along the way back up from the river bottom to the top of Copper Peak again. This was an effort that would need to be repeated 3 times. By the 2nd time through the course though I'd gotten a better feel for the corners & speed at which to take them, I was paying a price for my overzealous starting efforts & fatigue was setting in. However the gap back to 2nd place was fairly significant now & since I'm one of those nutso MTB-ers who actually love the quantitative side of it My power meter & cycling computer were my guide & self contest for the remainder of the race. Something to compare to previous years races.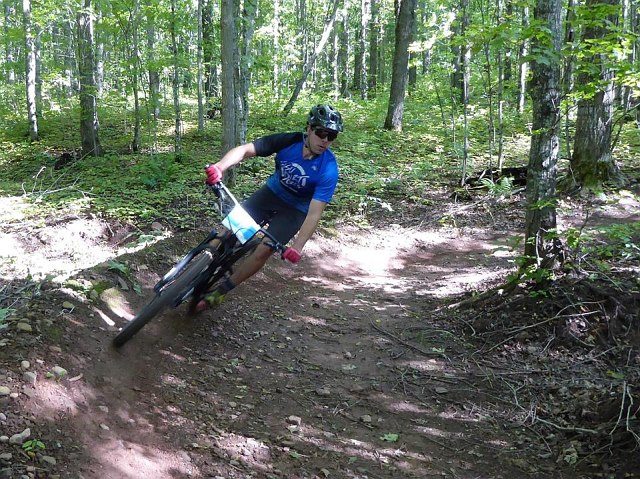 Upon racing to the Peak the 3rd & final time there's this great sense of elation. That though the race isn't over the hardest physical effort part is done & now its time to rip some wicked trail to the bottom & stay upright the whole time to the finish line. I didn't entirely manage the staying upright as my giddiness & fatigue had a falling out of understanding with each other, but it resulted in no blood drawn. So I dusted myself off, got back on & road smoothly to the finish.
A 16 mile event might not seem like that long of race to some, but in bike racing it's about the amount of time it takes. I came across in just under 1:30hour while behind Casey & Nikolai had a great battle going on. Casey getting passed on the final climb but being able to hold onto Nikolai through the mile & half decent & positioning nicely for a sprint finish. Though unfortunately those best laid plans came undone with less than 100yards to go as big man Casey dropped the hammer to go around Nikolai so did his narrow wide chainring do to his chain, so Nikolai came away with number 2 spot and Casey in 3rd. His spouse Ronnie despite taking a bee sting to the forehead & wondering throughout the race if she was going to get choked out by an anaphylactic shock took 1st in the womens category & 9th overall. Result can be found at Superiortiming.com
Again thanks so much to SISU Dirt Crew and the fine job they do at the Copper Peak Trails fest and for a monstrously fun trail they've constructed over the years. It's a great event for a great cause. In your travels of the Midwest MTB Triumvirate, be sure to stop in & checkout the unique gems tucked in along the way.
Marji Gesick
In what has been quoted as the "hardest one day event in North America", the Marji Gesick offers an incredible challenge for riders looking for the absolute test of endurance skill and mental capacity. New this year is an out and back 200 mile version that, for those able to finish, 21,000 feet of climbing. Enough said.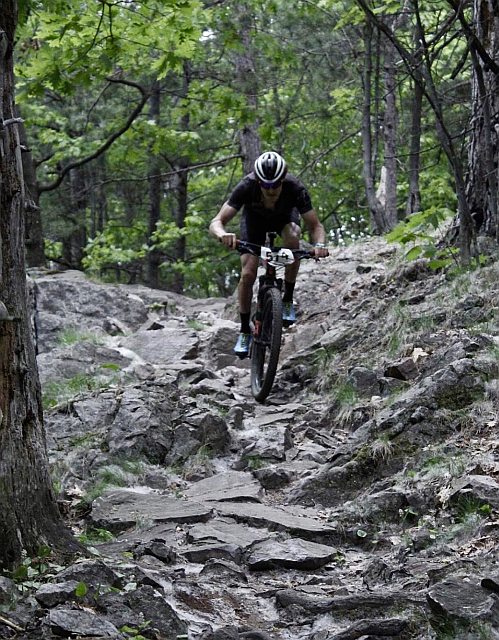 Ride the Duluth Traverse
The Gitchee Gumee Gallivant is COGGS' annual celebration of all things MTB in Duluth: great trails and great people. It's fantastic fun, free, and open to everyone. Grab your ride buddies and join us for all or part of it!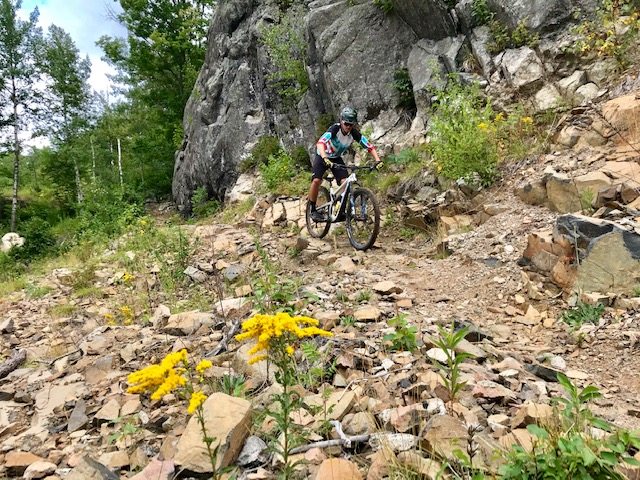 We will be riding from Chambers Grove (Mission Creek) along the DT to Brighton Beach! Come prepared as you would for any long day in the saddle: with snacks, water, basic tools, spare tube, etc. There will also be some planned pit stops and snacks planned along the route supplied by COGGS.
Collegiate Racing
Lake Superior Cycling coach Greg Daw recently sent in a quick recap for a shout out to his riders competing in Copper Harbor recently:
The Lake Superior College Cycling team raced in Copper Harbor (downhill & cross country) and Houghton (dual slalom & short track cross country) this past weekend (9/7-8) for our first collegiate mountain bike race of the 2019 season.
Day 1: Copper Harbor, MI Downhill & Cross Country
New riders Nick Fillipi (2:59.5), Adam Fairbanks (3:00.9), Caleb Wood (3:06.4), and Tate Smith (3:08.9) absolutely crushed the downhill race placing 3rd, 4th, 7th, and 9th out of 23 overall (Cat A, B, C), respectively. New collegiate riders start out as Category C riders and when ranked against Men C riders, Nick, Adam, Caleb, and Tate placed 1st, 2nd, 4th, and 5th, respectively. Clearly Cat A caliber gravity riders!
Returning rider Moriah Johnson placed 3rd overall in the Women's A cross country race.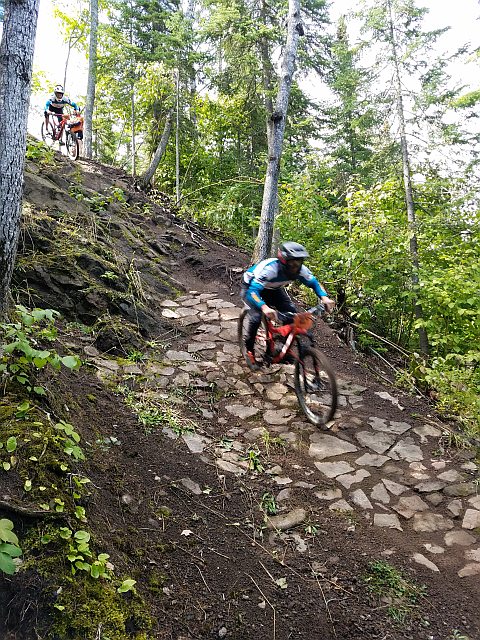 Day 2: Houghton, MI Dual Slalom & Short Track Cross Country
In the dual slalom race our riders had to match up against other Cat C riders. Nick and Caleb placed 1st & 2nd, respectively. Adam and Tate placed 5th & 6th, respectively.
Moriah placed 4th overall in the short track cross country race.
Deer Fly Chase
From race director Noah Michaelson: "Due to challenges with continuing to support and organize a great event I am forced to cancel this year's Deer Fly Chase event. Thank you for your willingness to participate, sponsor and volunteer for the race in the past! I hope that the event can continue in the future. Take care - thank you again."
Keep the wheels moving!
About the author...

Jay Richards maintains a very active lifestyle. He somehow finds time between managing a full-time resort (Maplelag) and bringing up a family of four boys with his wife Jonell, to compete in both mountain bike and a few cross-country ski races. Jay rides for Maplelag Resort, manages the Maplelag mountain bike team and enters his 29th year of racing and promoting mountain bike races.

Have an event or mountain bike related information to share from the Midwest? Feel free to contact Jay at