FOR IMMEDIATE RELEASE

Vasaloppet USA Doubles Snow-making, Adds Ninth Ski Race for 2020
MORA, Minnesota - Vasaloppet USA has added a second snow-making depot as well as a second classic race for the Feb. 8-9 winter ski festival.
The additional snow-making depot is at the north end of the Nordic Center trail system and will greatly expand the Vasaloppet snow-making capabilities.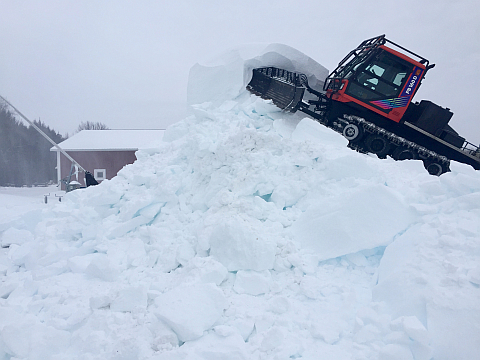 "By adding this second snow depot, we not only have doubled our snow-making capacity, but it also enables the Snow Farmers faster and easier access to the far north trails" says Jon Larson, Vice President of Vasaloppet USA. "Previously, the Snow Farmers would haul snow on the ski trails, turning them into tractor haul roads. It was an hour-long round-trip drive on the trail, often at the same time that skiers were enjoying the trail. This new depot will allow rapid access to the northern trails and can be closed to skiers while the trails are being prepared."
In addition to expanding snow-making capabilities, Vasaloppet USA has also added another ski race to the 2020 race weekend. The new race, The Sunday Classic 20km, will be added to the events on Sunday February 9, 2020.
The Sunday Classic will be a classic-style only 20 km timed ski race, starting at 8:30 am in downtown Mora. Skiers will head northbound on a 20 km course up to the Vasaloppet Nordic Ski Center complex, then returning to the finish line in downtown Mora. The coveted and highly regarded Dala Horse trophies will be awarded to the top three men and top three women finishers.
"The Sunday Classic race gives competitive skiers the option of doing both a long-distance race on Saturday and a short-distance race on Sunday. says Jack Schwinghamer, Vasaloppet USA board member and Sunday Classic race organizer. "The 20 km race will be a good training opportunity for those skiing the Birkie. It will also be a fun course for skiers of all capabilities as the trail through the Nordic Center complex has rolling hills and curves through the forest and fields surrounding the Mora area."
With nine different events, Vasaloppet USA has a race for everyone.
Saturday, February 8, 2020
The Classic 42 km 10:00 am
The Vasa 56 km Freestyle 10:15 am
The Dala 36 km Freestyle 10:15 am
The Bell Ringer 13 km Freestyle 12:30 pm
The Team (team of five skiers) 12:30 pm
Sunday, February 9, 2020
The Sunday Classic 20 km 8:30 am
Fat Vasa Fat Tire bike race 40 km 10:00 am; and 10 km 12:00 pm
Skijoring 11:00 am
Miniloppet Children's race 1:30 pm
To register for any of the 2020 races, visit Vasaloppet.us
Vasaloppet USA is a 501(c)3 nonprofit organization located in Mora, Minnesota. It is one of four Vasaloppet ski races in the world including: Vasaloppet Sweden, Vasaloppet Japan, and Vasaloppet China.