Minnesota High School Nordic Skiing Rankings - Round 1
December 8, 2019

A little late start to the high school rankings, especially considering most schools have been on snow since late November.
Commentary
The first round is always rough. Last year's State Meet plays a large factor in the rankings, but there are a lot of athletes that step up their summer training and can make huge improvements this season right off the start. And some skiers who had tough races at the State Meet tend to get unfairly skewed. We did reach out to a number of coaches to get some extra input, but in the end we'll take full responsibility for any travesty we inflict.
On the boys side, a lot of room was cleared by last season's graduates. Cooper Lennox, Mora, owns the top ranking as he finished on the podium last year. Lennox has been getting stronger each season, and you can expect he'll dial it up a notch again. The closest competitors, on paper, are Wayzata's James Schneider and Ely's Jasper Johnston. Both skiers should benefit from another season of growth and will be gunning for that top spot. The Nemeth brothers of St.Cloud Cathedral-Sartell are a hard working pair and lead the field of remaining challengers. Plenty of others in the top 10 will be seeking higher ground as well.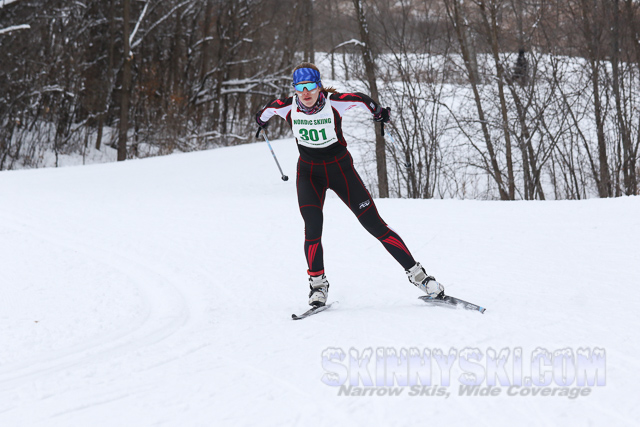 With the powerhouse duo of Wayzata's Mara McCollor and Robbinsdale-Armstrong's Luci Anderson moving on to the collegiate season, Stillwater's Libby Tuttle inherits the number one ranking. Tuttle has been a very consistent top performer, well deserving of the top position. But Highland Park's Molly Moening benefits from a highly competitive environment, and one can expect this sophomore to be stronger and faster this season. Edina's Morgan Richter surprised us last season, showing she had been consistently underranked as she won her section and finished ninth at State. While she'll be hoping to move up, there is a cast of competitors right behind her, including McCollor's younger sister, Lauren, and Hastings star Linnea Urban. Keep an eye on freshman Jordan Parent, Forest Lake, and Margo Nightingale, Mounds Park Academy, as possible movers and shakers this season.
The team rankings are by far the most difficult to develop. The turnover of talent can have a negative impact on some teams, while opening the doors for new stars on other teams. Teams that just missed out on State last year might be returning an entire squad that could now dominate that section. So we've pulled together our best "educated" guesses here -- with most of the effort on the top 10.
Forest Lake seems to field an impossibly good squad each season, and this year looks to be a bumper crop for the boys. This team pushes each other all summer, exemplifying the "float the boat" attitude. Similarly, the other Rudy in the field is Ely. Ely is to Nordic skiing what Warroad and Roseau are to high school hockey. Both those schools will be pressed by another perennial powerhouse, Wayzata. But a number of other teams could be bumping skis up there as well.
If there is possibly one sure thing this season, it's the St. Paul Highland Park girls team taking State. They return all of their skiers from a squad that was second last year and with a strong summer program, expect them to be even better this year. But Stillwater girls lost by three points to Highland Park last year, and with a little channeling of their alumni Jessie Diggins, they could take the top place on the podium. And much like their boys squad, the Forest Lake girls will be fighting every meet to show they are the best. Traditional strongholds Duluth East and Wayzata can be counted on to make a challenge as well.
Junior Nationals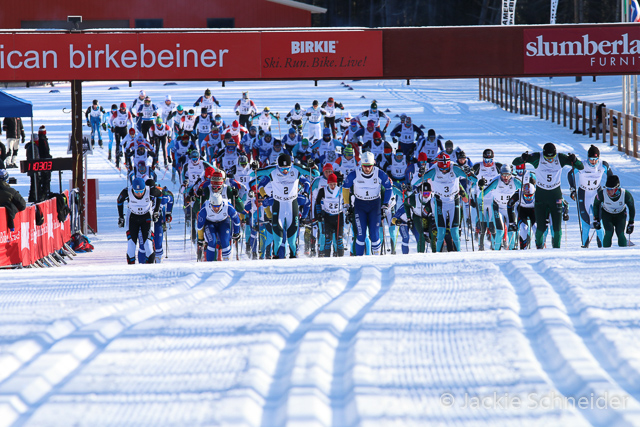 As we have mentioned previously, we do put significant weight on nearly all the races juniors are competing in, and the Junior National Qualifier (JNQ) races present the best opportunity to see head-to-head action. This competition starts early this year with racing already this coming weekend in Duluth. For some reason, the JNQ event fields seem to be filled largely with metro area skiers. Sadly, this means the Midwest division misses out on bringing forward some of our best athletes. For you out-state skiers (and parents), we strongly encourage you to get in the game this season -- take back your places on the squad that are being filled by metro juniors! And to add even more weight to that, the Midwest division has been reorganized starting this year, with Wisconsin now joining the Great Lakes division. This will result in a Midwest division that will be almost entirely Minnesota based skiers (the Dakotas and Illinois remain part of the division).
Finally, there are sometimes athletes that for one reason or another, won't be returning for another season of high school racing (for example, Charlotte Brown of Benilde-St.Margaret's is now skiing out at Green Mountain Valley School). If you know of some in our rankings that won't be competing this season, or have any other corrections, please drop us a note (contact info at the bottom).
Boys Individual
Cooper Lennox, Mora, 12
James Schneider, Wayzata, 12
Jasper Johnston, Ely, 11
Zach Nemeth, St. Cloud Cathedral-Sartell, 12
William Nemeth, St. Cloud Cathedral-Sartell, 12
Ethan Erickson, Forest Lake, 12
Henry Snider, Mounds Park Academy, 12
CJ Young, Maple Grove, 12
Victor Sparks, Mpls Southwest, 11
Roger Anderson, Robbinsdale-Armstrong, 11
Cusp: Colin Freed, Wayzata, 11; Adrik Kraftson, Stillwater, 10; Stas Bednarski, Mpls Southwest, 11; James Schwinghamer, Ely, 12; Nick Parent, Forest Lake, 12; Sam Stertz, Grand Rapids, 11; Declan Hutchinson, Marshall School, 11; Isak Nightingale, Mounds Park Academy, 10; Drew Sampson, Forest Lake, 11; Zach Spear, Eden Prairie, 12; Magnus O'Connor, Prior Lake, 11; Ben Boelter, St. Cloud Cathedral-Sartell, 12; Thomas Golin, Wayzata, 12; Noah Erickson, Forest Lake, 10; Jacob Rochelle-Share, Mpls Southwest, 12.
Girls Individual
Libby Tuttle, Stillwater, 12
Molly Moening, St. Paul Highland Park, 10
Morgan Richter, Edina, 12
Lauren McCollor, Wayzata, 11
Linnea Urban, Hastings, 11
Celeste Alden, St. Paul Highland Park, 11
Gretchen Haggenmiller, Duluth East, 12
Jordan Parent, Forest Lake, 9
Anni Skillicorn, Winona-Winona Cotter, 12
Margo Nightingale, Mounds Park Academy, 9
Cusp: Amelea Hauer, Forest Lake, 11; Elsa Viren, Grand Rapids, 11; Sudie Hall, Mpls Southwest, 11; Johanna Schwinghamer, Mora, 12; Clara Kramer, Duluth East, 12; Gabby Kraemer, Eastview, 12; Megan Bettendorf, Proctor, 12; Clara Kramer, Duluth East, 12; Liv Myers, Stillwater, 11; Gabrielle Kraemer, Eastview, 12; Zoe Camp, Mpls Southwest, 12; Lauren Munger, Hopkins, 10; Christina Bolcer, Maple Grove, 12; Izzy Quam, Mounds Park Academy, 11; Etta Leugers, Mpls Washburn, 11.
Boys Teams
Forest Lake
Ely
Wayzata
St. Cloud Cathedral-Sartell
Mpls Southwest
St. Paul Highland Park
Prior Lake
Champlin Park
Marshall School
Mora
Cusp: Mounds Park Academy; Minnehaha Academy; Stillwater; Robbinsdale-Armstrong; Eden Prairie; Duluth East; Minnetonka; Cloquet-Esko-Carlton; Grand Rapids; Edina; Little Falls; Roseville; White Bear Lake.
Girls Teams
St. Paul Highland Park
Stillwater
Forest Lake
Duluth East
Edina
Wayzata
Mpls Southwest
Winona-Winona Cotter
Eastview
Brainerd
Cusp: Eden Prairie; Hopkins; Mounds Park Academy; Mora; Robbinsdale-Armstrong; Grand Rapids; Ely; St. Paul Central; Andover; Bemidji; Mpls Washburn; Roseville.
Disagree with the rankings or notice a problem? Send your comments to