Frankowski: Behind the Scenes of the World Cup
Many Skinny Ski readers might watch World Cup races on Youtube, or on some obscure cable TV channels, where you get to see the racing action each weekend. But what happens on those days in between races? Where do we stay? Do we hang out with athletes from other countries? How do we get from place to place (with all of our gear, waxing equipment, and a wax truck!)? Here's a little peek "behind the scenes" of the World Cup that you never will see on Eurosport.
First off, when people describe the World Cup as a traveling circus, they are not exaggerating. Most countries have wax trucks; some even fold out to double deckers, with mini-lounges for athletes on the top floor (ahem, Norway). All of these trucks travel location to location but obviously cannot fly. So typically, right after the last race on Sunday, a couple of wax techs jump into the folded up truck and hit the road, driving day and night until they get to the next location. Often these trucks must take ferries and tiny little roads to faraway locations (like Ruka near the Arctic Circle). Almost all wax trucks are on a similar schedule so they are a little band of ski trailers traveling location to location together, just like a traveling circus!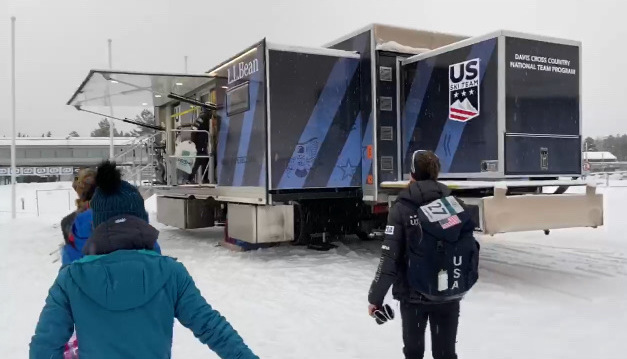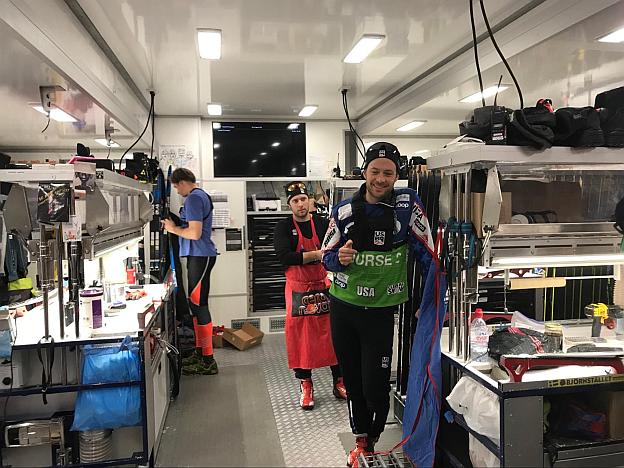 Athletes and coaches usually fly from one location to another, with long bus rides on either side of the flight. Most European athletes head home Sunday after the races, and they fly or drive back to Scandinavia or Central Europe for a couple days. They then arrive at the next venue on Thursday, two days before the races start. Unlike many of our European competitors, we Americans don't go home each week; we leave the host hotel on Monday morning, drive to the nearest big airport, fly all day, and then arrive at our destination after another long bus ride. "FIS transports" are the official name of the coach buses we take, and as long as the flights are on time, our travel days are smooth since we don't have to organize taking trains, taxis, subways, etc. Monday is a travel day, and by Tuesday morning, we are skiing at the new venue.
Still, it really surprised me how much driving (or bus-riding) we do on the World Cup. I always imagined that since everything in Europe is close, we would have these easy, short travel days, but I was completely wrong. Since we are usually in little towns, we drive 2-4 hours to the nearest airport, then fly 3-6 hours, and then drive another 2-4 hours to the next World Cup host town. On our travel from Ruka to Lillehammer, we missed our connecting flight, and the travel day ended up being almost 15 hours.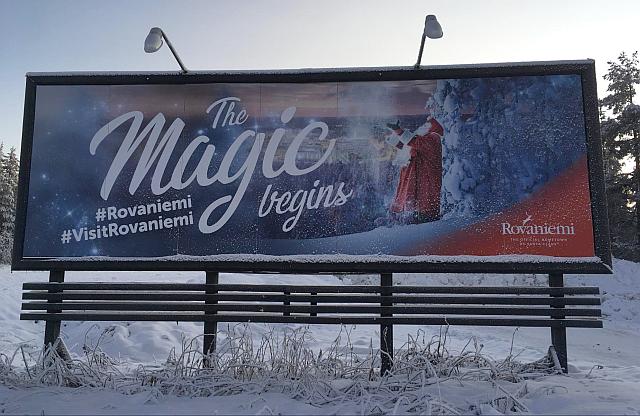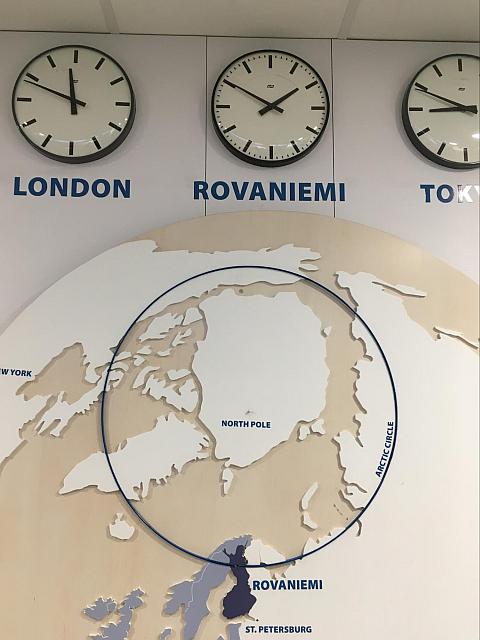 So what is our day-to-day life like? Whether we stay with the entire World Cup field varies from location to location. In Ruka, for example, all the teams (athletes, techs, physios, coaches, etc.), stay in apartments and eat at the same restaurant buffet style. In Lillehammer, all the teams stay at the same Scandic hotel and eat at a giant (absolutely delicious) buffet. In Davos, we will stay in a hotel that we often share with the Canadian team, but won't be staying with the entire field. It is pretty fun to stay in the same hotel as all of your competitors since you get to see everyone eating, hanging out, and being normal people. All of a sudden, those World Cup stars don't seem so different from all the rest of us. It does get a bit crazy when a lot of hungry skiers, coaches and service people are all trying to eat at the same time, so staying in a hotel off the beaten path is a nice respite from the craze.

Some interesting observations from the World Cup buffet last weekend in Lillehammer, Norway:
Athletes love plain oatmeal/porridge way more than I thought possible. I know it's a healthy option for sustainable energy, but gray, off-white goop is never going to make its way onto my plate—unless covered in a lot of maple syrup or brown sugar.
Everyone in the world likes dessert, and many of your favorite World Cup stars are enjoying dessert on the regular (the evening before the race Charlotte Kalla loaded up her plate with a couple of varieties of cake with a big smile on her face). Just in case you needed an excuse to indulge...happy skiers are fast skiers and dessert=happiness.
You usually get to experience some of the region's traditional food. One night in Lillehammer, they served a traditional Norwegian Christmas meal, with a version of sauerkraut, pickled red cabbage, meatballs, potatoes and cod as a main course, and cloudberry cream as a traditional Christmas dessert. In Ruka, they served lingonberries (what we call wild cranberries in Alaska) and had blueberry juice available at every breakfast. Now in Davos, we are treated to lots of dairy products, and cheese--a very Central European diet.
Trying to be sneaky in another country is just as hard as in the U.S. I was attempting to sneak out a piece of cake in a coffee mug from the buffet in Lillehammer, and the restaurant manager loudly called me out, asking if it is an American custom to eat cake out of coffee cups… Whoops…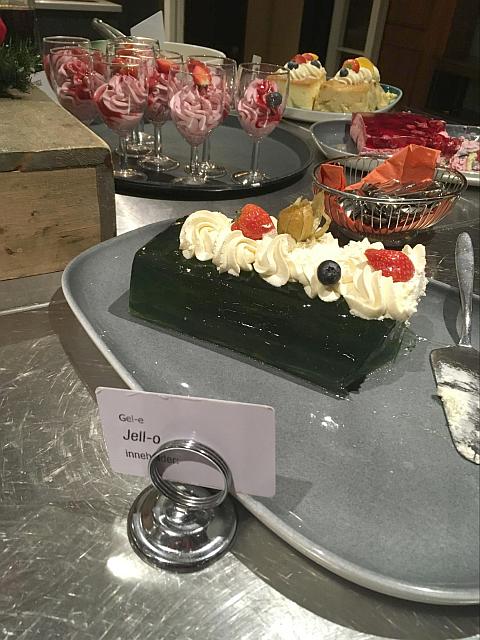 As I mentioned, usually the North Americans, Asian countries, and faraway countries (Russia, for example) are at the host hotel all week before the nearby countries show up. This means we try to lead as normal of lives as we can all week before the racing starts. Since we travel Mondays, Tuesday through Thursday are our days to get our feet under us, both athletically and in life. We always room with a teammate, unless you're sick (then you are put in "isolation" and have your own room), and the team is almost always in the same hotel. A couple of us are working on the road, and a couple are students finishing up the fall semester. In Lillehammer, we took over an entire room and made a "library", where we all worked most afternoons in between training sessions. I am working for a small non-profit on the road, so I do a lot of emailing and grant writing in the afternoons, and sometimes I attend meetings at night. I am also an adjunct instructor at Alaska Pacific University, so I teach online Wednesday mornings 5:30 am-7:30 am (which are Tuesday nights, 7:30-9:30 pm Alaska time).
If we are lucky, we are staying in a town that has something cool to check out within walking distance. In Lillehammer this past week, a couple of the girls and I heard about their annual Christmas Tree lighting ceremony in their town square on Thursday night. We walked down and were treated to traditional Norwegian Christmas carols, a performance by Sondre (a local performer--not the A-list celebrity we initially thought he was), and, of course, the lighting of a giant tree. These little things help to bring some of the magic of traveling into our weeks. Racing on the World Cup is such a cool opportunity, but if you only focus on race results, you lose sight of how unique and interesting each location is.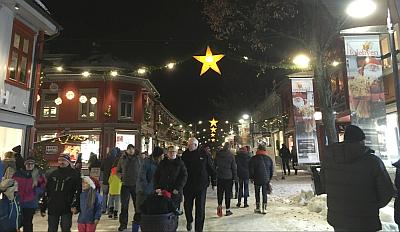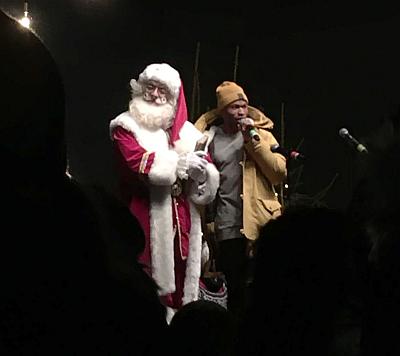 I have one more race here in Period 1: the 10k skate individual start in Davos on Sunday. I am hoping for some sun, lots of beautiful mountain views, and a continuance of the holiday cheer we found in Lillehammer!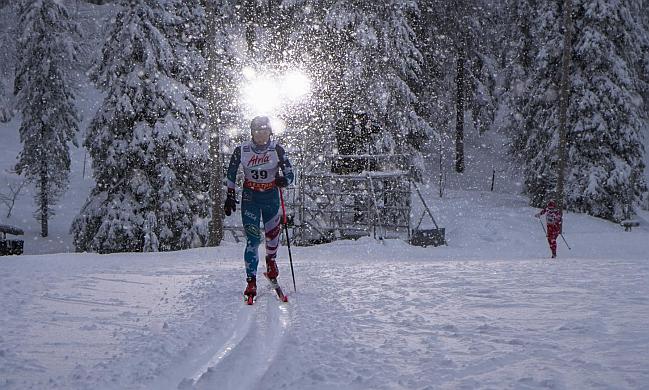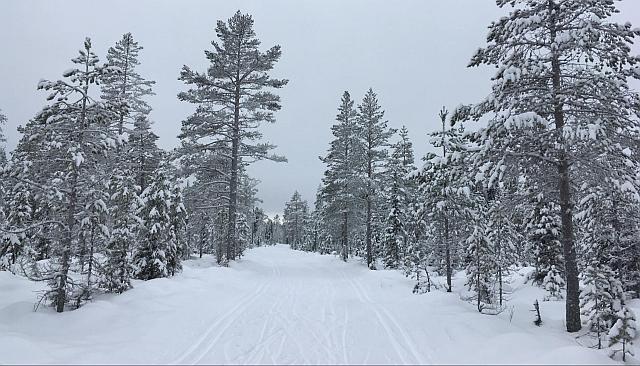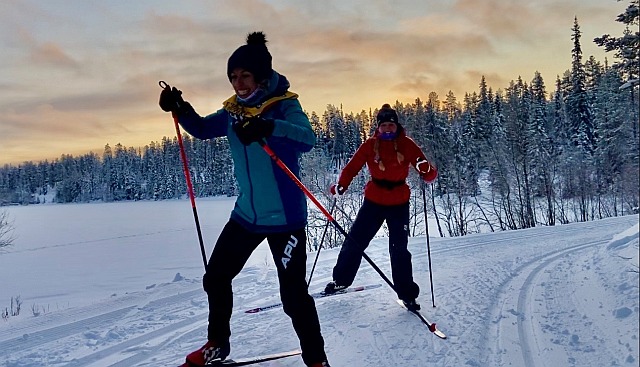 About the author...

Rosie Frankowski learned to ski on the trails of Wirth Park with the Southwest High School Nordic team, and now races for APU Nordic Ski Center and will represent the U.S.A. on the World Cup this season.

Support

As a non-National team member, Frankowski financially supports her own racing, including all travel, room and board, and wax support, by working throughout the year. That alone is not enough to cover racing expenses. She would be grateful for any contributions or support to help cover racing costs. Please reach out through her website.

Website: https://rosiefrankowski.wordpress.com/
Instagram: @frankowitz
Facebook: https://www.facebook.com/RosieFrankk/