Collegiate Racing Recap: CCSA, EISA, RMISA
Bibs have been donned, but not for lobster. Chips have been bought, but not for poker. Boards have been waxed, but not for waves. It's Week 1 of our college racing coverage!

CCSA
CXC Cup Season Opener (Duluth, MN):
Scholastica skiers, energized by racing on their home course and buoyed by the winds of Gitchi Gummi, had a successful season opener.
Racers found a track that was hard-packed and speedy. This race, doubling as a Junior National Qualifier, saw many Midwest juniors competing mostly against Saint Scholastica skiers. Racing at the Grand Avenue Nordic Center, skiers competed in a skate mass start on Saturday and a classic sprint on Sunday.
In the men's 10k skate, Norwegian Emil Bratbak (CSS, 2019 NCAA qualifier) crossed the line in first, just twelve seconds ahead of CSS sophomore and LNR alum, Gus Schatzlein. Gus wrote of his race with excitement, saying, "My race plan was basically to hang with the top group as long as I could but after the first lap, I found that I was feeling pretty good at the back of the pack and just slowly started working up until the last lap where I just gave everything I had."
Gus trained with LNR this summer in the Twin Cities and credits coaches Brian and Caitlin Gregg with helping to nurture his skiing development. He hopes to "podium at Junior Nationals in Truckee and to help get as many Saints to NCAAs as I can."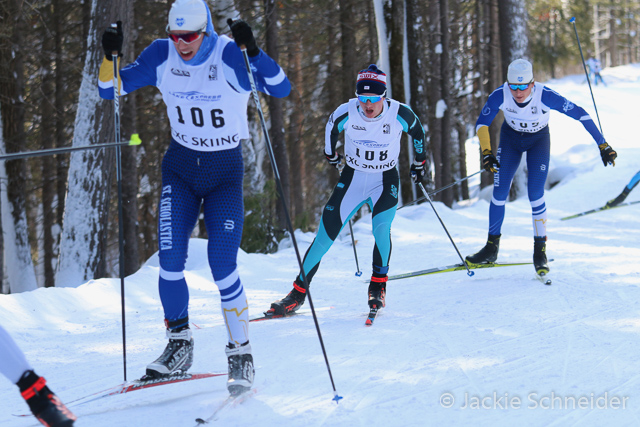 Other notable results include Bjorn Larsen (CSS) in 9th, Drake Hacker (CSS) in 13th, John Schwinghamer (CSS) in 14th, and fellow Saint's skier Ryan Steger in 15th.
In the women's 7.5k skate, Stillwater high school's Elizabeth Tuttle (LNR) won. Lara Ketterer (UWGB) was the first collegiate skier in 4th, with Grand Rapids native and CSS freshmen, Emma Stertz in 6th. Mae Barnes (CSS) finished 16th and Colby College skier and MN native, Annika Martell also finished in the top 20.
The Sunday sprint included only U20s and under. Cold temperatures forced race organizers to delay the qualifier but it eventually warmed up. After winning the qualifier, Cooper Lennox of LNR (and Mora HS) took home the victory in the heats. Following closely in 3rd and finishing off a strong weekend was Gus Schatzlein.
Freshmen Joe Lynch (CSS) finished 7th.
On the women's side, Saint Scholastica first-years finished one-two: Mae Barnes 1st, Emma Stertz 2nd. Reflecting on her successful first weekend of collegiate racing, Stertz praised CSS coaches for stellar waxing and mentioned her strong fall of training. She wrote, "We've got a competitive group of boys and girls that's been pushing each other through intervals all fall so it was exciting to see it all come together with lots of team successes this weekend."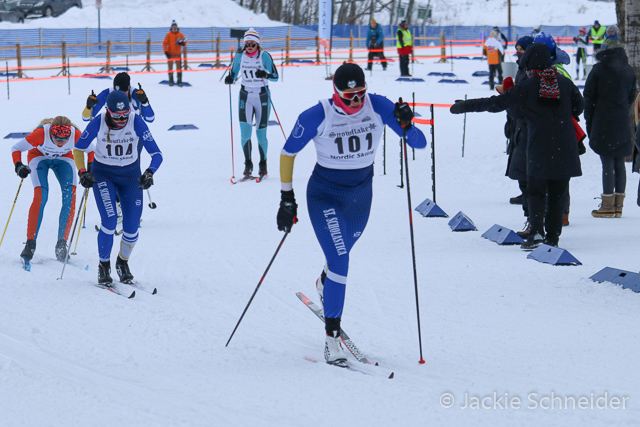 Rana Kraftson (CSS) found a place in the final as well, finishing 5th. Annika Viren (CSS) placed 8th and Cheresa Bouley, Saint Cloud State freshmen, raced to 20th.

The Wildcat Open (Ishpeming, MI):
Northern Michigan squared off against Michigan Tech in a battle of the Upper Peninsula. Saturday featured a 15k skate interval start for the men in which red-shirted Zak Ketterson was followed by his NMU teammate and Norweigan national, Kjetil Baanerud. Following less than a minute behind in 3rd and 4th were MTU teammates Reid "The Gobbler" Goble and Patrick Acton. Rounding out the top ten was Xavier Mansfield (NMU).
The women's 10k skate featured a victorious Mailin Boerjesjoe (NMU, Sweden). Freshmen Anabel Needham of Michigan Tech followed 1:40 back in 7th place.
Reid Goble and Patrick Acton proved their consistency across disciplines and early season fitness by placing 4th and 6th respectively in Sunday's 10k classic interval start. They finished 0:58 and 1:20 behind Kjetil Baanerud.
Rounding out the top ten were David Jaszczak (MTU) in 9th and Xavier Mansfield (NMU) in 10th.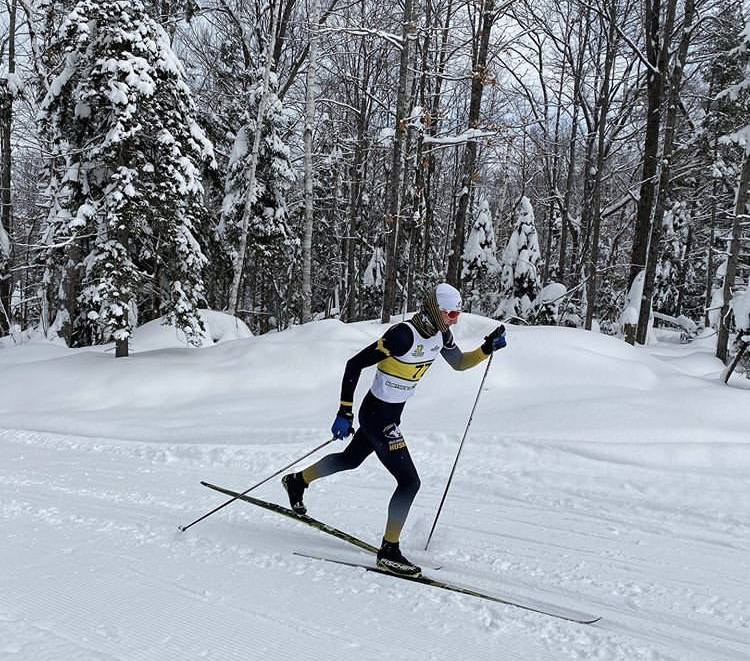 On Sunday, in the women's 5k classic interval start, NMU's Hilde Eide (Norway) strode to the top of the podium. Annabel Needham (MTU) placed 8th, 1:13 back from Eide.
For more information on this past weekend check out CCSA's official recap
CCSA action returns again next week for the MTU CXC Cup in Houghton. Skiers will be previewing the courses for US Nationals with a skate sprint and classic distance mass start.
EISA
EISA teams were spread out, in and beyond the northeast, this weekend. Many schools recently had finals, or skiers had already traveled home, so race participation was low.

Craftsbury Opener (Craftsbury, VT):
Rain caused the cancellation of the distance race planned for Saturday. Conditions were back to reasonable for Sunday's sprint thanks to the early season snow stockpiling, saving, hoarding, and making that generates lots of love for the Craftsbury Outdoor Center. The sprint qualifier, won by UVM's Ben Ogden was light on collegiate midwesterners; Will Bodewes (UNH) finished 13th. Following the qualifier, skiers were organized into heats for Queen's court knockout style rounds featuring the winner of each heat moving up into the higher bracket and the last place skier moving down. Skylar Tupper (CBC) won her quarterfinal and then skied to second in her semifinal. The women's champion was Alex Lawson (Midd).
A few Saint Lawrence skiers were seen racing the Canadian NorAms at the Nakkertok Nordic Club in Gatineau, Quebec.
Next weekend, many EISA skiers will either be racing the Eastern Cups at Quarry Road, ME (home of Colby Skiing) or the MTU CXC Opener (for those back home for the holidays).

RMISA
Sun Valley Supertour (Sun Valley, ID):
Montana State, Utah, and Denver skiers competed in a soft-snow classic sprint on Saturday and a cold and firm interval start skate 10k on Sunday.
Because not all RMISA teams and skiers participated in these Supertours, it is difficult to use this weekend's results to forecast for the rest of the season. However, we will highlight that MSU qualified four men and four women for heats in the classic sprint.
Tyler Kornfield (Alaska Pacific University) won the men's sprint with Katherine "KO" Ogden (Dartmouth College) standing on the top step for the women. In the distance races, Ian Torchia (Stratton Mountain School) took first with Riitta-lisa Roponen (Oulun Hiihtoseura/Finland) following suit for the women.

AMH Anchorage Cup (Kincaid Park, AK):
On Sunday, University of Alaska Anchorage skiers won the coed division of the team sprint. The champion duo consisted of Austen Huneck and Tuva Granoien.
Look for some RMISA athletes to jump into the Rocky Mountain Junior National Qualifier (skate sprint, classic interval start) next weekend in Crested Butte, CO.
About the author...

Luke Brown, a graduate of Minnehaha Academy and Dartmouth College, is a skier and biathlete for the Crosscut Mountain Sports Center and the US Biathlon X-Team. He enjoys running in the mountains, writing, and eating cereal with whole milk. He lives in Bozeman, MT.