Collegiate Racing: Dec 21-22 Recap
CCSA
'Twas two weeks before Nationals, when all through the Midwest
A lot of skiers were stirring, they included the best;
The skate skis were waxed by the coaches with care,
In hopes their skiers would stand on the top stair;
Those skiers were nervous and clad in bright threads,
While visions of striding danced in their heads;
Pre-US National CXC Cup (Houghton, MI)
Skiers found downright balmy conditions this past weekend in Houghton, Michigan. With visibility greater than ten meters and a thermostat that almost broke when the mercury shot past thirty degrees, watch for Houghton to make a run at Cabo as the top destination for #SpringBreak2020. But for now, the City Planning Committee will have to settle for an onslaught of Nordic skiers who won't party but will leave a trail of wax through all local hotels during the upcoming US Nationals.
But let's get back to this past weekend. Saturday featured a skate sprint rumored to have been shortened since the last time Nationals were held in the Upper Peninsula. Local legend Alayna Sonneson (Stratton Mountain School) returned to her Midwest lair to claim the victory over Malin Boerjesjoe (NMU, Sweden) and Katerina Hyncicova (NMU, Czech Republic). Amanda Kautzer (MTU) finished fourth and rounding out the A-final were Abby Drach (Dartmouth) and Sarah Goble (MTU).
Drach, originally from Eden Prairie, is heading in to her last season with the Big Green, said, "I mostly just enjoyed getting to do all of the rounds of the sprint, as it is something that I don't normally get to do. It was good practice to work on navigating around other people as well as implementing and responding to different strategies." Drach will be sticking around Minnesota for the holidays and returning to Michigan for Nationals where she is looking forward to the 10k skate race.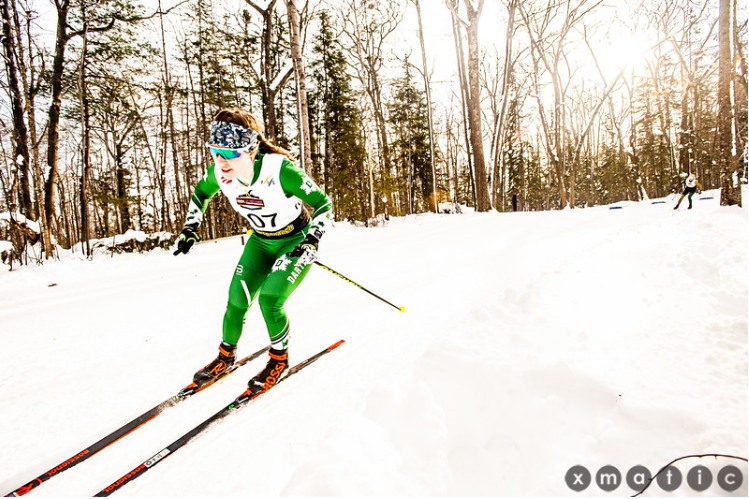 Annabel Needham (MTU) placed 8th, Mara McCollor (Dartmouth) 9th, and Margie "Freedom" Freed (UVM) finished 14th.
On the men's side, Zak Ketterson (US Ski Team) won the final with Reid Goble (MTU) placing 5th. Anders Sonnesyn (UNH) had a strong result, finishing 8th. Tamer Mische-Richter (CSS) was 10th and Ryan Steger (CSS) 12th with lots of other Midwest boys rounding out the top 20: 13th - Leo Hipp (NMU, who eloquently described the races as "good and fun"), 14th - Gus Schatzlein, 15th - Sam Myers (UWGB), 16th - Patrick Acton (MTU), 17th - Matthew Bourne (NMU), 18th - David Jaszczak (MTU), 19th - Thomas Woolhouse (UWGB), 20th - Somer Schrock (MTU).
On Sunday, skiers raced a classic mass start: 10k for both women and men.
The women skied quickly from the start, causing the field to spread out rapidly. Sonnesyn (SMS) won again over Boerjesjoe (NMU, Norway) and Sophia Mazzoni (NMU). They were followed by first-year Mara McCollor (Dar) in fourth and Sarah Goble (MTU) in fifth. Goble enjoyed the mass start, saying, "The classic race was a lot of fun. The conditions were really good, trails were fast, and the weather was warm and nice for Houghton. I really enjoyed the [course] changes and glad we were able to race on it before Senior Nationals."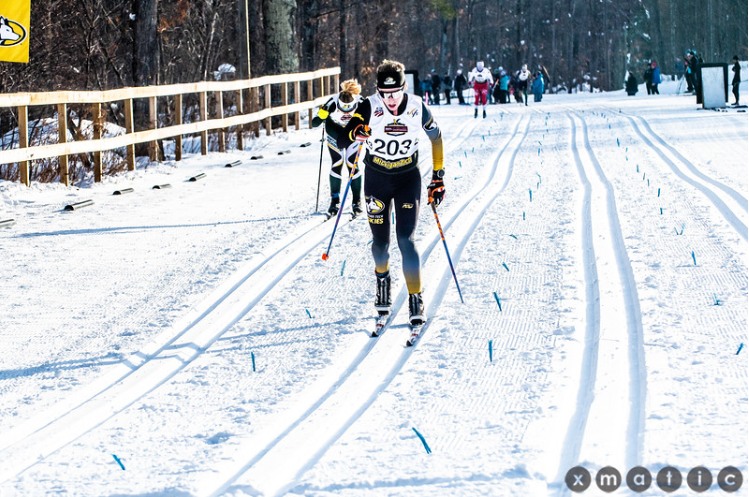 Margie Freed (UVM) skied to 9th, Annabel Needham (MTU) 12th, Abby Drach (Dar) 13th, Mary "the Lion" Lyon (MTU) 16th, Amanda Kautzer (MTU) 17th, and Emma Stertz (CSS) 18th.
Ian "Torch" Torchia (SMS), prepping for Nationals, took it out hard and snagged the victory. Following behind Torch were his former teammates Kjetil Banerud (NMU, Norway) and Ketterson (US Ski Team). Reid Goble (MTU) placed 5th, ahead of the second member of MTU's dynamic duo, Patrick Acton, who finished in 9th.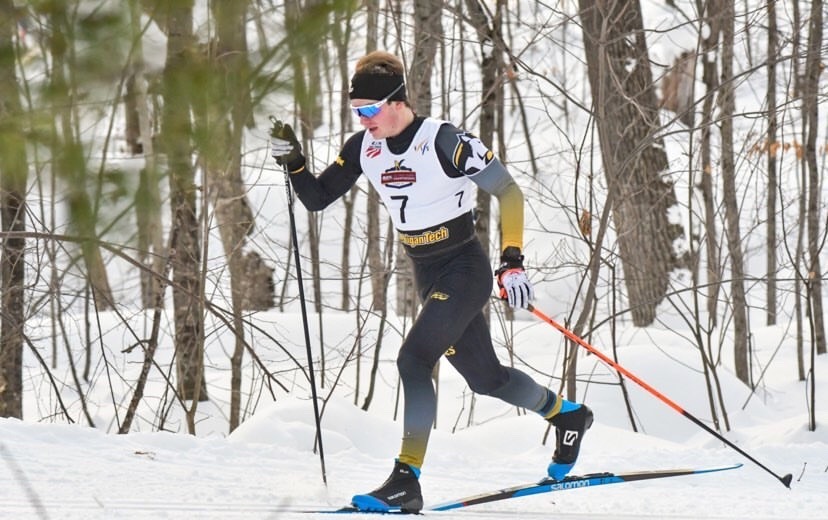 With an encouraging start to the season, the Michigan Tech team is hopeful. Acton said, "Obviously it's always pretty sweet to be able to race at home and especially in an event as large as US Nationals so our team is looking for some more strong results with a home course advantage and then be able to build off of those races through the rest of the season to NCAA Championships."
Following Acton were Xavier Mansfield (NMU) 10th, Matthew Bourne (NMU) 11th, Tamer Mische-Richter (CSS) 13th, Leo Hipp (NMU) 14th, Mark Ousdigian (MTU) 15th, David Jaszczak (MTU) 16th, Anders Sonnesyn (UNH) 17th, Gus Schatzlein (CSS) 18th, and Ian Evans (UWGB) 19th.
Up next: US Nationals, Jan. 2-7, Houghton, MI. Nationals will count as the first NCAA qualifying races for the CCSA.
EISA
When the gun went off there arose such a clatter,
So focused, so hopeful that nothing else mattered.
Away to the woods they flew like a flash,
Gliding and tucking but they couldn't take cash.
Quarry Road Eastern Cup (Waterville, ME)
Hard work by the trail crew and volunteers allowed for a quality ski race in Maine despite less than ideal recent weather conditions. With most Midwest skiers home for the holidays, we'll just note the highlights.
Saturday: Skate Sprint
Skiing on a ribbon of snow through a field of grass, Alex Lawson lead a Middlebury sweep of the top three positions for the women.
Ben Ogden (UVM) won over teammate Greg Burt.
Sunday: Classic 5k/10k
This time it was Sophia Laukli (Midd) who led another Middlebury sweep of first through third.
Ogden (UVM) won again for the men ahead of Dartmouth skier, Adam Glueck.
RMISA
When, what to my wondering eyes should appear,
It was a racer in front - the strongest skier!
But right behind him were others, with determination they came,
And they pushed and they poled, they were cheered for by name.
Solstice Showdown, Rocky Mountain JNQ #1 (Crested Butte, CO)
Saturday, Skate Sprint
Haley Brewster (SSCV) won in front of Waverly Gebhardt (Colorado University). Bridget Donovan (Colorado University/SSCV) finished eighth.
On the guys' side, Tyler Haroldson (WCU) took the victory right ahead of college sophomore, Woody Martineau (Williams). Cameron Wolfe (Dartmouth) finished fourth with Colby College skier Ian Hardenburgh in tenth.
Sunday, Classic 5/10k
Colorado University's Ezra Smith took the win. Haley Brewster (SSCV) was second and Gebhardt (CU) finished third.
For the men, Garrett Butts (APU) won. Lukash Platil (University of Alaska Fairbanks) finished second with Wolfe (Dar) third.
Next up: Look for the best collegiate skiers from the East and West to show up in Houghton for US Nationals.
So head to the trails, with your team please do train,
And away you'll all fly, straight into the pain.
But in the woods you'll exclaim, ere you ski out of sight,
HAPPY CHRISTMAS TO ALL, AND TO ALL A GOOD-NIGHT!
About the author...

Luke Brown, a graduate of Minnehaha Academy and Dartmouth College, is a skier and biathlete for the Crosscut Mountain Sports Center and the US Biathlon X-Team. He enjoys running in the mountains, writing, and eating cereal with whole milk. He lives in Bozeman, MT.