US Nationals Recap: Days 1 and 2
"A master in the art of living draws no sharp distinction between his work and his play; his labor and his leisure; his mind and his body; his education and his recreation. He hardly knows which is which. He simply pursues his vision of excellence through whatever he is doing, and leaves others to determine whether he is working or playing. To himself, he always appears to be doing both." - L.P. Jacks
Four hundred skiers have descended upon Houghton, Michigan to compete in the U.S. National Championships. Whether they are working or playing, or merging the two into a single activity, they are pursuing improvement, yearning after excellence. And it's a thing to see.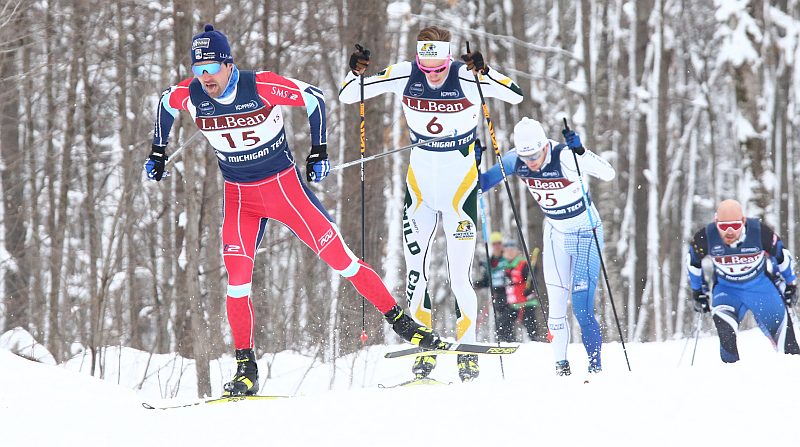 Thursday, Jan. 2
Skate Sprint
The first day of Nationals featured a World Cup style two-lap sprint course. Skiing out of the start, skiers picked up speed on a slight decline before twisting and turning their way downhill through the woods. Taking momentum up and over the loop's singular climb and into the second lap was imperative. Finishing the loop for a second time, skiers swung right into a long straight away whose ever so gradual incline made legs scream and lungs gasp.
Racers skied a qualifier round after which the top thirty were placed into heats to ski head to head in quarterfinals, semifinals, and a final. The snow was wet and suctioned more and more speed as the day went on.
After qualifying second, Gus Schumacher (Alaska Winter Stars), a U20, took the men's victory in the final. Former Minnesota high school champion, Ben Saxton (Stratton Mountain School) moved from 15th in the qualifier, through heats, and into second place overall. Bill Harmeyer (University of Vermont) rounded out the top three.
Reflecting on the race and his performance, Saxton said, "I think the course is tough, but it's plenty fair. Like most Houghton courses it hangs on the looong finishing straights, and it's all about conserving energy before launching for home… In the final I think I let a little too much slack open up on the downhill, but any day you make a Nationals podium is a good day. My coach Pat made some incredible skis, and they were an enormous help in the rounds. I feel really lucky to be one of his athletes, and to be a part of the SMST2 team. Being supported by a team like that makes racing feel light and easy."
College team highlights: Northern Michigan had a stellar day, placing three men in the top 10. The University of Vermont had three men in the top 12.
In the Junior Boys heats, Anders Sonnesyn (University of New Hampshire) placed third, behind James Kitch (Harvard) and Zanden McMullen (APU).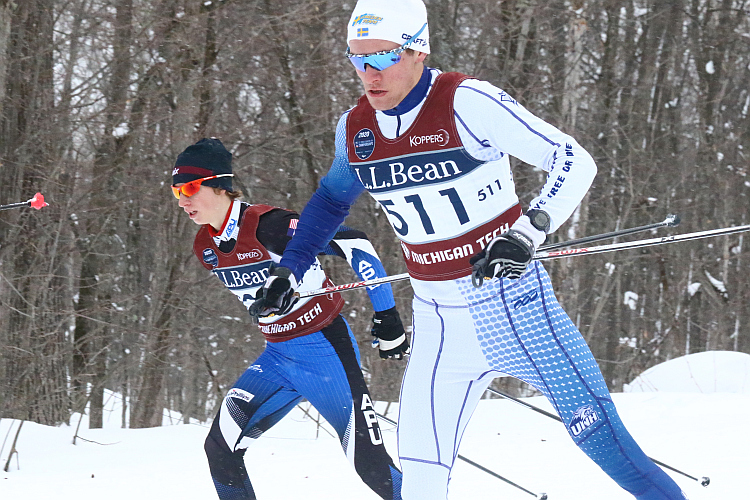 "I felt a little sluggish in the qualifier and think I may have picked a ski that was too stiff," said Sonnesyn. "All of my heats went out really fast and I found myself trailing behind for most of the race but then was able to find a new gear on the final climb and into the finish. I thought my tactics worked really well because I was able to avoid the headwind by drafting off some guys and then went by them in the long finishing straight where I felt the strongest. It was a fun day out there!"
August Schatzlein (CSS) advanced to Semifinal #2 in which he placed 4th.
The women's podium after heats was the same as after the original qualifier. Hailey Swirbul (APU) took the win over Minnesotan Alayna Sonnesyn (SMS) by 1.5 seconds. Caitlin Patterson (Craftsbury) followed in third.
For Midwest collegiate skiers, Amanda Kautzer (MTU), who skied for Benilde-St. Margaret's in high school, placed seventh overall as the second place U23. Her teammate, Sarah Goble placed 12th. Michaela Keller-Miller (UAA) just cracked the top thirty to make heats.
The Michigan Tech women had four in the top thirty, competing on their home course.
"In the heats is where I felt the most benefit from racing at home," Kautzer said. "Just before break we had a JNQ skate sprint, and I made a few mistakes there that I learned from and took those lessons into the race today… Most specifically, we as a team learned last week that fighting for the inside lane and pushing over the top of the hill at the lap were critical."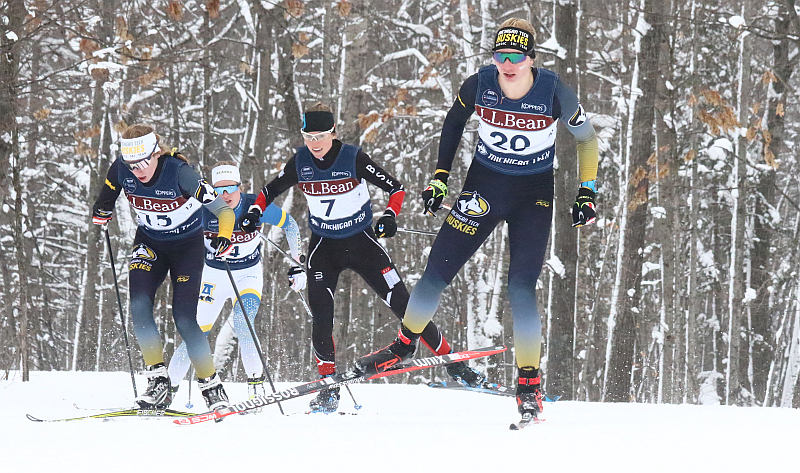 "It's been really cool to see this level of competition at our home course. I'm so used to pulling into the parking lot and being one of maybe a handful of cars, so having jam packed parking lots is awesome." Kautzer also mentioned support from the volunteers - to whom we can never express enough gratitude - thank you!
Sisters Mara (Dartmouth) and Lauren (Minneapolis Ski Club) McColler both advanced to the Junior Semifinals before being knocked out.
Friday, January 3
Skate 10/15k individual
It was an energetic day, buzzing with the nerves of almost 400 skiers. From 9:30am until 2:30pm skiers raced around a course with challenging climbs and long descents. Glimpses of skis and racing suits could be seen through forests of pine, birch, and oak.
The women raced first: two laps of a 5k. The men followed: three laps. And within those laps it was seconds that separated one skier from another. The difference being the efficiency of the poling, the consistency of the glide, and the audacity of the pacing.
Finnish national, and forty-one year old speedster, Riita Liisa-Roponen, won the women's 10k in a time of 27:38.5. Following about eighteen seconds behind was Caitlin Patterson (CGRP) who grabbed her second podium in two days. A calm but focused Alayna Sonnesyn (SMS) also stood on the three-tiered steps for her second ever Nationals podium and for the second day in a row.
"I've loved being back in the Midwest for these races, I feel like there's someone cheering for me on every single hill and that makes such a difference in a race," said Sonnesyn. "So cool to be back in the Midwest ski community and the feel the love and support. I'm really really happy with the way my races went and I'm proud of how I skied. I was coming off some tougher races at altitude early in the season and didn't feel like those races accurately represented where my fitness has been at this year. That being said, I knew I had to be ready to give it 100% not only physically, but mentally too and I'm proud of myself for staying so mentally strong in the races and smooth/relaxed in my skiing.
Sonnesyn also credited the SMS team and coach, Pat O'Brien, for helping her achieve this success.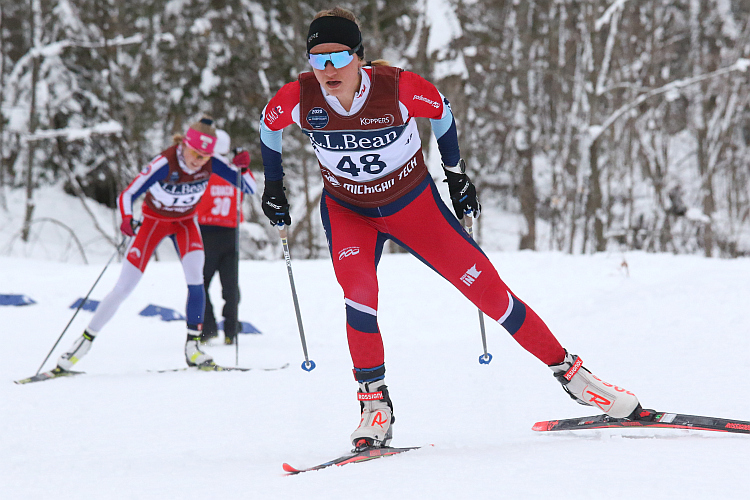 Minnesotan and NMU grad, Rosie Frankowski (APU) placed 7th, followed closely by Caitlin Gregg (Team Gregg) in 8th.
Our college team shoutout goes to the Middlebury women for placing three skiers in the top 21.
This race also marked the CCSA's first official NCAA qualifying race. It was a race within the larger race, in a way, in which Michigan Tech went 1-2 with Sarah Goble (Harbor Springs) leading teammate Henriett Semb (Norway). NMU skier Hilde Eide (Norway) followed closely behind. Goble was also the fifth U23.
Other collegiate highlights for Midwest skiers include Michaela Keller-Miller (UAA) in 19th as the sixth U23, Mara McColler (Dar) 31st, and Lucinda Anderson (UNH) in 34th. McColler and Anderson placed 5th and 6th respectively in the under-20 category.
Libby Tuttle (LNR) skied to the 4th position for U18 and Molly Moening (Minneapolis Ski Club) made her mark as the 2nd U16.
The men's podium featured two former Minnesota High School standouts. Kyle Bratrud (SMS), hailing originally from Eden Prairie and a graduate of NMU, won his fourth national championship in a time of 36:47.9. Bratrud skied boldly from the start, placing the top splits for each of the first two laps. Following thirteen seconds behind was junior Gus Schumacher (Alaska Winter Stars). The other Minnesotan and NMU graduate, Ian Torchia (SMS) rounded out the podium in a time of 37:22.2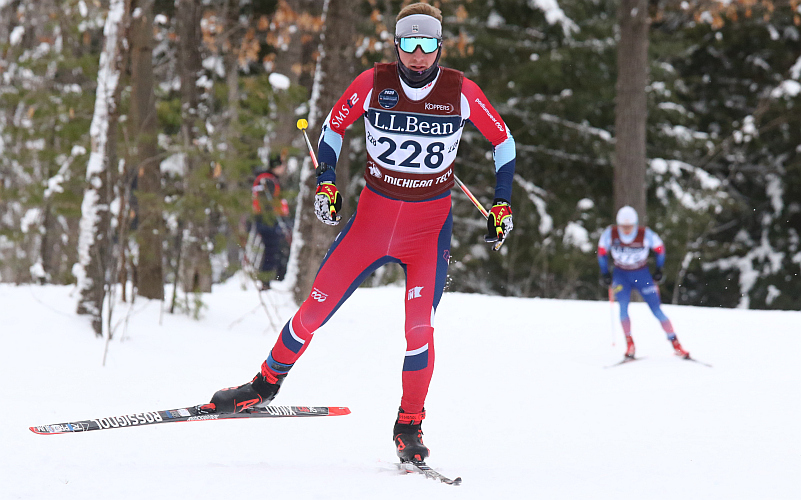 Adam Martin (CGRP) placed 5th, Luke Brown (Crosscut Mountain Sports Center) 14th, and Matt Liebsch (Pioneer Midwest) 26th.
Collegiate team shoutouts go to the University of Vermont and the University of Utah, both of which placed three skiers in the top thirty.
Patrick Acton (MTU) officially won the CCSA category with a 32nd place overall, in front of Kjetil Baanerud (NMU, Norway) in 33rd, and Reid Goble (MTU) in 43rd.
Acton reflected on a solid race, "Quite stoked to start the CCSA racing off with a win especially when a lot of the guys have been skiing really outstandingly the last few weeks. I was fortunate enough to start the race right as a group of guys were lapping through. I knew these guys would be in contention for some top notch results so my strategy was to tuck in with them, stay relaxed, and conserve energy for the later parts of the race when I wouldn't have their draft."
After a day off of racing, skiers will toe the line on January 5th for a 20/30k classic mass start.
Related:
About the author...

Luke Brown, a graduate of Minnehaha Academy and Dartmouth College, is a skier and biathlete for the Crosscut Mountain Sports Center and the US Biathlon X-Team. He enjoys running in the mountains, writing, and eating cereal with whole milk. He lives in Bozeman, MT.