US Nationals Recap: Days 3 and 4
You see the high-school standout lingering under the Friday night lights. The coach staying late in his office watching film after the season's last game. Teammates wandering streets, avoiding sleep that will signify the end. But eventually, you see them head home, to rest, to recover, to relive the glory and the failings of their dreams.
2020 Nationals are over and skiers are homeward bound. Some have achieved their goals and wish to remain in this time, relishing the payoff of their work. Some are left wanting more. But all can rest assured knowing that no matter what, there are more opportunities ahead.
Sunday, Jan. 5 - Classic Mass Start
Men's 30K
The gun went off at 9:30am and ninety-two men shot off the starting line with gusto. The cheers from the crowd morphed into the swish and crunch of skis and poles as the pack skied into the silence of the woods. A pack of about twenty-five stayed together through the first two laps of the 7.5k course. After a series of strategic moves, two skiers came down the finishing stretch together. Erik Bjornsen (APU) took the victory with Kyle Bratrud (SMS) in second. Following close behind was another Stratton skier, Ian Torchia. A Midwest dominant top-five also included Adam Martin (CGRP).
Bratrud reflected on his race with contentment, saying, "My race strategy was to just sit back and let the other guys make the race happen and go with the moves. But things stayed pretty chill and no one was able to make anything stick so I made a hard move with a little less than 5k to go and then ended up duking it out with Erik for the win but ultimately he was stronger in the sprint finish. That being said, I'm happy to be second place behind our nation's best distance skier."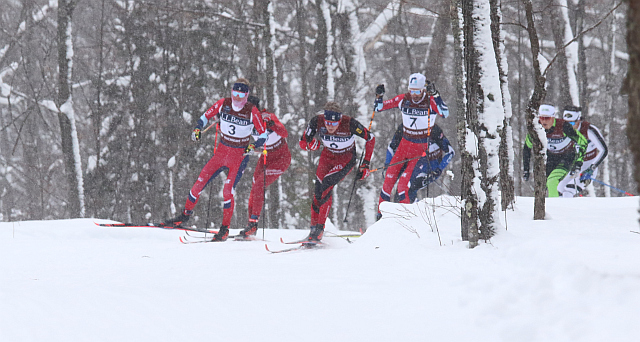 Torchia gave his own account, "The 30k was an interesting race in which it was pretty chill for just around 23k and then started to heat up from there. I put in a move with about 3k to go and Kyle put in his own move 1k later and I had a hard time hanging on to him and Erik. My triceps were to starting to cramp up and I even put my pole between my legs during the final sprint and came to a dead stop. Pretty rugged finish but was happy to hang on to 3rd!"
Combined with strong results earlier this season, Torchia has earned a World Cup birth.
"The day before the 30k I got the news that I was Supertour leader (by 1 point!) and had the opportunity to go compete in Period 3 of the World Cup. It was a testament that every race and every second matters and I am super stoked (and already a little nervous) to be starting my first World Cups in Nove Mesto, Czech Republic in two weeks."
Torchia hopes to ski into the top thirty on the World Cup.
The Stratton Mountain School has had a strong Nationals and credit must be given to coaches and wax techs Pat O'Brien and Tad Eliot.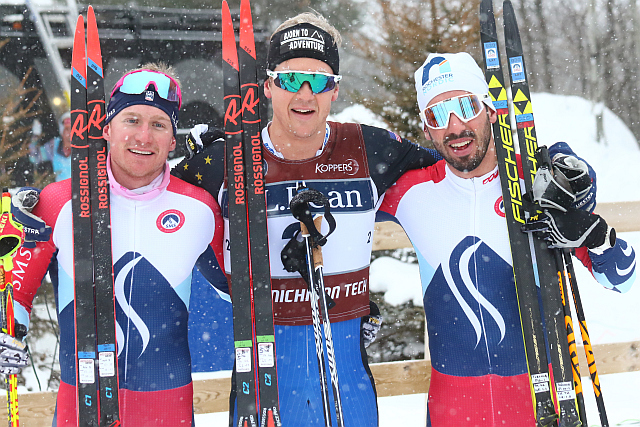 Other solid results from Midwest skiers included Reid Goble (MTU) placed 17th and Luke Brown (Crosscut) skied to 22nd.
The University of Utah earns the college team highlight with three men in the top 20. Look for strong results from UU throughout the RMISA college racing circuit and NCAAs.
In the Junior 10k race, Roger Anderson (LNR) finished as the 9th U18 and August Schatzlein (CSS) placed 10th for U20s.
Women's 20k
As the morning turned to mid-day, Houghton began to show it's historical self as the wind and snow picked up. By the time the women's race started at 1pm, the course had slowed and the wax had changed, but that my friends, is ski racing. The women's field spread out quickly as they skied the first of four 5k laps.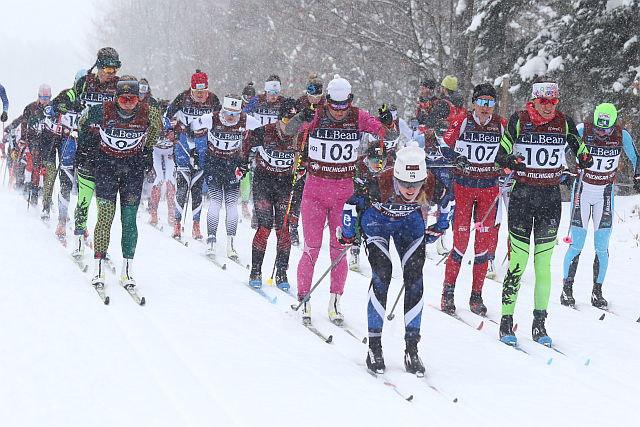 Hailey Swirbul (APU) took the victory with Caitlin Patterson (CGRP) in second. Following in third was Finnish national and wife of the Denver University head coach, Riita Liisa-Roponen (Oulun Hiihtoseura/Finland).
Rosie Frankowski (APU) and Alayna Sonnesyn (SMS) skied strong races, staying with the leaders for as long as they could, finishing 5th and 6th, respectively. Caitlin Gregg (Team Gregg), smiling often throughout the race, finished 14th.
Frankowski shares her tale from sickness to success. "My teammate, Becca, came down with the stomach flu the morning of the Skate sprint, and as we are sharing a bunk in a small room, I was praying I wouldn't get it. Unfortunately, I started feeling weird the morning of the 10k, but I thought it was just extreme nervousness. I kinda realized at the start when I was absolutely frozen and had the chills that something might have been off, and I felt off in the race and then nauseous at the end. I spent that night awake throwing up and then spent the entire rest of the next day sleeping or in bed, trying to get down fluids."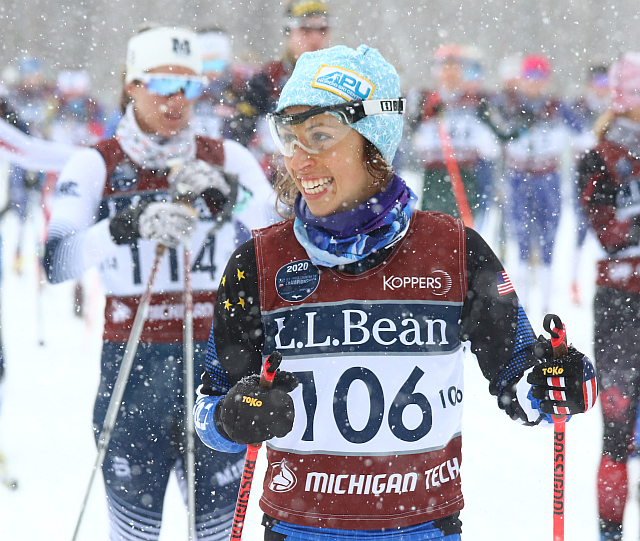 Now comes the 20k.
"I warmed up with the intention of probably not racing, but I was really saddened by that idea and so wanted to just give it a shot. I made a deal with my coach that we would check in every 5k and he would pull me if I was puking, or cramping or getting pale. We did that and when I was still in it and moving at 10k, he said to go for it. Unfortunately, I made it to 17-18k and then just died (cramped, thought I was going to throw up, and so dizzy), so I couldn't be in the mix for the end. But I did manage to lose 40 seconds in about 1k so I can safely say I gave it my all. I wish I could have been in prime fighting shape to give it a real go, but I am proud of what I could accomplish under the conditions. And I had stellar skis from our wax crew!"
Cheers to perseverance and positivity! Well done, Rosie.
A series of collegiate Midwest skiers finished in the top 30: Amanda Kautzer (MTU) 19th, Michaela Keller-Miller (UAA) 22nd, Margie Freed (UVM) 24th, Renae Anderson (BOW) 25th, and Sarah Goble (MTU) 30th.
The Michigan Tech women placed three skiers in the top thirty. That combined with their performance in the first two races made them the winners of the U.S. Nationals Women's College Cup.
The Middlebury women are also showing strong depth with three in the top thirty.
In the Junior Women's 7.5k race, Mara McCollor (Dartmouth) skied an impressive race as the 3rd U20, earning a spot on the World Junior Championship Team! Luci Anderson (UNH) was the 10th U20. Also impressive was Molly Moening (Minneapolis Ski Club) who skied to 2nd place for U16s. Following her as the 5th U16 was Margo Nightingale (LNR).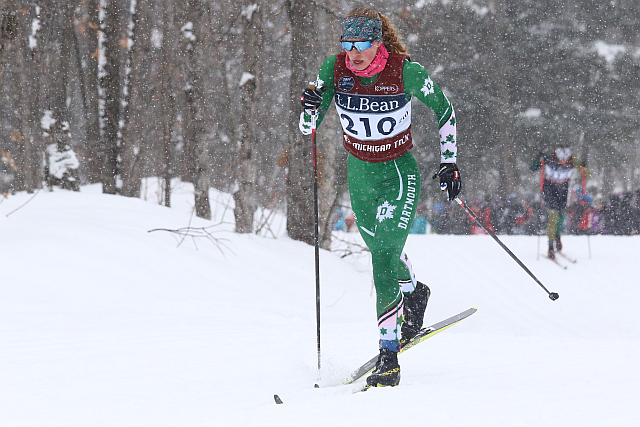 Tuesday, Jan. 7 - Classic Sprint
On the last day of U.S. Nationals, skiers faced snow filled tracks and gusty winds. The sprint course remained the same two-lap track as earlier this week in the skate sprint. However, the switch to the classic technique combined with the weather made for a head-down grind of a sprint the whole way. Times for the women were up above four minutes.
Hailey Swirbul (APU) cinched her spot as a household name in Houghton by securing her third National Title this week. Caitlin Patterson (CGRP) followed in 2nd with Minnesotan Alayna Sonnesyn (SMS) in third. After Sonnesyn's third podium of the week, she too will be heading to Europe for World Cup starts.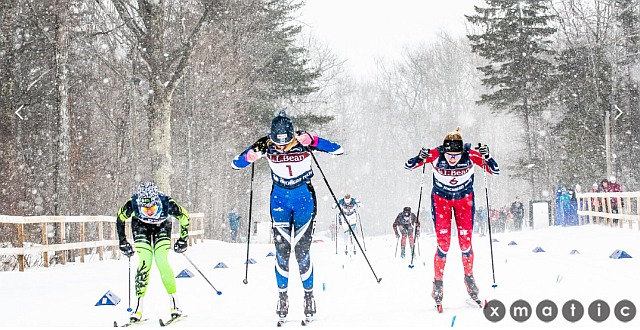 Rosie Frankowski (APU) surprised herself with a 6th place finish. Amanda Kautzer (MTU) was 14th, Caitlin Gregg (Team Gregg) 19th, Hannah Rudd (UAA) 26th, Sarah Goble (MTU) 27th, and Felicia Gesior (Crosscut) was 29th.
Frankowski's adventure saga continued from earlier in the week. "I did the qualifier not expecting much because I still felt really tired from not eating for a couple days and racing, but I made it into the rounds. My teammates convinced me to race the heats and to just have fun and try. So I went into my quarter and somehow made it into the semi-final. Then in the semi-final, I finished 4th but got the lucky loser slot into the A final—which I have never been in at US Nationals. In the final, I was in 4th when I faceplanted about 250m from the finish, so that was unfortunate, but overall I am really excited to have such a strong sprint when I really focus on distance racing usually. Also, I had great skis!"
NMU, MTU, and UU all had three women in the top thirty.
Emma Albrecht (MTU), from Stillwater, won the Women's Junior Heats. Her Michigan Tech teammate, Anabel Needham, placed 3rd.
In the men's sprint, Canadian Julien Locke (Canadian National Ski Team) crossed the finish line first in the A-final. U23 Hunter Wonders (APU) took home second and U20 Luke Jager (UU) finished third.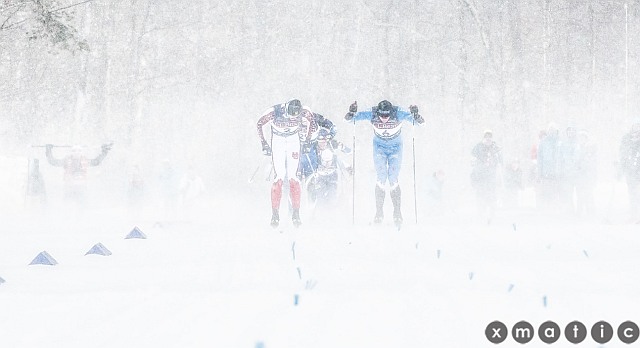 Ben Saxton (SMS) finished 12th after getting relegated in his semi-final for a technique infraction. Because snow-filled tracks, skiers were double poling in between classic tracks which forced many skiers toward the edge of technique boundaries.
Luke Brown (Crosscut) finished 18th, Adam Martin (CGRP) 21st, Reid Goble (MTU) 25th, and David Jaszczak (MTU) was 28th.
NMU continued their strong sprint results from earlier in the week with three in the top thirty.
Skiers will take a break for some much needed recovery. The next Supertour races are January 24-26 in Craftsbury, VT.
College racing starts up in the Midwest and East the weekend of January 18th. The first RMISA race will be held January 25th.
Related:
About the author...

Luke Brown, a graduate of Minnehaha Academy and Dartmouth College, is a skier and biathlete for the Crosscut Mountain Sports Center and the US Biathlon X-Team. He enjoys running in the mountains, writing, and eating cereal with whole milk. He lives in Bozeman, MT.