Collegiate Racing Recap: CCSA, EISA, RMISA
Doves are released into the wild blue sky as life together commences. The camera shutter closes, capturing the kid's first day of Kindergarten. A hush turns to roar as the puck is dropped.
A beautiful thing begins.
It's the first weekend of official collegiate racing all around the country: CCSA, EISA, RMISA. Freestyle Individual Starts. Classic Mass Starts. Beginning in freezing Mt. Itasca, chilly Craftsbury, and yes, a cold Steamboat Springs. Converging later onto Bozeman, MT. It's a long season - enjoy the start!
CCSA: Mt. Itasca Invitational (Coleraine, MN)
To be honest, I didn't check the weather on this one - just assuming it was cold at the Great Mountain in the North - it always is. But hopefully skiers treated their shivering wax techs to some hearty pasties.
Day 1, 5/10k Freestyle:
It continues to look like a showdown between Northern Michigan and Michigan Tech for the women this year. Sarah Goble (MTU) won the women's 5k by thirteen seconds over Nadine Matter (NMU, SUI). Following in third, only one second behind her teammate, was Katerina Hincicova (NMU, CZE).
Goble, citing the 5k skate as her favorite race, shared her race strategy, "This course was really fun and tactical with a significant climb in the first kilometer. I made sure to stay controlled that first long climb and then build through the race and focus on pushing in the terrain I am the weakest in."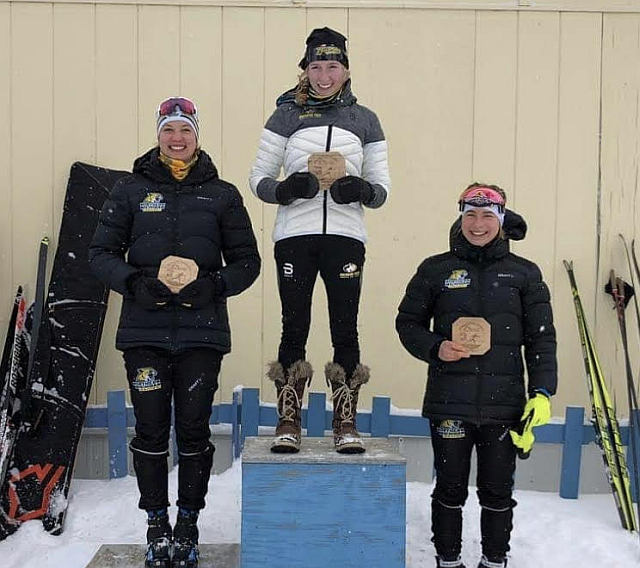 Because of her performances at US Nationals earlier this month, Goble earned a spot on the US U23 World Championship Team. The Championships, in Oberweisenthal, Germany line up to be after the CCSA's NCAA Regional Championships and before NCAAs. Thus, Goble will be able to race the entire collegiate season and take advantage of this opportunity for international racing. She says, "I'm super stoked about U23s, it will be an incredible experience. It's also pretty sweet that I can finish out the CCSA season and then head to U23s! Even though the turn over and travel will be tight, MTU and college skiing means a lot to me, so I'm glad I get to finish out my last year!"
Anable Needham (MTU) placed 11th, with teammate Mary Lyon in 13th. Emma Stertz (CSS) skied to 18th.
In the men's 10k Norwegian Kjetil Banerud (NMU) won over his teammate and countryman Matias Rolid. Reid Goble (MTU) was only fifteen seconds back in third.
Goble, like his sister, tried to stay controlled for the first main climb in the loop and then ski aggressively on the flats and downhills.
Patrick Acton showed that the dynamic duo is a long-term show, placing 4th. Mark Ousdigian (MTU) skied to 7th. St. Scholastica skier Tamer Mische-Richter is coming into form with an 8th place. Mitch Delong (MTU) placed 9th, David Jaszczak (MTU) 10th, Sam Myers (UWGB) 17th, and Bjorn Larson (CSS) in 18th.
Day 2, 10/15k Classic Mass Start:
Mathias Rolid (NMU, NOR) and Emil Bratbak (CSS, NOR) broke away from the pack on the second lap. Rolid then pulled away in the final kilometer to win by two seconds. Reid Goble (MTU) rounded out the top three.
Tamer Mische-Richter (CSS) matched his skate performance, placing 7th. Teammates Mark Ousdigian, David Jaszczak, and Patrick Acton placed 8th, 9th, and 10th, showing the depth of the Michigan Tech squad.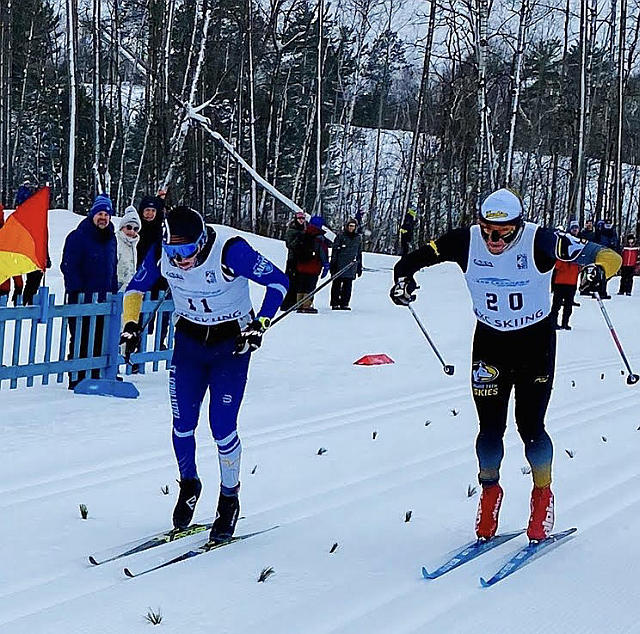 Matthew Bourne (NMU) was 13th, Somer Schrock (MTU) 14th, Mitch Delong (MTU) 15h, John Schwinghammer (CSS) 16th, Joshua Albrecht (MTU) 17th, Bjorn Larson (CSS) 18th, and Sam Myers (UWGB) placed 19th.
The women's 10k was more spread out. Hilde Eide (NMU, NOR) continued her impressive form, taking the win over teammate Molly Miller (NMU, CAN). Malin Boejesjoe (NMU, SWE) rounded out the podium in third.
Sarah Goble (MTU) skied a strong race, placing 5th. Emma Albrecht (MTU) placed 9th. Emma Stertz (CSS) was 11th, Anabel Needham (MTU) 14th, Rana Kraftson (CSS) 15th, Mae Barnes (CSS) 16th, Stephanie Balaas (STO) 17th, and Erica Meyers (STO) was 19th.
Overall Team Scores:
Men and Women: 1. NMU (411), 2. MTU (361), 3. CSS (292)
Up Next:
Jan 25-26: Gitchi Gami Games (Cable, WI)

Sat: Skate Sprint (does not count for CCSA points)
Sun: 10/15k Classic Mass Start

EISA: Harvard Carnival (Craftsbury, VT)
The Harvard Carnival! This weekend was the first time all those words have been combined - the first official Harvard Carnival. Sadly, due to lack of snow around Boston, this weekend's races were moved to the trusty Craftsbury Outdoor Center in Vermont, featuring fresh snow. And it was cold cold cold! But the hearty spirit of nordic skiers and perhaps Disney princesses were encapsulated in the sturdy words of Minnesota native Abby Drach, "It was definitely chilly this weekend, but being from Minnesota, the cold never bothered me anyways."
Day 1, 5/10k Skate:
The men raced first on the day for two laps. Zane Fields (Lyme Elite Team) returned to the college scene after graduating to show that all his collegiate skate wins weren't unfounded. He took the victory over Karl Shulz (UVM) and Matias Oevrum (UVM, NOR). The UVM boys won the day over UNH and Harvard.
One minute and thirty seconds behind Fields was Will Bodowes (UNH) in 13th. Christian Gostout (BOW) was 16th, Anders Sonnesyn (UNH) 19th, and Mackinley FitzPatrick (HAR) placed 24th.
The women raced 5k in the frosty single-digit conditions. Alex Lawson (MID) earned her first collegiate career victory over Katherin Ogden (DAR). Ogden recently competed in the Tour de Ski for the USA. Liz Guiney, one of the Craftsbury skiers to join in the college action raced to third.
Following in 6th, a strong performance, was Eden Prairie native, Abby Drach (DAR). In 8th was her teammate Mara McCollor (DAR). Renae Anderson (BOW) placed 14th, Margie Freed (UVM) 16th, and Luciy Anderson (UNH) 17th..
Drach shared some thoughts from the weekend, "I was nervous going into the first carnival of the season, and was mostly looking to find my race gear after having felt like I had lost it for awhile. While I am proud of the effort that I was able to put into the race this weekend, there are always a lot of things that I would like to continue to work on!"
Work on, Abby!
The Middlebury women won the day with Dartmouth in second and UVM in third.

Day 2, 15/20k Classic Mass Start:
Katherine Ogden gapped the field after the first lap and skied away to win the women's 15k over Alex Lawson (MID). Freshmen Mara McCollor (DAR) skied to her first collegiate podium, placing third!
McCollor, focusing on staying relaxed while enjoying her first carnival, survived the pack's energetic and squirrely start and proceeded to ski confidently. She said, "The race plan I had made the day before ended up being quite effective and I was very pleased with how it played out."
Margie Freed (UVM) placed 7th, with Renae Anderson (BOW) also earning a top 10. Erin Bianco (CBC) was 18th with Abby Drach (DAR) placing 22nd.
With Ogden's victory and a strong team performance, the Dartmouth women won the day over Middlebury and Bowdoin.
The most exciting finish of the weekend came down to a photo finish in the men's 20k. After four laps, a lunge to the line saw Matias Oevrum (UVM) beat out freshmen Harvard standout and Canadian national, Remi Drolet. Following closely in third was Peter Wolter (MID).
Anders Sonnesyn earned his first top ten in an EISA distance race, placing 9th. "I started bib 39 but was fortunate to not have to use too much extra energy to move up. Once I got on the lead group I just sat on the back and focused on skiing as relaxed and efficient as I could. I was pleasantly surprised to hang on to the top ten as long as I did since my goal was to finish top 15."
After dealing with a back injury and sickness in the last couple of weeks, Minnesotan Christian Gostout (BOW) was also content with a strong 11th place. He said, Friday I just went out really hard early to test what kind of shape I was in coming back from no intense skiing for awhile… Yesterday [Saturday] I just knew I had to stick with the lead as long as possible and build a big gap between myself and the chase pack. I was definitely just hanging onto the top 10 for the whole race, and I'm feeling like in the coming weeks I'll have more energy and confidence to really assert myself within that top pack."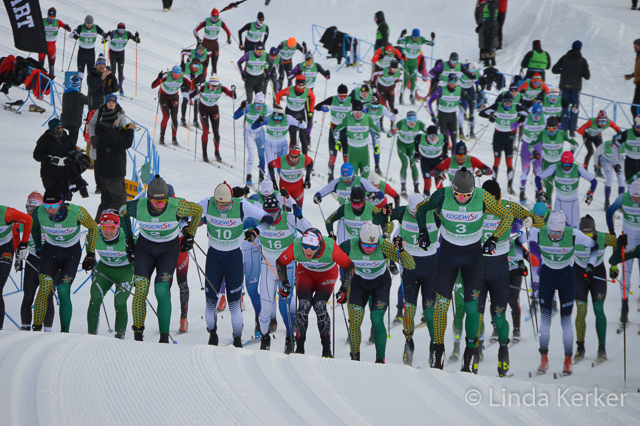 The UVM boys won the day with Bowdoin earning an impressive second with UNH in third.
Overall Team Scores for the Weekend:
Nordic Men: 1. UVM (266), 2. UNH (188), 3. BOW (178)
Nordic Women: 1. MID (260), 2. DAR (250), 3. UVM (181)
Combined Nordic and Alpine, Men and Women: UVM beats MID by 3 points, DAR follows in 3rd

Up Next:
Jan 24-25: UVM Carnival (Craftsbury, VT)

Fri: Classic Sprint
Sat: 5/10k Skate
RMISA: Colorado Invitational (Steamboat Springs, CO)
Racing on the 2018 NCAA Champ's course at almost 7,000 ft., racers gasped for air under blue skies, but that's just how it goes in the West. The Steamboat course features a long climb with some rolling sections for about 3k followed by a swooping descent back into the rodeo grounds that function as the start/finish stadium.
Day 1, 5/10k Freestyle:
Minnesotan and World Cup skier, Kyle Bratrud (SMS), won the first race of the weekend while on a trip to Colorado. Sam Hendry, a Canadian and freshman at the University of Utah took his first collegiate victory. His UU teammate Maximilian Bie (NOR) took third.
The University of Utah men continued to show impressive form after a successful US Nationals, placing six in the top ten.
The UU women followed the impressive performance by the men, placing three in the top five. Guro Jordheim (UU, NOR) took the victory with teammate Mariah Bredal in second. Ann Darnell of UAA skied to third place.
Hannah Rudd (UAA) skied to 11th. Rudd was happy with the result and will look for more as the season continues.
Anja Maijala (UAF) placed 15th.
Day 2, 15/20k Classic Mass Start:
Juro Gordheim continued her dominance, winning the 15k by almost a minute over her teammate, Leah Lange. Anne-Siri Lervik (CU, NOR) skied to third.
Hannah Rudd (UAA) finished out a solid weekend placing 15th. Rudd reflected on the weekend, "The race conditions were perfect as per usual in Steamboat - cold conditions and lots of snow and sun. The course in Steamboat is super hilly and at a pretty high elevation, so the 15k mass start was challenging for sure. I ended up 14th in that race. Our team placed second overall for Nordic for the CU Invite… overall a fun weekend of racing and some good momentum for the rest of the season."
Anja Maijala (UAF) strode to 18th.
Sarah Olson, a freshman at UAF popped into the top thirty, placing 26th.
Sam Hendry (UU, CAN), skied to an outright win by four seconds in the 20k classic over Kyle Bratrud (SMS). Magnus Boee (CU, NOR) placed third.
Overall Team Scores for the Weekend:
Nordic Men: 1. Utah (157), 2. CU (167), 3. UAA (157)
Nordic Women: 1. Utah (214), 2. CU (162), 3. UAA (142)
Combined Nordic and Alpine, Men and Women: 1. Utah University, 2. Colorado University, 3. University of Alaska Anchorage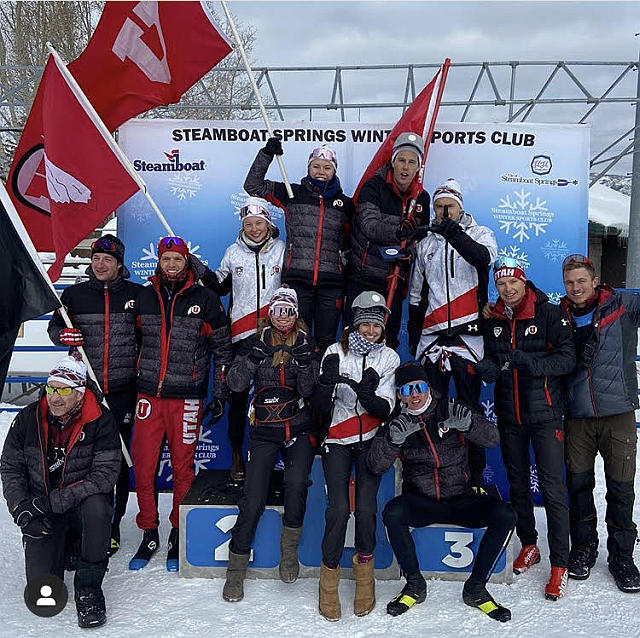 Up Next:
Jan 25-26: Denver Invitational (Minturn, CO - Maloit Park)

Sat: 5/10k Classic
Sun: 10/10k Skate Pursuit
About the author...

Luke Brown, a graduate of Minnehaha Academy and Dartmouth College, is a skier and biathlete for the Crosscut Mountain Sports Center and the US Biathlon X-Team. He enjoys running in the mountains, writing, and eating cereal with whole milk. He lives in Bozeman, MT.