Collegiate Racing Recap: EISA, CCSA, RMISA
Lest it has slipped your mind (and you end up wanting to buy them pizzas and cars), let me quickly highlight the respect these athletes should garner for also being students! It is not all gliding and glory for our speedy guys and gals. Rather, they are all too often (at least from their perspective) grinding out school work for grades. All admiration goes to these skiers who put in so much work in a variety of ways. Late nights in the library combine with early morning lifts to create skiers who are buff and students who are literary or history (etc…) buffs.
Especially for the CU Buffs.
It's Week 2 of official collegiate racing!
EISA: UVM Carnival (Craftsbury, VT)
The Eastern skiers were back at the Craftsbury Outdoor Center for a weekend of racing that overlapped with Supertour and Eastern Cup races. It's always a great opportunity for juniors to test themselves against collegiate racers and college skiers to toe the line with professionals. It not only promotes a stronger community of nordic racing but encourages and inspires each generation to best those previous. However, for the sake of recapping the college storyline, we will use the college only results.
Day 1, Classic Sprint:
On a perfect day for racing with firm tracks and temps in the high 20s, Katherine Ogden (DAR) sprinted to victory for the women over Middlebury teammates Maddie Morgan and Alex Lawson.
Mara McCollor (DAR) continued her impressive racing with a 6th place while Ely native and 2017 MN State Champ Erin Bianco (CBC) earned her first carnival top-10 with a 9th place.
Bianco, having felt confident on classic skis through the beginning of the season, was eager for a sprint. She reflected, "I was super excited to see that I was 15th after the qualifier. Since it's a sprint, my strategy was to just ski strong and keep the tempo up the whole time. Going into the heats was a bit intimidating lining up by Ida Sargent and Rosie Frankowski but I went into it wanting to be right behind them out of the start and hopefully hang on.... A top 10 for me was very exciting this early on in the season. It gives me the confidence to really push myself to ski with those faster than me in future carnivals."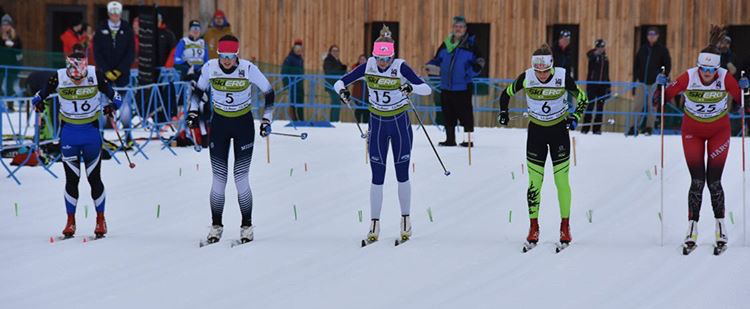 Margie Freed (UVM) placed 11th with friend Renae Anderson (BOW) following in 12th. Ingrid Thyr (WIL) was 28th.
In the men's sprint, Ben Ogden (UVM) won over Peter Wolter (MID). Bill Harmeyer (UVM) placed third.
Anders Sonnesyn (UNH) continued to show his strong sprinting form with a 5th place. Mackinley FitzPatrick (HAR) was 24th, Torsten Brinkema (CBC) 25th, and 2019 MN High School State Champ, Peter Moore (BOW) placed 26th.
Day 2, Skate 5/10k:
The women's 5k saw Sophia Laukli (MID) upset Katherine Ogden (DAR) by just two seconds! Lina Sutro (UVM) took third with teammate Margie "Freedom" Freed placing 4th. This was Freed's best distance skate race of her career.
She said, "Saturday was a pretty low stress race for me, since 5k skate is not typically my strong area. The courses at Craftsbury are some of my favorite so I was excited to race on them, even though the hills are pretty tough."
Freed also shared her simple yet possibly ingenious strategy, "Since the previous day was a sprint, I thought about sprinting during the race and that propelled me forward."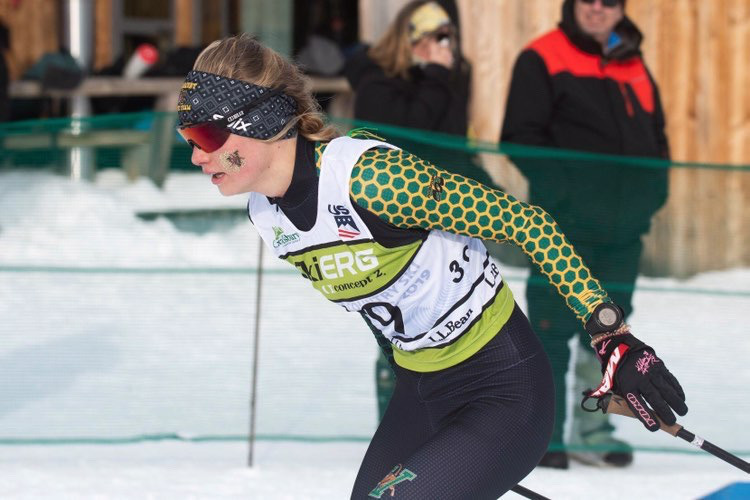 Mara McCollor (DAR) placed 19th, Luci Anderson (UNH) 21st, and Abby Drach (DAR) 27th.
In the men's 10k, Karl Shulz (UVM) stood atop the field with Peter Wolter (MID) once again claiming the second step. Ben Ogden (UVM) rounded out the podium. These top three men were separated only by ten seconds.
Christian Gostout (BOW) skied to an impressive 6th place in the college field. He wrote, "I didn't actually feel that fast on Saturday during the race or know how it was going. I was able to execute on my pacing strategy, skiing transitions well, and keeping the technique efficient through the whole race, and it paid off in the end." Gostout was also thankful for the screaming support from the other Polar Bears as they cheered him up Screaming MiMi (Craftsbury's big hill).
Will Bodowes (UNH) placed 13th, Peter Moore (BOW) 14th, and Luc Golin (DAR) broke into the top thirty with a 26th place.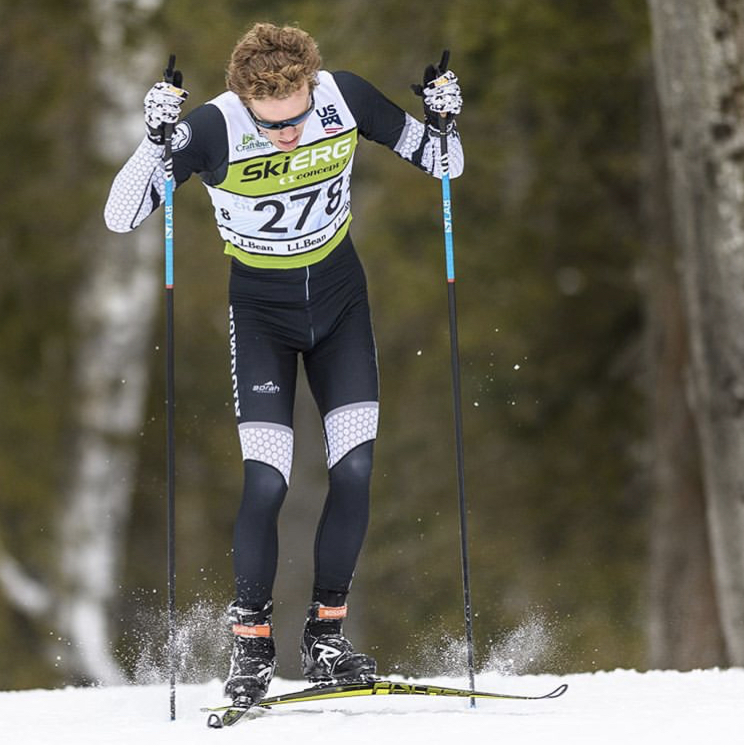 Team Scores:
Overall: UVM, MID, DAR

Nordic Men: 1. UVM (243), 2. MID (195), 3. UNH (178)

Nordic Women: 1. MID (258), 2. DAR (237), 3. UVM (213)

Up Next:
Jan 31-Feb 1: Colby Carnival (Waterville, ME)

Fri: 5/10k Skate

Sat: 10/15k Classic Mass Start
CCSA: Gitchi Gami Games (Cable, WI - The Birkie Trailhead)
Day 1, Skate Sprint:
Did somebody say Birkie Fever? What could get you more excited for the Big Birkie Dance than a little college racing at the Birkie Trailhead? Saturday's racing didn't count for NCAA qualifying so some teams rested up for Sunday. However, the skiers who found success on Saturday's hilly course still deserve their moment.
In the men's sprint, Jackson Adler (UWGB) out-lunged teammate Sam Myers for the overall victory.
"The course suited me well because it required a lot of tactics and had to be skied with a lot of power," said Myers. "In the qualifier I made sure to ski hard and smart up the hills and I ended up qualifying 5th. I skied each heat with the same strategy. From the start I hung back and stayed in contact with the front, chilling behind the leaders. On the final climb I made a move, hop skating, to get into 2nd position. From there I skied the corners tight and made sure no one was able to get to the inside of me around the last turn into the finishing stretch."
CSS skier Jack Christianson followed in third. Thomas Woolhouse (UWGB) placed 4th, Shad Kraftson (UWGB) 5th, and Cody Schneider (CSS) was 6th.
With the A-final including four UWGB skiers and teammate Maria Schoening claiming the women's victory, Myers exclaimed, "It was a great day to be a Phoenix!"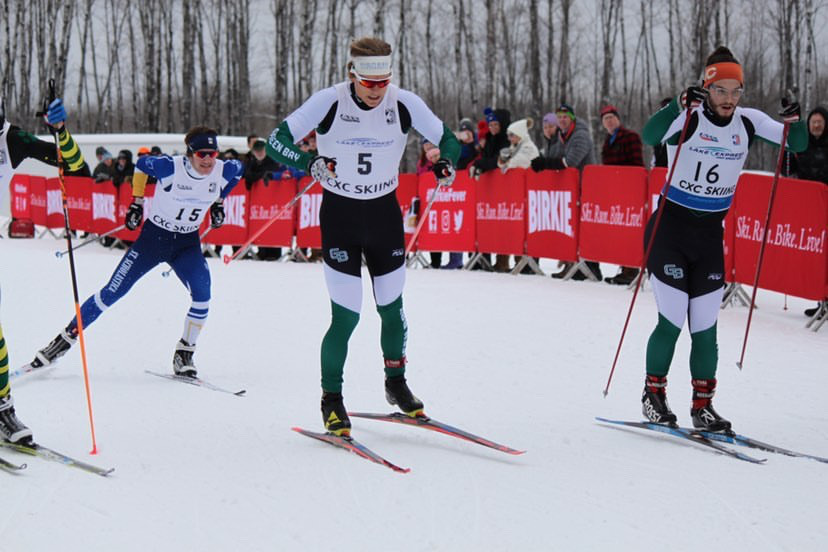 As mentioned, Maria Schoening (UWGB) won the women's sprint with CSS skiers Mae Barnes and Annika Virens coming in second and third.

Day 2, 10/15k Classic Individual:
On Sunday, Kjetil Baanerud (NMU, NOR) took the men's classic victory by seventeen seconds over teammate and fellow Norwegian Mathias Rolid. Rolid barely beat out Emil Bratbak (CSS) in a sprint finish. Bratbak's third place made for a clean Norwegian sweep.
Patrick Acton (MTU) placed 4th, Joshua Albrecht (MTU) 9th, Somer Schrock (MTU) 10th, David Jaszczak (MTU) 11th, Mitch DeLong (MTU) 12th, Tamer Mische-Richter (CSS) 13th, Matt Bourne (NMU) 15th, Shad Kraftson (UWGB) 16th, and Sam Myers (UWGB) was 19th.
The women's 10k featured a much tighter spread than last week. Sarah Goble won her third CCSA race of the year, coming out on top by a mere five seconds ahead of teammate Oda Hovland (NOR). Marlin Boerjesjoe (NMU, SWE) finished in third.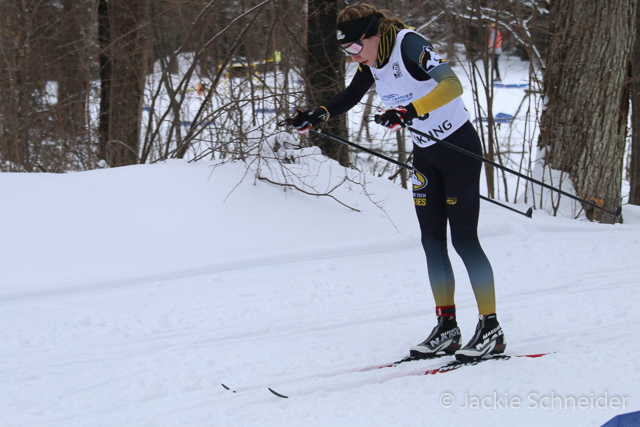 Amanda Kautzer (MTU) finished in 12th, with Emma Albrecht (MTU) in 15th, Mae Barnes (CSS) 18th, and Erica Meyers (STO) placing 19th for her second top 20 classic result in as many weeks.
Team Scores:
Women: 1. MTU (104), 2. NMU (94), CSS (66)

Men: 1. NMU (106), 2. CSS (83), 3. MTU (79)

Combined: 1. NMU (200), 2. MTU (183), 3. CSS (149)
Up Next:
Feb 1-2: UWGB CCSA Qualifier (Rhinelander, Wis. | Cedric A. Vic Outdoor Center)

Sat: 5/10k skate

Sun: 10/15k classic mass


RMISA: Denver Invitational (Minturn, CO - Maloit Park)
Day 1, 5/10k Classic Individual:
Magnus Boee (CU) continued a strong season taking the victory for the men by over one minute ahead of freshman Luke Jager (UU). Sigurd Roenning (UAA, NOR) placed third.
For the women, Guro Jordheim (UU, NOR) also continued her domination winning ahead of two other Norwegians, Karianne Moe (UU), and Anne-Siri Lervik (CU).
Hannah Rudd skied to her best ever RMISA performance - an impressive fourth. Rudd was a mere two seconds from third.
"The two lap 5k course in Minturn has a lot of sharp turns and transitions which I felt really played to my advantage," said Rudd. "I was super excited about how the weekend went and am looking forward to more racing in Colorado and Utah in the coming weeks!"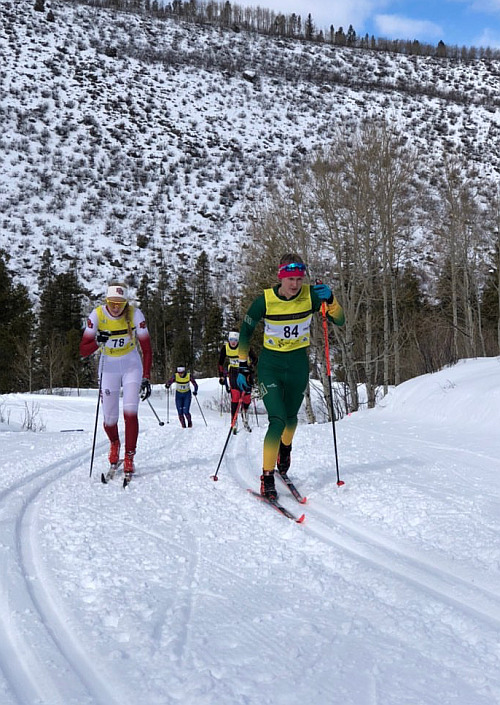 Anja Maijala (UAF) placed 20th.

Day 2, 7.5/10k Skate Pursuit:
Skiers started Sunday's skate race based on their position in Saturday's result.
Magnus Boee (CU, NOR) used the gap he had built up in the first leg of the pursuit on Saturday to cruise to victory. The top three stayed the same with Luke Jager (UU) in second and Sigurd Roenning (UAA, NOR) in third.
The women's race saw Guro Jordheim (UU, NOR) continue on to victory ahead of Anne-Siri Lervik (CU, NOR). Mariah Bredal (UU) broke into the top three.
Hannah Rudd placed 10th while Anja Maijala (UAF) moved up through the race to place 15th.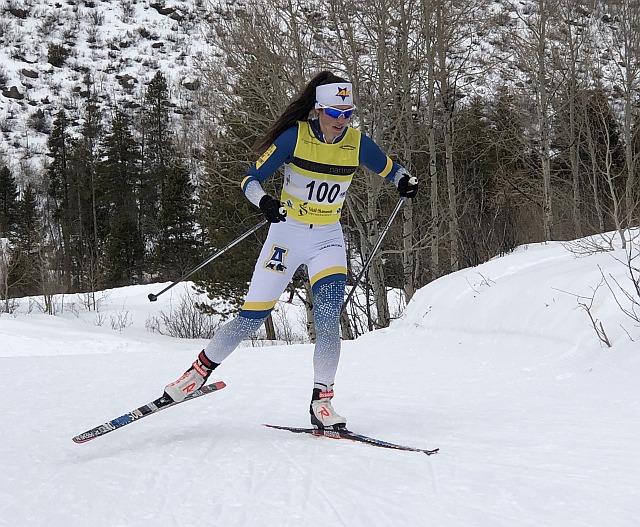 Team Scores:
Nordic Women: 1. Utah (209), 2. CU (179), 3. UAA (132)

Nordic Men: 1. Utah (182), 2. CU (171), 3. UAA (152)

Overall (including Alpine): 1. Utah (708), 2. CU (628), 3. DU (520)

Utah's 708 points is the fourth most points scored by a team since the inception of the modern scoring system in 2014.
Up Next:
About the author...

Luke Brown, a graduate of Minnehaha Academy and Dartmouth College, is a skier and biathlete for the Crosscut Mountain Sports Center and the US Biathlon X-Team. He enjoys running in the mountains, writing, and eating cereal with whole milk. He lives in Bozeman, MT.