Frankowski: Skiing Beyond High School
In many sports, the goal of playing high school athletics is to earn a scholarship to college. I remember many of my friends who played hockey, basketball, volleyball, track, etc., for our high school in order to clinch that full or partial ride scholarship. Growing up, I wasn't competitive enough in any sport to get an athletic scholarship to college, but there was no choice in my family to go to school or not. As my dad was a first generation college student, and my mom a first female generation college student, academics were the big focus in our house, and I worked hard for good grades. I also wanted to try to ski in college, and so I chose Northern Michigan University, which had a NCAA ski team, and the school offered me a full ride academic scholarship for four years. I walked onto the ski team, and although there were some ups and downs on my journey, I developed as an athlete and embarked on the path that led me to success at APU, to the Olympics, and to racing on the World Cup. I also left with undergraduate degrees in Political Science and Spanish, and a Masters in Public Administration, which opened opportunities for my current nonprofit job and adjunct teaching at APU—the two main ways I support my ski racing. My choice to go to NMU fit my needs perfectly.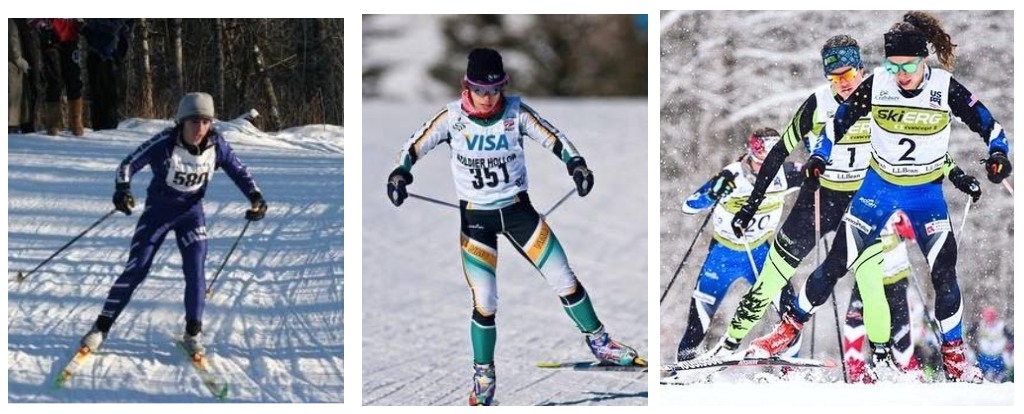 My story and situation drastically vary from the situation most junior skiers are in at the end of their high school years. Many high achieving juniors are offered great athletic scholarships to NCAA schools, but they face a question of whether to head the NCAA route, or focus on international racing. Every person is different and has different goals and dreams in life. There is no one "correct" pathway, whether you are choosing between different schools, or you are choosing whether you even want to be in school.
The Traditional Route: National Collegiate Athletic Association (NCAA)
NCAA skiing is pretty awesome if you are looking to train, race, and study. If you are on a full ride scholarship you receive tuition, room and board, all ski expenses paid (travel, lodging, wax service, race fees, etc.), coaching, usually a team to train with, and a fun circuit to race. There are three regions in the U.S.: East, West and Central, and each team competes within one of the regions to qualify their skiers for the National Collegiate Championships (NCAAs) each March. If you finish in the top ten at NCAAs, you become an All American, which is usually a goal of most athletes. The trick is only three athletes from each team (of each gender) can represent their school at NCAAs. This means that often really strong schools have athletes who could easily place in the top ten nationally, but are ranked 4th or 5th on their team and so do not earn a spot at NCAAs. Thus, sometimes the decision to go to a school with a super strong team prevents an athlete from getting a chance to race NCAAs—but conversely, that athlete gets to train with a team performing at a high level, and therefore has a huge opportunity to learn and improve from their team.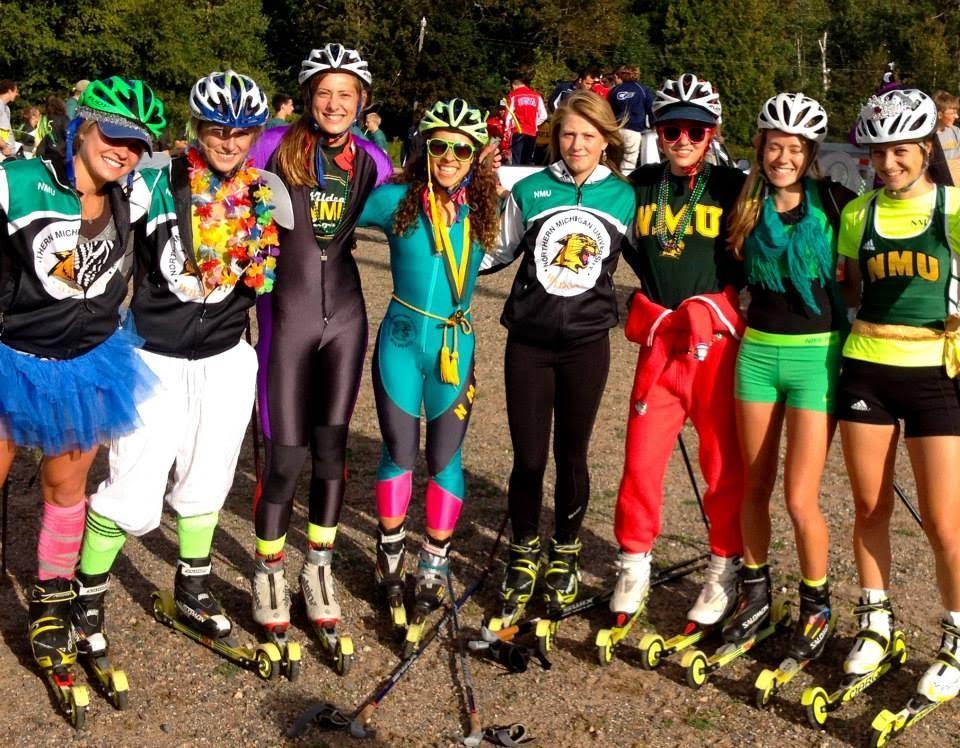 Each region's circuit is a bit different. In the East and West, ski teams include Alpine and Nordic, so the team score from the weekend is dependent on strong performances in each discipline. The Eastern circuit weekends are called carnivals and they are known for their age-old traditions. For example, the Dartmouth Carnival celebrates "Carni Crush" where athletes write each other valentines, perform songs and embarrass each other, all in good fun. The Western circuit (aka RMISA: Rocky Mountain Intercollegiate Ski Association) is known for really high-level competition, bolstered by a lot of talented and experienced European recruits. You race all over the western U.S., and most schools are at altitude so you get a different kind of training and racing experience. The Central region is where I competed in at NMU, and since the schools don't have alpine teams, the meets focus only on nordic. While Central is a smaller region with less schools than the East and West, the opportunity to develop as an athlete is strong, and often you see a lot of Midwestern athletes headed that way. The number of athletes that qualify for NCAAs is based off of their region's performance the year before, so that number varies year to year, but typically the West and the East have the largest quotas for NCAAs, followed by the Central region.
There are different levels of athletic scholarship available at different schools. Scholarship levels are based off of what NCAA division a school is in: Division 1, Division 2, or Division 3. Division 1 schools devote the most money to athletics, often because of individual schools' media contracts for their nationally popular football or basketball teams. Division 2 ranks second in financial resources spent on athletics and still offers athletic scholarships; Division 3 schools do not offer athletic scholarships. However, many Division 3 schools have strong need-based financial aid programs and numerous academic scholarships available. As well, research shows that recruited athletes tend to have a higher chance at admission to top-level schools. So even if your school of choice does not offer athletic scholarships, there are likely advantages for recruited athletes, and it is worth exploring your options.
There is another college circuit other than the NCAA: the United States Collegiate Ski and Snowboard Association. This circuit has its own National Championships and includes sports other than just Nordic and Alpine. The level of competition in USCSA tends to be lower than the NCAA, but all students have the chance to join the team. The amount of coaching, funding and resources differ per school since the NCAA does not control or fund the programs. Some schools, such as St. Olaf College in Minnesota or Western Colorado University, have quite high level programs and strong teams. At some schools, including NMU, the student-led ski club raced in the USCSA. USCSA schools offer the chance for students to continue to keep skiing and racing in college.
Overall, in my opinion, NCAA skiing offers a great opportunity for development. The amount of support is unmatched, and allowing an athlete to improve for 4-5 years in an environment focused on skiing and school takes the pressure off of talented juniors to immediately jump into top international level competition. A number of the current athletes finding success on the World Cup graduated from a NCAA school, and many current NCAA athletes are knocking at the door to that level.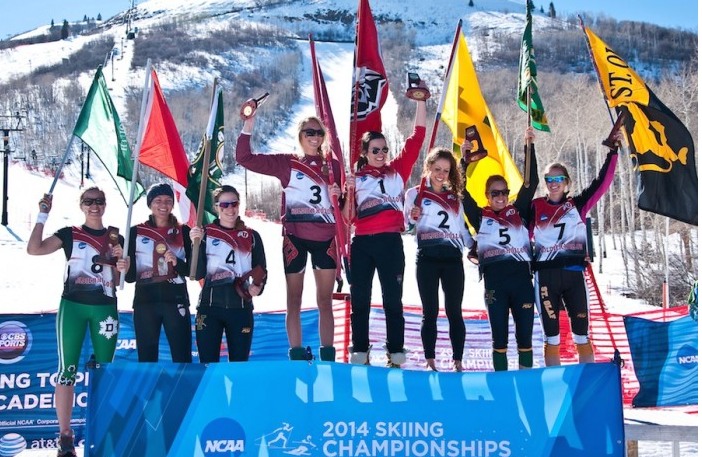 Which NCAA team should you choose?
If you are headed the NCAA direction, but you aren't sure which team is the best fit for you, I would suggest visiting the school, meeting the coach and current team members, and exploring the area around the school where you will do most of your training. The first time I went to Marquette, Michigan, I met with the coach, Sten Fjeldheim, and he took my mom and I on a little tour of Presque Isle, a peninsula that juts out into Lake Superior. It was a late afternoon in August, very sunny and beautiful, and I fell in love with the natural surroundings immediately.
I think there are a number of factors to examine when choosing a school: if it has your preferred academic program, how the professors are, how big the team is and if they train together each day, what kind of coaching style is used, and more. But often people overlook how important it is to love your natural surroundings where you will do most of your training. If you are inspired to get outside and enjoy the area, you will train more and you will enjoy it more. I know that being in Marquette (and now in Alaska) motivated me to train because I simply wanted to enjoy the area. If you are going to live and train there for four years, you better check it out.
Another thing to consider is if you want a new experience and team, without following all your friends to the same school. I actually went to college with one of my best friends from high school, and we are still close today. We both skied for Southwest High School, and for NMU. I didn't mind going to the same school as my close friend, and she was a lifeline for me during some of my harder times at school. But if you want a fresh start, or if you want to have some familiar faces around, keep that in mind. I just wouldn't suggest basing your choice off of your friends--pick what school and team is right for you first. You will definitely make friends with your new teammates very quickly.
How do you get a scholarship? Most coaches will want to see your junior results nationally or internationally. This means you need to qualify and race at Junior Nationals, or race at U.S. Nationals. Especially with the rise of American skiing, coaches want to compare athletes from different regions (or even countries with FIS rankings or World Junior results), and recruit top level talent. Don't fret if you aren't winning Junior Nationals. Step one is to get in touch with the coach and let them know you're interested, likely by your junior year of high school so that they can "watch" your results during your senior year. Then focus on getting that Junior National qualification and result (or better yet World Junior or Scando Cup trip qualification at U.S. Nationals in early January). And if all else fails, still try to reach out and see if you can walk on to the team. Don't be shy—the worse thing that happens is the coaches say the team is full, but at least then they know you're interested and maybe an opportunity will open.
The easiest way to get in touch with a ski team or school is to reach out to the coach via email or phone. You can often find their contact information on the school's athletic department website. Another great option is to approach the coach or team at US Nationals, Spring Series, or any race you'll both be at. Remember, five minutes before the classic mass start race isn't going to be the best time to chat, but after the race, or on a training day, most coaches would gladly tell you about the school and team.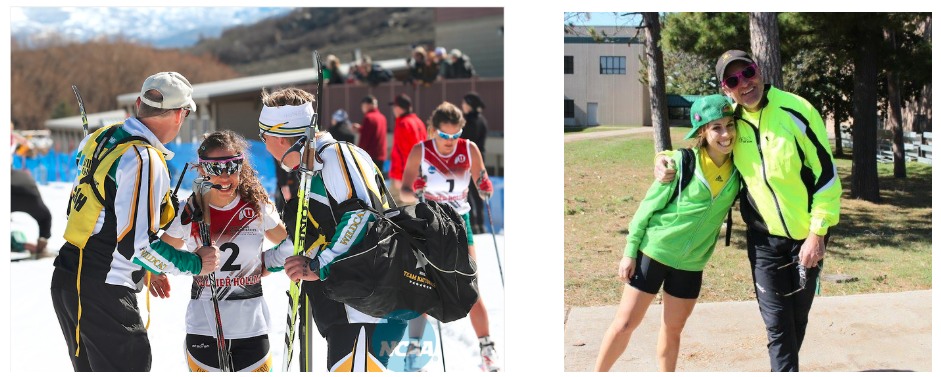 Other School Options: Non-NCAA schools, Club Teams and Creativity
Of course, some will argue, "what about those athletes who already can smoke an NCAA field at age 18?" Yes, there are top performing juniors who might already be above the NCAA level, and do not need the other advantages NCAA schools offer. Plenty of alternative options exist for these kids.
First off, the one I am most familiar with is the system we have at Alaska Pacific University Nordic Ski Center. While we are a club team, APU is also a fully accredited private university and offers scholarships through the ski team for tuition and housing. APU is not affiliated with the NCAA so skiers do not compete on that circuit, but instead they can focus on Junior Nationals, Junior and Under 23 Worlds, and racing the Supertour or World Cup. There is less structure in what races to compete in, but the upside is you get to train side by side with top U.S. skiers, and you often have a bit more flexibility in school to take time off to race in Europe. This is a great option for skiers who are at the international level already, but still want to pursue an education. For example, my teammate Hannah Halvorsen races on the World Cup and Supertour, all while being a full time college student. Probably the largest downside in my eyes is that you do not have as strong of financial support for travel and racing. However, since you are likely on a level that attracts sponsors, you can focus on finding sponsors and fundraising to pay for ski expenses.
Another creative system is to attend college part-time (or full time), but still race for a club team. My APU teammate Becca Rorabaugh is two terms away from finishing her degree at Dartmouth, which she attends each spring for a couple months. This has allowed Becca to pursue skiing full time for most of the year, but chip away at her degree each spring when most skiers take a break. Julia Kern, Ben Saxton, and Hailey Swirlbul all take a similar approach where they attend an NCAA school, but choose to race for their clubs and/or the US Ski Team, instead of skiing on the NCAA team. Hailey raced on the NCAA team for University of Alaska-Anchorage for a couple of years before making the switch to training and racing for APU. Hailey was ready for a bigger circuit than NCAA, but she still wanted to continue her engineering degree at UAA, and now she manages to do both. In my opinion, it takes a certain amount of self-discipline to complete school and ski at such a high level, but the payoff is that you can pursue multiple avenues and still follow your athletic dreams.
Gap Years (taking a year off between high school and college to train and race)
I don't have much experience with gap years, so I am not going to give lots of advice on the topic. Gap years often focus on a skier heading to a club team, or ski high school (Stratton Mountain School, Burke Mountain Academy, etc.), to develop as an athlete and reach the next level. Sometimes an athlete just stays in their home club, but uses the year to increase and focus their training. Many gap year athletes use the year to gain scholarship or a spot on their desired NCAA team, or join a high level club that has limited team spots. My strongest thought on gap years is that you need to really use that year to improve your weaknesses so the year is not wasted. If you are a high altitude athlete, head down to sea level and gain some speed. If you always have trained alone, make sure to join a team that will give you teammates to learn from. Identify your weaknesses and attack them so you are ready to make the jump to the next level.
Look Ma, no School!
And finally, the option exists to 100% pursue skiing. Higher education is an option—not a requirement. Some skiers are ready to pursue an athletic career and forgo college; usually they already have sponsorships, international success and race at an extremely high level. They want to focus on training and racing 100%, and likely are managing sponsorships, appearances and more on a very full plate. Many still head to college after their racing career is done or winding down, so even though you don't start school at age 18 doesn't mean you are giving up on a college degree (although there are strict rules about amateur status for NCAA eligibility so if you think you might want to race NCAA someday, be sure to check the rulebook and be cognizant of your actions). The awesome part of the U.S. ski scene these days is that such strong club teams exist, so a skier who decides to not go any school route still has teammates to train with, and waxing and coach support for domestic racing like US Nationals or Supertour races.
At the end of the day, there is no one perfect path to success in skiing or school. Each person is unique, and so each path will uniquely fit that individual. The best advice I can give is to follow your gut on what you want to do or where you want to go. And remember, you are not stuck anywhere, so if you change your mind, you can transfer, you can take a break, or you can decide to go to school.
About the author...

Rosie Frankowski learned to ski on the trails of Wirth Park with the Southwest High School Nordic team, and now races for APU Nordic Ski Center and will represent the U.S.A. on the World Cup this season.

Support

As a non-National team member, Frankowski financially supports her own racing, including all travel, room and board, and wax support, by working throughout the year. That alone is not enough to cover racing expenses. She would be grateful for any contributions or support to help cover racing costs. Please reach out through her website.

Website: https://rosiefrankowski.wordpress.com/
Instagram: @frankowitz
Facebook: https://www.facebook.com/RosieFrankk/