Collegiate Racing Recap: EISA, RMISA
Week four of collegiate racing for the EISA and RMISA!
EISA: Bates Carnival (Rumford, ME - Black Mtn)
This past weekend, racers skied on winding woodsy trails below Black Mountain, the site of 2003, 2004, and 2011 US Nationals.
Day 1, 15/20km Classic Mass Start:
On an icy and snowy and all sorts of conditions day where consistent kick was challenging to find, two men, Remi Drolet (HAR, CAN) and Ben Ogden (UVM) broke away from the pack and took a commanding lead - over 1.5 minutes to the next group. Out of the duo, Drolet took the victory, becoming the first Harvard man to ever win an EISA Carnival. Ogden followed closely behind in second. Bill Harmeyer (UVM) finished third.
Christian Gostout (BOW) continued his consistency, finishing 6th. Anders Sonnesyn (UNH) skied to 17th, Will Bodewes (UNH) 18th, and Peter Moore (BOW) was 21st.
In the women's mass start, Sophia Laukli (MID) continued her winning streak, beating out Anna Bizyukova (UVM) by ten seconds. Eastview High School alum, Margie Freed (UVM) grabbed a podium position, in third.
Freed said about the race, "The mass start was a fun yet challenging race. There were four UVM women in the top group which was very motivating. Due to the fresh snow, the tracks were pretty shallow and somewhat non-existent but at least there were not many crashes. I made it my goal to power through the final hills which was very tough, especially for some steep herringbone spots, but I am happy with how I stayed focused when it became difficult."
Following Freed's lead, Midwest women had a good day: Renae Anderson (BOW) skied to 9th, Abby Drach (DAR) 11th, Luci Anderson (UNH) 14th, Ingrid Thyr (WIL) 23rd, and Erin Bianco (CBC) was 27th.
Day 2, 5/10k Skate Interval Start:
The men's race saw Ben Ogden (UVM) return to his winning ways. Peter Wolter (MID) was second with Karl Schulz (UVM) in third.
2019 MN State Champion, Peter Moore (BOW) earned his first EISA top 10.
Reflecting on the weekend, he said, "The 20k on Friday took a pretty large toll on my body, so I was pretty fatigued and tired during warmup for the 10k Skate and unsure of how the race would go. My strategy for the day was to ski relaxed, take the start out hard, and then hang on to the finish. I came through the 5k split in 9th, and managed to hang on and power to the finish for 10th. The race didn't feel particularly special, but coming across the line and seeing my name next to the 10th place spot was a crazy feeling. I've been getting faster throughout the entire season, and I'm hoping to continue that trend through the last two carnivals."
Moore also was ecstatic about his team's success, "Shoutout to the rest of the team for absolutely killing it this past weekend with 7 men in the top 30, a new Bowdoin record!"
Well done Peter and the Polar Bears!
Speaking of polar bears, Christian Gostout (BOW) placed 12th. Will Bodewes (UNH) was 13th, and Russell O'Brien (BOW) finished 24th.
In the women's 5k, Alex Lawson (MID) took top honors over her teammate Sophia Laukli. Margie Freed earned her second third place of the weekend. If you keep it up, Margie, you could earn your third third, then get your second second third, or you could just step up to your first first or second podium step!
Abby Drach shows she's one to watch for the season's second half with two solid results this weekend - she finished 5th. And Luci Anderson (UNH) skied to 7th - her first EISA top 10!
"It was super exciting to get my first top 10 race last weekend," Anderson said. "The course went by super fast and it was definitely different from other courses we've raced this year. A lot of our courses have had one or a couple super long main uphills but the black mountain course was more broken up. It had an almost midwestern feel to it with more flats and shorter hills."
Erin Bianco (CBC) placed 13th, Renae Anderson (BOW) was 16th, and Ingrid Thyr continues her upward trend, finishing in 19th.
Team Scores
Nordic Men: 1. UVM (265), 2. MID (191), 3. HAR (189)
Nordic Women: 1. MID (262), 2. UVM (237), 3. DAR (181)
Nordic and Alpine: 1. MID (850), 2. UVM (848), 3. DAR (801)

Up Next:
Feb 14-15: Williams Carnival (Woodford, VT - Prospect Mtn, moved to Mt. Van Hoevenberg, Lake Placid, NY, because of snow conditions)

Fri: 10/10k Classic Individual Start
Sat: 3x5k Skate Relays
RMISA: RMISA Nordic Qualifier (Aspen, CO)
With UAF sitting out this weekend's races, RMISA's field was smaller this weekend. But rest assured, the level of skiing was high as always. As was the altitude.
Day 1, 5/10k Skate (Aspen Cross Country Center)
On a beautiful day in Aspen, under blue skies, Leah Lange (UU) took home her first collegiate victory. She was followed by teammate Guro Jordheim (NOR) in second and Eveliina Piippo (DU, FIN) in third.
Hannah Rudd (UAA) placed 12th
On the men's side Bernard Flaschberger (DU, AUT) won the 10k with Magnus Boee (CU, NOR) in second and Logan Diekmann (UU) in third.
Flaschberger skating to victory (photo by Rogan Brown)
Day 2, Sun: 21k Classic Mass Start (Aspen Snowmass Nordic Trail System Owl Creek Trail)
A point to point race! Like they did in the olden days.
Magnus Boee (CU, NOR) double poled (no kick wax) to victory. Maximilian Bie (UU, NOR) placed second with Espen Person (UAA, NOR) in third.
Eveliina Piippo (DU, FIN) won for the women. Leah Lange (UU) rounded out a strong weekend in second. Emma Tarbath (MSU) earned her first podium of the year, finishing third.
UAA's Hannah Rudd (mistakenly listed as her sister, Leah, in RMISA's results) skied to 16th place.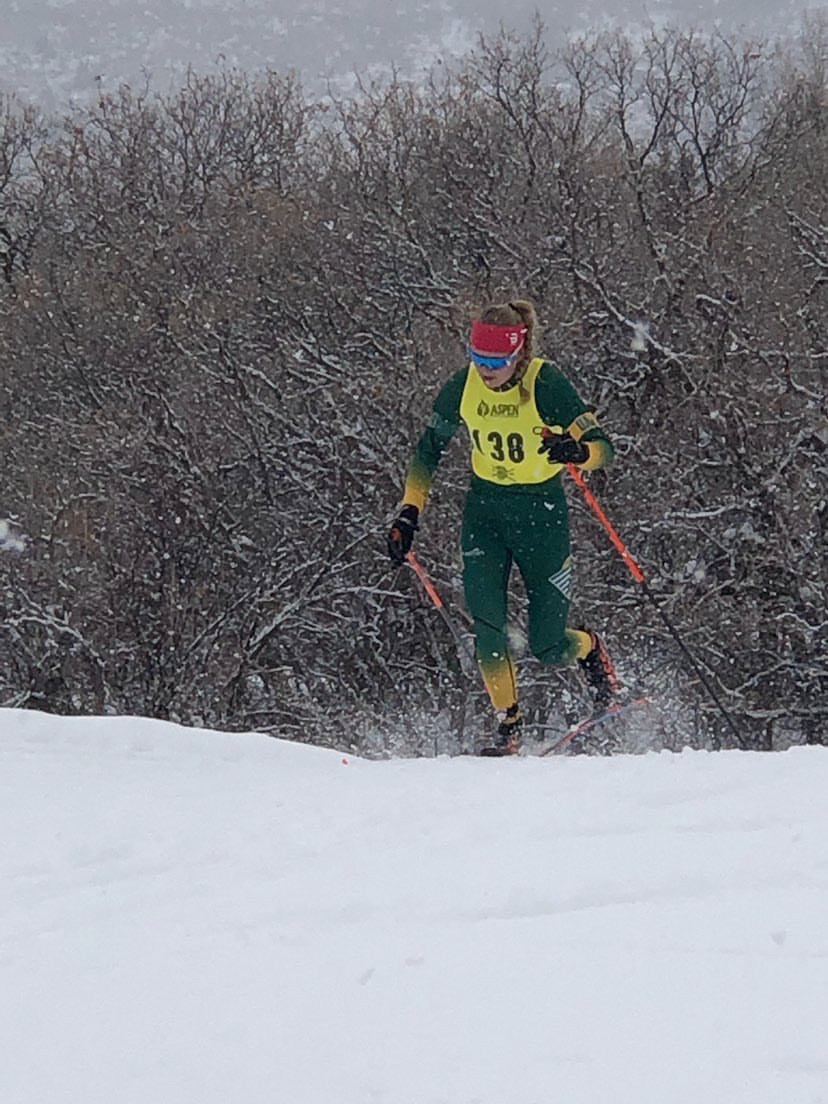 RMISA did not do team scores for this weekend as it was only used for nordic qualifying points for NCAA qualification.
Up Next:
Feb 14-15: Utah Invitational (Midway, UT - Soldier Hollow)


Fri: 5/10k Skate
Sat: 10/10k Classic Mass Start
CCSA
The CCSA had a weekend off of racing - hopefully the teams got in some good training and variety!
Up Next:
Feb 15-16: CCSA Championships (Houghton, MI - Tech Trails)


Sat: 5/10k Skate
Sun: 15/20k Classic Mass Start
About the author...

Luke Brown, a graduate of Minnehaha Academy and Dartmouth College, is a skier and biathlete for the Crosscut Mountain Sports Center and the US Biathlon X-Team. He enjoys running in the mountains, writing, and eating cereal with whole milk. He lives in Bozeman, MT.