Minnesota State Meet Champions: Where Are They Now?
Standing atop the stairs at Giants Ridge, the Minnesota State Nordic Champion has reached the pinnacle of Minnesota high school skiing. It's the accomplishment that a multitude, a plethora, an expectant and hopeful mass of skiers across the state dream of every year. Heck, it's what I dreamt of. But after those champions descend the stairs and receive congratulations from teammates, friends, and the random school teacher who happens to read the small print in the Star Tribune, and after they have posed for mom and dad's photos and after they have added a bar onto their letter jacket, "State Champion," where do they go? What does a MN State Champion do next?

To answer these questions, I reached out to State Meet winners from 2000-2019. The range of life stage among these athletes was extremely varied - some I reached on Instagram, others it took Facebook, occasionally Linkedin did the trick and still others I called on the phone. The range of life styles was broad no less - a lawyer, doctors, even a dairy farmer, students and professors and greatly improved skiers and runners. And yes, Olympians. After learning the paths their lives have followed and absorbing their reflections on winning State, I feel as if each one deserves his/her own feature to tell their story. Yet by including all of these champions in the following article, I hope their voices coalesce into something more powerful, a force beyond that contained in a singular experience, something that speaks to that thing which makes Minnesota skiing so great - community. It's a community we are all apart of and it's a community of champions.
Male Champions
| | | | | | | |
| --- | --- | --- | --- | --- | --- | --- |
| Year | Name | High School | Athletics post high school? | Current Hometown | Current Profession | Notable Result/Achievement |
| 2019 | Peter Moore | SPA | Skis for Bowdoin and races bikes | Brunswick, ME | Student | 10th place in the Omnium at the 2019 Junior Track Cycling World Championships |
| 2018 | Garrett Beckrich | Grand Rapids | Biathlete on Junior National Team | Grand Rapids, MN | Biathlete | 3 x Biathlon World Junior Qualifier |
| 2017 | Xavier Mansfield | Spring Lake Park/St. Anthony Village | Skis for NMU | Marquette, MI | Student | 24 hrs of Wirth Champion |
| 2016, 2014 | Zak Ketterson | Bloomington Jefferson | Skis for NMU | Marquette, MI | Student | 1st place 2019 Canmore NorAm/Supertour |
| 2015 | Leo Hipp | Forest Lake | | Marquette, MI | Student | Skied at 2016 World Junior Championships |
| 2013 | Jakob Ellingson | Hopkins | Biathlete with the National Guard | Hopkins, MN | Pioneer Midwest/ Soldier, Minnesota National Guard | 7th in 2018 USBA Olympic Trials |
| 2012, 2011 | Ben Saxton | Lakeville North | Professional skier with SMST2 | Stratton, VT | Skier/Student | 2 x Sprint National Champ at 2019 US Nationals |
| 2010 | Raleigh Goessling | C-E-C Lumberjacks | Biathlete with the Maine Winter Sports Center, Skied for UNH, Biathlete with CGRP | Craftsbury, VT | Professional biathlete with Craftsbury Outdoor Center | 5th at 2017 US Biathlon Nationals Mass Start |
| 2009 | Erik Fagerstrom | Eden Prairie | Skied for Dartmouth | Minneapolis, MN | MBA/MHA Graduate Student | 2010 Junior Nationals Podium, Presque Isle, ME |
| 2008, 2007 | Joe Dubay | Andover | Skied for St. Scholastica | Fridely, MN | Addiction counselor and mental health therapist | "Allegedly using a teammate's bib to win the 2012 classic Birkie before getting disqualified" |
| 2006, 2005 | Ben Fick | Forest Lake | | | | |
| 2004, 2003 | Garrett Heath | Winona/Winona Cotter | Ran for Stanford, then professionally with Suacony then Brooks | Seattle, WA | Professional Runner | NCAA Distance Medley Relay National Champion, 2015 XC National Champion, 7th in 1500m at 2010 Indoor Track World Champs |
| 2002 | Garrott Kuzzy | Hopkins | Skied and ran for Middlebury, then skied for CXC and US Ski Team | Innsbruck, Austria | | 2010 Vancouver Olympics, Top-10 World Cup finish at a skate sprint in Canmore |
| 2001, 2000 | Anders Osthus | Duluth East | University of Vermont | Virginia, MN | DO, Emergency Medicine | |
Female Champions
| | | | | | | |
| --- | --- | --- | --- | --- | --- | --- |
| Year | Name | High School | Athletics post high school? | Current Hometown | Current Profession | Notable Result/Achievement |
| 2019, 2018 | Mara McCollor | Wayzata | Skis for Dartmouth | Hanover, NH | Student | 24th at 2019 World Juniors |
| 2017 | Erin Bianco | Ely | Skis for Colby | Waterville, ME | Student | CBC Women's team placing third, 2019 Dartmouth Carnival |
| 2016 | Margie Freed | Eastview/Apple Valley | Skis for UVM | Burlington, VT | Student | 11th at 2019 NCAA Classic 15k |
| 2015 | Sarah Bezdicek | Osseo | Skied for NMU | Milwaukee, WI | Occupational Therapy Graduate Student | Qualified for 2016 U23 World Champs |
| 2014 | Mattie Watts | Irondale, New Brighton | Skied for UVM | Culverden, New Zealand | Dairy Farmer | 1st place in Classic Sprint at SLU Carnival |
| 2013 | Anna Kubek | Duluth East | Skied at MTU for one season | Midland, Michigan | Associate Information Technology Analyst at Dow | 2017 NCAA Team Alternate |
| 2012 | Nora Gilbertson | Stillwater Area | Skied for St. Olaf | Seattle, WA | Applied Math PhD student | 2015, 2016 UCSCA Team Sprint Champion |
| 2011 | Sharmila Ahmed | Burnsville | Skied for St. Scholastica | Minneapolis, MN | Pharmacy student | 23rd at 2015 NCAAs |
| 2010, 2008, 2007 | Jessie Diggins | Stillwater Area | Skis for SMST2/US Ski Team | Stratton, VT | Professional Skier | 2018 Gold Medal Pyeongchang Olympics Team Sprint |
| 2009 | Anne Hart | SPA | Skied for SMST2 | Boston, MA | Law School at Boston College | 5 x All-American, 2018 Olympics Team |
| 2006, 2005 | Katie Bono | Visitation, Mendota Heights | Skied for Dartmouth then Sun Valley | Hanover, NH | Medical Student at Dartmouth, Mountain Athlete | Women's Speed Records on Mt. Rainier and Mt. Denali |
| 2004 | Shannon Bergstedt | Hopkins | Ran at Stanford | San Francisco, CA | Business Developement and Partnerships at Verily Life Sciences | |
| 2003, 2002 | Courtney Dauwalter | Hopkins | Skied for Denver, now professional ultra-runner | Golden, CO | Ultra Marathon Runner | 1st place Moab 240mi - 2 days, 9hrs, 59min |
| 2001 | Lindsay Williams | Hastings | Skied for NMU and US Ski Team | Minneapolis, MN | Sous Chef | 2005 US National Sprint Champ, 2007 NCAA Champ, 2006 Olympic Team |
| 2000 | Anna McLoon | Roseville Area | Skied and Rowed Crew at Harvard, then skied professionally for Maine Winter Sports Center and Atomic | Albany, NY | Assistant Professor of Biology at Siena College, researching and teaching microbiology | Part of Harvard's NCAA Champion Crew Team, winner of MN Vasaloppet |
Q and A
What did winning State mean to you in the moment? What impact did winning and/or skiing in high school have on your life?
Peter Moore: In the moment, I was pretty overcome with the realization that I had achieved a dream of mine that I had had since I first started skiing with my high school team in 6th grade. The community that Minnesota high school skiing brings together is pretty incredible and I will never forget all the good that skiing did for me and brought out of me, both on and off skis.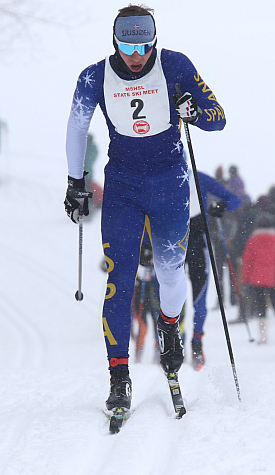 Margie Freed: Winning the state meet was always something I dreamed of but didn't think would actually ever come together. I was excited to have so many people congratulate me, and to be able to go to the top of the staircase at Giants Ridge. I remember the many races I had at Hyland more vividly though, where it would be dark and felt like -20 degrees by the time we finished, and I would just be happy to be done and eating a giant blueberry muffin the parents would bring for us.
Leo Hipp: Skiing in high school was a rude awakening to hard work. I had never worked so hard for something in my life, and learning how to work hard, and to enjoying the process has been something that I have carried with me throughout college and into other facets of my life.
Jakob Ellingson: In the moment I was just content with the effort that I had made to get to the finish line first. I can't say for all sports, but for xc skiing I think that everybody knows when they race, if they don't give it all they could, there is this feeling of disappointment, whether or not you say anything, if you could have pushed harder and you chose to take it easy. I have had races where I gave 100% and ones where I didn't, I am always happier afterward with the ones that I gave 100% in, even if it is a little bit more painful in that moment while you are going up the bigger hills.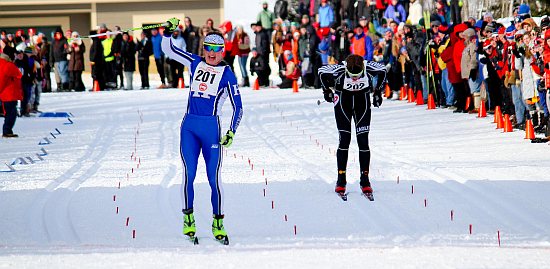 Nora Gilbertson: When I started skiing in seventh grade, I just wanted to make the varsity team for one race before I graduated high school. To go from that dream to setting a goal of winning State and actually reaching that goal was, frankly, unbelievable at the time. Before the pursuit race, Jessie Diggins had called to wish us all good luck, and it felt like winning was adding a little bit to her legacy, Kris Hansen's legacy, the legacy of success that Stillwater skiers had achieved. The Stillwater ski team formed a cornerstone of my life and welcomed me when I was a seventh grader who didn't know how to ski, promising that my goals were as worthwhile and valid as anyone else's. Winning was a way of contributing to that team and culture - hopefully showing younger skiers that they can achieve more than they ever thought attainable, whatever their goals are.
Ben Saxton: Winning state was a huge deal to me. There are steps everyone takes along their competitive journey, and for me a state championship was the step I took that made me feel like I could justify dreaming about skiing beyond high school.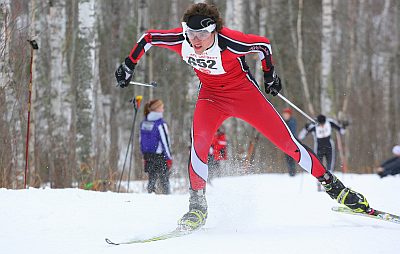 Jessie Diggins: In the moment, it was a realization of hundreds of hours of dedicated work paying off. It was another point scored for our team. And it was a way to test myself on the biggest stage for a high school athlete!
Skiing in high school was one of the most positive influences in my life because it showed me how to be a good teammate, how to be a leader, how to work hard and get it done no matter what, and how to deal with nerves, pressure and stress.
Courtney Dauwalter: When I first joined the nordic ski team in 8th grade, I wasn't very good at it. During those first few years of racing, the question was never how I placed (near the back) but how many times I fell during the race. My parents and I celebrated when that number was finally down in the single-digits! To have the years of work and dedicated time towards figuring out how to move efficiently on these skinny skis pay off by the time I graduated high school was pretty cool.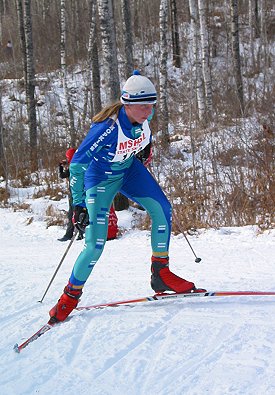 Garrott Kuzzy: The 2002 State Meet took place at the same time as the Olympic Games in Salt Lake City. Having qualified through USSA competitions, I had the opportunity to forerun the cross country events at the Games with a handful of other juniors from around the country. The morning after the State Meet, I flew to Salt Lake for the week and got to forerun some of the most memorable events of the Games, like the 4 x 10 relay where the Thomas Alsgard and Christian Zorzi had their epic sprint finish and the US men finished 5th. That was a pretty special way to celebrate the State Championship. Anders Osthus, 2001 State Champion, was also forerunning. At the time, we were the only two skiers to win four State Championships on one day (skate, classic, pursuit and team). I specifically remember getting a "welcome to the club" from Anders about that achievement. I'm not sure if anyone else has that distinction, but if there is: "Welcome to the club!"
Anna McLoon: In the moment, it was just so fun to be a hero on a winning team. Winning always feels good, but honestly, I think the best part about skiing for Roseville in the late 90s was that our coaches were just amazing coaches. For the top athletes who trained on private clubs (I was in Saukko, which was organized by Todd Johnson), the high school coaches Fred Kueffer and John Strand planned good workouts and a good schedule, but understood that sometimes we'd need to focus on a JO qualifier, etc. but they also did an amazing job at making skiing fun for everyone. They understood that we were all still kids and if sometimes some of the team would stop and build a snowman, or if there would be snow ball fights or snow wrestling while waiting for the bus, that was part of what it was to make it so that skiing could become a lifelong sport. They rewarded everyone who put in "extra K" outside of official practices, so we could earn special t-shirts, and some days we could fill more than one bus with kids participating.
What do you remember most about your championship race or race day?
Mara McCollor: I remember the last 100 meters extremely vividly. It was dumping snow and there was already a few inches of loose powder covering the tracks and Luci and I were sprinting as hard as we possibly could to get to the finish line. It was a very intense finish but one that I really enjoyed. Being able to finish right with Luci was a great way to end high school skiing, she was (and still is) one of my favorite people to race with and compete against.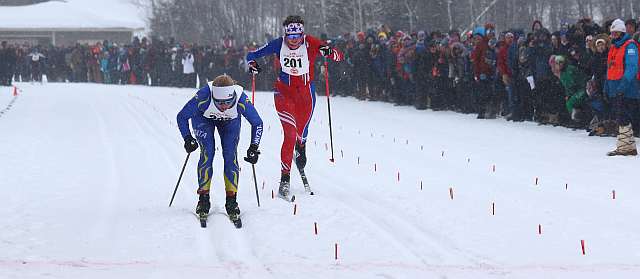 Peter Moore: The thing I remember most about the State Meet was seeing the sheer elation and joy on the faces of friends, coaches, and family. I literally skied into their arms immediately after crossing the line, letting them catch me instead of slowing myself down.
Erin Bianco: What I remember most about the Minnesota State High School meet in 2017 was the feeling of gratefulness. I remember sitting in our hotel room between races and realizing that this team from the small town of Ely, Minnesota was one of the best and that we had the opportunity to make not only ourselves proud but our whole community. It was a pleasure to go out there with all my friends and teammates in the afternoon and bring home that championship with them. I felt a lot of pride that day.
Garrett Beckrich: My friend and rival Alex Kelling said, "you actually won!" right after he finished in 8th.
Xavier Mansfield: For better or for worse, I had put a lot of pressure on myself to go out and win State, and I was just so happy after finishing. Shortly after that extreme emotional high, I remembered an incident I had had with another athlete on the classic course where a misstep on my part caused the two of us to fall, and immediately the exuberation turned to shame and regret. Later, a video was found of the incident and was posted to Facebook. I remember a lot of comments debating whether I should have been punished and to what extent. After experiencing this delta of emotional extremes, I started to experience burnout, and I'd say this was when I started to internalize the mantra that competing isn't necessarily about winning and losing as long as you truly enjoy the process and are leaving your soul out there on the course, something I would come to learn more about when I would go on to race in College.
Margie Freed: When I was heading into the finish during the State Meet, I remember not knowing what to do when I crossed the line. I didn't know if I should put my hands up in celebration or wave to the crowd. I ended up doing nothing, and I wish I would have done something more exciting.
Zak Ketterson: I remember the night before My first state meet my freshman year I slept like 3 hours. I couldn't fall asleep because I was so nervous. Same thing before my sophomore year - 4 hours, max. I didn't sleep well the night before the state meet until my senior year!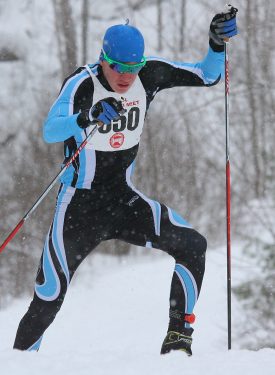 Sarah Bezdicek: I remember having a great mindset that day. Even though it was cold, there were unexpected delays, and it was my last highschool race ever, I had a positive attitude and didn't let unexpected circumstances ruin my mental game. I remember hearing all my family, friends, teammates, and coaches cheering so loud on the course which was so motivating! I remember the adrenaline rush as I turned at the top of the course and headed down the last kilometer, pushing as hard as I could into the final stretch. As I crossed the finish line and realized no one was behind me, I was ecstatic!
Mattie Watts: At the 2014 State Meet, I remember most about that day is how much support and help I received. When my race skis were nowhere to be found just minutes before the afternoon classic race my coaches and friends compiled together to find me a pair of race skis. Very luckily John Richter was quick on his feet and offered me Marshal Landrum's classic skis.
Nora Gilbertson: The people. I could hardly tell you anything about the race itself (which was, in fact, usually a sign of a good race for me, but it was the hugs from my coaches Kris Hansen and Bob Hagstrom at the finish line and support from my parents, friends, teammates and coaches that have stuck with me.
Joe Dubay: My first state championship I vividly remember the classic race and Leif Nordgren was about 20 seconds behind me. I just remember skiing as fast as I possibly could and not looking back. Otherwise, I think we ate at a Burger King on the way home and that is always a great sampling of fine American cuisine.
Jessie Diggins: I'm not going to lie; it was a while back, and I don't remember too much except the way I used to tuck on the downhills, sitting on the back of my skis. But I DO remember the excitement and joy I felt every year with my high school team, and the sense of team spirit and belonging to something bigger as a group.
Garrett Heath: I still remember how cold it was one of the years. I believe it was 30 below zero so they had to delay the race. When they went to start it, the clock died because it was so cold. I also remember the insanely long first hill in the classic race and coming up the homestretch winning in the skate race with the crowd there.
Garrott Kuzzy: That entire winter was memorable. After having spent a year abroad, it was special to be back racing with some of my best friends, all of whom I had been training with since junior high. We lost our coach, Chris Ringsven, to a kayak accident about a year earlier, though his memory lives on through the annual Ringer Roll roller ski race. Chris's playful energy definitely influenced our approach to training and how we came together as a team. I remember how much fun it was getting the whole Hopkins team together on the podium to celebrate the win after years of training together.
Lindsay Williams: The overwhelming sense of accomplishment. So much blood sweat and tears go into training for that moment, and when it all pays off it feels so [freaking] amazing!
What other pursuits, athletic, personal, or professional, have continued to define your life after high school?
Xavier Mansfield: After high school, I discovered my passion for Computer Science and programming. I have played piano for over a decade, and I am a huge basketball/NBA fan. With my college team, we play a lot of basketball during the spring. I hope that after college I can get hired as a computer programmer, ski, play basketball, and enjoy life.
Sarah Bezdicek: With passion for skiing and sport, I pursued a degree in Exercise Science during my undergraduate time. During my time at NMU, the Catholic community there really helped me keep a balanced outlook on life while managing full-time ski training and racing competitions. Currently, I am grateful that I am in full-time student mode to earn my masters in Occupational Therapy! I look forward to working in the healthcare field and helping individuals regain their abilities for everyday functioning. While I am in the midsts of my first year off from competitive ski racing, I still love every snowfall, and I can't wait to sign up for some Birkie's in the near future ;)
Mattie Watts: Once I moved to New Zealand, I had the incredible opportunity to become a firefighter for the Culverden brigade. I had many reasons to join but one of the most significant reasons is because I wanted the challenge. I loved how skiing gave me an opportunity to work hard and challenge myself and I really missed that when I moved to NZ. Now completing the brigade training, I have another incredible opportunity to compete in the Sky Tower Challenge where I will be running up in my firefighting gear and a breathing apparatus for 53 stories to raise money for leukemia and blood cancer. My skiing history has given me the knowledge, the love, and the motivation to train and push myself for this race and while fighting fires.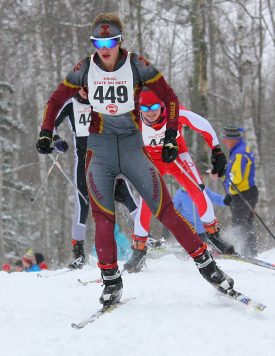 Jakob Ellingson: Joining the National Guard has been a big one, I am really proud to be a part of the organization. The second big move or change was coming home this fall to work with Matt Liebsh at Pioneer Midwest. For so long I had been on the higher end of competing, it has been a lot of fun to switch over to supporting the young athletes.
Anna Kubek: I got into Olympic weightlifting and powerlifting after college. I am now training for two physique competitions in April.
Joe Dubay: Since college, I have continued to remain involved in the ski community as a ski coach for Endurance United and sales associate for Madshus with Ski Services Unlimited. I have also become an RC car racing enthusiast. Currently, I race 1/10th scale indoor off-road buggies. In my professional life, I have earned a master's degree in counseling and I work as an addiction counselor and a mental health therapist.
Anne Hart: Striving for excellence, no matter the task. I have approached every task since high school with the single focus of being the best version of myself I can possibly be. This doesn't mean I always win -- I've had my fair share of losses -- but it means pushing myself to always be better than the day before. I adopted this mentality throughout my time ski racing, I'm applying it with success at law school, and have come to realize excellence doesn't only occur in competitive arenas. I strive to be an excellent waffle maker, friend, daughter, sister, and fiancé.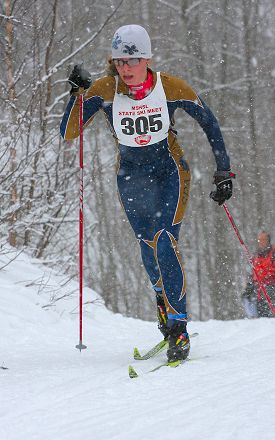 Courtney Dauwalter: After college I got back into running as my main outlet for getting outside and sweating. I did a few road marathons because I was curious about the distance and wondered if I would survive 26.2 miles (I did!) and loved it. Soon after, I discovered the ultra marathon world and trail races that were anywhere from 50k to 200+ miles. I did my first 50k in 2011 and have been looking for the next long distance or crazy challenge to try ever since. What is the limit? I have no idea and I'm thrilled to have the chance to keep looking for mine.
Anna McLoon: Athletics has never been the only thing in my life. Academics and science has always been even more important to me. I received a PhD in Genetics from Harvard University in 2011, got married, and then went and lived abroad in Germany for three and a half years, from 2012-2015. My husband and I joke that we had an extremely long European honeymoon. Although we were there so that I could work in a particular laboratory, we made a point to travel as much as we could, and we had some great adventures, including bike touring in France, hiking in Italy, and skiing in Austria. We also welcomed our first child while in Germany (our second was born here in Albany). Then in 2017, I started a position as assistant professor at Siena College. It has been my goal since middle school to become a biology professor, to teach students science and to run my own research lab, and while it is a lot of work, I really feel lucky to be doing something that I love.
What are your favorite memories of high school skiing? Any memorable team traditions?
Peter Moore: My favorite memories of high school skiing are long, slow skis at Giants Ridge with all of my friends at our winter break training camp.
Margie Freed: The Eastview girls team would dye our hair before the state meet. We tried different colors each year; red worked well but blue was a complete fail, it ended up looking like we spent way too much time in a super chlorinated pool.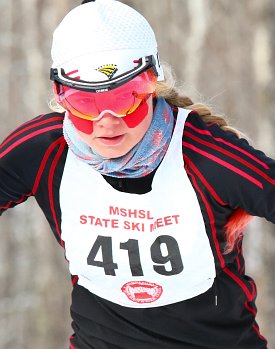 Mattie Watts: I have so many favorite memories and habits that many became team traditions. Some of these traditions included: coating our faces in glitter, singing Let it Go on the top of our lungs, endless fun at training camps, buying giant donuts in Cloquet after Mesabi, dancing before races, putting everyone (including Irondale's hockey team) through pain from our 17 minute core workout, and most of all, the team cuddles when we were all so cold but happy together.
Anna Kubek: Riding the bus to races is one of my favorite memories. It was a great bonding experience for everyone and we'd get super close with each other. Whether it be working on homework the whole time, sleeping, or singing/dancing to our favorite songs, it's a time I wish I could relive. It was fun staying over night at Giants Ridge with my teammates and getting to watch the Charlie Banks Relays before the pursuit race.
Nora Gilbertson: The most memorable of many team traditions, and a personal favorite, is absolutely the Stillwater Snow Dance. It is still practiced today in a time-honored tradition of making other teams look at us funny. I highly recommend it, it's very good for both the soul and team bonding.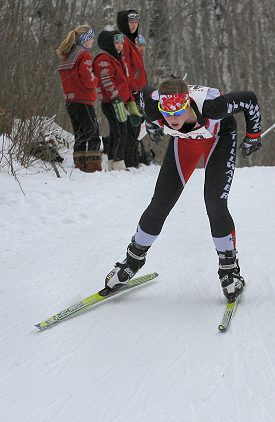 Ben Saxton: My favorite memories of high school skiing, were the holiday trips we took to Telemark Lodge. We would ski like maniacs, and stay up all night (sorry Coach) playing games and telling jokes and somehow wake up ready to do it all over again.
Raleigh Goessling: My favorite memories of high school skiing were home meets at Pine Valley under the lights. It's always special to race at home and racing under the lights made it extra special. I love Pine Valley and the sense of community that the CEC team and Cloquet Ski Club create.
Joe Dubay: My favorite memories of high school skiing were finding places that the coaches wouldn't look to build jumps or ski off little cliffs. It probably helped a lot with balance and overall athleticism too. Also, skiing up and down at Trollhaugen in the fall was great. My brother Ben and I would always try to knock each other over while skiing down the alpine section.
Katie Bono: The team aspect is pretty special. I felt really lucky to have Claire Luby as a training partner. We went 1-2 in so many races. She applied to Middlebury and I to Dartmouth. We happened to find out we both got into our respective schools on the same day and that afternoon we hopped into the boys race!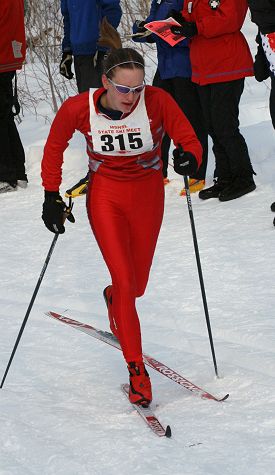 Garrott Kuzzy: Pre-race pasta parties are one of my favorite traditions -- anything that involves dinner and friends.
Riding to practice at Baker Park with upper-class skiers -- are kids allowed to drive themselves to practice?
Ski camp at Giants Ridge -- taking the chairlift to the top of the mountain and hammering down as fast as possible. Or waxing sleds and doing the same thing.
Anna McLoon: I remember that we would eat potatoes after races because Steve Gaskill at the U of M had determined that they contained the best carbohydrates to replenish glycogen.
What was a favorite rivalry you had with another skier or team?
Garrett Beckrich: Ely boys. Can't let them beat you!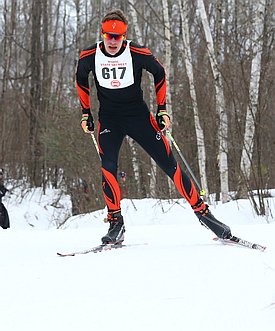 Leo Hipp: My favorite rivalry would have to have been with Stillwater. It was a great rivalry because we shared the same conference and section, so we were competing against each other at every race.
Nora Gilbertson: Stillwater had a huge rivalry with Roseville when I was in high school, when only one team qualified for the State Meet from each section. Despite such intense competition, it didn't stop either team from going right out and cheering for the other team's skiers. You can't beat a rivalry when it's against a team that both pushes you to be better and is full of fantastic people!
Jessie Diggins: Anne Hart and I always thought it was super funny that people thought we had a rivalry, and lucky for me, I got to be on the SMST2 team years later with her. We even lived together for a few years! Skiing connects you to some pretty amazing people.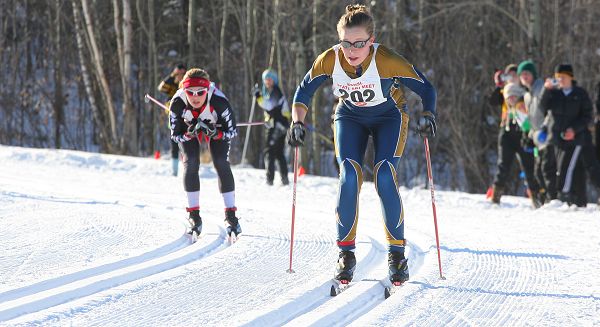 Joe Dubay: I think my biggest rival in high school was Jeremy Hecker. Funny enough we skied for the same team in college and it was great getting to know him as a teammate rather than a rival. I also remember trying to tow him back up to the front pack in a classic race once when he was trying to qualify for NCAAs. I am pretty sure I totally blew up in the process but that is what teammates do.
Garrett Heath: Always enjoyed competing against Hopkins.
Garrott Kuzzy [skied for Hopkins]: Garrett Heath. I didn't stand a chance against him in cross country running, so I had to make sure Garrott was spelled with an "o" on top of the ski results at least.
Who had the biggest impact on your ski career?
Erin Bianco: Amy Bianco, my older sister, has been my inspiration throughout my ski career. Growing up racing on the same team in high school and watching her success at Colby College showed me how fun it is to be a college skier. She showed me what it meant to train hard without getting too caught up in results while giving it her all in every single race. I have never seen someone work as hard as she did, have amazing results, and still be the most humble person you will ever meet. To this day she has also been my biggest support system cheering me on at every carnival.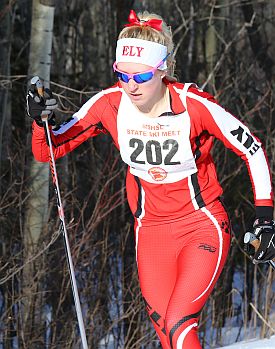 Mara McCollor: My dad has had an incredible impact on my ski career. Both he and my mom taught me how to ski when I was very young and when I got back into it in eighth grade, he was eager to help me. He waxed my skis, helped me with equipment, and gave me race advice all throughout high school. He has also been extremely supportive in all of my skiing endeavors and has been a role model in every way. I look up to him so much and still give him hugs before any race he is at. He has been such a large part of my ski career that it wouldn't be nearly the same without him. I am so thankful for everything he has done and I will always look forward to going home to ski with him. Thank you dad.
Zak Ketterson: Piotr Bednarski, my coach when I was in high school and trained with LNR. He taught me a lot about training, technique, and fixing my attitude. I think he really set me on a good path.
Ben Saxton: I've had an unimpeachable group of teammate and coaches throughout my skiing career, and I don't know if I can point to any one person who had the biggest impact on my career, but my parents (who are not lifelong skiers) have always helped me to maintain perspective and I owe them a great deal for instilling me with a competitive drive, and a healthy desire to stay relaxed. Without those things I doubt I would enjoy skiing as much as I do today.
Raleigh Goessling: Phil Rogers and Brent Smith introduced me to high school skiing and provided amazing mentorship for me early in my career.
Anne Hart: I think my club coach Kevin Brochman. He came up to me after my 9th grade race, and I wasn't happy with my placement (I think the high eighties or low nineties). He said he thought I had a motor without a car, and asked if I'd consider training with his summer group. I did, and the first day was a disaster. I had never roller skied before, broke (I think) both poles, and got absolutely dropped by everyone. My mom picked me up, bloody-kneed and crying, and she asked if I wanted to go back later that week. I sniffled a little, and said yes. The next year I was 9th (I think), then I won the following year, and came in second my senior year. If Kevin hadn't come up to me after my 9th grade state race, my life would likely look very different (in a bad way) today.
Erik Fagerstrom: Doug Boonstra - Eden Prairie coach who gave me my start in the sport and who I have the privilege of coaching along side today.
Reid Lutter - for taking my high school skiing commitment to the next level and pushing me start JNQ racing, pursue the sport in college, and spend an amazing year in Idaho skiing with SVSEF.
Katie Bono: My first coach, Corey Coogan-Sisek took me aside in 8th grade, looked me in the yes, and said, "I think you can win State." At that time I was just excited to be on Varsity. Her words made a lot of difference.
Anything else you would like to say about your experience or skiing?
Erin Bianco: Skiing has definitely not always been easy and I have had some pretty frustrating years with it but in the end I think it is important to not take the results too seriously. The best part of my skiing for me are the times when I forget about expectations and just ski. Someone recently told me that "the results will come when you're having fun." I truly believe this. Skiing has not only taught me how to be disciplined and train really hard but to also enjoy being outside with my friends while working towards that common goal
Leo Hipp: Thank you to Deno Johnson, who was my coach all through high school. He taught me how to work hard, chase goals, and believe in myself. Without him I would have never been able to accomplish what I have. Thank you Deno!
Garrett Beckrich: Just because you aren't from The Cities doesn't mean you can't win state!
Jessie Diggins: What I'm most proud of in my career is finding a way to give back to the sport and to try and help others through my partnership with the Emily Program, educating and raising awareness about eating disorders.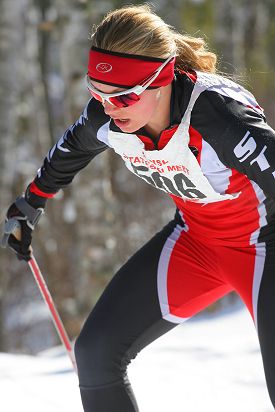 Anna McLoon: Skiing and ski racing is such a privilege, especially in the face of climate change. On the one hand, the state meet is just a few races on one day in February, and isn't going to change the world, but on the other, it is so wonderful to be able to go out and do your best at something you love just because you can and it is fun. I hope the skiers all go and leave everything they have out on those courses and make memories that will last forever.
Garrott Kuzzy: Put down your phone and head out skiing!
About the author...

Luke Brown, a graduate of Minnehaha Academy and Dartmouth College, is a skier and biathlete for the Crosscut Mountain Sports Center and the US Biathlon X-Team. He enjoys running in the mountains, writing, and eating cereal with whole milk. He lives in Bozeman, MT.