Minnesota State Meet Recap and Stats
February 15, 2020

It was another glorious Minnesota State Meet! Even with cold weather that shifted the event a day later and compressed the start, the conditions weren't as bad as the forecast indicated with the bright sunshine and a course that flows through the woods helping to make it feel warmer for the morning races. The winds kicked up in the afternoon, and a number of factors led to a delay in the girls pursuit start, pushing the schedule back an hour, but the races were completed well before sundown and the crowd was treated to some exciting finishes.
Libby Tuttle, Stillwater, came out of the morning freestyle race with the best time as she looked great on the Silver course. However, St. Paul Highland Park's sophmore Molly Moening showed she was up for the big day, posting the second fastest time, starting 12 seconds behind Tuttle in the pursuit. Moening made quick work of closing the gap and then powered on to dominate the classic field in taking the overall victory. Forest Lake's Jordan Parent took a very solid third, leading a group of three other freshman/sophmores in the top 10 that ensures quite a battle for next season.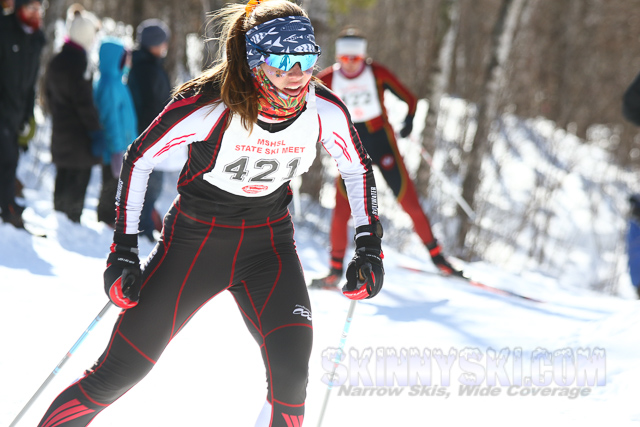 The boys race was every bit the wild west shoot out we expected. Top ranked Roger Anderson, Robbinsdale-Armstrong, rocked the freestyle course to take an eight second margin over CJ Young, Maple Grove, in the pursuit. Henry Snider, MPA, started fourth in the pursuit but just 12 seconds back, and eventually bridged up to Anderson. They came into the stadium together, the crowds roaring as they double poled to the finish line, Snider just pulling ahead for the victory. Young held on to finish a strong third. With only five of the top ten graduating, there should be strong competition again next season for that top spot.
Movers and Shakers
It's always interesting to drill down into the classic pursuit numbers and look at who launched themselves to stardom. In the top 25, the biggest mover was Minneapolis Washburn's Etta Leugers. Leugers started out in 46th place and then flew by an incredible 23 skiers to finished 23rd. But she wasn't the biggest mover - that honor went to Gretchen Haggenmiller, Duluth East, who extracted some revenge on the field with her classic skills going from 117th to 67th, a movement of 50 places! Second place honors go to Grand Rapids Elsa Viren, rocketing from 93rd to 49th, passing 44 skiers. And third best was Hopkin's Elsa Bergman, moving from 122nd to 88th, a jump of 34 places.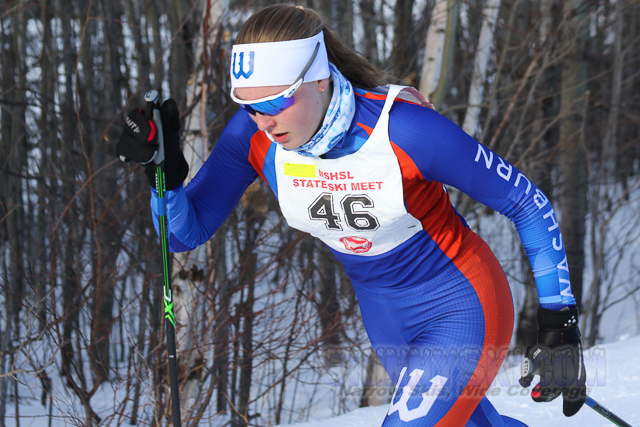 On the boys side, Victor Sparks, Minneapolis Southwest, had the biggest improvement in the top 25, starting the afternoon in 30th place and moving all the way up to 14th -- 16 skiers passed. The biggest mover in the field was Minneapolis South's Henry Neufeld, going from 128th to 95th, an amazing 33 skiers passed. Second place was Colby Branch, Hopkins, jumping 28th places as he went from 132 to 104. Third best was Nico Alexander, Minneapolis Washburn, zooming from 81st to 55th place, cruising past 26 skiers.
Team Scoring
First, let there be no doubt whatsoever the St. Paul Highland Park girls were the best. They lead at half and then increased their lead in the classic to win by 12 points. And they won every category we sliced up -- best freestyle, best classic, best full team score, and best top four. But give Forest Lake gals their due, they were the best of the rest, taking second place in every category. And Stillwater takes third, confirming just how tough the Suburban East Conference is (Forest Lake vs. Stillwater).
The boys team scoring is fascinating. Minneapolis Southwest gave Forest Lake a true scare for the team title, tying on points and losing by less than eight seconds in the tie-breaker (top four times). The one thing that stands out is Minneapolis Southwest actually scored the higher freestyle and classic team points (when scored as standalone races). So how did Minneapolis Southwest lose? It wasn't the same four boys scoring the top points to those two races, thus their pursuit scoring (the one that counts for the State title) was the same as Forest Lake. And undoubtedly, eight seconds difference means some extra intervals next fall... St. Paul Highland Park boys earned much respect, sweeping third place is every category we track.
Predictions
As usual, our predictions were about as good as a blind draw in the lottery. We went with Lauren McCollor to take the girls title with Libby Tuttle second, and Gretchen Haggenmiller third. But it was our third ranked skier, Molly Moening, whom we listed as an "outside shot" that rock her classic leg to take the pursuit title by nearly a minute. Moening is clearly the favorite going into her junior year!
We had placed our bets on a stellar performance from Cooper Lennox for the victory with Henry Snider second and Roger Anderson third. Instead, Anderson started with the pursuit lead but Snider caught him, making for a fantastic finish with Snider just edging out Anderson for the win. There was some satisfaction in knowing we had Anderson and Snider as our top two skiers in the final rankings. CJ Young was the big dog on the day, showing he was under-ranked (we had him on the cusp list) and putting all his skills on show to take third place. Always love when we are that wrong!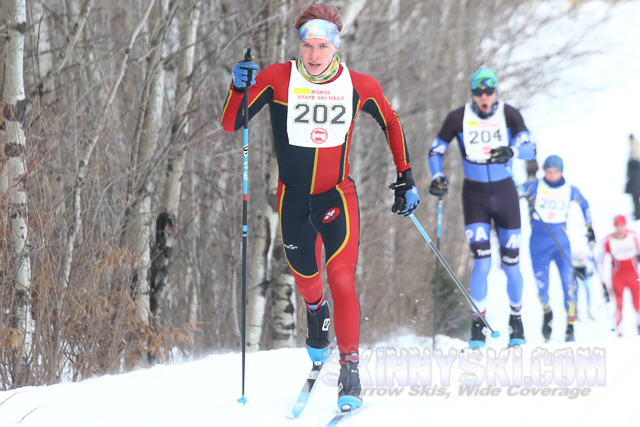 On the team side, our top ranked and predicted victors did pan out. St. Paul Highland Park easily won the girls title, but Forest Lake had to use a tie-breaker to hold off Minneapolis Southwest for the title. We also correctly forecast Forest Lake girls coming in second, but it was Stillwater moving up to capture third (we had Duluth East). We picked Minneapolis Southwest to place third (they were second), but we were happy to see St. Paul Highland Park showing their second place ranking was pretty darn close, as they finished third (we had Ely predicted to place second).
Other Notables
If you haven't heard the old adage already: summer training makes great winter skiers. And this year doubles down on that: Molly Moening trains with Kevin Brochman and the Minneapolis Ski Club, marking the second year in a row Brochman has worked with the girls champion in the summer (last year, Mara McCollor). Henry Snider spent his summer training with Liz Peterson, the head coach for Endurance United -- the same coach that worked with Peter Moore, the previous State Champion.
It's been a tough pair of State Meets for the Anderson family of Robbinsdale-Armstrong. Roger Anderson lost to Henry Snider in a double pole sprint to the finish this year. Last year, it was Luci Anderson, Roger's sister, that lost in a double sprint against Mara McCollor for the title. Luckily, Roger has another shot at it next season!
The Nightingale kids, Margo and Isak, of Mounds Park Academy, are all-in on skiing: they both competed in the Alpine State Meet on Wednesday, with Isak taking 26th and Margo 53rd.
Stats
We've cranked out our expanded stats, take a look to see all the numbers.