Collegiate Racing Recap: EISA, RMISA
Week 7! The last weekend of collegiate conference skiing before the big dance in Bozeman (NCAA Championships, March 11-14).
EISA: Middlebury Carnival (Hancock, VT - Rikert Nordic Center)

EISA skiers raced on Middlebury's three leaf clover of a race course. Each clover contains a climb up into the woods, then descends back toward the stadium to loop onto the next leaf. It's a solid course. Of note this past weekend was some of the top skiers' absences while competing at World Juniors/U23 World Championships. Dartmouth's Mara McCollor was one of these skiers racing for Team USA in Oberwiesenthal, Germany.
Day 1, 5/10k Skate Individual
Lina Sutro (UVM) took her first win of the season ahead of teammate Margie Freed (UVM). Molly Gellert (DAR) skied into third.
Midwest's Renae Anderson (BOW) placed 6th, Luci Anderson (UNH) was 9th - earning her second top-10 of the season and gaining confidence heading into NCAAs.
Ingrid Thyr (WIL) placed 11th, Abby Drach (DAR) 12th, and Erin Bianco (CBC) was 14th.
In the men's race, Matias Oevrum (UVM, NOR) won by just two seconds to lead a Catamounts sweep. UVM's Karl Schulz and Bill Harmeyer followed.
Christian Gostout (BOW) placed 8th, Will Bodewes (UNH) 12th, Peter Moore (BOW) 14th, and Luc Golin (DAR) placed 29th.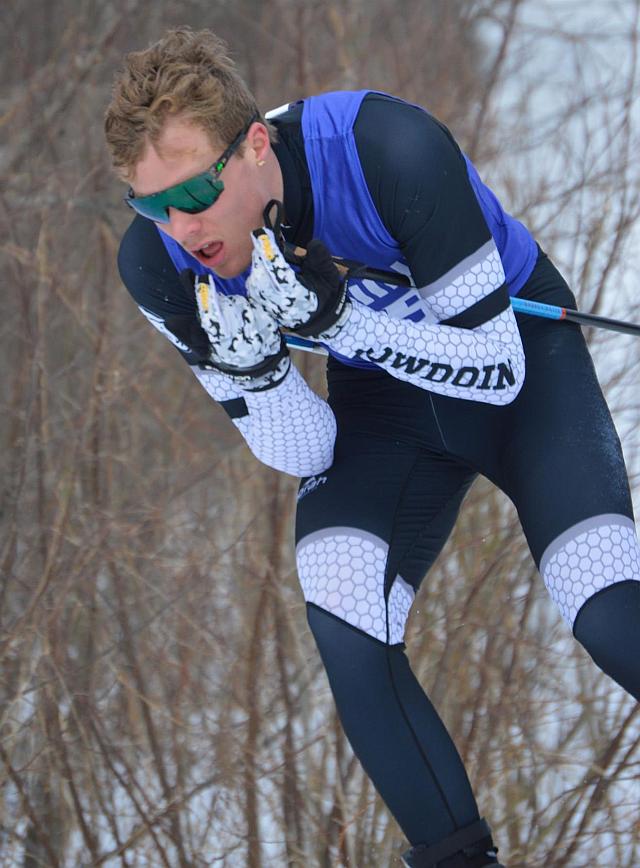 Day 2, 15/20k Classic Mass Start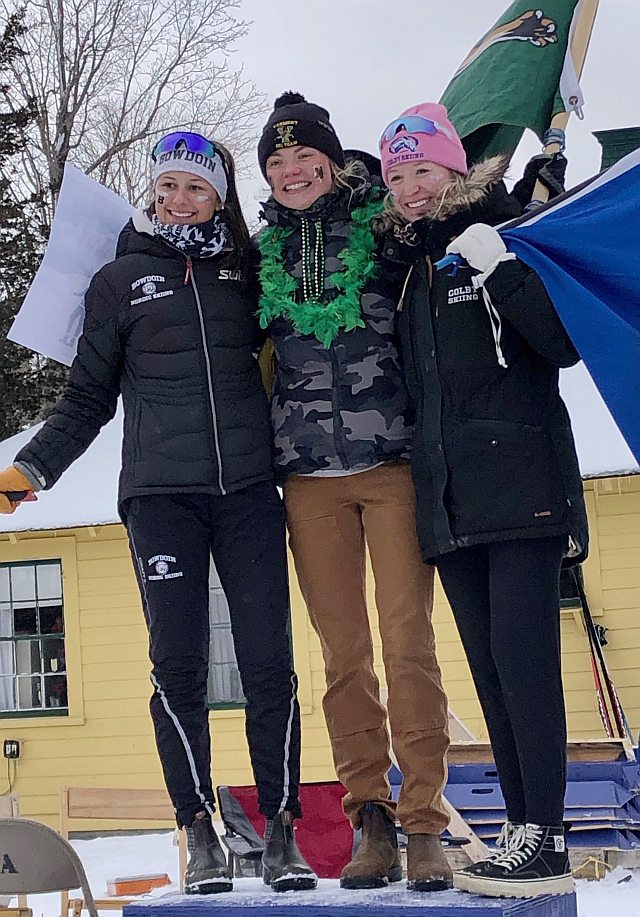 First off, confronted with freshly fallen snow, wax techs did their best to put their skiers on competitive boards for the last EISA race of the season.
Secondly, if I had been announcing this race, I might have out-hyped Chad Salmela announcing the gold for Jessie and Kikkan. In what could only be described as a historic day for the EISA, the women's podium contained three Minnesotans. If that doesn't get the wood-fired stove roaring in your belly, I don't know what will.
Margie Freed (UVM) led the charge, skiing away from the field and taking the victory by twenty-four seconds. Erin Bianco (CBC) and Renae Anderson (BOW) came into the finishing stretch together, with Bianco winning the sprint to the line.
Here's what these impressive ladies said about the race:
Freed: "It was a very exciting day I think for all of us. During my race I took off after about 2k to avoid getting caught up with others during a twisty downhill. This started a lead I was able to keep up for the remainder of the race. As it was my final EISA race I was trying to have fun the whole time, which was pretty easy with so many fans cheering. Seeing Erin and Renae duke it out from the corner of my eye as I finished was exciting because they were both Minnesotans! The success on a course with technical downhills shows that people from the 'flatlands' don't always have to just snowplow."
Bianco: "The first couple of k I was just trying not to fall as there are some crazy downhills like Margie said. After making it through those, the groups started to form leaving Margie out in front which was super exciting to see and Renae and I in a pack to round out the top 8. Going into the third lap was where everything started to happen. I stuck right on Renae as we started passing people on that first hill. Going into the second big climb, Renae made the move to get into second so I followed her. We were able to gap the group on this hill and held on until the end. The most memorable moments from this race were when Renae and I had about 2k left when I heard someone yell "Go Minnesota!" I have looked up to Margie and Renae since high school skiing in MN so I was pretty hyped to be up there with them!"
Anderson: "I agree, this was a super exciting day. Erin and I were skiing with a pack of about 10 for around 11k, and someone yelled that Margie was way ahead which I didn't realize because I couldn't see her. I got inspired and decided to pick it up on the A climb and try to leave the pack, too. Erin was right there with me and we skied the last few k side by side and Erin had a super strong finish. Margie and Erin are such strong skiers and good friends, and standing with them on the podium was the best way to end the carnival season that I could imagine."
Abby Drach (DAR) was 18th, Ingrid Thyr (WIL) 25th, Siri Bohacek (WIL) 26th, and Skylar Tupper (CBC) skied to 30th.
Peter Wolter (MID) won the men's 20k by ten seconds over Harvard's James Kitch. Elliot Ketchel (BOW) placed 3rd.
Christian Gostout (BOW) was 9th, Peter Moore (BOW) 12th, and Will Bodewes (UNH) was 26th.
Nordic Men: 1. UVM (254), 2. BOW (205), 3. MID (203)

Nordic Women: 1. UVM (250), 2. BOW (197), 3. MID (186)

Overall (Alpine and Nordic): 1. UVM (868), 2. MID (867), 3. DAR (778)

RMISA: RMISA Championships/NCAA West Regional (Bozeman, MT - Crosscut Mtn. Sports Center)
Day 1, 5/10k Skate Individual
Eveliina Piippo (DU, FIN) took the victory in the women's 5k. Guro Jordheim (UU, NOR) was 2nd, followed by Leah Lange (UU) in 3rd.
For Midwesteners, Hannah Rudd (UAA) placed 11th, Michaela Keller-Miller (UAA) 16th, Anja Maijala (UAF) 20th, and Sarah Olson (UAF) placed 29th.
Bernhard "The Flasch" Flaschberger (DU, AUT) won the men's race over Sondre Bollum (CU, NOR) in 2nd and Ola Jordheim (UU, NOR) in 3rd.

Day 2, 15/20k Classic Mass Start
Eveliina Piippo (DU, FIN) repeated as victor. Vera Norli (DU, NOR) placed 2nd and former NCAA champion, Hedda Baangman (CU, NOR), skied to 3rd.
Hannah Rudd (UAA) skied to 12th, Michaela Keller-Miller (UAA) 19th, Anja Maijala (UAF) 26th, and Sarah Olson (UAF) was 30th.
Rudd reflected on her races and the NCAA course: "I was pretty happy with how the races went at regionals. It was really nice to have the opportunity to test out the NCAA trails before next week. I think the course at Crosscut is one of my favorite places to race. The course has a lot of transitions and it skied pretty fast this past weekend."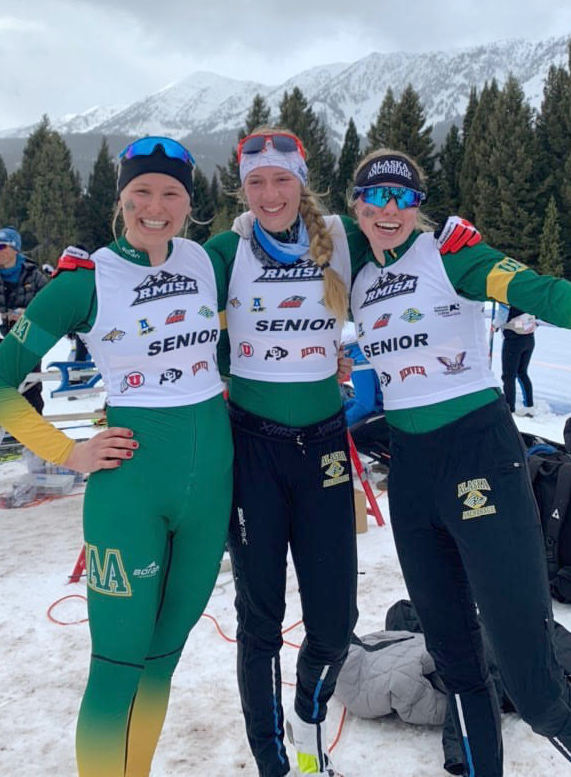 In the men's 20k, Ola Jordheim (UU, NOR) won in a sprint finish over Ryan Jackson (CU, CAN). Bjorn Georg Riksaasen (UU, NOR) finished 3rd.
Team Scores:
Nordic Women: 1. UU (179), 2. DU (169), 3. CU (166)

Nordic Men: 1. UU (197), 2. CU (173), 3. DU (144)

Overall (Nordic and Alpine): 1. DU (688), 2. UU (678), 3. CU (643.5)

CCSA
There were no CCSA races this past weekend as athletes prepare for NCAAs (take a look at the CCSA NCAAs preview linked below). However, MTU Huskies, Amanda Kautzer and Sarah Goble, are currently competing at U23s World Championships.
NCAA Qualifiers:
Women: Malin Boerjesjoe (NMU, SWE),

Sarah Goble (MTU)

, Molly Miller (NMU, CAN), Nadine Matter (NMU, SUI),

Amanda Kautzer (MTU)

, Oda Hovland (MTU, NOR), Lara Ketterer (UWGB, GER)

Men: Mathias Rolid (NMU, NOR), Kjetil Banerud (NMU, NOR), Emil Book Bratbak (CSS, NOR),

Reid Goble (MTU)

, Daniel Streinz (NMU),

Patrick Acton (MTU)

, Aleksi Leino (CSS, FIN),

Tamer Mische-Richter (CSS)
About the author...

Luke Brown, a graduate of Minnehaha Academy and Dartmouth College, is a skier and biathlete for the Crosscut Mountain Sports Center and the US Biathlon X-Team. He enjoys running in the mountains, writing, and eating cereal with whole milk. He lives in Bozeman, MT.