Collegiate Racing Recap: NCAA, USCSA Championships
Uffdah, folks. It's a whirlwind of a world out there and no doubt it was no different for our collegiate skiers in the past weeks. While the last races of NCAAs and USCSAs were cancelled, I can only hope that we can look back on the season as a whole and be thankful for the opportunities our Midwest skiers have had to train, travel, and test the character in their muscles and minds. It's a beautiful thing to ski race. It's a beautiful thing to be a part of a team. It's an honor for us all to be a part of it.
But without more delay, it's the crest of the climax, the bonanza of the buildup, the fulfillment of the festivities!
NCAA Championships (Crosscut Mountain Sports Center, Bozeman, MT)
The best of the NCAA lined up at the start line to changing weather conditions, a challenging course, and what they thought would be the first of two races to see how they stacked up. Crosscut's course is challenging in part due to terrain and in part because of its elevation of 6100ft. A punchy but forceful hill burns itself in one's mental map at about 1k. What follows are winding, gradual trails through aspen groves and pine trees. A mega climb in height and breadth and full on stature greets skiers at 4k. The reward after its summit is a fun windy descent back down toward the stadium. Throughout the pain and the competition, competitors and spectators can always look up through the woods to the looming power of the Bridger Range.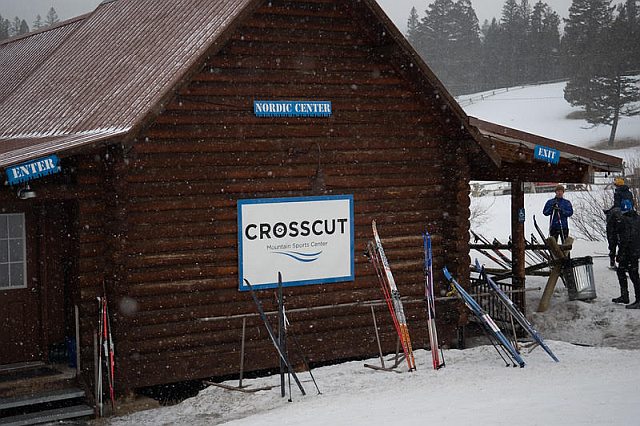 Day 1 and Only, Skate 5/10k Individual Start
Eveliina Piippo (DU, FIN) finished off a strong last half to her season with an NCAA Championship. She finished just 4.8 seconds ahead of Middlebury's Sophia Laukli. Rounding out the podium was Guro Jordheim (UU, NOR).
Sarah Goble (MTU) finished her senior season with a bang - finishing in 7th place and earning All-American honors. Goble said, "Finishing as an All-American was a surreal experience, as it has been a dream of mine for many years. To achieve my goal with my coaches, teammates, and family by my side was incredible… I paced the race really well knowing my strengths and how altitude can make you feel. By staying in control for the first half of the race I was able to find that next gear that allowed me to finish strong and powerful up and over the final climb of the race and into the finish."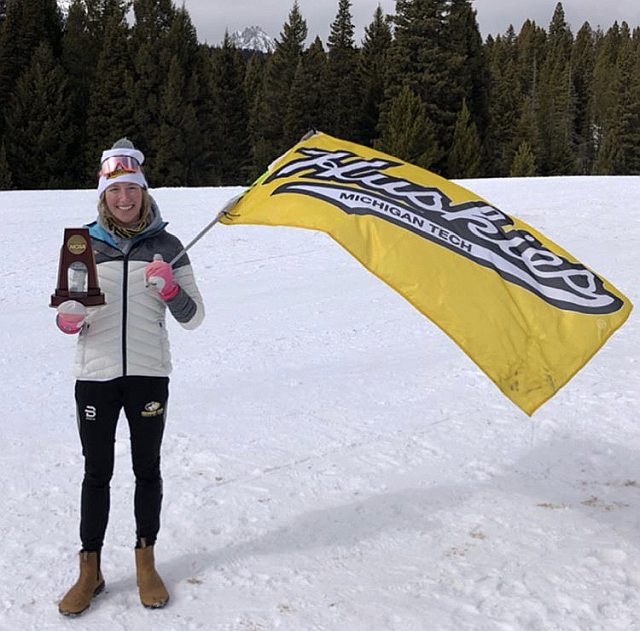 Minnesotan Margie Freed (UVM) also earned All-American, finishing in 9th, still only 53 seconds out of the lead. "I was excited for my last collegiate ski races but didn't want to get too nervous, so I focused on having fun with my team the days prior- lots of massage trains and puzzling," Freed said. "On the day of the race I did a warm up interval and immediately felt the effects of altitude. I was breathing so hard and had to stop skiing to get back to L1. My teammates and coaches helped me get excited heading to the start gate, but after about 400m into the race I felt like I had skied 4K already, I was so exhausted. Pushing through I knew I had trained all year for this, and the fans along the way were much appreciated. It's always nice to have Midwest parents cheering regardless of team affiliation. I think I was still breathing hard for 20 minutes after I finished the race. I was happy to be All-American after just missing it last year. The rest of the UVM team had a great day, especially with Ben Ogden as the national champion."
Mara McCollor (DAR) finished in 20th, Anja Maijala (UAF) 23rd, Hannah Rudd (UAA) 25th, Luci Anderson (UNH) 30th, Erin Bianco (CBC) 35th, Renae Anderson (BOW) 37th, and Amanda Kautzer (MTU) placed 38th.
Maijala said, "It was definitely a bummer to have the season end so quickly and unexpectedly, but thankfully It ended on a rather good note for me! I spent a couple weeks in Bozeman training, acclimating, and preparing for NCAAS so I felt really prepared for the races! The skate race went well for me and I was happy about my performance. My interval sessions in the week leading up to the race really prepared me to push hard on the transitions of the course. Also being acclimated to the altitude made the race more enjoyable! I was just excited to be able to race at NCAAs again and it's always fun to get to see and race against the other regions! It was also cool to see that so many Minnesotans qualified, it almost felt like a little reunion!"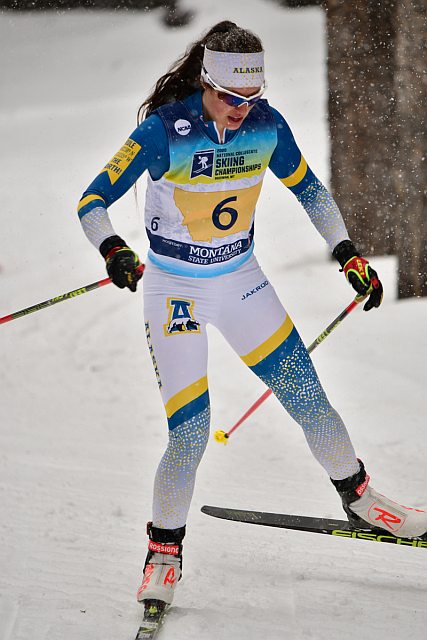 Ben Ogden (UVM) skied to what we must call his first of many expected NCAA Championship victories. He held off a late charging Sam Hendry (UU, CAN) by just 3.1 seconds. Sitting in third, and just 6.0 seconds behind Ogden, was Bernhard Flaschberger (DU, AUT).
Reid Goble (MTU) finished in 24th with Will Bodewes (UNH) in 27th.
"Going into the race I really didn't know what to expect, I was hoping for a top 30 but in the past I have struggled with altitude so I thought this would be a lofty goal. Because of the elevation I knew that I had to focus on skiing smooth and not redlining at the beginning of the race and really trying to give an even effort throughout...Starting the race I was just so excited to be there, my family and aunt had come up and we even had some other teammates there cheering along with a lot of people watching online. During the race I executed my race plan just like I wanted to and ended up getting 27th! From my coaches, teammates and family I am just so grateful for everyone that has supported me on this journey and am excited to watch what from the sidelines"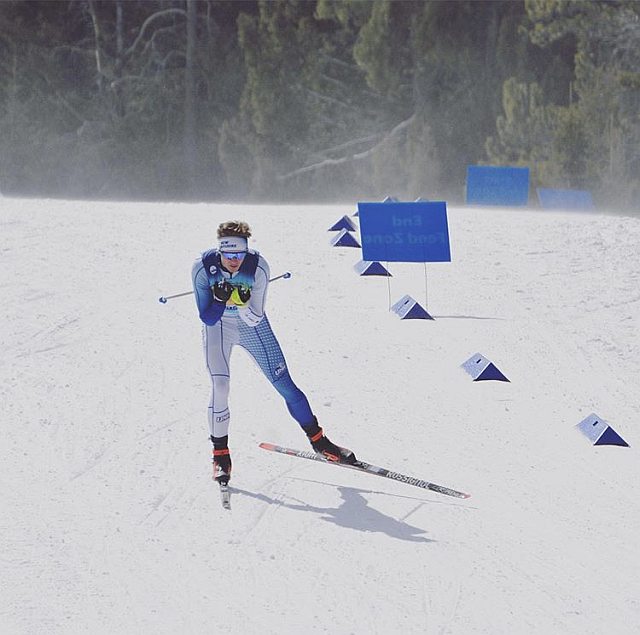 Christian Gostout (BOW) finished just behind Bodewes in 28th. "Ya it was definitely sad to have everything cancelled, but we were so incredibly lucky to have one race despite everything. It's kind of a miracle that the NCAA made the call more or less the second the race was over. As I said earlier, I was definitely wary of blowing up at altitude, so I was experimenting with pacing much more conservatively than I'm used to. In the end that strategy still left me with a competitive result that I'm pleased with, but a lot of the EISA guys I've been racing with all year showed up bigger on the day, and I would have loved another chance to join them higher on the list in the distance classic. We were very excited to have all three of our men score, and I think given that 4/5 of us there have at least one more season on the team, there's still a lot to come from the Bowdoin team in the future."
Peter Moore (BOW) finished in 30th, Tamer Mische-Richter (CSS) 34th, Patrick Acton (MTU) 36th, and Anders Sonnesyn (UNH) placed 37th.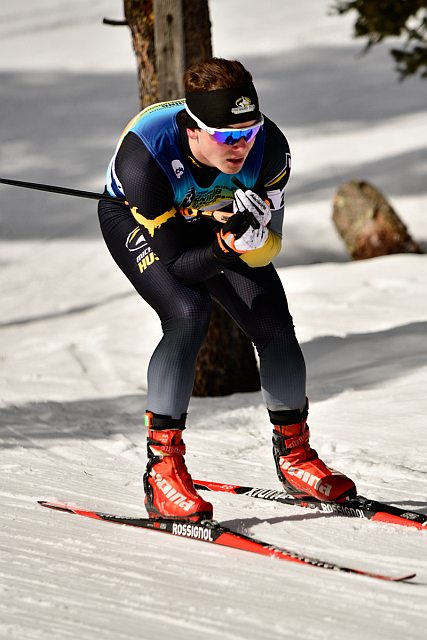 USCSA Championships (Mt. Van Hoevenberg, Lake Placid, NY)
The race courses at the Olympic Jumps Complex are full of transitions and full of fun. Midwest teams competing included the University of Michigan, University of Wisconsin-Madison and St. Olaf College. In this celebration of club skiing, St. Olaf celebrated well with success!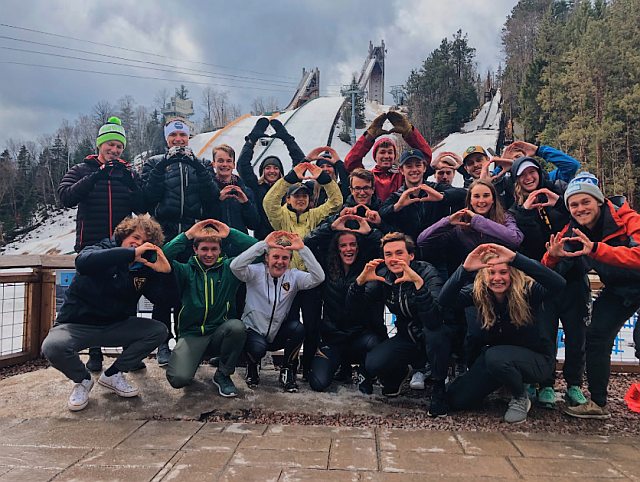 The first three races happened as planned but the final famed freestyle team sprint had to be cancelled.
Day 1, 7.5km Skate Individual
The St. Olaf men took the day's team title with three skiers earning top-10 results for the men: Kieran Mullen 3rd, Tyler Radtke 4th, Peter Carlen 10th.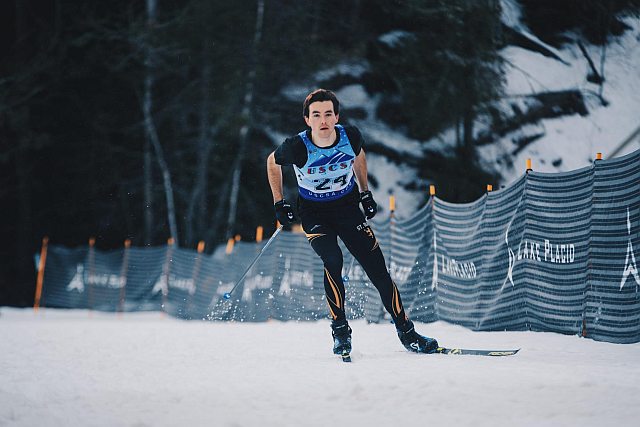 Radtke said, "Because we race few of the teams and individuals at USCSA's during the regular season, it is often hard to gauge where we stand coming into nationals. After the first day, we were thrilled to have pulled off a close first place team finish."
Lars Hallstrom (UMICH) placed 9th, Jacob Dean (UMICH) 11th, and Owen Gage (UWMAD) placed 14th.
Erica Meyers, St.Olaf, led the Midwest women in taking 4th. Lucia Wyland (STO) placed 14th.
Day 2, Classic Sprint
With quickly changing course conditions a challenge for wax techs, skiers struggled to perform to their best in the qualifiers. However, skiers and techs worked together toward success at the end of the day. After qualifying in third position, Erica Meyers took the victory! Teammate Lucia Wyland finished in 8th place after qualifying in 25th - impressive.
"During the classic sprint I was able to progress comfortably through the qualifier, quarters, and semis, and then faced Megan Greene (Castleton University) for the first time in the final. That was definitely intimidating, but I tried to hang on to her through the uphill, and then was able to get her back once we transitioned into double pole and come away with the win!" said Meyers.
Ketzel Levins (UWMAD) placed 4th and Lucia Wyland (STO) 8th.
Tyler Radtke finished 8th with a 19th place in the qualifier. Jacob Dean (UMICH) placed 9th, and Peter Carlen (STO) finished in 15th after a 27th place qualifier.
Day 3, 15km Classic Mass Start
Erica Meyers backed up her win the sprint with another victory in the classic mass start. Not only that but she won by well over a minute:
"This week of racing was so much fun, even though it ended up getting cut short. We got to race against athletes we don't normally get to see, and it was so great getting to know them and becoming closer as competitors and as a team. The weather wasn't always ideal, as the 7.5k skate was extremely warm and soft and the 15k classic was full of rain and wind, but we made the best of it and we were able to come out with some great results."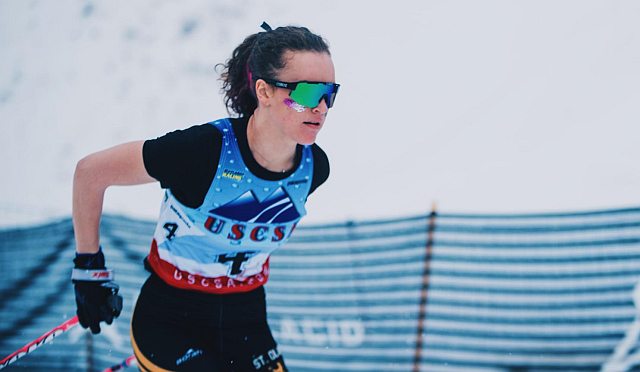 Ketzel Levins (UWMAD) placed 10th.
In the men's race, Tyler Radtke finished 2nd, just twenty seconds off of the lead.
"Our final race (15km classic), was a grind," said Radtke. "A substantial downpour, gusts of 40mph, and above freezing temperatures required a really strong mindset. Honestly, our/my goal was really to try to have fun out there on that one! During the race we encountered lots of debris, a very soft 2.5 km loop, and even fallen branches. In the end, everyone finished, with mixed feelings about individual races; we were happy with the second place men's finish. Individually, I started out slow, and was thrilled to have slowly picked people off throughout the race."
Kieran Mullen (STO) was 6th, Lars Hallstrom (UMICH) 9th, Jacob Dean (UMICH) 12th, and Evan Wetzel (UWMAD) skied to 13th.
And that's a wrap. A sincere thank you to all those who have followed along through this year's collegiate season. Thanks for reading, thanks for laughing (I can only hope), and most of all, thank you for supporting our skiers and our community.
About the author...

Luke Brown, a graduate of Minnehaha Academy and Dartmouth College, is a skier and biathlete for the Crosscut Mountain Sports Center and the US Biathlon X-Team. He enjoys running in the mountains, writing, and eating cereal with whole milk. He lives in Bozeman, MT.