Midwest MTB Report
This weeks report includes a recap of riding a few of the new trails in Northern Minnesota, Tioga, Redhead and Jackpot, more virtual race updates, report from the "Badlands 100", biking with family and kids, and bucket list rides globally to dream about for the future. A couple related items concludes the report.
Tour of New Trail in the NE
Last week I met up with my oldest son Jake to check out three new trail systems in northeast Minnesota, "Tioga" near Grand Rapids, "Redhead" near Chisholm and the point to point trail from Tofte to Lutsen (and eventually Grand Marais), "Jackpot" for a quick 24 hour mountain bike adventure. We had hoped to hit up the hand built trails near Hibbing and Virginia but did not have enough time.
Tioga
Tioga, when fully complete, will feature 20 miles of machine built trail on public county tax forfeit land. The 2.8 million dollar project features a mix of fast flowing easier trail to advance technical trails include a massive jump runs.
When we met up, the temp was around 90 degrees but late afternoon and dry air. All good. We looked at the map a bit to get a lay of the land and would take it as it comes. Although most of the trail building was complete, (crews were building some wooden features while we were riding), there was limited signage making it a bit more difficult to know where to go. We did rely on Trailforks which was helpful.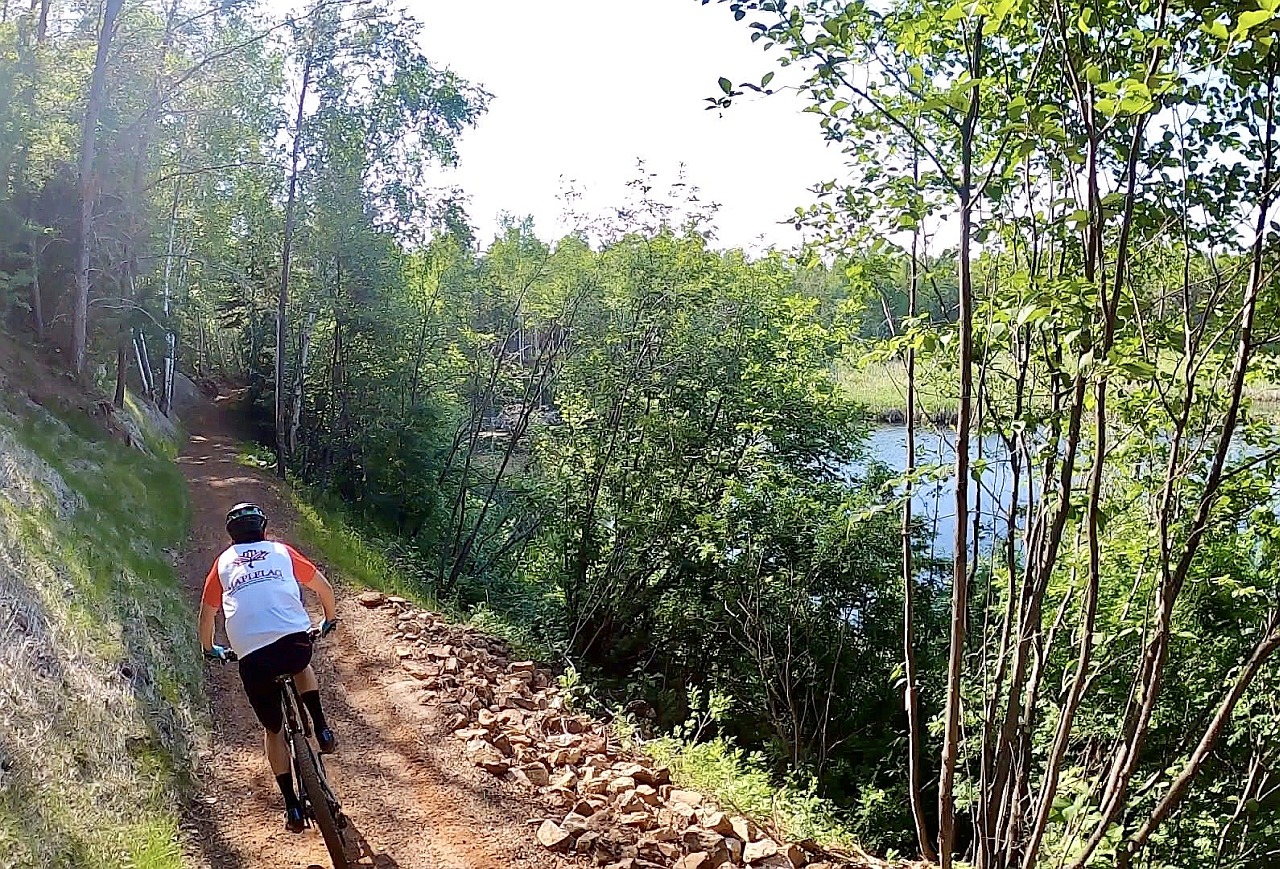 We did most of the trail system, hitting the outer trails that featured a mix of natural surface and elevated surface with crushed gravel and creating some hesitation on the cornering, even with the favorite tires mounted. We finished up with the black trails that were the most fun. The black trails were fast with slow tech features that included rock gardens that came fast without warning. We were hoping to hit the massive jump run but was still under construction. We concluded the ride climbing up to the original trails "Minneflowta" and "Iron MaindenHair". I appreciated the trail "hockey hair" that is appropriately named considering the town of Grand Rapids has a rich history in hockey including a boys state championship most recently in 2015. After the ride we enjoyed a dip in the mine pit lake which was most refreshing and rejuvenating knowing we were off to another trail system!
RedHead
We made the trip northeast to Chisholm to check out the new RedHead trail. The last time I was in Chisholm was for hockey and always marveled at the big vast mines. Driving to the trailhead noticed a switch back climb cut into the steep bank that offered just a small glimpse of the actual trail system.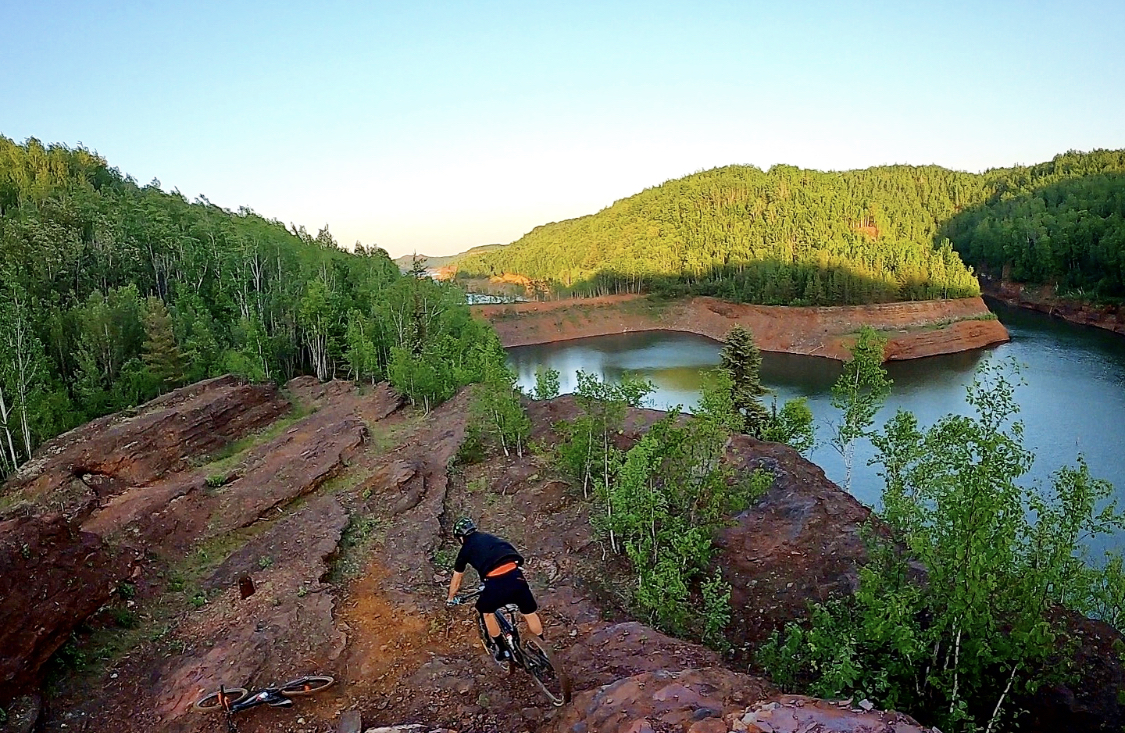 When we arrived in the parking lot there wasn't much trail visual was we looked at the map and came up with a rough plan of a route. The trail was well marked with maps at each key intersection. As we headed down the trail we were quickly overwhelmed and blown away the uniqueness and distinct character of this trail.
We rode most of the system, taking in the incredible views, enhanced more riding during the "golden hour". The trail had the typical big berms seen in more progressive trail builds but what made this trail unique was the changeup to slow tech areas that offered different options.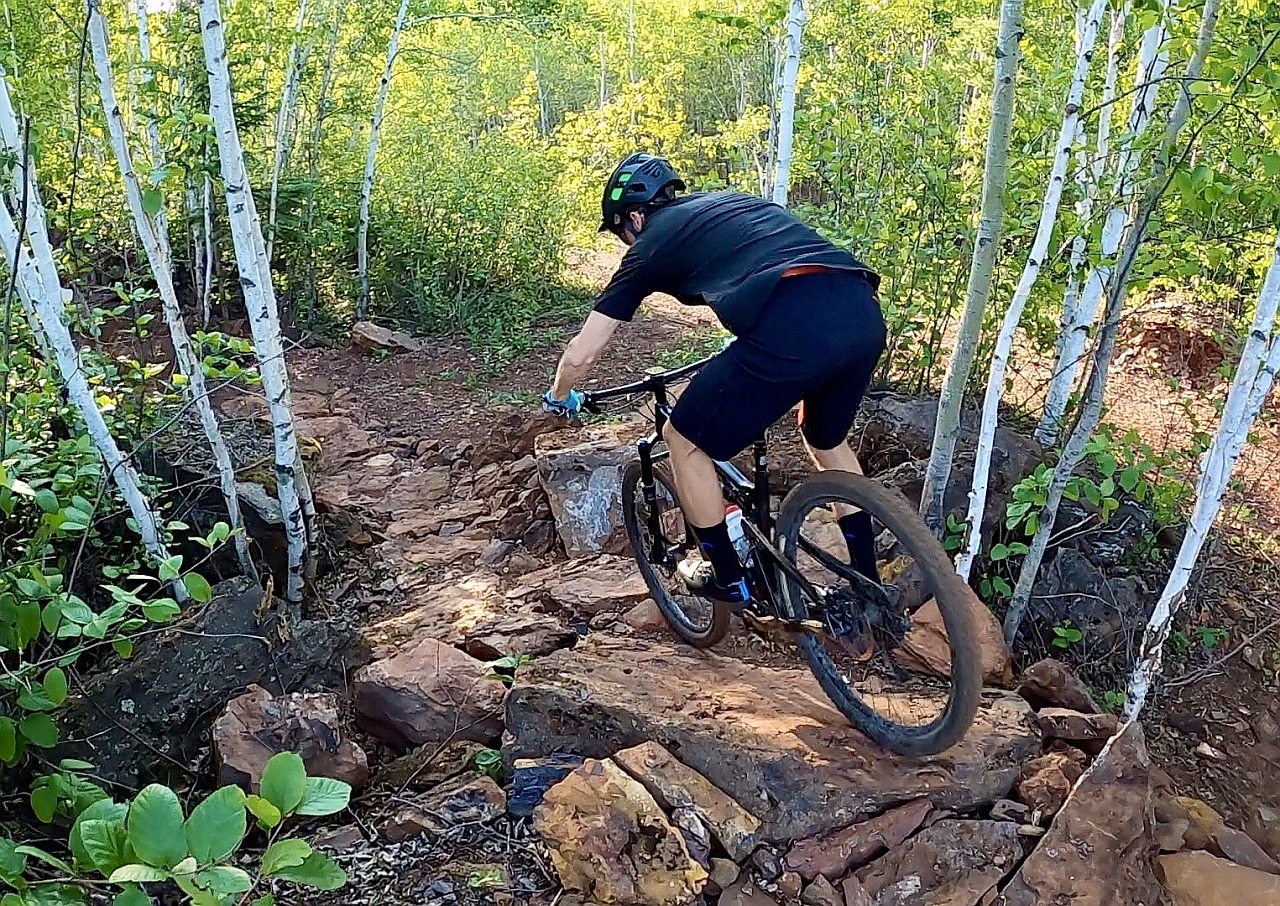 We took some time in the "Secret Garden" area which featured multiple lines and incredible vistas. We made our way out of this ares sneaking our way through a poplar forest among a gurgling creek and smaller bodies of water. Along the trail was remnants of the mining era with old tools, buckets, and even a car! It created a reminder of a time gone by and how incredible and fortunate mountain bikers are to be riding in such a dramatic area. Very cool stuff. We had hoped to ride more but daylight was ending and the legs were tired a reminder of a great evening on new trail.
JackPot
After spending the night in Duluth, we made our way up along the shore after Jake put a few hours of work in. We were blessed with a gorgeous day and always nice to take in the view of Lake Superior and the sights heading north. We made our way to Tofte and the Britton Peak trail area where the south end of Jackpot is located.
Jackpot is toted as "a wilderness trail connecting Britton Peak, in Tofte, with the Lutsen Mountains, near Lutsen. This trail is an one-of-a-kind riding experience for bikers as it flows over and around ancient rock formations, past old growth cedar, under a dense maple canopy and through a boreal forest."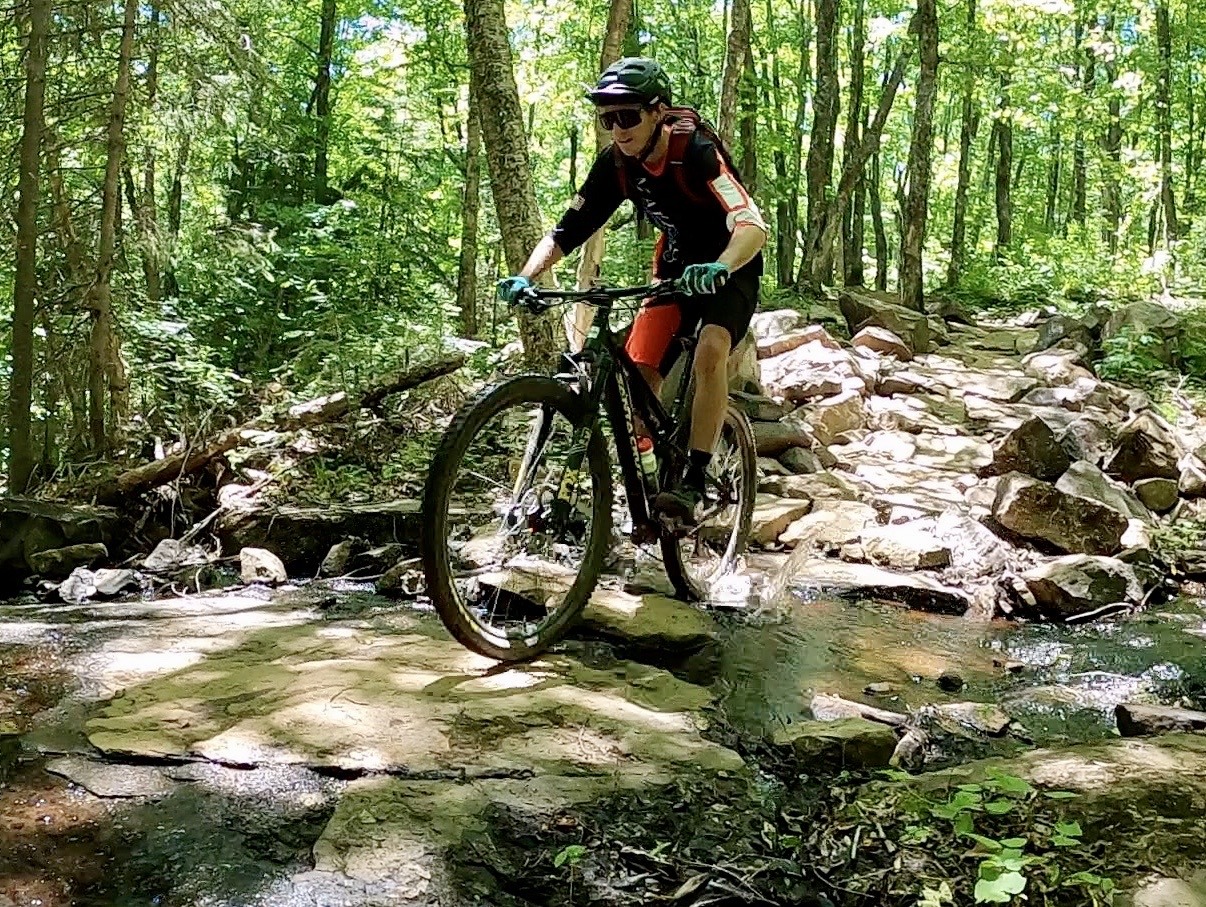 The trail is built with consistent predictable berms, laced with drainage points all with machine and hand placed rocks that require extra attention. There are jump options along the way that Jake would hit intermittently and fun to ride behind. The first part of the trail felt a bit monotonous and was difficult to see the vistas with the thick forest canopy but once we made our way towards the high point on the trail and Onion River, we started to dial in the rhythm of the trail and especially enjoyed the downhill to Onion River. After a nice rest stop at the river taking in the beautiful scene, we fueled up for the ride back. On the return home, we agreed to not stop and pick the pace up. This was the best part of the ride as we were able to maintain momentum through the rock garden segments and ride cleaner. We seemed to feed of each other's energy, picking up nice speed and really appreciating the massive berms that were linked perfectly. A dip in Lake Superior post ride capped off a great ride.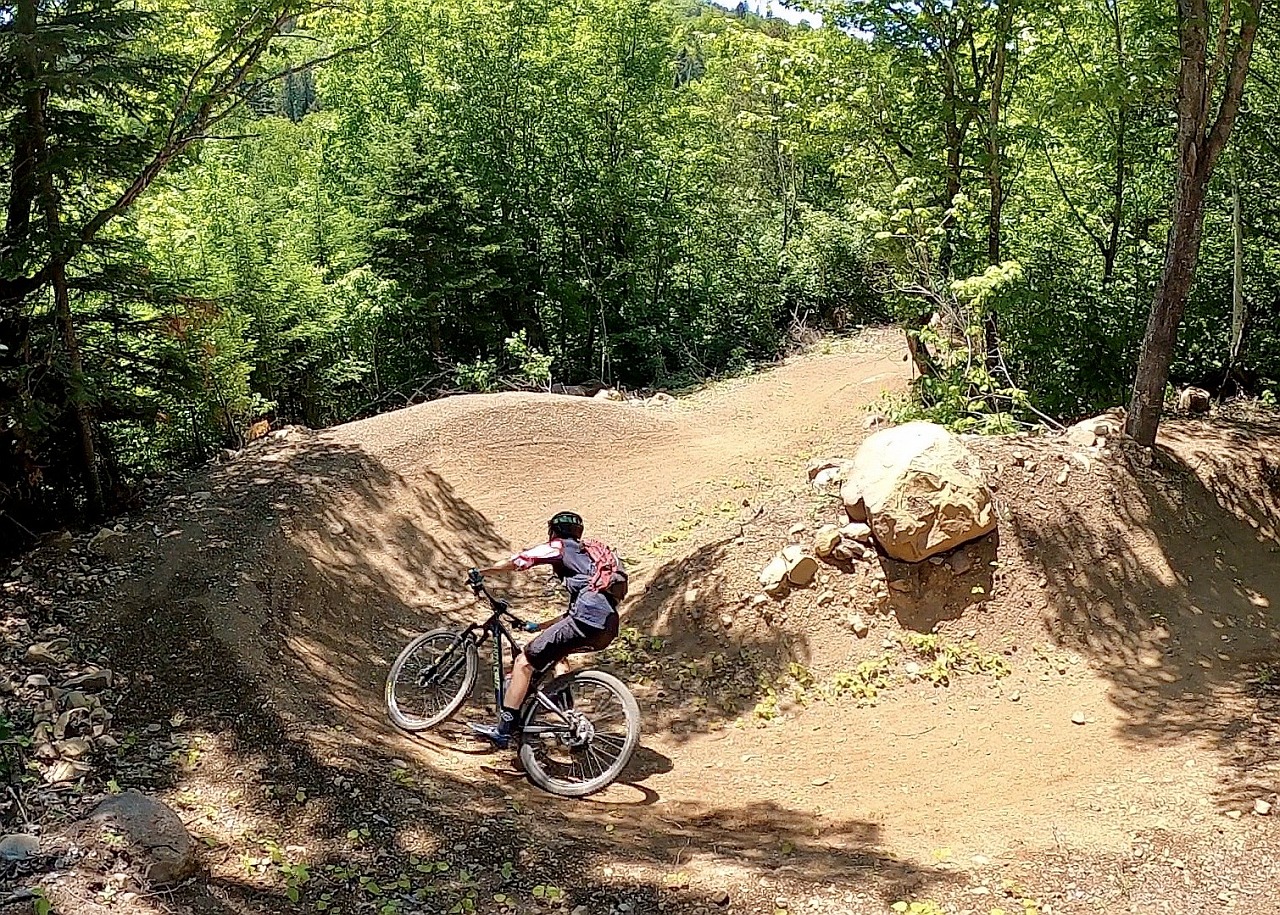 Overall it was a great trip checking out the new trails and look forward to getting back to ride the fully completed systems at each place and ride the areas we missed at Virginia and Hibbing. With new trails also at Giants Ridge, big time mountain bike adventures await on the Range! Mountain bikers in Minnesota and the Midwest are incredibly fortunate to have all these trails in the state and hopefully others from afar can also enjoy. There have been many individuals, groups, businesses the make this all happen from planning and funding and big kudos to all involved.
Strava Ride of the Week-LagChilada Challenge
The Strava ride of the week goes to James Burg, who along with Bryan Schoenberger, and Bob Tolliver, completed a "LakesLada" The threesome rode the entire trail system at Maplelag, than made way to Detroit Lakes to ride all the cross country flow trails at Detroit Mountain than the slow tech cross country trails at Mountain View Area for over 40 miles of mountain biking, with half almost "slow tech".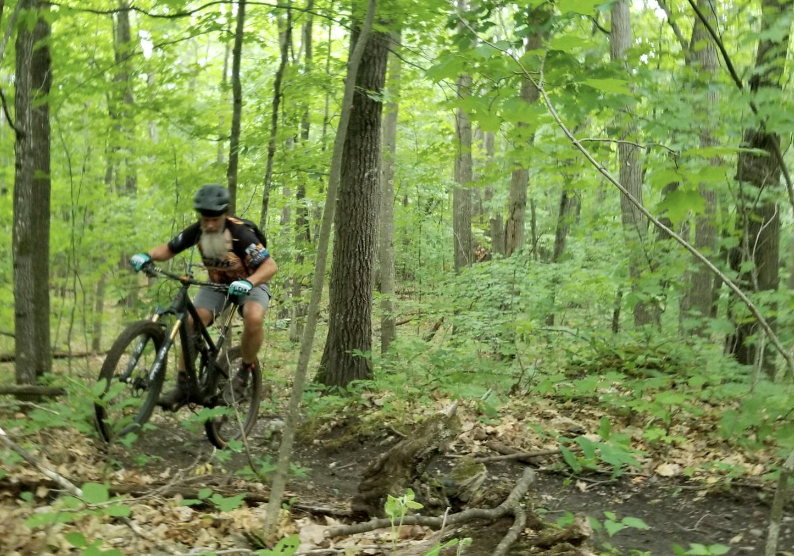 LagChilada Challenge at Maplelag
Tips to Start Biking with Kids and Family – From Bike Shop Girl
How do you get your family biking safely and happily together? In this video and article, I'll be covering my tips to start biking with your family and the top mistakes or missteps I see people taking when trying to family bike.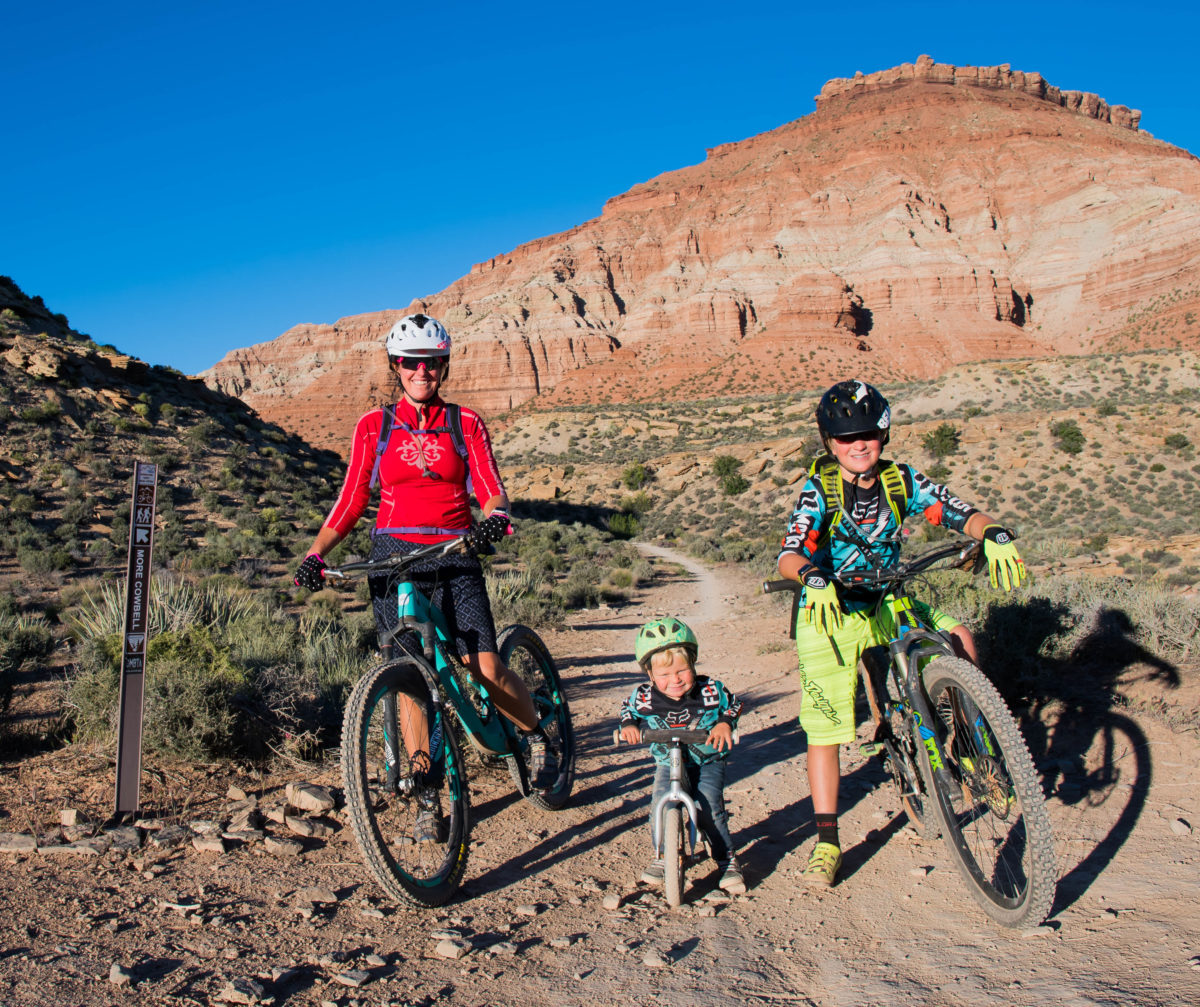 In my bike shop, I help families bike more often together, sell kids their first bikes, help them pedal those first bikes, and sometimes I help families bike so much that they are inclined to sell a car.
Right now there is no better time than ever to start picking up biking as a family activity and I wanted to share with you some tips and things to avoid to make this the most successful it can be.
Singletracks.com How to take a Family Mountain Bike Vacation
Maah Daah Hey Badlands 100
Bill Pierce who has been working on trail in the Maah Daah Hey the last few weeks took time to participate in the 24 Hours of Badlands over Father's Day and posted on Instagram: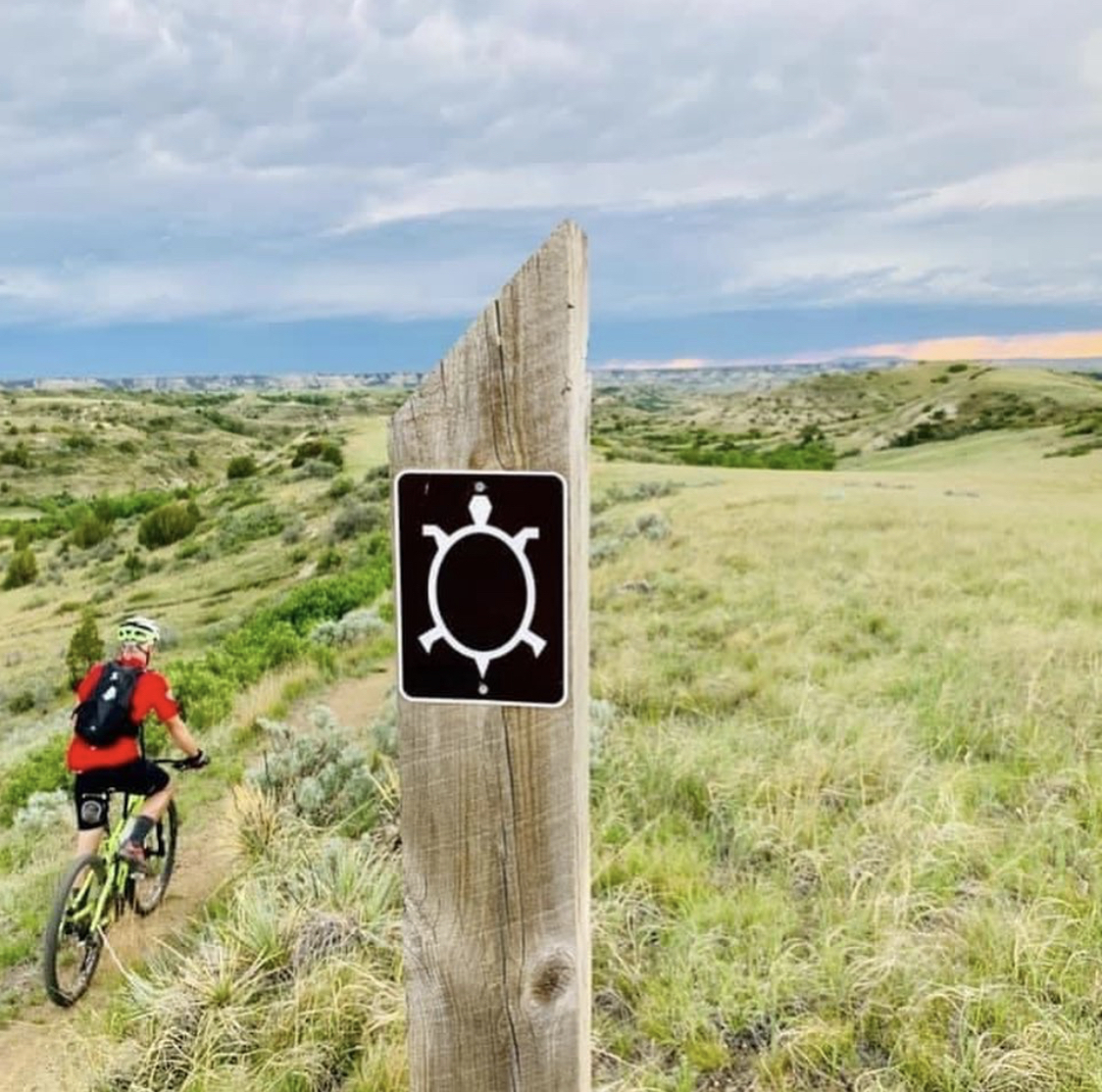 "This was the "Best Bad Day Ever", said Nick Ybarra. Fathers Day was the best it could be without seeing my kids or grandkids. Worked trail hard for the week and then decided to jump in the 24 hour Badlands. Was going to split a run and bike and make it a training effort, but a small issue with my foot turned it into a cycle only event. Rode just short of 16 hours only in daylight and was able to crank out just over 130 miles of badass Badlands single track. Photographed my MDH 106 split and it was the quickest one yet. 130 was good enough to stand on the overall solo podium! One month to go time! Happy Father's Day to all! All through the ride I thought a lot about all the positive men that influenced me in my life! Even if you are not a Father, you can still be a role model and mentor! Share your time and love!"
Leadville For Everyone
As with many races and events, the Leadville 100 is going virtual for 2020. While the in-person race is typically sold out each year, the virtual event is offering unlimited registrations.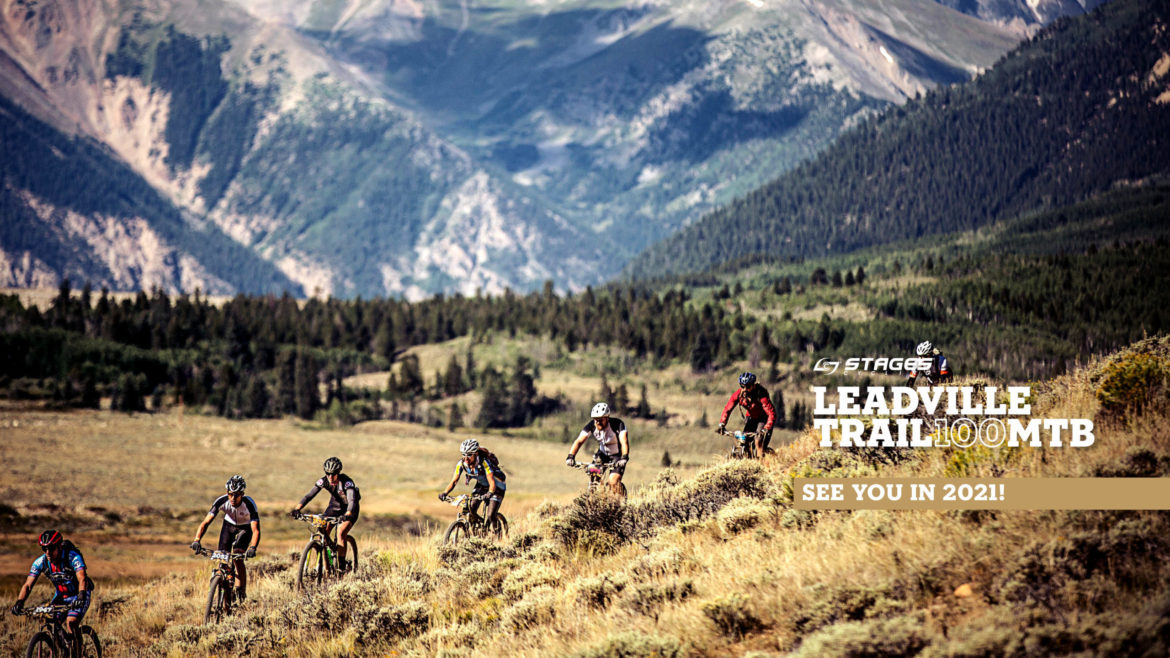 Participants will have 8 weeks to climb 100,000 feet on their bikes anywhere in the world. Registration starts at $100 and proceeds go toward funding Covid-19 food relief for the Leadville area. Finishers will receive a 100,000 FT Challenge belt buckle and t-shirt in the mail. It sounds like participants can log climbing however they like, all on the honor system.
Guided Bucket List
Big Mountain Enduro race series (BME Rides) is an international mountain bike travel company like none other. The BME Rides team of top professional riders, guides and adventure travel specialists has created a line-up of unparalleled trips, designed for advanced riders.
Beginning with incredible offerings in Canada, Mexico and South America, BME Rides is dedicated to taking riders to some of the coolest mountain biking destinations around the world, getting off the grid, showcasing mind-blowing trails and including authentic cultural and culinary experiences to create once-in-a-lifetime adventures that riders will never forget.
USA Cycling Latest COVID Update for Event Organizers
USA Cycling provides a webinar for event organizers on guidelines during the pandemic. The YouTube video is nearly a hour long but provides some good information on the status of races happening in the future.
Flat Pedal Discussion
Pink bike provides an in-depth look at flat pedals versus clip in. "Speak to anyone on the trails and they will tell you with certainty that flat pedals are less efficient than clipping in. But is this true, or is it just MTB Bro-Science?"
Keep the wheels moving!