Collegiate Fall Update
The final race of the 2020 NCAA Skiing Championships was cancelled on March 12 due to the COVID outbreak. Now, more than six months later, the questions surrounding college skiing and collegiate sports are back. The NCAA released guidelines for returning to sport but left it up to individual conferences to decide whether or not they will compete and what the fall season will look like within those guidelines. Big 10 will now play football in October. The MIAC will try to run a cross country season in March. What will the winter ski season hold?
But before we jump fully into the winter, we recognize that this fall's training is undoubtedly different for collegiate skiers. While a smattering of athletes have opted to seek out different training situations and not return to their schools for the fall, the majority of skiers chose to return to their collegiate teams. As these skiers continue to pursue their education and sport, their school and athletic experiences have changed: all schools are following basic health guidelines such as mask wearing indoors, social distancing, limits on group transportation, and smaller groups. Individual variations like when official practice has or will start, additional health checks, the size of training groups allowed, or whether there was a pre-school year quarantine are determined by the school and local governments' policies.
To get a sampling of what collegiate skiing is like this fall and what this winter might look like, we reached out to a variety of coaches and athletes. Here is what we found:
EISA
The EISA has a COVID working group led by Colby head coach, Tracey Cote. The group has created a variety of racing options but is currently waiting to see how colleges continue to handle the original influx of students. Contingencies include regional racing or state by state racing with options to modify race formats and travel situations. The EISA may have unique opportunities as compared to the other conferences to create alternative racing plans because of the greater number of schools within the league. NCAA, state, and university policies will undoubtedly influence which of these plans will be the best for the EISA (this multi-tiered decision making structure will have a similar influence on each of the other conferences).
"First all, we are focusing on the safety of our athletes, coaches, volunteers, campus, and local communities. Second, we are trying to think of all creative options that might enable us to still race as we know it's important in keeping our athletes motivated and great for their mental and physical health." - Cote
Colby
Cote's team started the school year training in small groups of three to four students and recently started captain's practices with larger groups. Masks must be worn for the beginning of workouts on campus and in the gym.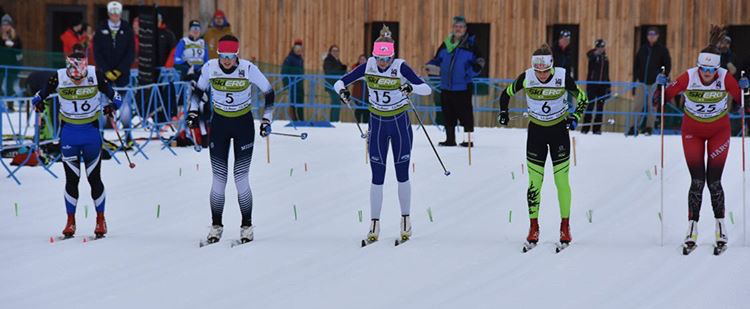 "The winter is still unknown in regards to racing, however I know our coaches are planning a lot of fun training for us in the meantime like time trials and fun adventures in Maine. I have been super lucky to be on such a positive and optimistic team during this time!" - Erin Bianco (Senior)
Dartmouth
The Big Green skiers fulfilled a two week quarantine on return to Hanover which could include solo training sessions. The team will now transition into groups of ten with the potential to progress past that depending on the outlook of the whole campus.
"We have talked a lot about why we are in this sport, what it is we love about it and what keeps us training day after day in all conditions. Because the race season will not look normal, it feels like we have more time to work on the basics, and to factor in more of the 'fun, adventure' type workouts without worrying about how that might impact the race preparation." - Cami Thompson Graves (Women's Team Coach)
Bowdoin
Only one third of the student body was allowed to return to Brunswick and students are being tested twice a week. The ski team is hoping to start practice on October 5th. There will be limits on gym time so the team might be digging into old school outdoor muscle building ventures.
"It's a bummer to be so limited and miss out on some of our favorite venues and workouts, but I see it as a chance to be creative and explore some new ideas. I'm positive we'll still get great training this fall, and we'll come out of it stronger and closer as a team" - Nathan Alsobrook (Head Coach)
CCSA
"The CCSA will look to release its competition schedule in conjunction with the release of the CXC regional racing calendar. The NCAA's determinations regarding Winter Championship events, as well as competition determinations made by all CCSA institutions may affect when our CCSA schedule is released, as well as adjustments we may need to make to our conference competitions." - Tom Smith (MTU Head Coach)
Michigan Tech University
The Huskies underwent COVID testing before beginning official practices and student athletes are undergoing surveillance testing each week. The team is focusing on following a consistent training plan even amongst challenges, executing process goals, and adding in more physical testing to focus on that personal improvement.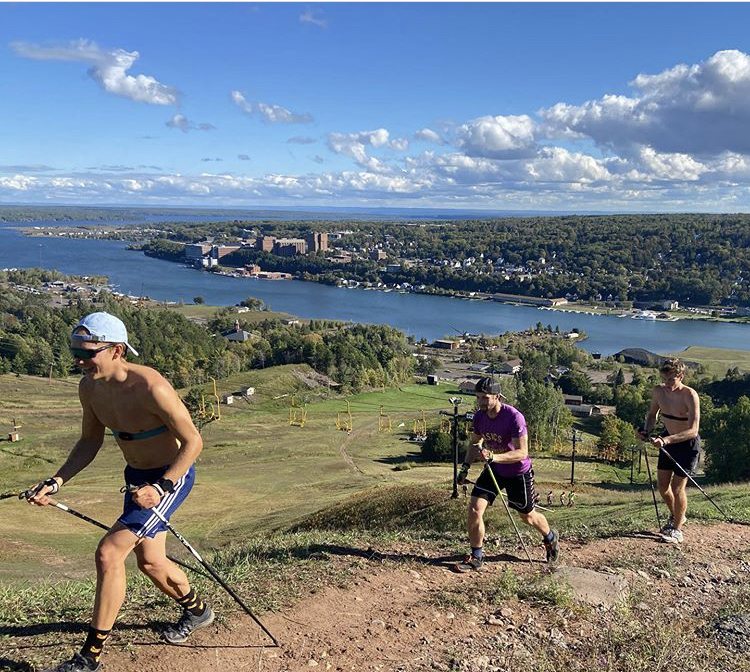 "These adaptations to our focus and programming are allowing us to become better skiers by centering our focus in the present moment without preoccupying us with the unknowns of this competition season, and is allowing us to keep the stoke alive in our training!" - Tom Smith
The College of Saint Scholastica
The CSS team is back to practice with the standard limitations and protocols. A couple of the top male skiers are taking the fall off from school to train elsewhere until winter comes.
"As always, we are highly motivated to provide a quality student-athlete experience that involves learning, growing and developing life skills. If we can safely compete, the Saints will be ready. If not, we are prepared to find other ways to measure success and pull value from our student-athlete adventure." - Maria Stuber (Head Coach)
Northern Michigan University
NMU has had official practices since the beginning of September. In addition to the standard precautions of social distancing and indoor mask wearing, each athlete gets his/her temperature taken before every practice.
"It has been a bit of an adjustment but I am really happy to be back with the team under the careful eyes of coaches Sten and Keller. I am training as usual for this season. I really enjoy training and being in good shape so I am not too deterred by the concept of an abbreviated season. The nice thing about being in college is that I am able to pursue my degree and have a lot of fun with my teammates regardless of what our race season ends up looking like." - Zak Ketterson (Senior)
RMISA
RMISA will look to FIS and USSA guidelines to inform decisions and individual schools will of course follow their university's and NCAA protocols. RMISA has also been working in conjunction with USSA to create a competition racing calendar for both collegiate and junior athletes (a preliminary version of this collegiate calendar was recently published). Jana Weinberger, head coach at Colorado University and president of RMISA, mentioned limiting air travel, prioritizing individual start racing, and limiting the number of coaches and spectators allowed at a race as possible ideas the conference is considering. Coaches will eventually vote on what options they want to move forward on.
"RMISA as a whole is attempting to be as fluid as possible…. By having a few different schedule options we can hold off changes until a little later but still have the ability to switch from plan A to plan B easily." - Austin Caldwell (CU Boulder Assistant Coach)
Colorado Boulder
After quarantining on arrival to campus, the Buffs commenced training in pods of ten people. Students are tested once or twice every week. Athletes and coaches perform a health check every morning before any sort of group activity. The University is also checking dormitories' waste water for COVID.
University of Alaska Fairbanks
"Due to COVID-19 I spent most of the summer training alone, which really gave me time to learn more about my strengths and weaknesses as a skier and athlete. As a result this summer I focused on incorporating more core strength, activity variety, and recovery time into my training. Although COVID-19 has negatively affected many aspects of our day to lives, I'm really thankful for the time it has given me to slow down a bit and focus on improving myself as an athlete." - Anja Maijala (Senior)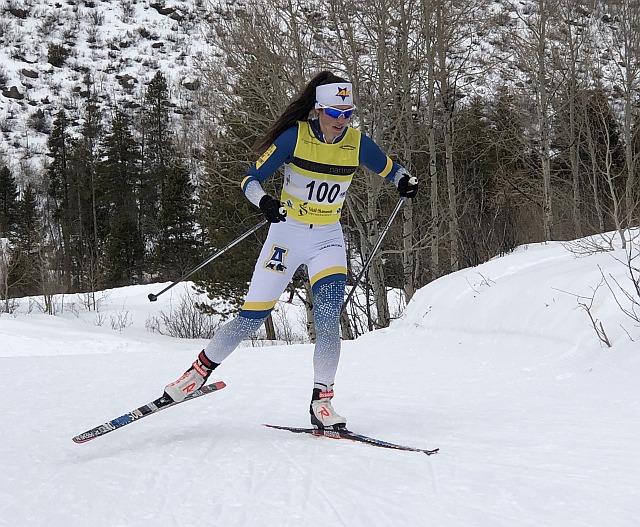 As this sampling of college teams and conferences shows, not only does the winter calendar remain questionable, but the fall training season remains in flux. College teams and coaches are attempting to strike the difficult balance between planning and preparation and living day by day with a focus on the here and now. But throughout the uncertainty, these teams and the athletes that compose their foundations are set on making the most of the time they have together and the opportunity to grow, learn, have fun, and get fast.
About the author...

Luke Brown, a graduate of Minnehaha Academy and Dartmouth College, is a skier and biathlete for the Crosscut Mountain Sports Center and the US Biathlon X-Team. He enjoys running in the mountains, writing, and eating cereal with whole milk. He lives in Bozeman, MT.