US Elite Racing: Season Kickoff and Updates
In a typical winter, early-season race results would be trickling in and American elite ski racers would be prepping for January US National Championships. However, this is not a typical winter, and most early-season races have been cancelled as states impose stricter lockdown regulations related to Covid. In lieu of usual races, many regions are scrambling to organize "official" time trials instead. Results from well-organized time trials can be sent to the US Coaches' Discretion Working Group and used to fill open spots for upcoming World Cup races.
The next selection date for World Cup races is December 14th. Athletes who excel in domestic time trials before this date have the chance to qualify for Period 2 of the World Cup. Period 2 of the World Cup comprises the infamous Tour de Ski which runs from January 1st-10th and starts in Switzerland.
Native Midwest skiers currently racing the World Cup circuit include Kevin Bolger (SVSEF) and Jessie Diggins (SMST2). Both Adam Martin (GRP) and Ian Torchia (SMST2) will also be starting the next World Cup races in Davos, Switzerland on December 12th and 13th. American ski racers not on the World Cup circuit have been training hard in hopes of the reinstatement of official races later in the ski season. A number of domestic racers have already notched their first "race events" of the season.
Western Region
The Western region held multiple time trials in West Yellowstone over the Thanksgiving holiday. On November 26th, there was a sprint time trial with King's Court style heats. After a morning sprint qualifier, skiers were sorted into four semifinal heats based on qualifier times. The skiers with the five fastest qualifier times were placed in the first heat, the next five were placed in the second heat, and so on. Following the semifinals, the fastest skier from each heat moved up to the next fastest heat for the finals, and the skier coming in last in their semifinal moved down one heat. Sarah Goble (SVSEF) skied to an impressive third place overall in the women's race.
There was also a 10 kilometer individual skate time trial in West Yellowstone on November 28th. In the women's race, University of Utah skiers swept the podium with Novie McCabe taking the top spot, Sydney Palmer-Leger close behind, and Mariah Bredal rounding out the top three. Sarah Goble (SVSEF) and Hannah Rudd (BSF Pro) both finished in the top 15 of a stacked field, racing to 11th and 13th places, respectively.
In the men's 10 kilometer time trial, the podium consisted of Johnny Hagenbuch (SVSEF), Finn O'Connell (BSF Pro), and Bjorn Riksaasen (University of Utah). Former Midwest skier Luke Brown (Crosscut Elite Team) raced to a top 10 finish, finishing in 10th place. Brown reports that, "The time trial last weekend had a great vibe to it and went smoothly thanks to the work of all our coaches. We had to ski about 20 minutes out to the Dead Dog loop which was the chosen 'race course' for the day. The lap had lots of transitions along with grinding gradual uphills and slight downhills that all required work. I tried to give a solid effort from the 'gun', which I accomplished with a good first lap split. Then I got pretty tired... and enough said. It was great for me and all of our teams to get some early season on-snow race efforts in. Time trials like this really just highlight the community aspect of skiing - skiers and teams coming together to have fun and make each other better. We'll probably need some more of that this year."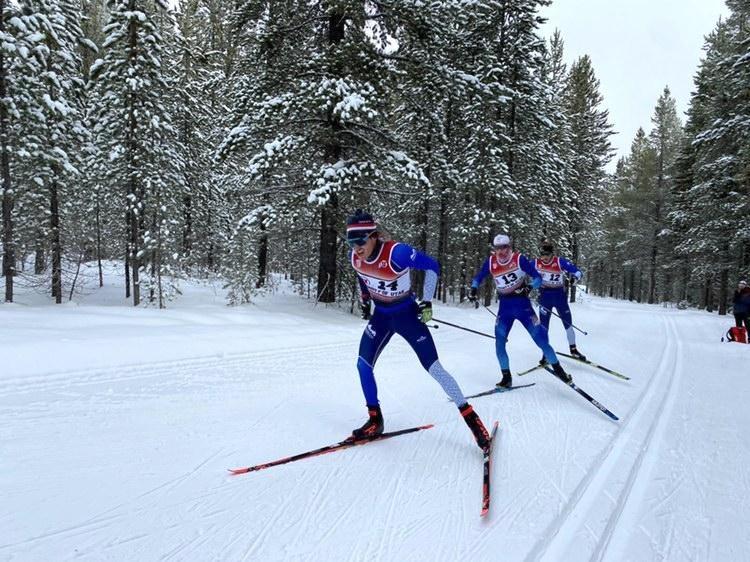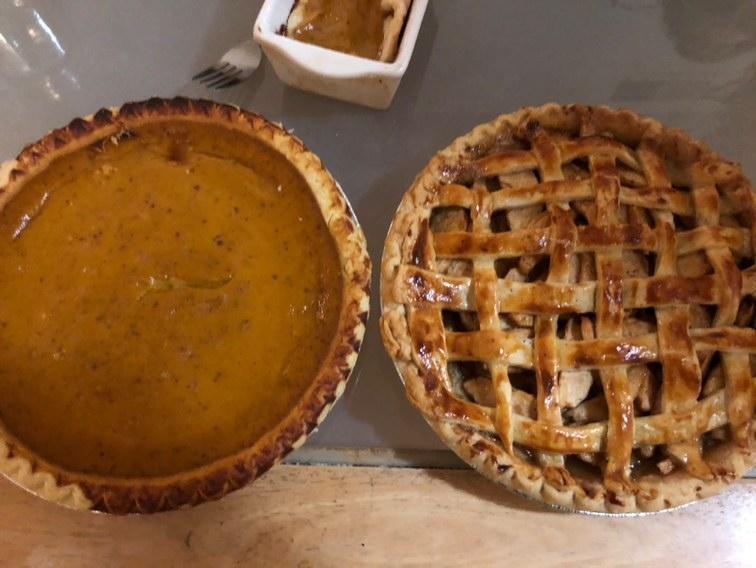 The next official races on the schedule for the Western region are FIS races in Soldier Hollow, Utah on January 2nd and 3rd. Until then, expect several more "official" time trials from both the BSF Pro team, Sun Valley Gold Team, and Crosscut Elite Team.
Midwest Region
Moving to the Midwest, all December CXC Cup races have been cancelled as a result of new Minnesota Covid regulations. No official time trials are currently planned to replace these, although this could change quickly given the turbulent nature of current events.
Eastern Region
Vermont has also recently imposed stricter lockdown measures, passing new legislation on November 13th that suspended recreational sports programs. This led to the cancellation of Vermont Cup races, which originally were planning to only allow skiers living in Vermont or from Vermont clubs to participate. In place of these races, Vermont elite team coaches Pepa Miloucheva (GRP) and Pat O'Brien (SMST2) are working to organize safe time trials with amply spaced start intervals. Results from these competitions could be used for discretionary selection processes. While there are currently no specifics on the dates of these races or race format, it is likely that there will be at least two sets of time trials within the next few weeks.
Adjusting to an uncertain racing schedule is Margie Freed (GRP). This is Freed's first season on the elite racing circuit. Freed says that, "While I wish I could be racing with the big dogs this year, I have adjusted my mindset to focus on getting better. Without regular racing I am able to try new things, work on my weaknesses, and adjust to skiing full time." She mentions silver linings of having "more time than usual getting strong in the gym this winter" and having teammates that help keep her motivated "by bringing good energy to practices." Although Freed would love to experience a typical racing season, she admits that "I don't really know what I'm missing for racing and travel which I think is helpful. I keep in mind that races are just a small part of why I ski, and there is so much more I can focus on. Public health is a priority right now, so I am happy to have the ability to stay home and do my part keeping others healthy."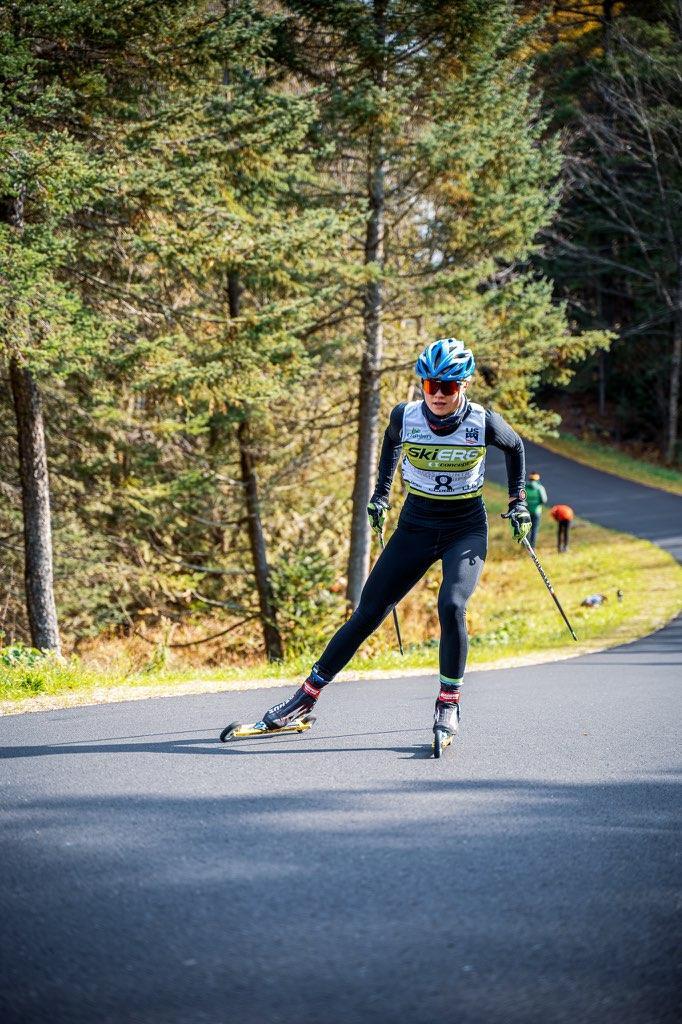 In other Eastern racing news, Maine is planning on hosting the Eastern Cup opener for those outside of Vermont. This opener will be held on December 20th at Quarry Road. Skiers from both SMST2 and the GRP are not planning on participating in Eastern Cup races, as both Vermont State and team restrictions would require a quarantine period upon their return to Vermont.
Alaska
Lastly, the elite racing scene in Alaska is also temporarily on hold, as the first races of the season were cancelled because of Covid concerns. These races were set to be held in Fairbanks, but the APU Elite Team has pivoted to time trials instead. APU has been racing club time trials for the past four weekends, and plans on participating in official races that will be happening on December 19th and 20th at Kincaid Park in Anchorage. These races will likely include racers from the APU Elite Team, the University of Alaska Anchorage, local clubs, and collegiate skiers home for the holidays.
As the season progresses, athletes, coaches, and race organizers alike are hoping for a safe return to normalcy to both allow for the reinstatement of official racing and a more predictable racing schedule. In the meantime, there will be ample time trials as racers make the most of a trying season.
About the author...

Michaela Keller-Miller, a graduate of Wayzata High School and the University of Alaska Anchorage, skis for the Green Racing Project based out of Craftsbury, Vermont. She's currently enjoying getting to know the East Coast and ski training full-time. Her ideal day would probably involve a long trail run followed by a stack of pancakes with maple syrup and a chai latte.