Collegiate Racing Recap: CCSA, RMISA, EISA
In the first weekend of official collegiate racing, skiers gathered at what must be two of the most inspiring race venues in the country: The American Birkebeiner Ski Trail and Soldier Hollow. While I'm sure that CCSA skiers were motivated to earn NCAA qualifying points, what must have been even more invigorating was skiing in the same tracks that begin the journey of thousands from Cable to Hayward every year. With WOJB jingles in their ears and dreams of Birchleggers in their heads, skiers seized the beginning of the CCSA season. Out West, RMISA racers skated and strode on the open hillsides where the Olympic flame inspired so many in 2002 and beyond. The communal legacy embedded in these venues is profound. What energy we can draw from the larger history we share!
And so too will the 2021 skiing season be woven into the fabric of that larger history of skiing lore.
CCSA
Collegiate ski teams from the Midwest gathered safely at the Birkie Trailhead for the Gitchi Gami Games. These races marked the first official racing weekend of the year for NCAA qualifying. Both days saw temperatures in the mid to high twenties with light snow on Saturday. Northern Michigan came out strong, as expected, with Michigan Tech and the other CCSA schools hot on their heels. These races, open to non-CCSA skiers, brought stiff competition to Cable. While Midwestern EISA skiers who are home for the winter under special circumstances can gain valuable race experience through participating in CCSA races, they cannot earn qualifying spots for NCAAs.
Day 1, 10/15km Classic Individual Start:
On Saturday, Kjetil Baanerud (NMU, NOR) took the victory, thirty-four seconds faster than second-place Brian Gregg (2014 Olympian). Rounding out the podium was Tobias Moosmann (NMU, AUT), another fifty-four seconds back. Matthew Bourne (NMU) placed 5th, with Reid Goble (MTU) 6th, John Schwinghammer (CSS) 8th, Xavier Mansfield (NMU) 11th, Patrick Acton (MTU) 12th, Cedric Keller (MTU) 13th, Lars Dewall (CSS) 14th, Ryan Steger (CSS) 17th, Cooper Lennox (NMU) 18th, Mark Ousdigian (MTU) 19th, and Sam Myers (UWGB) 20th.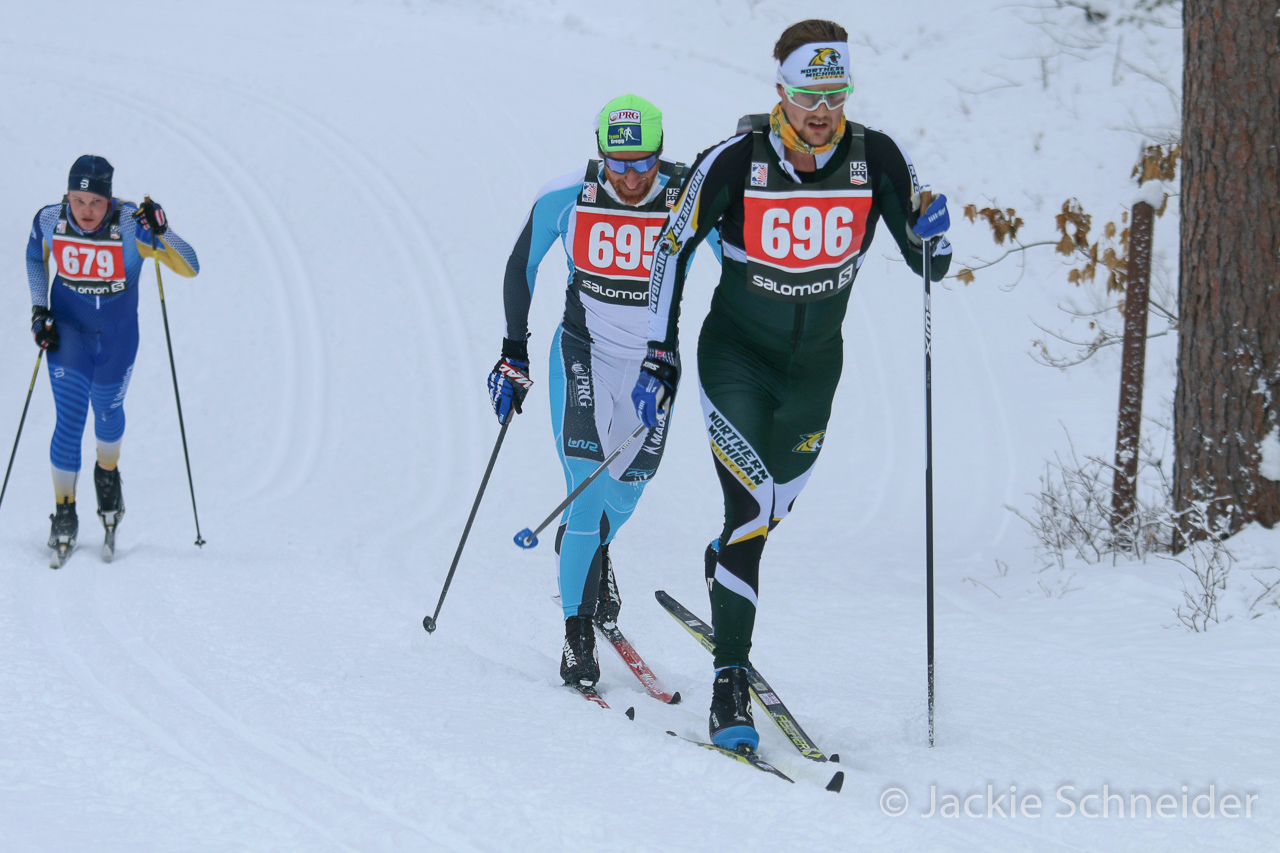 Xavier Mansfield, an LNR alum and 2017 Minnesota High School State Champ, has been returning from COVID this past month. In what can only attest to his patience and determination, he is back training and racing. "It's certainly been annoying having had Covid a month ago," said Mansfield. "But luckily I don't think the symptoms got much into my lungs; no coughing or wheezing during the illness. In Saturday's race, I experienced difficulty in the top end of my performance, though, and felt like I couldn't push much past L3 or threshold without struggling to breath. So, I decided not to race on Sunday. I'm not sure where to go from here, but I'm hoping I can get back to where I was before covid fitness wise somewhat soon." We're rooting for you, Xavier!
The women's 10km saw one of last year's top skiers, Malin Boerjesjoe (NMU, SWE), return to take the victory. Renae Anderson, who recently qualified for the U23 World Championships and is taking a year off from Bowdoin due to COVID, took second place, thirty-six seconds back. Anderson is also a part of the inaugural LNR High Performance Team (LHP).
"It was so fun to be back at the Birkie trails, especially with the new snow we had on and off all weekend making it extra beautiful and keeping it interesting for waxing," said Anderson. "I felt really good in my classic race and tried to keep a high tempo or run, knowing that there was a lot of recovery on the downhills. There were a few steep, herring bone sections of deep snow where I tried to stay positive and just keep my feet moving although it felt messy! I was thankful for both good kick and glide, and tried to imitate my favorite World Cup racers around the transitions. Thank you to CXC for hosting a safe and well organized race!"
Just five seconds back from Anderson and taking third was Henriette Semb Henriette Semb (MTU, NOR).
Anabel Needham (MTU) placed 5th, Isabel Seay (Colby) 10th, Siri Bohacek (WIL) 14th, Gretchen Haggenmiller (NMU) 15th, Rana Kraftson (CSS) 18th, and Maj-Lis Helmer (CSS) 19th.
Day 2, 5/10k Skate Individual Start:
Baanerud (NMU, NOR) took his second victory of the weekend over his teammate, Tobias Moosmann (NMU, AUT). Brian Gregg (LHP, Team Gregg) was third, ten seconds back from Moosmann.
Reid Goble (MTU) was 4th, Patrick Acton (MTU) 10th, John Schwinghammer (CSS) 12th, Shad Kraftson (UWGB) 18th, Sam Myers (UWGB) 19th, Ryan Steger (CSS) 20th.
Caitlin Gregg (LHP/Team Gregg) showed her strength in the skate technique, winning Sunday's 5km race by twenty seconds over Henriette Semb (MTU, NOR). Malin Boerjesjoe (NMU, SWE), placed third, only four seconds back from Semb. Watch for these two Scandanavian skiers to continue battling for top rank on the podium throughout the CCSA season.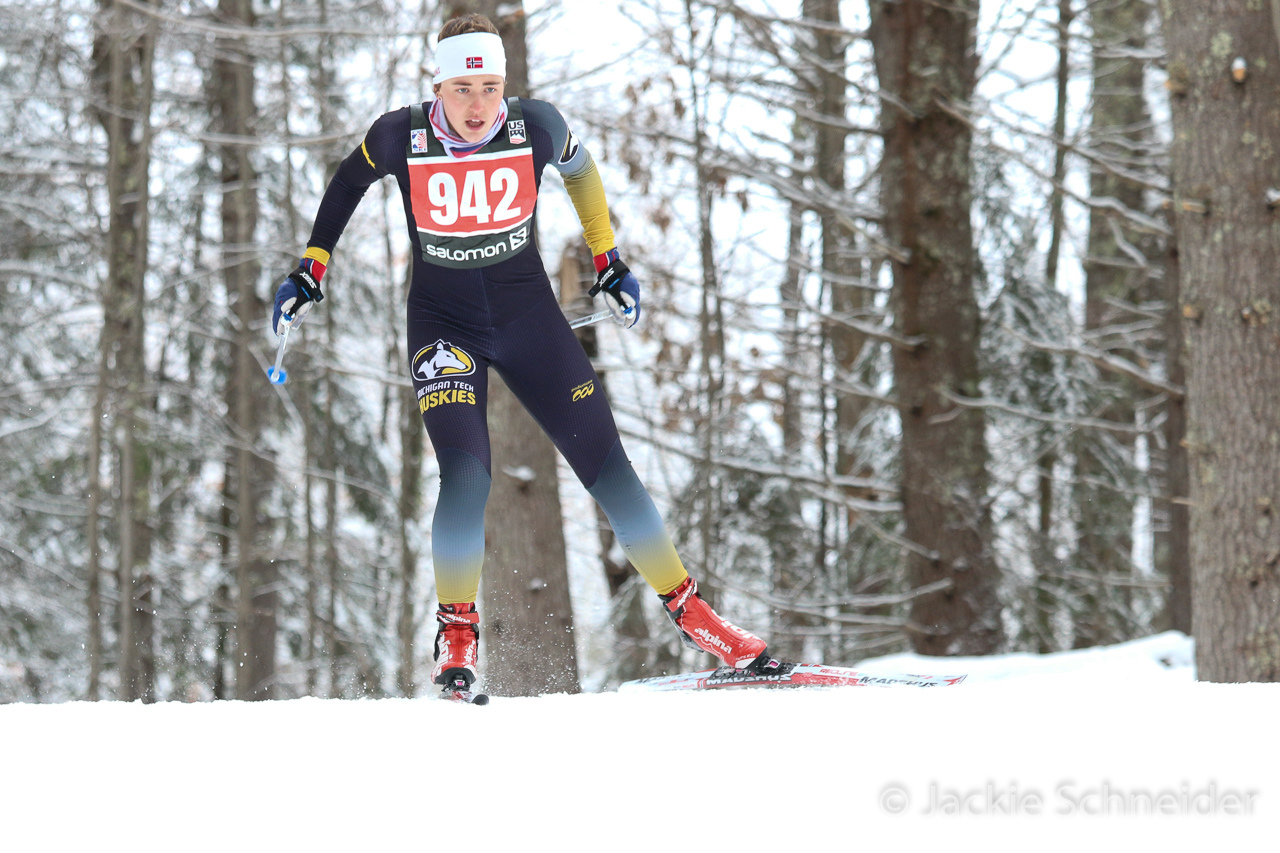 Anabel Needham (MTU) earned another 5th place to wrap up a solid weekend of racing. She recapped her race, saying, "Going into the skate race I knew it was going to be fast. The hills in the course made the first half of the race very important, so I went out knowing I would have to push the first 2.5 km more than any other 5km race. I love downhills and this course did not disappoint! Being able to race this season is so special, and I am looking forward to more CCSA races soon!"
Renae Anderson (LHP, BOW) was 8th, Siri Bohacek (WIL) 12th, Johanna Craig (MTU) 15th, Isabel Saey (Colby) 17th, Mary Lyon (MTU) 19th, and Morgan Richter (BOW) was 20th.
Women's Team Scores: 1) MTU (206), 2) NMU (201), 3) CSS (136)
Men's Team Scores: 1) NMU (216), 2) MTU (178), 3) CSS (138)
Total Team Scores: 1) NMU (417), 2) MTU (383), 3) CSS (274)
The CCSA races next January 30-31st at Al Quaal for the Northern Michigan University Invitational.
Gitchi Gami Games Results
CCSA Write-Up
RMISA
A mass of skiers descended upon Soldier Hollow for the combined RMISA Invitational and Super JNQ. Strict mask usage and enforced limitations on access to the venue helped keep this event as safe as possible. The weekend was a beautiful one with sunny skies and warm temps making for happy but sweaty, smiley but sunburned skiers. Soldier Hollow's man-made snow loop was top-notch.
Day 1, 5/10k Skate Individual Start:
The University of Utah women's team has been showing their strength throughout the early winter. In this first official RMISA event, it was no different. Novie McCabe (UU) won by twenty-four seconds over her teammate Julia Richter (UU, GER) who was just two seconds in front of her teammate, Sydney Palmer-Leger (UU).
Abby Jarzin (UU) placed 8th overall (7th college), with recent transfer Emma Albrecht (MSU) 89th overall (26th college)
The men's race was tight. Magnus Boee (CU, NOR) finished in 21:24, winning by four seconds over Johnny Hagenbuch (Sun Valley). World Cup sprinter extraordinaire, J.C. Schoonmaker (UAA), was just 6.7 seconds back in third place.
Day 2, 15/20k Classic Mass Start
On Monday, the classic tracks stayed firm through another day of rising temperatures. Due to COVID precautions, skiers were required to wear masks in the starting pen until just before the gun went off. In the women's 15km, a lead pack of four broke away from the field. Astrid Stav (UAA, NOR) was able to break up another potential UU sweep. She placed second, eight seconds back from Sydney Palmer-Leger (UU). Novie McCabe (UU) placed third. UU skiers also placed fourth and fifth.
Abby Jarzin (UU) placed 17th with Emma Albrecht (MSU) 29th.
It continued to be a good day for the Utes on their home turf as Sam Hendry (UU, CAN) won. But Zanden McMullen (MSU) was only one second behind. Ola Jordheim (UU, NOR) rounded out the podium.
RMISA races again January 22-23 at Maloit Park in Vail, CO.
RMISA/Super JNQ results
Team Scores
EISA
The Eastern collegiate teams are generally up against the most stringent COVID restrictions imposed both by states and universities. Coaches have been working hard to put together a schedule that gives skiers an opportunity to race, safely, while following COVID related policies. EISA did not race this weekend but is slated to get under way in two weekends on January 29th. Each carnival will feature a one day race weekend with men and women racing the same distances - all interval start.
Because of this shortened season, EISA's NCAA qualifying rules have changed: skiers will be ranked with their best result in classic and their best result in skate. Ties will be broken by the singular highest placing followed by the best USSA points performance to break any remaining ties.
The current schedule is as follows:
Jan. 29 – EISA Carnival: 10km Classic @ Jackson, XC (University of New Hampshire)
Feb. 5 – EISA Carnival: 15km Skate @ Quarry Road (Colby College)
Feb. 12 – SLU Carnival: 5km Classic (Lake Placid, NY)
Feb. 19 – UNH Carnival: 15km Skate (Jackson, NH)
Feb. 26 – EISA Carnival: 10km Classic @ Sleepy Hollow (St. Michael's)
* A note about NCAA Championships: As it stands now, there will be no adjustments to the number of qualifying spots for each region. However, as far as we can gather, if the number of participating schools drops below 50%, then the allotted number of skiers for the championships will drop to 75%.
About the author...

Luke Brown, a graduate of Minnehaha Academy and Dartmouth College, is a skier and biathlete for the Crosscut Mountain Sports Center and the US Biathlon X-Team. He enjoys running in the mountains, writing, and eating cereal with whole milk. He lives in Bozeman, MT.