US Elite Racing: Late January Update
The domestic elite racing scene continues to be scattered across the US in varying degrees of normalcy. Skiers from the four main regions, East, West, Midwest, and Alaska, find themselves participating in a range of race types, from time trials and local citizen races to official junior and collegiate FIS and/or USSA races.
East
Eastern racing saw its first FIS races of the season this past Saturday, with the Craftsbury Outdoor Center hosting a 10 kilometer skate race for the women and a 15 kilometer race for the men. The mens and women's fields included several Craftsbury Green Racing Project (GRP) athletes, a Stratton Mountain School T2 (SMST2) athlete, as well as collegiate and junior skiers. With temperatures just above 0 degrees, the women bundled up and raced two laps of the 5 kilometer course. Former GRP skier and Olympian Kaitlynn Miller skied away with the win, besting the field by over 30 seconds. Evelina Sutro, current UVM skier and GRP summer training partner, and Callie Young (Dartmouth/CNSC) finished second and third, respectively, separated by a mere second. Rounding out the top five was Margie Freed (GRP) in 4th place and Michaela Keller-Miller (GRP) in 5th place. Libby Tuttle (UVM) finished close behind in 6th place.
Freed reports, "It was exciting to have the opportunity to do a FIS race at a time when racing is limited. Even without spectators allowed on course, it was motivating to see so many dedicated volunteers to make the race happen. In a year where I've been focusing on training, it is nice to have some hard efforts to mix it up. Although I have been taking the season week-by-week in terms of racing, I am hopeful I will get the chance to race more in the coming months."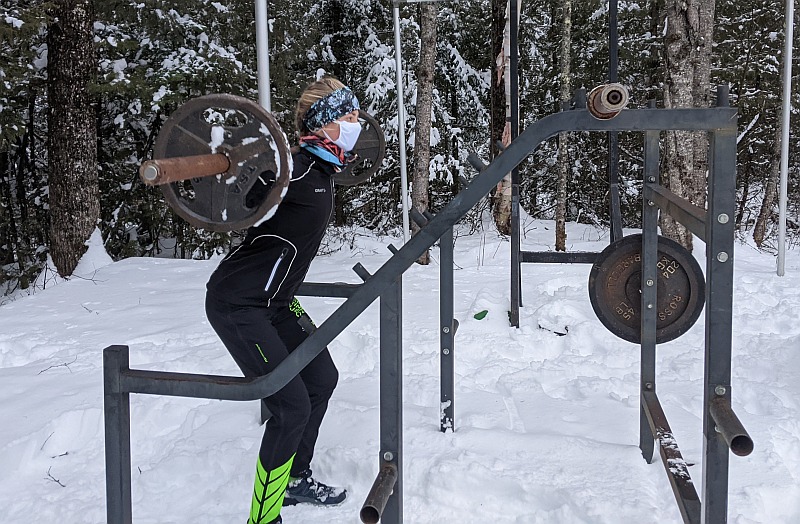 In order to space out racers throughout the day to follow best Covid practices, the FIS men's race started at 1 pm. By then, temperatures had raised only slightly. Skiers in the men's race completed a 15-kilometer course. GRP skier Braden Becker came out on top, followed by UVM skiers Matias Ovrum in 2nd and Jacob Nystedt in 3rd. Just off the podium was Akeo Maifeld-Carucci (GRP) in 4th place and former GRP skier Benjamin Lustgarten in 5th place.
Of note, GRP athlete Adam Martin and SMST2 athletes Alayna Sonnesyn and Ian Torchia were busy racing the World Cup this past weekend. Sonnesyn will remain in Europe for next weekend's races in Ulricehamn, Sweden. Be sure to tune in to watch her race a skate sprint on February 6th. Both Martin and Torchia have since returned to the US and will be rejoining the domestic circuit.
Upcoming racing for the Eastern elite teams will likely involve Vermont Cup races. GRP skiers are planning on forgoing next weekend's Vermont Cup, but will be back the weekend of February 13th.
West
Western racing has been going strong, as all three Western elite teams made appearances at races these past few weekends. Most recently, there was racing this past weekend in Bozeman. These races were Junior National Qualifiers, but elite racers were present from BSF Pro, Crosscut Elite, and the Sun Valley Gold Team. On January 30th, there was an 11 kilometer skate race for both the men and women. In the men's race, Scott Lacy of Crosscut Elite won, followed by Finn O'Connell of BSF Pro and Elijah Weenig of Sun Valley SEF. Christian Gostout (Crosscut Elite) finished in 6th place and Gus Schatzlein (BSF) placed 14th.
On the women's side, Erika Flowers (BSF Pro) finished in first place with Annika Landis (SVSEF Gold) finishing in second and Katie Feldman (SVSEF Gold) finishing in third. Hannah Rudd of BSF Pro placed 5th, Felicia Gesior of Crosscut Elite finished 7th, and Ingrid Thyr of Crosscut Elite finished in 13th place.
Rudd provides an update of her season thus far by saying, "I am so grateful to have had the opportunity to compete in so many races so far this season. Racing against the girls out West is continuing to make me a better skier. I have had my share of good races and bad races so far this season, but am excited to get in some solid training here in Bozeman before another block of competitions."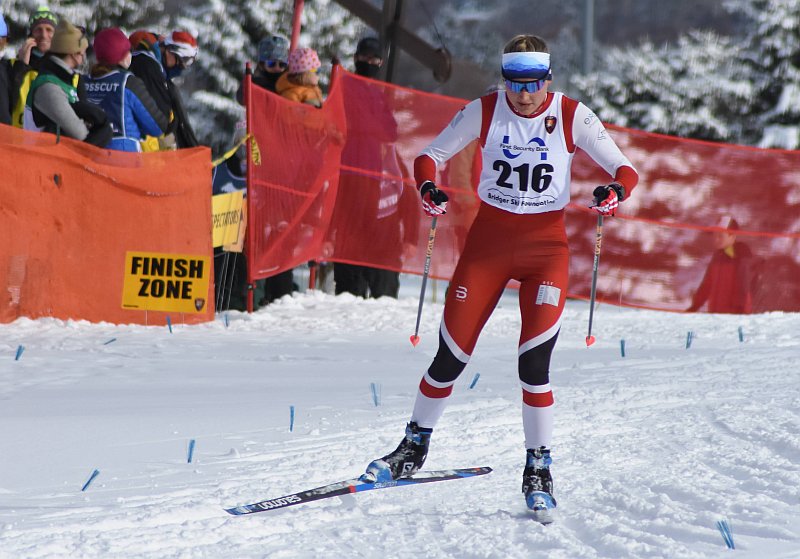 The following day, there was a skate sprint qualifier. In the men's race, Logan Diekmann (BSF Pro) stood atop the podium. Also finishing on the podium was Lacy and Weenig, in second and third, respectively. Gostout and Schatzlein finished in 16th and 17th places, respectively.
In the women's race, Flowers again took the win. Lauren Jortberg (BSF Pro) joined her teammate on the podium with a second place, followed by Landis in third place. Gesior finished just off the podium in 4th place and Thyr continued her top-15 streak with a 15th place finish.
Prior to this past weekend, many skiers also raced at the RMISA (Western collegiate region) races held in Minturn, Colorado on January 22nd and 23rd and in Soldier Hollow, Utah from January 16th through 18th. Of special note, Sarah Goble (SVSEF Gold) and Abby Jarzin (University of Utah) placed 9th and 10th, respectively in the classic sprint qualifier on January 16th. Jarzin collected a second top-10 finish the following day, finishing 8th in the 5 kilometer skate race on January 17th. That same day, Luke Brown (Crosscut Elite) also finished strong in the men's 10 kilometer race, finishing in 8th. In the last day of racing at Soldier Hollow, Goble finished an impressive 6th place and Amanda Kautzer (Crosscut Elite) placed 7th. Full results can be found below.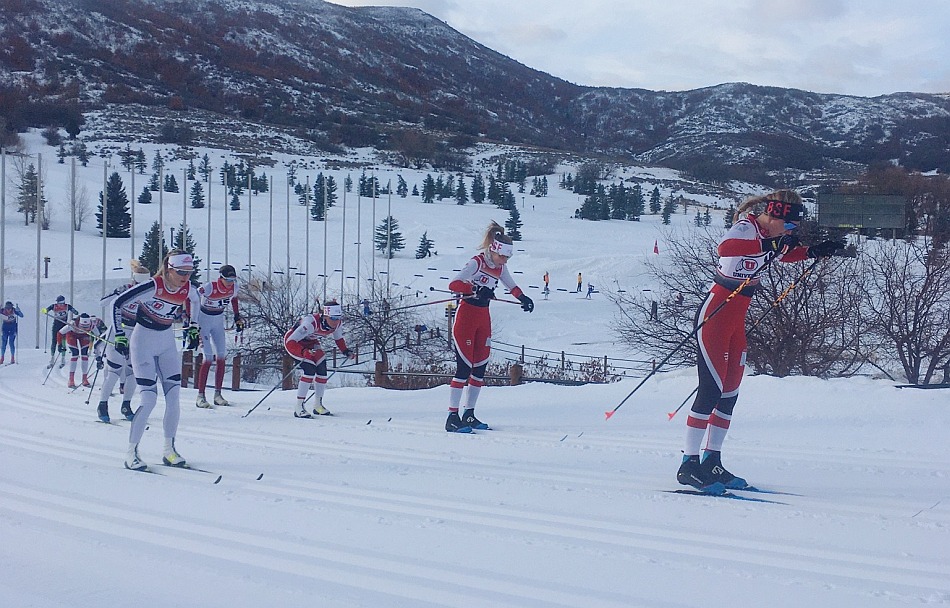 Minturn Results:
Soldier Hollow Results:
Western elite teams have varying plans for the next few weekends of racing. Expect to see some skiers racing this upcoming weekend's RMISA races in Aspen, Colorado and on February 22nd and 23rd in Soldier Hollow. Alternatively, some skiers will potentially be racing local Midwest races in preparation for this year's Birkie.
Alaska
Skiers from Anchorage's APU Elite Team have been filling their racing schedule with local citizen racing and Besh Cups, which are Alaska's USSA race series typically raced by numerous locals and used as Junior National Qualifiers. There was Besh Cup racing on January 16th and 17th at Government Peak, a venue with notoriously challenging hills about one hour outside of Anchorage. Racing started on January 16th with a 10 kilometer classic race. Skiers from APU swept both the men's and women's podiums. The men's podium went to Tyler Kornfield, Kai Meyers, and Thomas O'Harra, in first through third places, respectively. On the women's side, Becca Rorabaugh skied to a commanding first place finish, winning by over a minute. Hannah Halverson finished in second place, followed closely behind by Anna Darnell in third.
The following day, racers returned to Government Peak for a 10 kilometer skate race. APU skiers again took the top three spots in the men's and women's races. In the men's race, Meyers took the win, followed by O'Harra in second and Forrest Mahlen in third place. The women's race saw a repeat win by Rorabaugh, with Darnell finishing second and APU Junior Garvey Tobin finishing in third place.
One week later, many of the same skiers participated in the AMH Cup race, a 25 kilometer classic race held at Kincaid Park. Rorabaugh continued to prove her prowess, finishing an impressive five minutes in front of the second place skier. The race for second place came down to the wire, with Holly Brooks, Olympian and former APU skier, beating out Darnell by just five seconds in a lengthy race. In the men's race, the podium looked familiar to the prior week's Besh Cup. This time, O'Harra stood atop the podium, followed by Meyers in second and Kornfield in third place.
This upcoming week will bring a break from both local Anchorage AMH Cup racing, as well as State-wide Besh Cup racing. AMH Cup racing resumes on February 14th.
Midwest
Recent elite racing in the Midwest includes the Seeley Hills Classic, held this past Saturday. Notably, Brian and Caitlin Gregg won the men's and women's 42 kilometer classic race, respectively. Caitlin Gregg was also named as an alternate for this past weekend's 10 kilometer skate World Cup race in Falun, Sweden. Over the next few weekends, Midwest skiers are likely to race local races to tune up for this year's fast-approaching Birkie. The uniqueness of this season's racing and the multi-day format of this year's Birkie is presenting the opportunity for athletes to attempt a Birkie double-header by skiing both the skate and classic races. In a recent Strava post, Gregg eluded to preparing for the challenging double-header. Keep your eye on this year's Birkie, as there are sure to be many hometown stars.
About the author...

Michaela Keller-Miller, a graduate of Wayzata High School and the University of Alaska Anchorage, skis for the Green Racing Project based out of Craftsbury, Vermont. She's currently enjoying getting to know the East Coast and ski training full-time. Her ideal day would probably involve a long trail run followed by a stack of pancakes with maple syrup and a chai latte.