Collegiate Racing Recap: EISA, RMISA
It's the gut of the racing season, folks. That hearty meaty middle in which energy burns and fires crackle. It's the source of strength, the symbol of stability. Feed it, fan it, and by golly, have fun with it.
It's week four of college racing!
EISA
The second official EISA Carnival of the year was held at Quarry Road, in Waterville, ME. UNH and Colby went head to head on the Mules' home trail system in a dual meet format, which generally happens more in Track and Field than Nordic Skiing. But as we all know, this year is different, and a race is a race.
Day 1, 13.2km Skate Individual Start
Skiing four laps of the hilly South Loop, Jasmine Lyons (UNH, CAN) won the first race of the weekend by twenty-nine seconds over Luci Anderson (UNH). Anna Schriefer (UNH) rounded out the podium to make it a UNH sweep. Alice House (UNH) placed 12th.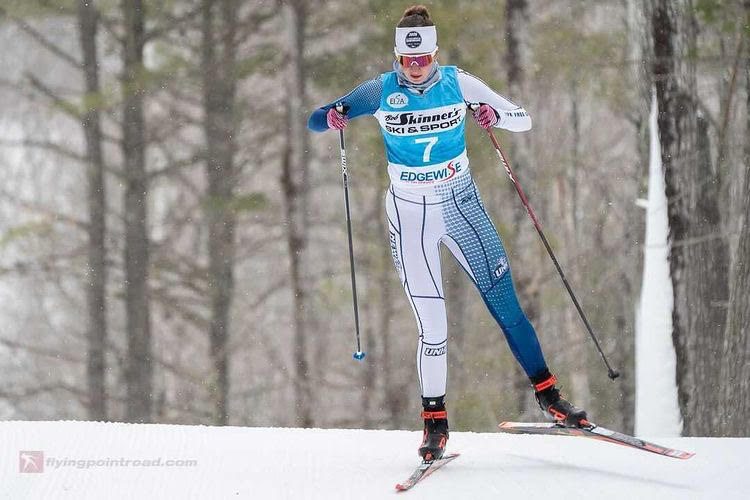 In the men's skate race on the same course, the Wildcats once again took all three spots on the podium: Scott Shulz placed first, James Schnieder was second a minute and twenty-eight back, and Seth Wyatt rounded out the top three. Zach Nemeth (CBC) placed 5th, Torsten Brinkema (CBC) 6th, Adlai Sinkler (CBC) 10th, and Cole Johnson (CBC) was 11th.
Brinkema, taking what advantage he could of a different sort of academic year due to COVID, had spent the month of January training in Colorado with a few of his teammates. When they learned of this weekend's carnival scheduled at their home course, they flew back East, and were tested multiple times for COVID before racing.
"I started both races out at a pace I knew I should be able to handle, and faded a bit on the third and fourth laps," Brinkema said. "At this point in any other year, I would have at least four or five race weekends under my belt, so my body felt programmed to go at that familiar speed. But after a month of slow altitude skiing, I realized I'm not quite in racing shape yet."
Brinkema continued with an admirable perspective, "If there is anything that I've learned from skiing this year, it's to be thankful for good health and opportunities, and prepare for the unpredictable. That is somewhat the new motto for the Colby ski team, and we are stoked for the possibility of another race weekend (and maybe even NCAAs in our region). If COVID cases can be contained in the first couple weeks of this semester, we are hoping that the administration allows us to make day trips to the upcoming carnivals. No matter what happens you can count on us to have fun on the snow, and give it everything we've got when we can put our skis on the start line."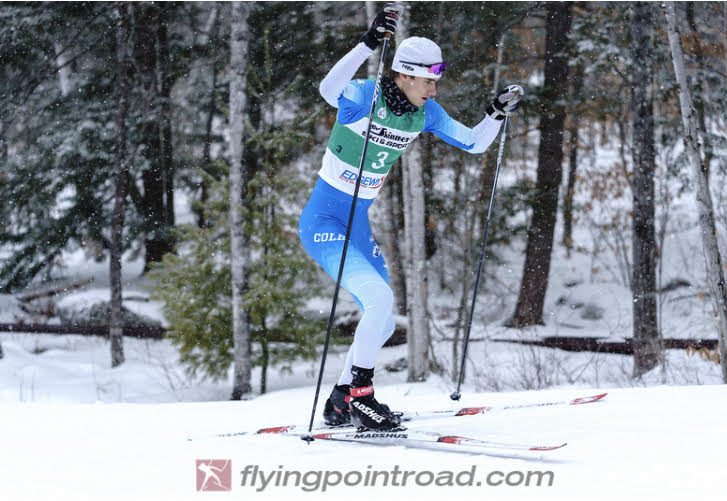 Day 2, 5/10k Classic Individual Start
Due to the base of man-made snow and recent temperatures, the second day of racing necessitated klister kick wax for both the men and women - something as commonplace as wood-fired saunas and freezing rain in the Northeast. Jasmine Lyons (UNH, CAN) proved her all-technique prowess with her second victory of the weekend. This time, Luci Anderson (UNH) was just seven seconds back in second. Georgianna Fischer (UNH), continued an impressive first-year campaign, finishing third. Alice House (UNH) was 11th.
Scott Schulz (UNH) also earned back to back wins on the weekend. Mark Young (CBC) finished second with teammate Will Solow (CBC) placing third, as these mules used their home course advantage and consistent kilster practice so far this year to their benefit. Torsten Brinkema (CBC) placed 6th, Zach Nemeth (CBC) 8th, Cole Johnson (CBC) 10th, and Adlai Sinkler (CBC) 12th.
"It's great for Colby to be able to host a race this year," said Johnson. "We've had a lot of guys stay really focused despite the unusual season so it was fun to get a reward and have a chance to race at home."
The EISA meets up again at Mt. Van Hoevenberg for the Saint Lawrence University Carnival on February 12th.
RMISA
The Western Colleges raced at Aspen High School (8,000+ ft. elevation) for the Colorado Invitational. The Alaskan schools, UAA and UAF, were not present.
Day 1, Skate Sprint
With sixteen women skiers racing the sprint, everyone raced a qualifier and moved into one of four quarterfinals. Semis and a finals heat followed and at the end of the day Julia Richter (UU, GER) won. Richter had placed second in the qualifier earlier in the day. Karianne Moe (UU, NOR) placed second overall with Weronika Kaleta (CU, POL), the qualifier winner, in third. Abby Jarzin (UU), just off the podium, placed fourth. Jarzin said, "My goal for the day was to ski the qualifier hard and as smoothly as I could then go into the heats with some tactics however those don't always work out as planned! The quarter I led for the most part and was able to pull away with a girl from CU. In the semi final I followed my teammate Julia, and made the finals."
"The final heat was exciting as Utah had three girls including myself in the heat," Jarzin recounted. "As I started I tripped on my pole and had a short fall but was able to sprint up to the pack of girls before a large gap had formed. There was another crash a little after mine but I was able to steer clear of it… Overall, Utah had a great weekend and continues to show the work that we have been putting in all year!"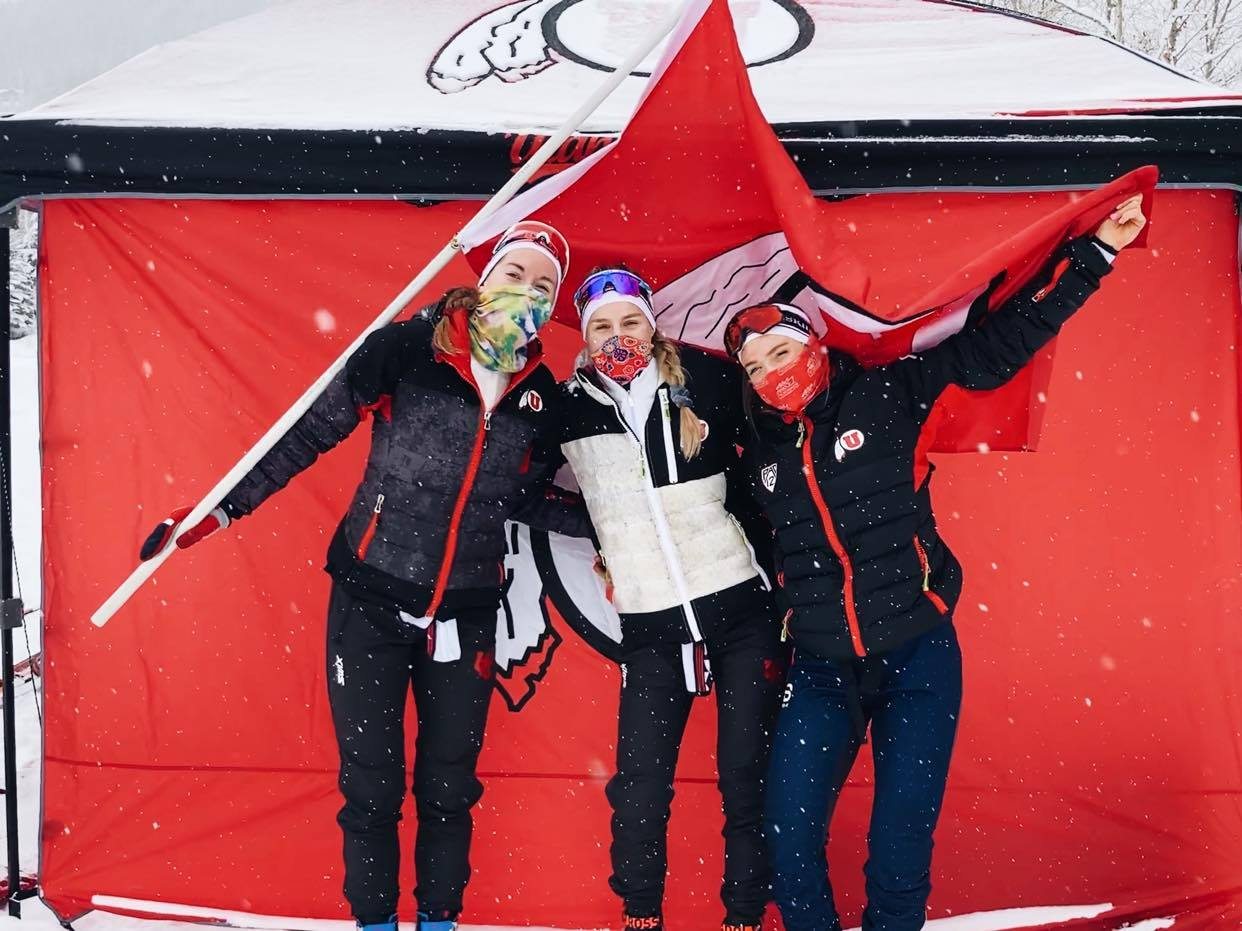 Magnus Boee (CU, NOR) continued his season-long domination with a win in the men's sprint over Bjorn Riksaasen (UU, NOR). Noel Keeffe (UU) finished in third for the best collegiate finish of his career. Keeffe also won the qualifier earlier in the day. All eighteen men's skiers had moved into one of five quarterfinals after the qualifier.
Day 2, 5/10k Classic Individual Start
Even though two of UU's top women, Sydney Palmer-Leger and Novie McCabe, were away at Junior World Championships, the Utes continued their impressive team performances. Julia Richter (UU, GER) won her second race of the weekend in the 5k Classic. Mariah Bredal (UU) placed second with Karianne Moe (UU, POL) in third. Abby Jarzin (UU) placed 8th and Emma Albrecht (MSU) was 13th.
In the men's ten kilometer race, Magnus Boee (CU, NOR) won again with Bjorn Riksaasen (UU, NOR) in second. Ola Jordheim (UU, NOR) was third.
RMISA's next races will be February 22-23rd at Soldier Hollow for the RMISA Invitational.
CCSA
The UWGB Invitational scheduled for this past weekend in Rhinelander was postponed due to the extreme cold. The conference hopes to be able to hold these races next weekend, although the forecast remains cold. Warm wishes to all!
[ Update: CCSA races have been cancelled due to the forecast cold weather -- Ed. ]
About the author...

Luke Brown, a graduate of Minnehaha Academy and Dartmouth College, is a skier and biathlete for the Crosscut Mountain Sports Center and the US Biathlon X-Team. He enjoys running in the mountains, writing, and eating cereal with whole milk. He lives in Bozeman, MT.