NCAA Championships Preview
As the winter weather winds down and spring seizes the opportunity to lengthen the days and send the snowpack into the ground, skiers from across the nation are heading to Jackson, New Hampshire to make sure they have the final say before the grass turns green. The NCAA Championships are here, perhaps by a miracle, to let collegiate skiers race head to head against rivals from other regions. And while we lament the reality that many talented skiers will not be racing next week due to the COVID pandemic's percolating influence on so many aspects of life, we celebrate the work of so many people who have done their best to create safe racing opportunities including the upcoming championships. And so, for your pleasure and intrigue, we present this preview of next week's races.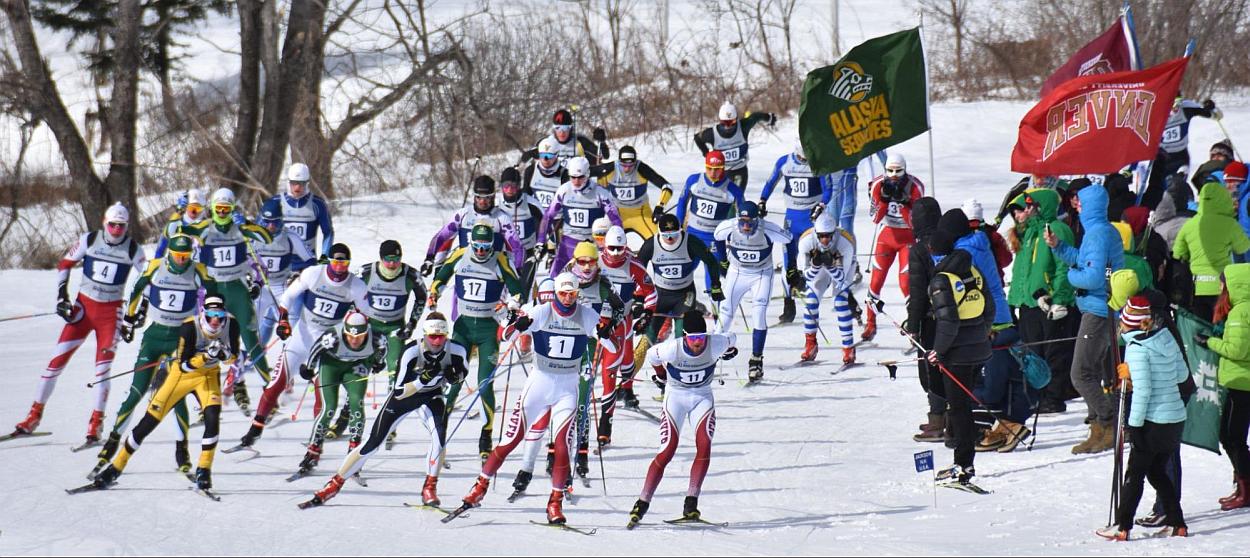 Overview
Eighty Nordic skiers from the East, Central, and West regions have qualified to race at NCAA's. Each region is allocated a certain number of slots based on their region's performance at the previous year's NCAA's. Additionally, two unused spots from the EISA were re-allocated to the CCSA women for this year. After all these considerations, there are twenty-eight skiers from the EISA, seventeen from the CCSA, and thirty-five from RMISA headed to race at Jackson. To fill these spots, each team can only bring a maximum of three men and three women, even if they have additional skiers near the top of the rankings list. Thus, a full NCAA Nordic team is six skiers.
Races:
Day one - Thursday, March 11th - will be interval start classic competitions: five kilometers for the women and ten kilometers for men.
Day two - Saturday, March 13th - will be interval start skate races (no mass start due to COVID precautions): fifteen kilometers for women and twenty kilometers for men.
The race trails at Jackson XC are unique. Designed by the famous trail maker, John Morton, the five-kilometer course is challenging and at times disorienting but once understood, enjoyable. Skiers leave the starting gate in a wide open meadow and within the minute are ascending a multi-pitch strideable climb through grown-in farm fields. Sent back into the woods, racers then navigate a series of 180-degree turns, switchbacks, and sharper but shorter climbs as the trail loops back and forth, in and around, and finally back down through highly technical S-turns that you wouldn't find at Giants Ridge. Released into the meadow once more, racers glide into a gradual uphill, around a right hand bend and downhill into the finishing straight. Don't forget to lunge.
For those who want to break it up more systematically, think: stadium, climb to second field, steep technical climbs, steep technical downhills, rolling woods, field and finish.
Waxing could prove difficult, especially for Thursday's classic race, when temperatures are expected to rise to above fifty degrees. Look not only for racers in t-shirts but also for ski speed and kick to play a large factor on day one of racing. Fluoros are also not allowed at NCAA Championships and the race jury will decide before each race whether skis will be swabbed for testing (to be sent later to a lab in Germany). What this comes down to is that ski speed will be a bit slower than in past years and wax techs will be putting more energy into ski selection and hand-structure. It is supposed to cool down some for Saturday but skiers will still be considering a more robust feeding and rehydration strategy than usual for day two's longer skate races.
In terms of COVID precautions, most teams have already been tested multiple times. Skiers are supposed to wear masks whenever not skiing and teams are staying socially distant. Teams that are sharing hotels have staggered meal times to limit the possible spread of infection. All teams will also be tested the day before each race.
Spectators and media are sadly but understandably not allowed at the Championships. However, there will be a livestream to watch and live results to follow (see below).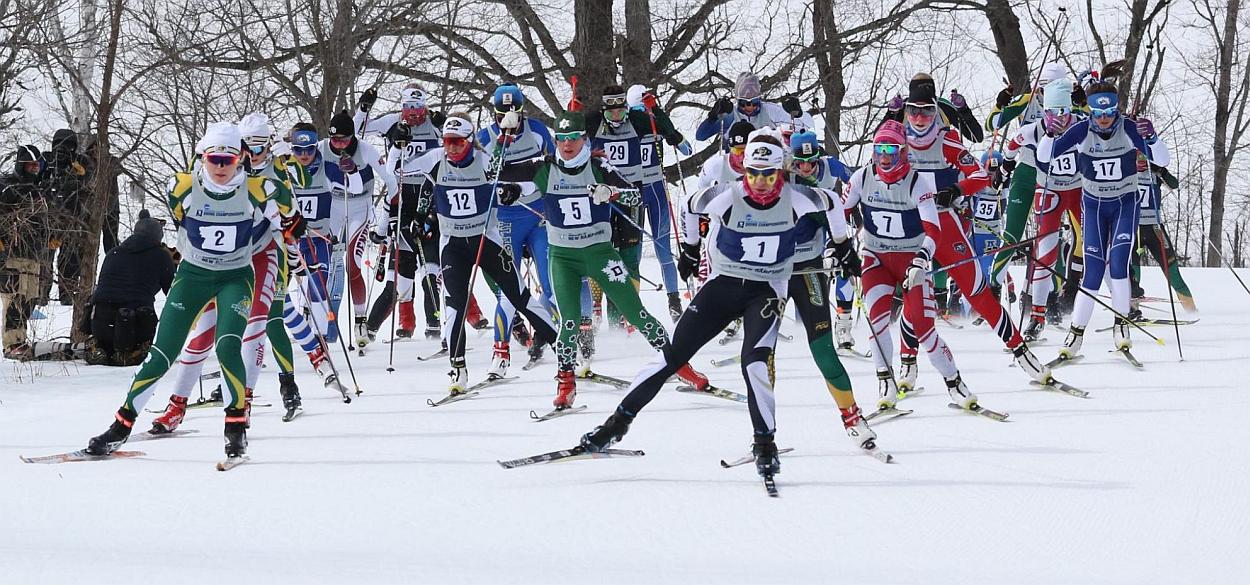 Major Storylines
Home Field Advantage for the East
A major question at every NCAA's is what role home field advantage will play in the final outcome. The hosting school will undoubtedly have a more intimate knowledge of the course - how to pace, how to ski the corners, etc… Even the other schools in the same region, in this case the East, will know the course better than those from across the country. Coaches in the hosting region will be dialed in to what wax often works in that region and even at the specific venue. Skiers might be more tuned in to which pair of skis runs the fastest in the specific conditions of the region. But how much does this affect the final results? Will skiers from the East have a measurable advantage over those from the West or Midwest? Even the lack of elevation can come into play - are some of the RMISA skiers better at racing at altitude compared to sea level? Will the EISA skiers benefit from minimal travel time and thus more energy compared to other racers? These are questions that often come into play in ski racing on a larger scale but when a race like this only happens once per year, there is more uncertainty as to how the chosen venue and region will affect the outcome. All we can do is wait and see.
A Small Yet Strong Crew of Midwest Athletes Look to Make a Splash
Twelve athletes with Midwest roots are headed East for the Championships.
UNH: Luci Anderson, James Schneider
St. Lawrence: Jordan Schuster, Charlie Reinhardt
NMU: Zak Ketterson
St. Scholastica: Maj-Lis Helmer, Emma Stertz, Maggie Whitaker, John Schwinghamer
MTU: Anabel Needham, Reid Goble, Patrick Acton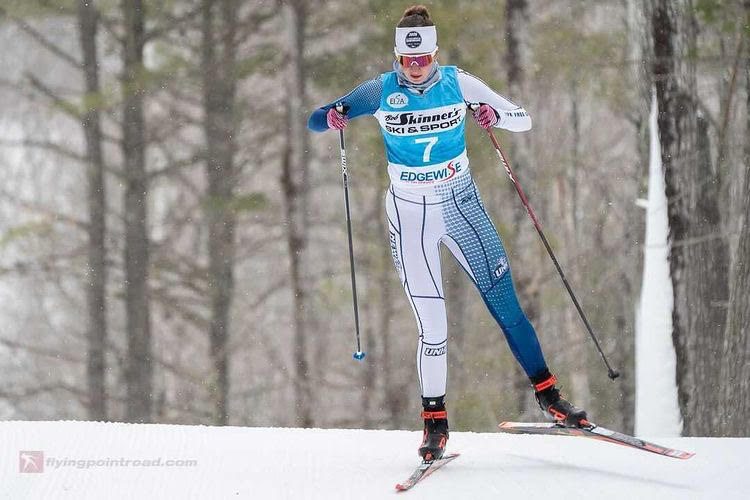 Anderson has had an incredibly consistent year, finishing with the EISA's three seed in the 5k classic and two seed in the 15k skate. Anderson finished 30th in last year's 5k but will be looking to fight into the top-10. Ketterson has set himself up to make a splash in Jackson. After skipping the first set of collegiate races to train and race in Norway, Ketterson has returned with solid form and results that show he can contend with the big names in the West. Michigan Tech's Needham and Acton both had their best results in last weekend's CCSA Regional Championships and will be looking to take advantage of their underdog status.
This will be the first NCAA Championships for many of the other athletes. It will be an opportunity to test themselves in the most competitive field of the year, gain experience, and soak up an enjoyable race week.
Also competing for Northern Michigan are Kjetil Baanerud (NOR), Tobias Moosmann (AUT), Molly Miller (CAN), Malin Boerjesjoe (SWE), and Hilde Eide (NOR); for St. Scholastica is Emil Book Bratbak (NOR); and for Michigan Tech are Aleksi Leino (FIN), Henriette Semb (NOR), and Olivia Laven.
Can Anyone Challenge the West?
RMISA is undoubtedly the deepest and strongest conference heading into NCAA's. Not only do they have the most qualifiers and have had a full collegiate season with complete participation from every school in the conference, but they also have the strongest history of performance at NCAA's. Last time NCAA's were in Jackson, in 2017, RMISA skiers took 29 out of 40 All-American spots throughout the four races. Additionally, the top three returning skiers from last year's NCAA race on the men's side are from the West: Sam Hendry (UU, CAN), Bernhard Flaschberger (DU, AUT), and Sigurd Roenning (UAA, NOR). And that's not even including Magnus Boee (CU, NOR) who has been dominating the RMISA circuit this season. While the top returning women skiers (Lina Sutro (UVM), Molly Miller (NMU), and Anna Bizyukova (UVM, RUS)) aren't from the West, there's a new crop of RMISA ladies ready to win. Novie McCabe, Julia Richter (GER) and Sydney Palmer-Leger all from the University of Utah have been on a rampage this season. Astrid Stav (UAA, NOR) has also been consistently impressive.
With many EISA schools sitting this season out, there will also be a smaller number of skiers than usual able to contend at the top. But look for Zak Ketterson (NMU), Kjetil Baanerud (NMU, NOR), Matias Oevrum (UVM, NOR), and Jacob Nystedt (UVM, SWE) to challenge on the guys' side. For the women, Anna Bizyukova (UVM, RUS) and Molly Miller (NMU, CAN) could shake up a Western sweep.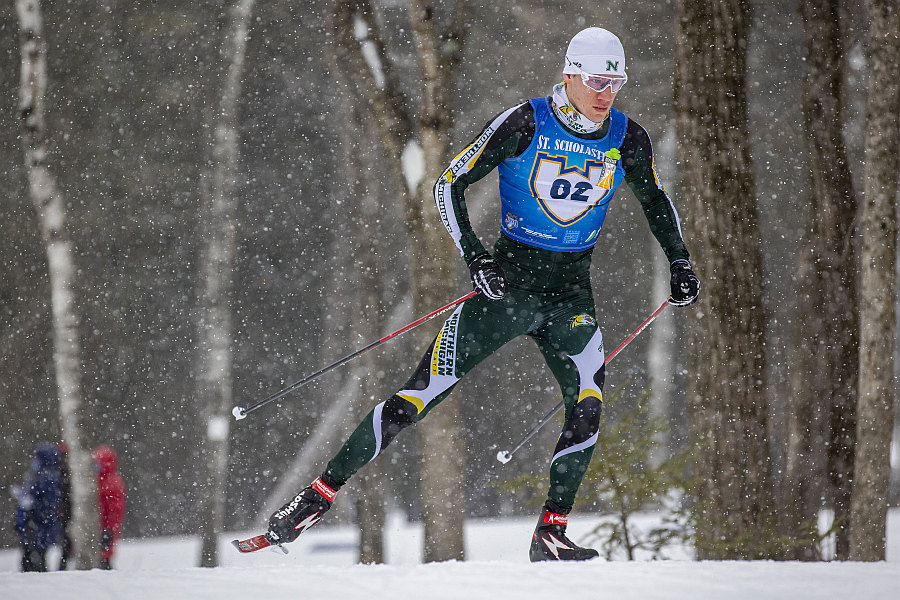 There assuredly will be storylines that surprise us - skiers who perform above and beyond our well-meaning expectations. We like that. And there will be themes that emerge of which we had no clue. So tune in to the livestream, follow the results, the storylines, and root for our Midwest skiers to take hold of the opportunity to finish out this remarkable 2021 ski season with a bang.


Coverage
About the author...

Luke Brown, a graduate of Minnehaha Academy and Dartmouth College, is a skier and biathlete for the Crosscut Mountain Sports Center and the US Biathlon X-Team. He enjoys running in the mountains, writing, and eating cereal with whole milk. He lives in Bozeman, MT.