NCAA Championships Recap
One year ago, in the nascent stages of a global pandemic, the NCAA Championships were cancelled at their halfway point. Since then, the world has been challenged to find a way through the coronavirus quagmire. For collegiate skiers, school became an unknown, racing became uncertain, even their health was sometimes in question. And yet rising up through the ongoing fog of uncertainty came those same student athletes, striding, skating, thinking, discerning. Navigating innumerable obstacles came those hard working coaches, planning, supporting, waxing, leading. Then came the murmurings of a possible NCAA Championships - a symbol of normality, or at least a symbol of the hope of normality. Yes, I know it's just a couple of races in New Hampshire and I know there were hiccups and missteps along the way, but can't we latch onto a hint of light while we long for full illumination? Shouldn't we latch onto those small things that bring us joy, and intrigue and something to strive for? It may have just been live-timing for me. It may not have even been everything dreamt of by those who raced. But I have no doubt it was something. And something is better than nothing.
Welcome to the 2021 NCAA Championships.
Day 1 - 5/10k Classic Interval Start
With temperatures soaring into the fifties, skiers were met with challenging conditions for the classic races. Ski speed and wax played a big role in results - as did the skiers' ability to maintain efficient technique in slushy snow.
It was a heckuva day for the Utah Utes who claimed five out of six podium spots between the two races. In the women's 5k, Sydney Palmer-Leger (UU) won by just five seconds over her teammate Julia Richter (UU, GER). Novie McCabe (UU) placed third, rounding out a team sweep. Molly Miller (NMU, CAN) was the top skier from the CCSA, placing fifth. Anna Bizyukova (UVM, RUS) finished eighth as the top EISA racer. RMISA placed eight in the top ten while two Americans claimed All-American status (top 10).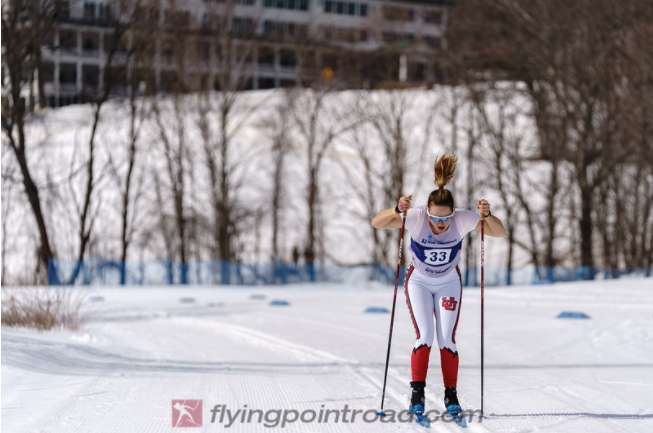 MTU's Anabel Needham placed 19th. Needham reflected, "The classic race had some challenging conditions that made the race a little more exciting, and I definitely had to adapt to that. I was hoping for a race where I could stride, but the slush didn't really allow for much of that. That course was so much fun with a lot of transitions. I feel so lucky to have been able to compete not only at this championship, but for an entire season!"
Luci Anderson (UNH) was 25th, Emma Stertz (CSS) 27th, Maj-Lis Helmer (CSS) 32nd, Jordan Schuster (SLU) 34th, and Maggie Whitaker (CSS) was 35th.
On the men's side of racing, Magnus Boee (CU, NOR) lived up to expectations, taking the victory over Luke Jager (UU). These two racers were tied at the 2k split, then separated by five seconds at 5k with a final margin of thirteen seconds at the finish. Sam Hendry (UU, CAN) finished third. Emil Bratbak (CSS, NOR) was the top CCSA skier, placing tenth. The West took nine of the All-American spots with only two Americans (Jager and Will Koch (CU)) in that top ten. Zak Ketterson (NMU) placed 15th after deciding to double pole the course in less than optimal kick conditions. Greg Burt (UVM) placed 18th as the top EISA skier. Reid Goble (MTU) was 22nd, Patrick Acton (MTU) 23rd, John Schwinghamer (CSS) 32nd, James Schneider (UNH) 34th, with Charlie Reinhardt (SLU) 38th.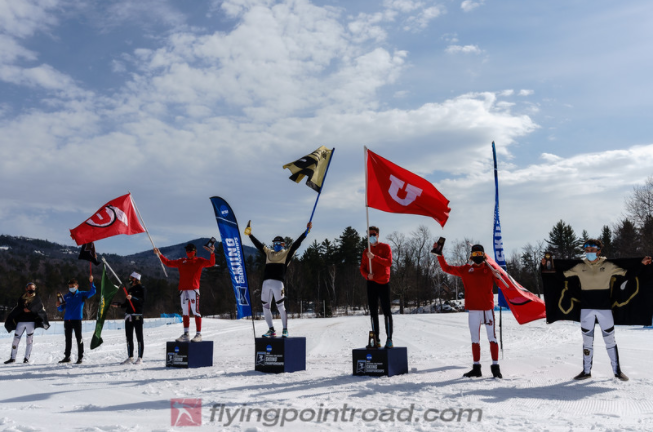 Day 2 - 15/20k Skate Interval Start
Palmer-Leger (UU), Astrid Stav (UAA, NOR), and Novie McCabe (UU) were all within two seconds of each other at the 5k split. All three skiers were still within two seconds at the 7k split. Palmer-Leger then began to separate herself at the end of the second lap and eventually finished with a twenty-four second victory over second place Stav. McCabe ended up third. Tuva Bygrave (UAA, NOR) made it a Utah vs. Alaska Anchorage battle with a fourth place finish. Malin Boerjesjoe (NMU, SWE) was the top CCSA finisher in sixth. Lina Sutro (UVM) placed ninth as the best EISA skier. There were four Americans in the top 10. The West continued their domination as a region with seven out of the top ten places.
Luci Anderson (UNH) skied a strong race, finishing with an admirable fifteenth place. "I'm very happy with how my season went, even with it being a very unusual one," said Anderson. "I'm just glad we got to have a season at all. Ending with the NCAA championships was really great because the whole season we were unsure if it was going to be able to happen.
Anabel Needham (MTU) was 26th, Emma Stertz (CSS) 32nd, Maj-Lis Helmer (CSS) 34th, Jordan Schuster (SLU) 35th, and Maggie Whitaker (CSS) 36th.
In the men's 20k, Magnus Boee (CU, NOR) won for the second day in a row. Boe led through each and every time check. But this time it was Sam Hendry (UU, CAN) as the runner up. Hendry, currently a sophomore, also placed second last year in the NCAA Championship skate race. Watch out for him next year. Northern Michigan came on strong on day two with Kjetil Baanerud (NOR) and Zak Ketterson placing third and fourth respectively. It was a battle between these two teammates who were still within one second of each other at the 17k split. Ketterson was the only American in the top ten. "Saturday's 20k race was my final race as an NMU Wildcat," Ketterson said. "I made it my season goal to win a race at NCAAs but I came short of it. I was definitely a little bummed, but at the same time I was super proud to see that my teammate Kjetil got 3rd."
Jacob Nystedt (UVM, SWE), eighteenth place, was the top EISA skier. Reid Goble (MTU) placed 22nd, Patrick Acton (MTU) 27th, John Schwinghamer (CSS) 29th, with Charlie Reinhardt (SLU) 34th.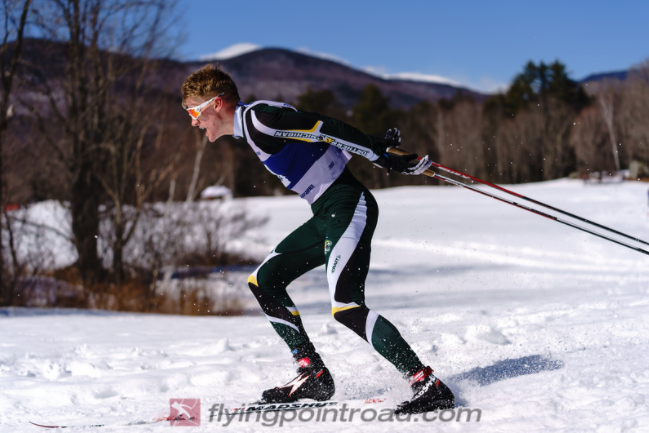 When all was said and done (eight races - nordic, alpine, men and women), the University of Utah walked away with another NCAA Championship. Colorado finished second with Denver third. We've seen that podium before. Vermont finished sixth as the top EISA school with Northern Michigan in seventh (especially impressive given that NMU does not have an alpine team).
As we head into the off-season, I hope that collegiate competitors will be able to reflect back on this never-seen-before type of season with a sense of accomplishment and a feeling of pride - for having forged ahead to train with diligence, act with responsibility, and seize each opportunity to learn and improve as people and skiers. Cheers to each of them.
About the author...

Luke Brown, a graduate of Minnehaha Academy and Dartmouth College, is a skier and biathlete for the Crosscut Mountain Sports Center and the US Biathlon X-Team. He enjoys running in the mountains, writing, and eating cereal with whole milk. He lives in Bozeman, MT.