US Elite Racing: End of Season Recap
Now that the final races of the ski season have wrapped up in Alaska and with summer fast approaching, let's take one last look at how the season shook out on the US elite racing scene. Since the previous racing update in early February, American skiers have competed in a slew of races. Of special note, marathon events like the American Birkenbeiner in Wisconsin and the Tour of Anchorage in Alaska took place. Additionally, many end-of-season races occurred in place of what would have been US Spring Nationals, also known as Spring Series, in a year without a pandemic. The most recent of these races was a hill climb on April 17th up Alyeska Resort, the alpine ski resort in Girdwood, Alaska.
Birkie
Arguably the most highly contested race on American soil this past season was the American Birkebeiner. Despite the cancellation of all SuperTour events this year, the Birkie was able to draw an impressive field of athletes from around the US. Additionally, with the spread-out schedule of events to accommodate for pandemic-related safety concerns, racers had the opportunity to race both the skate and the classic Birkie for the first time. This involved competing in a 45 kilometer skate race on Saturday, February 27th and a 45 kilometer classic race on Sunday the 28th.
Rosie Frankowski, a skier for Alaska Pacific University (APU), says, "I am so glad I was able to go down to the Birkie and race both the classic and skate races back to back. I needed a reset to my season which was derailed after contracting COVID in early January after successful December racing. I was really bummed out to have to miss out on potential World Cup starts and when your job is ski racing and you have lofty goals, there is nothing tougher than having to sit out races and be at home not traveling."
In Saturday's skate Birkie, the men formed a pack of about 10 skiers from the start and skied together for most of the race. Toward the end of the 45 kilometers, the pack had thinned out but the race came down to the wire, as the top five skiers finished within 10 seconds. Fending off the rest of the field was Johnny Hagenbuch (Sun Valley SEF Gold), crossing the line in 1:54:15. Close behind was Sam Wood (SVSEF) in second place with a time of 1:54:19. Tyler Kornfield (APU) finished third in 1:54:20 and Ian Torchia (SMST2) was 5th in 1:54:24. Christian Gostout (Crosscut Elite) placed just out of the top five, finishing 6th in 1:54:33. Brian Gregg (Loppet High Performance) finished in 7th place.
Torchia provides further insight into the men's skate race by saying, "the Birkie weekend feels like forever ago even though it was only 2 months but such is pandemic time warp. I remember being disappointed in my skate race after leading a bunch, not breaking away, and then cramping up the last 5km leading to a 5th place finish."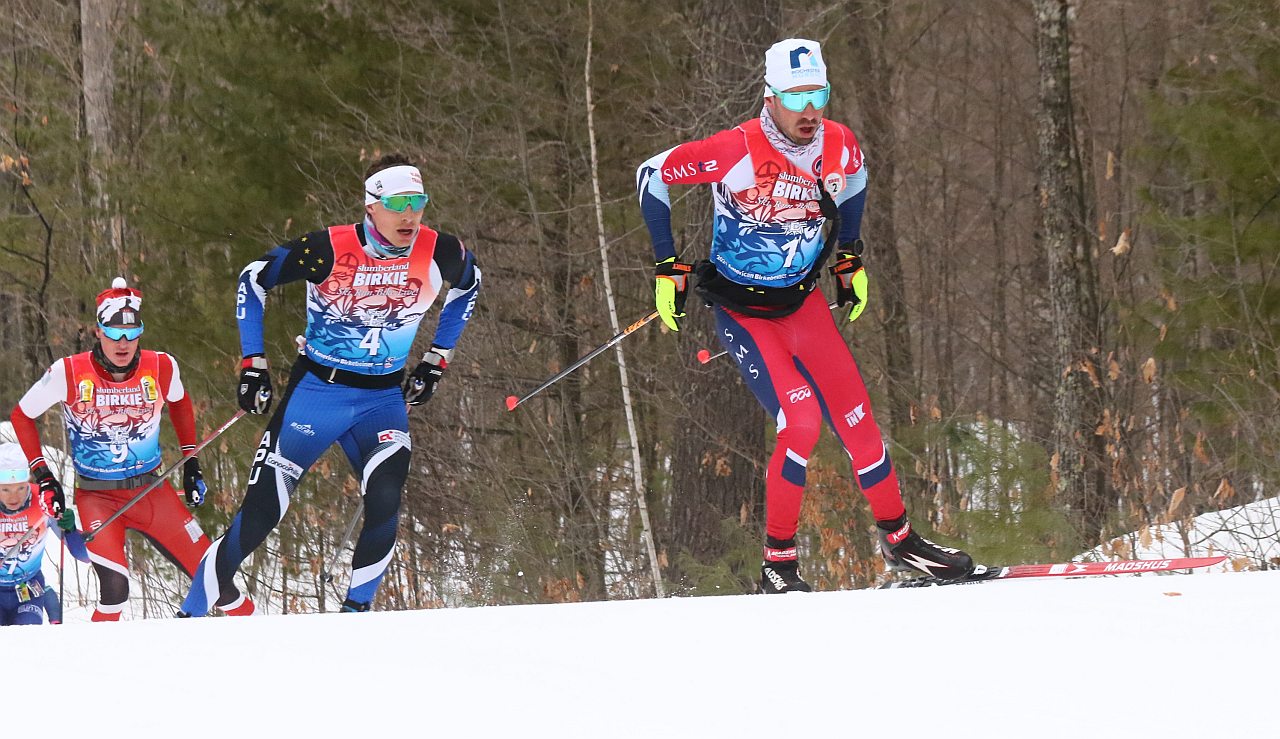 Similar to the men's race, a pack formed early in the women's skate Birkie. The pack grew smaller as the race progressed, and Alayna Sonnesyn (SMST2) and Frankowski challenged each other stride for stride until the final sprint where Sonnesyn pulled ahead for the win. Sonnesyn crossed the line in a time of 2:06:45 and Frankowski finished in 2:06:49. Regarding the event itself, Sonnesyn notes that "the ski community was so incredible and the Birkie Foundation and race organizers did such an amazing job despite so many obstacles and logistics to juggle." Caitlin Gregg (Loppet High Performance), who was skiing with the leaders for much of the race, earned a podium finish, finishing third in a time of 2:08:18. Renae Anderson (Loppet High Performance) skied to 6th place in her first Birkie. Abby Drach (Loppet High Performance) and Hannah Rudd (BSF Pro), also skiing their first Birkies, placed 8th and 9th, respectively. Felicia Gesior (Crosscut Elite) placed 10th, Sarah Goble (SVSEF Gold) was 11th, and Mara McCollar (Dartmouth/Minneapolis Ski Club) finished 12th.
Sunday's classic race presented challenging conditions, as snow continued to accumulate throughout the race. On top of the taxing conditions, many of the elite wave participants had also raced the 45 kilometer skate race the previous day. In an impressive showing of endurance and strength, Frankowski and Sonnesyn led the charge in the women's race, skiing to first and second place and both finishing in the top 10 overall. Frankowski, the winner of the women's race, placed 6th for men and women combined in 2:51:44. Reflecting on Birkie weekend, Frankowski says, "While the challenge of the double Birkie was a great experience in and of itself, I also really needed the confidence boost to know that I still was racing at a high level and had it in me to push hard and be fine after two extreme efforts." Sonnesyn, who skied much of the race with Frankowski, ended the day 8th overall as the second female finisher in 2:52:42. Katie Feldman (SVSEF Gold) placed third for the women in 3:07:08 and Caitlin Gregg was 4th in 3:11:21.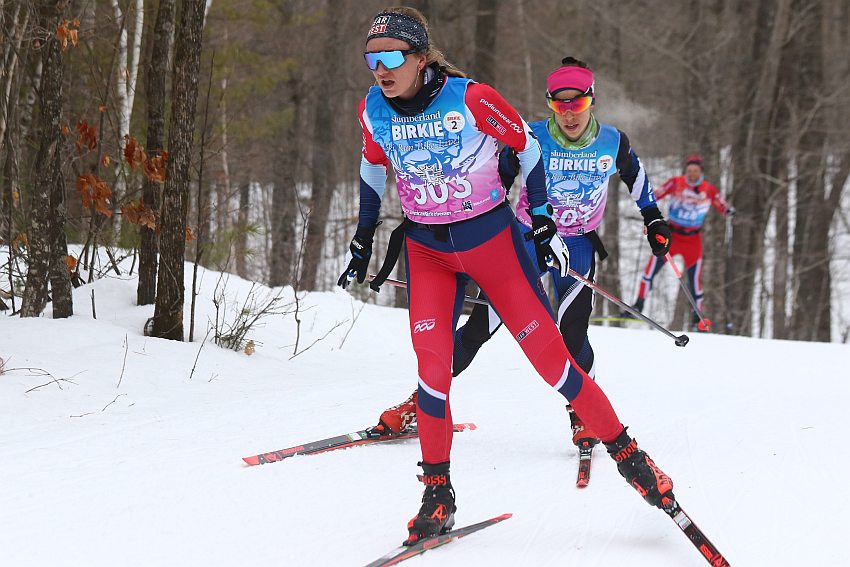 In the men's classic Birkie, Torchia skied much of the race alone, digging deep to win in a time of 2:39:01, over seven minutes in front of the next finisher. In regard to the classic race, Torchia says, "I went into (Sunday) with no expectations and only wanting to race hard and come out satisfied with my effort. It started snowing right before the start and by halfway at OO I had broken away from the field by pushing the pace when leading." However, after missing a coke feed, Torchia started to feel the "beginnings of a bonk" just as the "snow started nuking into a full on blizzard." For perspective, he remembers "blindly following the snowmobile tracks in front of me, almost passing out tucking down a hill, and having the kilometer markers pass by slower than anything I've ever experienced." After finally crossing the finish line, Torchia recalls "incoherently mumbling a post-race interview to Ben Popp as I scarfed down some chocolate milk" and being "very proud of my effort that day, ending an otherwise disappointing season on a high note."
Hagenbuch and Kornfield raced to the second and third spots in the men's classic race, respectively, in times of 2:46:18 and 2:47:09. Brian Gregg skied to a 4th place finish in 2:49:23 and Matt Liebsch (Pioneer Midwest) finished 5th 2:51:18. Gostout earned a second top-10 finish, placing 9th overall as the 7th male finisher.
Now that Torchia has had time to reflect on this past season, he mentions a few pros and cons of having a season filled with cancellations and restricted access to training resources. Torchia says, "One weird pro from this past 'pandemic season' has been that I feel as though I never need access to a gym to get strong. Many skiers learned how to get 'er done with just a pull-up bar and a TRX [strap]. Simple and effective." He also notes that the "increased ability to train without any distractions" turned out to be a double-edged sword. Torchia reports that, "For a self-described overtrainer, I had trouble pulling back from training harder and longer which led to some disappointing race results in the winter. That's all on me though and I learned my lesson the hard way as I often need to and I'm taking a different approach into the Olympic year."
Midwest Mini Tour
Following the Birkie races, many skiers chose to continue racing in the Midwest by starting the CXC Cup Mini Tour from March 5th through March 7th at Theodore Wirth Park in Minneapolis. The three-day event kicked off with a ski-cross race on Friday, March 5th. This unique format involves racers competing on a short 1.5 kilometer course with numerous technical challenges, including banked turns as well as roller, jump, and slalom-like sections. As such, those with strong sprinting and agility skills tend to fare well in ski-cross events. In the men's race, the first two spots went to Graham Houtsma and Logan Diekmann of BSF Pro, respectively. Loppet Nordic Racing Junior Isak Nightingale rounded out the podium in third place. Brain Gregg, of Loppet High Performance, finished in 5th place.
On the women's side, Lauren Jortberg of BSF Pro took the top spot, followed by Caitlin Gregg of Loppet High Performance in second and Alayna Sonnesyn of SMST2 in third. Following close behind was Erin Bianco of Colby College in 4th, Hannah Rudd of BSF Pro in 5th, and Renae Anderson of Loppet High Performance in 6th place.
The second day of the Mini Tour continued on Saturday with a 10 kilometer interval start classic race for both the men and the women. In the men's race, BSF Pro continued their strong showing, sweeping the podium with Finn O'Connell in first place with a time of 24:54. In second place was Diekmann in 25:35, followed by Houtsma in 25:38. Brian Gregg finished in 5th place.
In the women's 10 kilometer classic race, Alayna Sonnesyn skied away with the win in 27:11, continuing her strong season. She was followed by a duo of Northern Michigan skiers, with Pearl Harvey finishing in 27:30 and Pauline Forren finishing in 27:41. Caitlin Gregg finished 5th, followed by Rudd in 6th and Anderson in 7th.
Sonnesyn reports, "This season was really tough for me mentally, but I was so excited to be back in the Midwest racing the Birkie and the CXC Mini Tour. Nothing makes me love ski racing more than being right in the middle of all the hype! I was so happy to be able to end the season on a high note, with a smile on my face, surrounded by friends and family!"
Capping off the CXC Mini Tour was a 10 kilometer skate race on Sunday. In the men's race, O'Connell secured a sweep of the Tour's distance events, finishing first in a time of 22:12. Brian Gregg was close behind, racing to second place in 22:21. Diekmann raced to another strong result, rounding out the podium in 22:42. Matt Liebsch of Pioneer Midwest also finished in the top 10, placing 8th.
The weekend ended with the women's 10 kilometer skate race. Caitlin Gregg skied away with the skate title in 25:39, followed closely by Sonnesyn in 25:48. Third place went to Jortberg who completed the race in 26:43. Anderson was 4th in 27:13. Finishing close together in 5th through 7th places were Bianco in 27:27, Rudd in 27:30, and Abby Drach (Loppet High Performance) in 27:35. Mara McCollar (Minneapolis Ski Club/Dartmouth College) finished in 9th place.
CXC Mini Tour Results:
Final races in Sun Valley
Western racers finished off the season in Sun Valley, Idaho with the Tour de Sun Valley from March 19th through the 21st. The Tour de Sun Valley consisted of a three-day racing series, with a skate sprint on Friday, a classic distance race Saturday, and a skate distance race on Sunday. Starting off the race weekend was a skate sprint with heats. In the women's race, a duo of University of Utah skiers, Novie McCabe and Sydney Palmer-Leger, fresh off podium finishes at this year's NCAA Championships, finished first and second, respectively. Rounding out the podium was Lauren Jortberg of BSF Pro in third. Abby Jarzin (University of Utah) finished 6th, Sarah Goble (Sun Valley SEF Gold Team) was 9th, and Hannah Rudd (BSF Pro) placed 11th. In the men's skate sprint, Peter Holmes (SVSEF Gold) took the win, just edging out Luke Jager (UU) in second and Noel Keefe (UU) in third.
On Saturday, the women raced a 5 kilometer classic race and the men completed a 10 kilometer classic race. McCabe and Palmer-Leger again finished first and second, respectively, with times of 14:22 and 14:28. Junior skier Sammy Smith of SVSEF finished an impressive third place in 14:37. Goble again finished in the top 10, placing 8th. On the men's side, Sam Hendry took the win with a time of 25:06. Continuing a strong race weekend was Jager, finishing second in 25:19. Finn O'Connell of BSF Pro was third in 25:36.
The Tour de Sun Valley wrapped up with a skate 10 kilometer race for the women and a 15 kilometer race for the men on Sunday. Palmer-Leger avenged her second-place finishes from the previous two days by edging out McCabe by one-tenth of a second for the win. Palmer-Leger finished in 23:33.9 and McCabe clocked in at 23:34.0. Katie Feldman (SVSEF Gold) was the third finisher of the day in 24:12. Goble finished the season on a high note with a 5th place finish. Jarzin cracked the top 10 with a 9th place finish and Rudd raced to 12th place.
In the men's 15 kilometer race, O'Connell proved he was the skier of the day by topping the podium with a time of 31:59. Karl Schulz (SVSEF Gold) was second in 32:17 and Johnny Hagenbuch (SVSEF Gold) was third in 32:36. Luke Brown (Crosscut Elite) posted a strong result, placing 5th in 32:54.
Tour de Sun Valley Results:

Eastern End of Season Racing
Eastern racing remained lowkey through the end of the season, as skiers raced in three final events from February 20th to March 21st at the Craftsbury Outdoor Center. The first of these races was a 15 kilometer skate race for the women on February 20th and a 20 kilometer skate race for the men on February 21st. The courses strayed from the traditional race loops, and the women completed two 7.5 kilometer loops whereas the men completed two 10 kilometer loops.
In the women's race, Caitlin Patterson (Craftsbury Green Racing Project), just off the World Cup circuit, dominated the field by over two and half minutes in 40:44. Margie Freed (CGRP) finished strong in second with a time of 43:24. Callie Young, a skier for Dartmouth College/Craftsbury Nordic Ski Club finished third in 44:17 followed closely by Michaela Keller-Miller (CGRP) in 44:20.
The following day, the men raced a 20 kilometer skate race. The top four spots went to Green Racing Project athletes, as Adam Martin claimed the top spot in 45:27, Braden Becker finished second in 46:20, Akeo Maifeld-Carucci was third in 46:36, and Ben Lustgarten placed 4th in 47:08.
After a two-week break from racing, the Craftsbury Outdoor Center hosted a classic race, drawing juniors, collegiate racers, and elite racers from the Green Racing Project. The women raced a 5 kilometer interval start classic and the men raced a 10 kilometer classic. In the women's race, Patterson again won in a time of 13:46. Alex Lawson (CGRP) skied to second place in 14:19 and Young was third in 14:34. Freed followed closely behind in 4th with a time of 14:38. Libby Tuttle (UVM) placed 7th and Keller-Miller finished in 8th place.
In the men's 10 kilometer race, Martin collected another win, finishing in 25:07. Bill Harmeyer (SMST2) earned a spot on the podium, finishing second in 25:43. Becker once again finished on the podium with a time of 25:56. Martin alludes to the high level of competition at these end of season races, "I respect Akeo, Braden, and Bill as skiers, so I was really happy to win the Craftsbury races."
The Eastern racers finished off their season with one last race on March 21st. Billed the "Craftsbury S'Ender," both the men and women competed in a 10 kilometer skate race. Snow conditions were rapidly depleting in the week leading up to the race, and the groomers and trail crew at the Outdoor Center worked hard to ensure the course remained race-ready. In the women's race, Patterson again took the win with a time of 24:44. Lawson finished second in 25:39 and Freed rounded out the podium in 25:42. Keller-Miller placed 8th.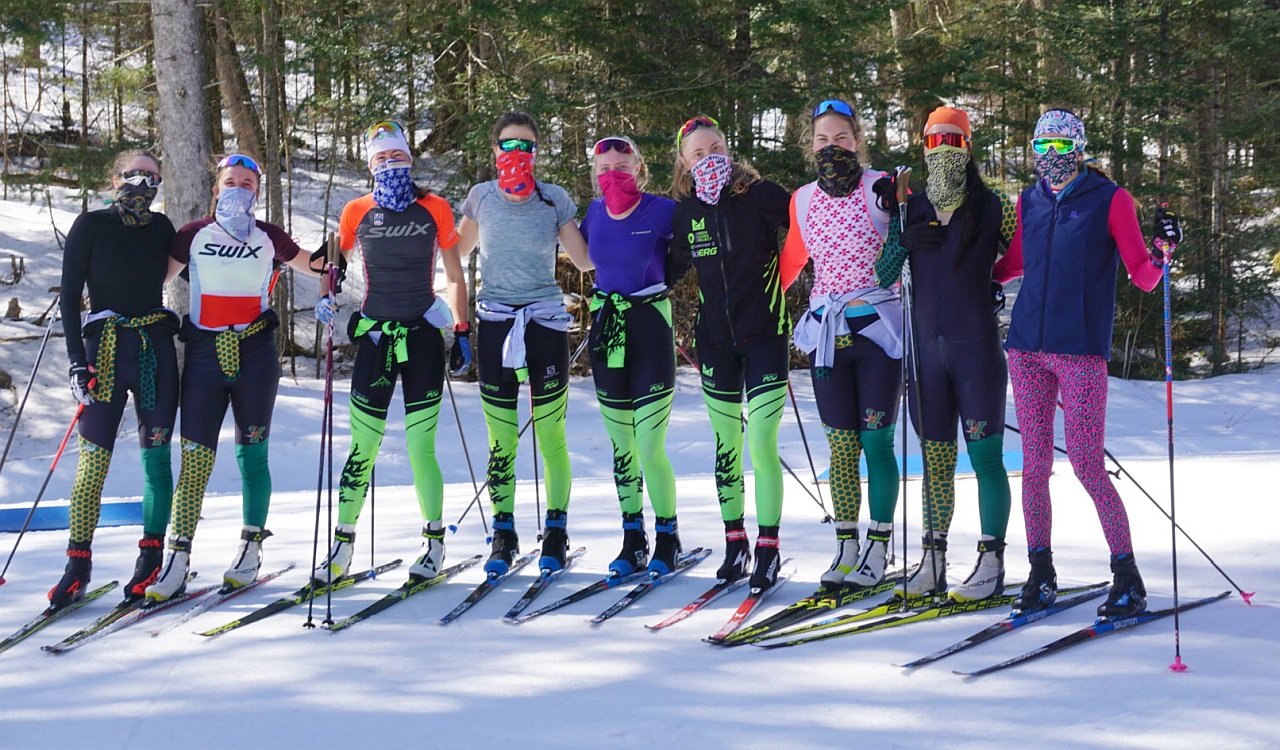 In the men's 10 kilometer race, Martin edged out Ben Ogden (UVM) for the win, clocking in at 22:56 compared to Ogden's 23:00. Maifeld-Carucci finished third in 23:31. Martin reports, "The last race especially, I had a good fight with Ben Ogden on the course. Thanks to him for coming up here the weekend after returning from the World Cup." In regard to the season as a whole, Martin adds, "The season was quite challenging for Vermont domestic skiers, but it's made me really excited for a more regular SuperTour schedule next winter."
Eastern Race Results:
Alaska Racing (Tour of Anchorage, April Races, Alyeska Hill Climb)
Although a few of Alaska's elite skiers travelled to race the Birkie, many were back competing in local races by the end of the season. Of note was the Tour of Anchorage, a point-to-point 50 kilometer race that winds from one end of town to the other. Additionally, making use of the mid-winter snow conditions in April, there was a set of weekend races on April 10th and 11th at Kincaid Park in Anchorage. The final race of the season was a grueling hill climb up the alpine ski resort in Girdwood, Alaska on April 17th.
Back on March 7th was the Tour of Anchorage. In the women's race, APU skiers dominated the day, sweeping the podium. Rosie Frankowski (APU) skied to a commanding lead, ultimately breaking her own course record by over five minutes and finishing first even after a holdup caused by a surly moose on the trail. Frankowski swiftly covered 50 kilometers in a time of 2:14:49. She was followed by her teammates Becca Rorabaugh in 2:18:57 and Anna Darnell in 2:19:44.
In the men's race, the top men utilized a pack skiing strategy. The lead pack worked together for much of the race, encountering the same moose as Frankowski, but waiting to resume racing until the entire pack had safely made it past the moose. Following the moose crossing, the pack began to string out as skiers with more energy surged in an effort to pull ahead. Tyler Kornfield (APU) ultimately crossed the finish line first in 2:04:41. Thomas O'Harra (APU) was the runner-up in 2:05:03 and JC Schoonmaker (University of Alaska Anchorage) rounded out the podium in 2:05:26.
Over a month later and weeks after most regions had wrapped up racing for the season, Alaskans put on race bibs for the Tour de SkiMeister at Kincaid Park. As these races were later than usual in the ski season, not all skiers chose to start. Frankowski says, "After three weekends of a 30k, double 45k and a 50k, I was ready to call it for a season, especially since the life stress of 2020 had been a big challenge this year."
On March 10th, there was a 5 kilometer classic race for the women and a 10 kilometer race for the men. The men's race came down to the wire, as Hunter Wonders (APU) held off Scott Patterson (APU) by less than a second for the win. Wonders clocked in at 25:02.19 and Patterson at 25:03.01. World Cup star rookie Gus Schumacher (Alaska Winter Stars) finished third in 25:16. In the women's 5 kilometer classic race, Hailey Swirbul (APU) raced to a commanding victory in a time of 14:20. Hannah Halverson (APU) finished second in 15:02 and Tuva Bygrave (UAA) was third in 15:07.
The following day, Kincaid Park hosted a 15 kilometer skate for the men and a 10 kilometer skate for the women. In the men's race, Patterson took the win with a time of 33:26, followed by Schumacher in 33:54. David Norris (APU) rounded out the podium with a time of 34:37. In the women's race, Astrid Stav, a NCAA podium finisher skiing for UAA, finished first in 26:41. Darnell followed closely in second with a time of 27:00. Bygrave again placed third in 27:42.
The final race of the season for the Alaskans took place on April 17th from the bottom of Alyeska resort to the tram at the top of the resort, a climb of over 2000 feet. Again, many Alaskans chose to skip this race while others hopped in as a fun, albeit brutal way to finish their racing season. After deciding to forgo the Tour de SkiMeister, Frankowski says she "couldn't say no to jumping into a late mid-April hill climb up our local Alaskan mountain in my favorite spot in Alaska: Girdwood." The race was interval start, as skiers ascended the mountain one at a time. In the men's race, David Norris (APU) was crowned King of the Mountain, climbing the slope in an impressive 24:23. Patterson finished runner-up in 24:43. Schumacher rounded out the podium in third with a time of 25:44.
In the women's hill climb, Frankowski put on a dominant performance, finishing the climb in 27:43, a minute and a half in front of second place finisher Darnell, who crossed the line in 29:13. Stav also posted a strong finish, placing third with a time of 30:16. As the women started behind the men, Frankowski says, "I got to chase down the boys and finished only 5 seconds out of top 5 overall." Now that the hill climb has officially marked the end of the 2020-2021 ski season, she adds, "I'm now ready to charge into next year with some mojo for getting through what I hope was the strangest and one of the most difficult ski seasons of my career."
Local Anchorage Racing:
This past ski season was anything but normal, as race organizers around the country scrambled following Covid-19 related cancellations to ensure that there were racing opportunities for local skiers. Elite skiers across the US adjusted to a season without the domestic SuperTour race series in various ways. Depending on the region, some skiers were able to maintain a full racing schedule whereas others switched the focus to a higher winter training load and looking ahead to the 2021-2022 ski season. Regardless of local racing opportunities, skiers around the US showed a high level of resilience and flexibility throughout an unconventional year.
About the author...

Michaela Keller-Miller, a graduate of Wayzata High School and the University of Alaska Anchorage, skis for the Green Racing Project based out of Craftsbury, Vermont. She's currently enjoying getting to know the East Coast and ski training full-time. Her ideal day would probably involve a long trail run followed by a stack of pancakes with maple syrup and a chai latte.