US Biathlon Summer Championships Recap
The 2021 US Biathlon Summer Championships was a hot and humid event this past weekend in Jericho, Vermont. A plethora of biathletes with Midwest roots competed in the Championships which took place at the Vermont National Guard base and were hosted by the Ethan Allen Biathlon Club. The weekend's two races also served as the first round of qualifying for international racing this winter and thus are the first step for some toward Olympic qualification.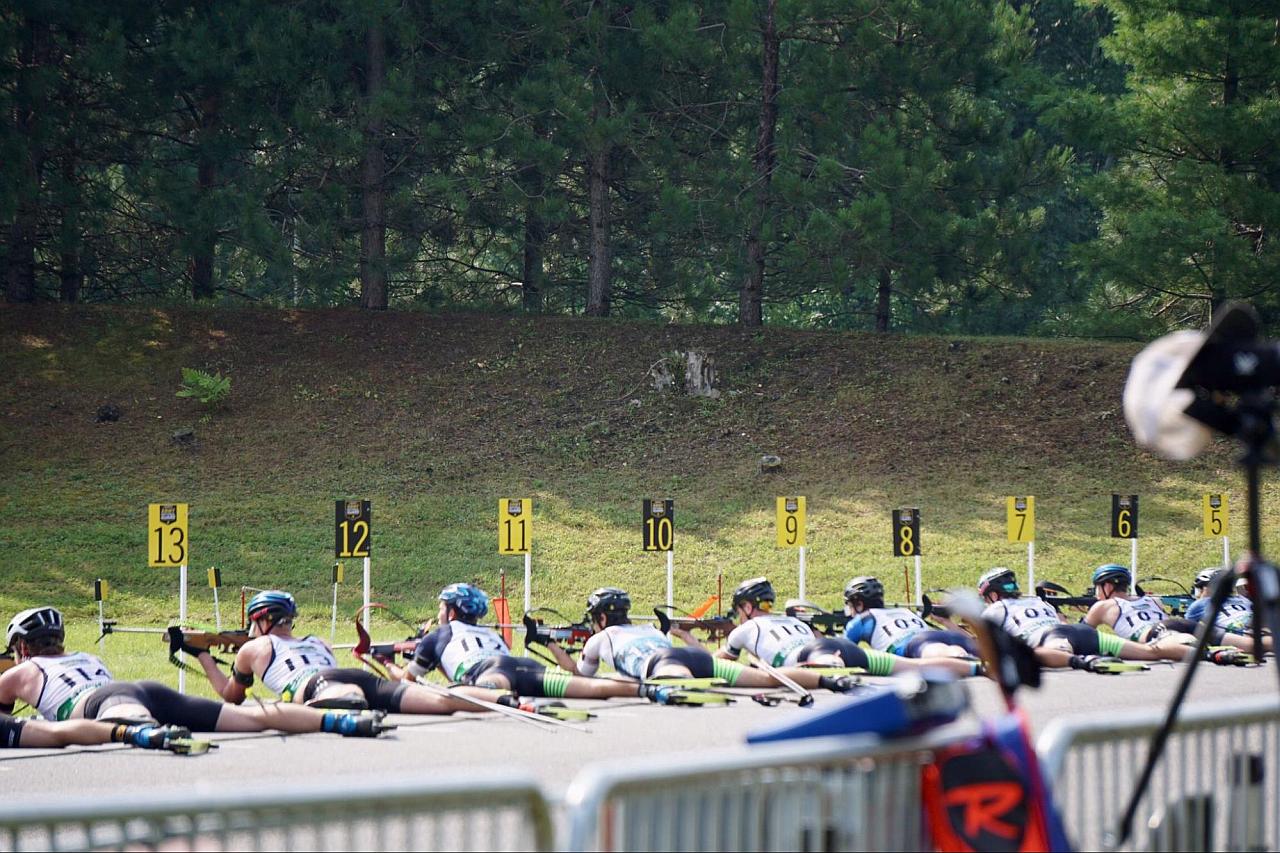 Saturday featured a sprint race - 10k for the men and 7.5k for the women. Racers shoot twice in a sprint competition - once prone and once standing. For each miss, they ski a 150 meter penalty loop. The men raced first and Sean Doherty (National Guard Biathlon - NGB) took the victory, shooting (0,0) (this means zero misses in prone and zero misses in standing). Forest Lake High School alum, Leif Nordgren (NGB), finished second, going (1,1). Wisconsinite and St. Scholastica graduate, Paul Schommer (Crosscut), rounded out the podium in third with a (1,1) performance on the range. US Biathlon X-Team member, Vaclav Cervenka, who grew up in Mt. Itasca with Minnesota Biathlon, placed fourth going (2,1). Luke Brown (Green Racing Project - GRP) was seventh going (3,1), with former Minnesota State High School Champion Raleigh Goessling (GRP) (1,4) in ninth, and Jake Brown (GRP) (3,2) tenth.
Sam Stertz (Mt. Itasca Biathlon) placed sixth in the Junior Men category, shooting (3,2). Matthew Broderson (MN Biathlon) was fourth in the Youth Men with a solid (2,0) performance on the range. In the U15 men's race, MN Duluth's Jesper Rud (0,2) placed fifth. Gregg Pattison (WI Biathlon) placed second for the Veteran Men, shooting (3,2).
In the women's sprint competition, Clare Egan (USBA) took the victory by thirty-three seconds over Wisconsin native Deedra Irwin (NGB). Egan shot (1,0) while Irwin went (0,1). Irwin attended Pulaski High School and skied for the Ashwaubenon Nordic Ski Club before competing for the Michigan Tech Huskies. World Champs medalist, Susan Dunklee (GRP) (1,2), rounded out the podium in third. Amanda Kautzer (Crosscut) was tenth with (0,4) shooting. Kautzer mentioned that she let distractions get to her in the last stage of the sprint and looked to improve her mental game come Sunday.
In the junior women's race, Cheresa Bouley (MN Biathlon) took the win, shooting (2,0). St. Scholastica's Emma Stertz placed fourth with (2,0) shooting. Kaisa Bosek (MN Biathlon Wolfpack) placed sixth, going (0,2). Alexandra Rud (MN Duluth) won the Youth Women's sprint over MN Biathlon's Saylor Landrum. Rud shot (1,2) while Landrum went (1,3).
In Sunday's mass start races, biathletes skied five loops with four shooting stages - prone, prone, stand, stand. Each miss was once again a penalty lap. The elite men skied a 15k course while the women skied 12.5k. Jericho's infamous summer weather came into play once again as the heat and humidity brought on the sweat and athletes struggled to stay hydrated and keep their core temperatures down. Some athletes even took cold showers minutes before their starts.
The women went out first and Egan (USBA) and Dunklee (GRP) were neck and neck into the last shooting bout when Egan went clean (no misses). She took the win over Dunklee who missed two in the last stage. Irwin (NGB) placed fifth, shooting a consistent (1,1,1,1). Kautzer (Crosscut) executed her game plan and earned seventh with (0,1,1,0) shooting. She said, "I kept repeating to myself 'the only thing you can control is you' to remind myself to ignore distractions in the range and not let a competitor passing me affect my race plan. The result was my best ever shooting percentage in a four stage race." Kautzer, who has been working with both Crosscut and the newly formed Team Birkie, will look to do more intensity sessions with shooting as she heads into fall training.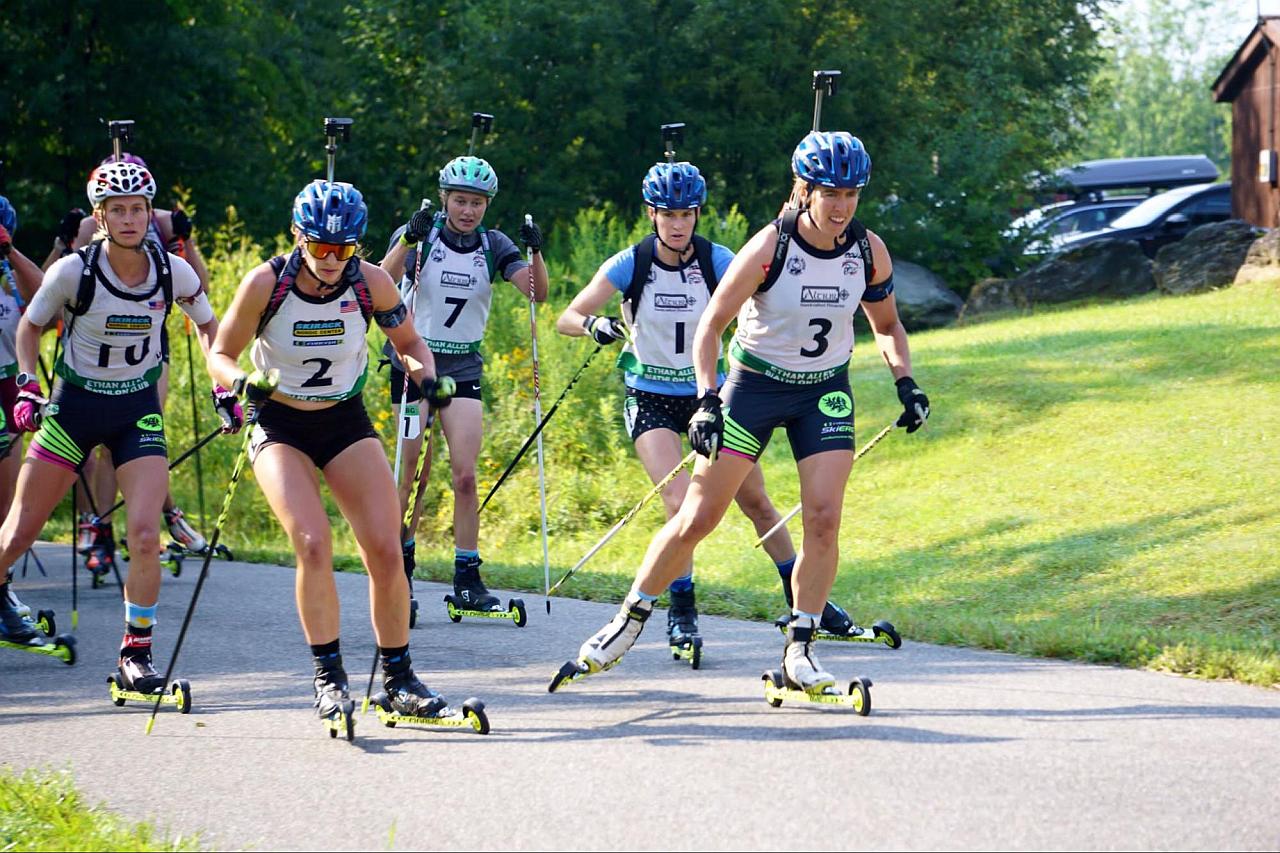 Cheresa Bouley (MN Biathlon), racing up in the Senior Women's category, finished in an impressive tenth, going (3,1,3,1) on the range.
All junior athletes competed in pursuit format races on Sunday (prone, prone, stand, stand) based on the previous day's sprint results. Emma Stertz (CSS/Crosscut) was second in the Junior Women's race with a (0,2,0,0) performance on the range. Stertz, who has been training with Crosscut in Bozeman this summer said, "It was really great to have the whole US Biathlon community back and racing together again! Trying to stay cool in the heat and humidity in Jericho definitely posed a challenge and reminded me why I'm a winter sport athlete. Sunday's pursuit had a lot of head-to-head shooting but I was able to handle the pressure and stay focused on my own targets."
Kaisa Bosek (MN Biathlon Wolfpack) placed fifth, going (0,2,1,1). Rud (MN Duluth) (0,5,1,0) and Landrum (MN Biathlon) (1,0,3,1) again went one-two in the Youth Women category.
Schommer (Crosscut) took an impressive victory in the men's mass start with (0,1,1,0) shooting to win by forty seconds over Doherty (NGB) (1,2,1,0). "I have been working on some new things this summer and having them come together in Sunday's race was a huge confidence boost," Schommer said. "I still know there is a lot to work on, but it's always great to see improvement. As I continue into the fall, I hope to keep the level of focus I have had thus far in the training year and continue to identify and address areas where I can improve. I don't want to think about the next races, I just want to focus on becoming the best biathlete I can be."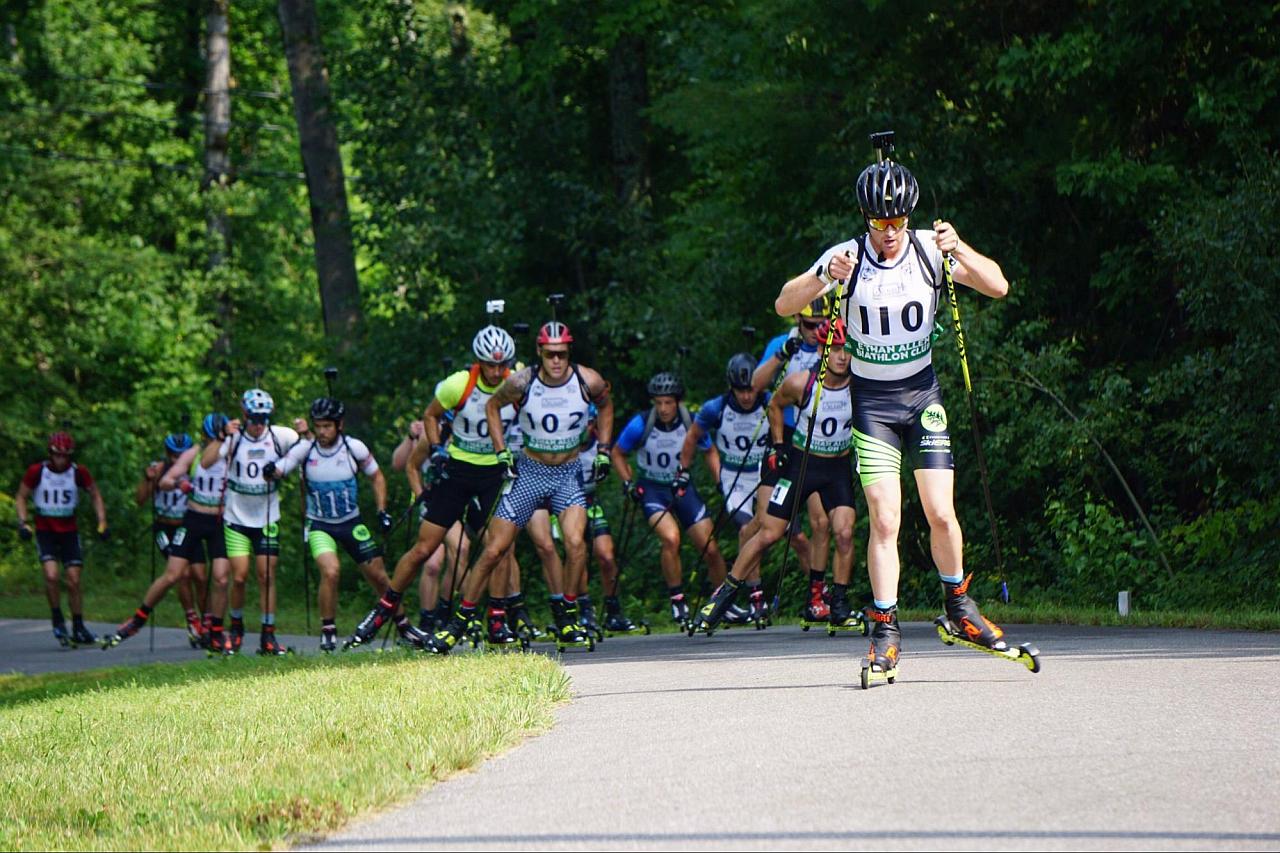 Nordgren (NGB) placed third going (2,0,1,2) on the range, in front of Cervenka (NGB) (1,2,2,3) in fourth. Cervenka is in his second year with the National Guard Biathlon program after moving to Vermont from Mt. Itasca. He said, "Somehow every year the two days of these Summer Nationals have the most unbearably hot and humid racing weather you could think of, and even when you know it's coming there really is no good way you can prepare for it and this time it really seemed to throw off my focus. Two fourth place finishes isn't necessarily the most satisfying way to leave the weekend. However, I am satisfied to see that my ski time was on par with the other best biathletes in the nation."
Jake Brown (GRP) was fifth going (2,0,1,2). Brown, a Minnehaha Academy, Loppet Nordic Racing, and St. Olaf College alum had a career best twelfth place last year at the World Championships. Goessling (GRP) (2,2,2,3) placed eleventh and Luke Brown (GRP) (3,4,0,3) was thirteenth on Sunday.
In the pursuit races, Stertz (Mt. Itasca Biathlon) (2,1,2,4) placed third for the Junior Men. Broderson (MN Biathlon) was seventh in the Youth Men going (4,1,2,1). Jesper Rud (MN Duluth) finished sixth for the U15 Boys shooting (1,1,2,1). Pattison (WI Biathlon) finished with another second place in the Veteran Men's race going (1,1,2,3).
Biathletes across the nation will work to learn from these races to inform and focus their training over the next few months. The US Biathlon community will reconvene in Utah at Soldier Hollow in October for the next round of trials.
About the author...

Luke Brown, a graduate of Minnehaha Academy and Dartmouth College, is a skier and biathlete for the Craftsbury Green Racing Project. He enjoys running in the mountains, writing, and eating cereal with whole milk. He lives in Craftsbury, VT.