Midwest MTB Report
It's been an incredible start to September with some fantastic riding conditions. With fall colors starting to appear, especially in northern locales with maple forests, some of the best riding of the year is on tap for the next four to six weeks. Riders competing in the rescheduled MNMBS race at Lester Park were treated to the beauty of September racing with fantastic weather and conditions. This week's report includes a recap from the Lester Park race, a quick preview of the mighty Chequamegon Mountain Bike Festival, and a couple cycling related items as the race season starts to wind down in the Midwest.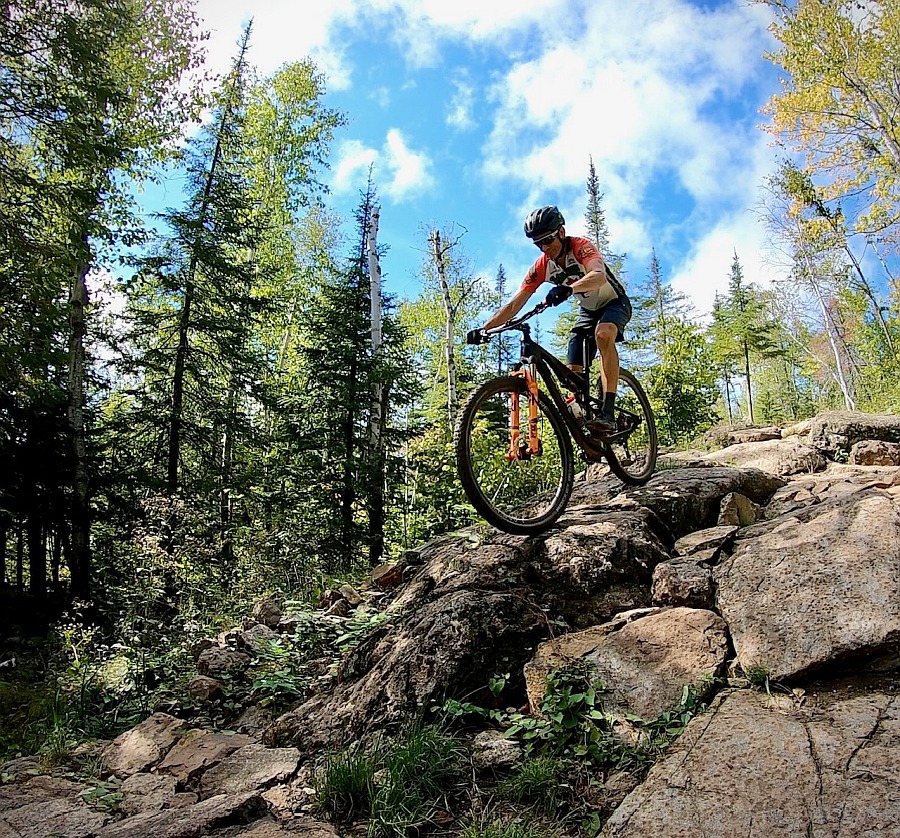 Lester MNMBS Rescheduled Race
Wet conditions forced organizers to cancel the MNMBS race at Lester Park in Duluth back in June after the Kids Comp races, per city of Duluth ordinance, due to sudden heavy rainfall. A makeup date for the remainder of the races was set for September 12th. Even with the high school mountain bike season in full swing including races at Lake Rebecca last weekend and cross season firing up, there was a good turnout for the Sunday cross country race at Lester. The rescheduling worked in my favor as I had the date open and would be able to attend.
Dry conditions leading up to race day meant a hard pack track with just a little bit of dust and the usual loose corners with the transported gravel used to build up corners and low spots. Couldn't ask for a better day with temps in the 60's and brilliant sunshine. The course featured a punchy climb at the start which led to a gradual smooth and fast rolling ascent to the high point on the course. The track weaved up and down a bit near the top before descending back down over a bit rougher terrain featuring rocks and roots but a super fast trail.
Even though I haven't raced this season, it has been a solid summer of riding with some good training. I registered for the Elite race and was ready to battle with the junior riders, including Chase Sams who had an off weekend from fall hockey, and amongst a field of seasoned vets, including Jeff Hall who is back on the race scene for the remainder of the summer. Having not raced since Chequamegon 2019, I didn't know what to expect but wanted to focus on having fun and knew it would be best to have a conservative start and try to move my way up the field during the race.
As expected, the start was blazing fast, and halfway up the climb the field started to break apart, led by a blistering pace set by Jeff Hall. Hall wouldn't look back as he cruised to a convincing win over Dominic Talerico. Emmet Donohue would settle at third, with Ken Raiche at fourth and marathon specialist Bruce Martens at fifth.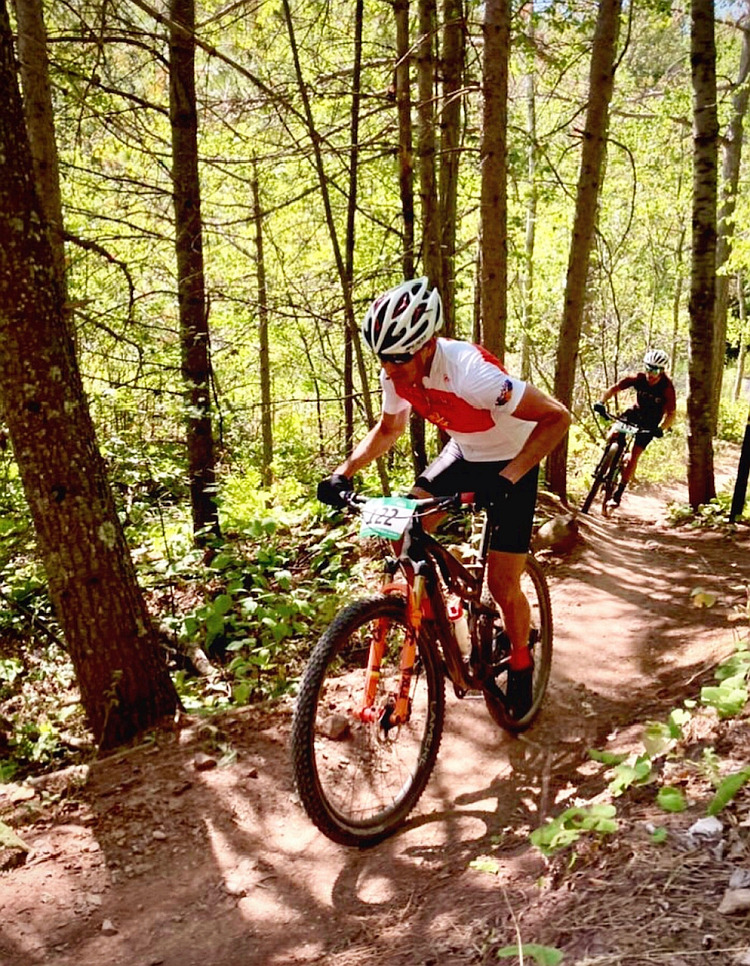 My son Jake was in front of me and I tried to stay with his group as I wanted to try and hang with him on the downhills, but I had to ride my race and settled in with fellow 50 plus rider Robert Kohl. It was great riding with Kohl as we would take turns pulling each other on the first couple laps keeping sight of junior rider Raequan Wilson. That first lap, I should mention, had a bit of chaos as I slid off of one of the bridges and Wilson smashed a boulder in a transition area that sent him flying, but everything sorted out proper—riders settled down, myself included, and the focusing on racing could ensure.
On the third lap I started to feel really good and comfortable with the pace, bridging up to Wilson and getting sight of Tom Beyer. I was able to put some time on the riders behind me and eventually caught up to Beyer. Catching another rider on the last lap, I enjoyed the last downhill to the fullest, finishing a satisfying 9th place overall, and then made a beeline to Lake Superior for a refreshing post race swim.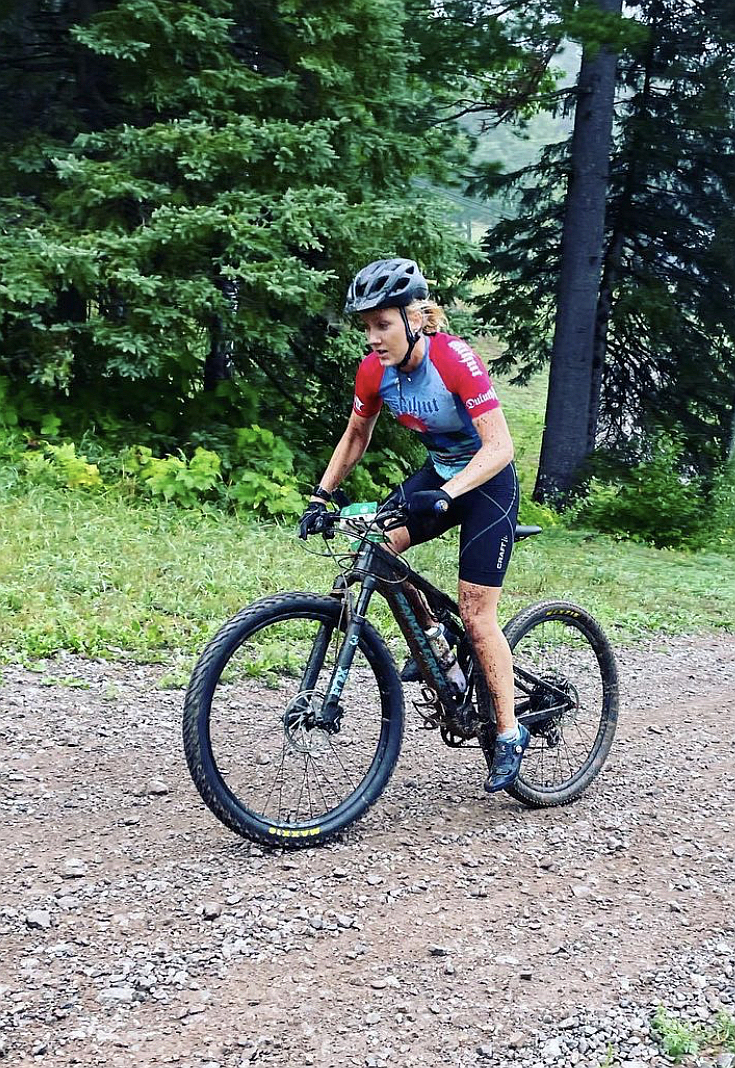 The women's elite race was dominated by junior racers once again, but in the mix was newbie to mountain biking, Chelsey Youngberg. Youngberg would find herself at the front of the race at the top of the climb, but eventually relinquished her lead to 16-year-old Chloe Leege who would go on to take the win. Youngberg would secure the second spot, as junior riders Franzika Rinkleff and Elizabeth Yray rounded out the top four.
It was great to be back in the mix, see new and familiar faces and enjoy some fun riding on a spectacular day. Shout-out to the volunteers who helped keep the race running smoothly among the other silent sport users that were there that day.
Chequamegon Mountain Bike Festival Preview
After a year off due to the pandemic, the mighty Chequamegon Mountain Bike Festival is back! It's been two years since riders have lined the streets of Cable and Hayward, making their way to the new finish line at the Birkie start area, but organizers are set and ready for a great weekend in the Wisconsin Northwoods. Registration is still open for anyone looking for one more race!
As always, rumors fly around before the race, about the course and Pro riders that might be attending, and this year is no different. Folks have been pre-riding, and word has been getting out about some changes.
Brandt Elson was riding the course last week and shared his thoughts:
"Significant ATV trails were soft sand and muddy! I ran 2.1 Thunderburts front and rear at 25/22 PSI and it left me thinking I will run normal MTB setup next Saturday (2.25 Aspens 21/19 PSI). I was working way too hard for miles at a time to get through soft dirt and the ride felt harsh on high speed descents. Haven't ridden the course since '17 and maybe my memory is foggy but I don't remember wanting to ride 2 completely different bikes on different sections of the course. And the course has changed. They did some machine work I think on Firetower climb?? Didn't seem to improve anything traction wise however line choice not as critical?"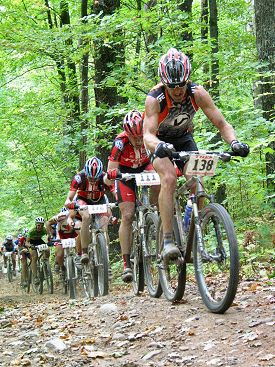 I reached out to the race director for confirmation on the changes and also to confirm the latest start list for the Pro race. Spencer provided the following information, noting that riders should check out the last couple miles of the course:
The only changes are the last few miles of the 40 and S&F.
For the 40: From Timber Trail in it's only 3 miles and it's quick. It's more direct and we are not going through Telemark. I would advise that all the riders go scout the last couple miles.
Chequamegon Men's Race Favorites
In 2019, the format changed up with a separate Pro division starting later in the day. The Pro class is back and will feature over 60 of some of the top riders in the Midwest and country. Most of the riders outside of MI, WI, MN, and IA have roots in the Midwest, including TJ Woodruff who grew up in the area and has been a consistent top 20 finisher. Woodruff is back to see if he can improve on his 13th place finish in 2019. Getting to the favorites: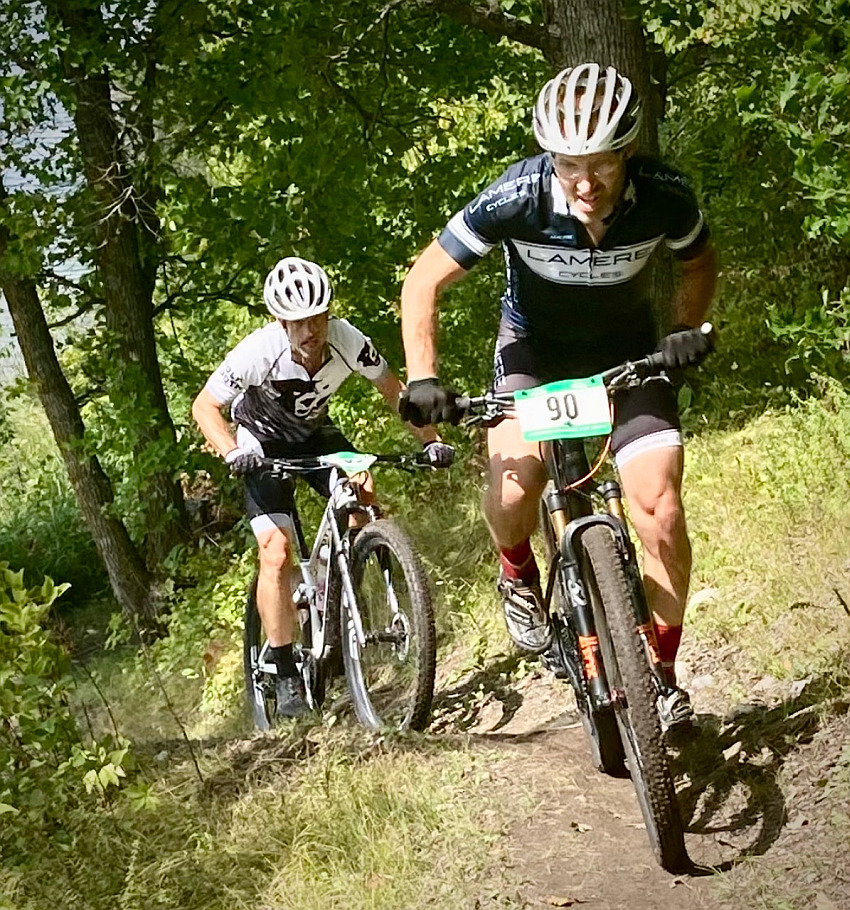 It's been an interesting couple of years as riders get back into racing. For most riders, training wasn't as much an issue as keeping race fresh. Jeff Hall, who had his appendix taken out right before Chequamegon 2019, is eager to get back. Hall has been doing his usual commute but didn't race until Labor Day weekend at the Laddies Loppet. Hall showed his fitness and skill wasn't far off the mark, placing third behind winner Brendan Moore and second place finisher Cooper Camp. Racing last weekend at Lester, he put on a dominating performance, winning by over 2 minutes to Dominic Talerico. Talerico will be on the line at Chequamegon, but I'm turning my handlebar towards Hall. When I talked to Hall at Duluth, he was leaning towards riding a LaMere hardtail as he did at Maplelag on the rooty course which was surprising to many. Hall raced on a full suspension at Duluth (Lester), but said having a lighter and stiffer bike for the final big climbs on the Birkie trail was a big advantage.
Other riders to note:
2019 Pro division winner Alex Vermeulen will be on the line and also comes in as a clear favorite.
Corey Stelljes who won on 2016 should be a contender for the podium.
Peter Olejniczak has recorded multiple top ten finishes and should be in the mix.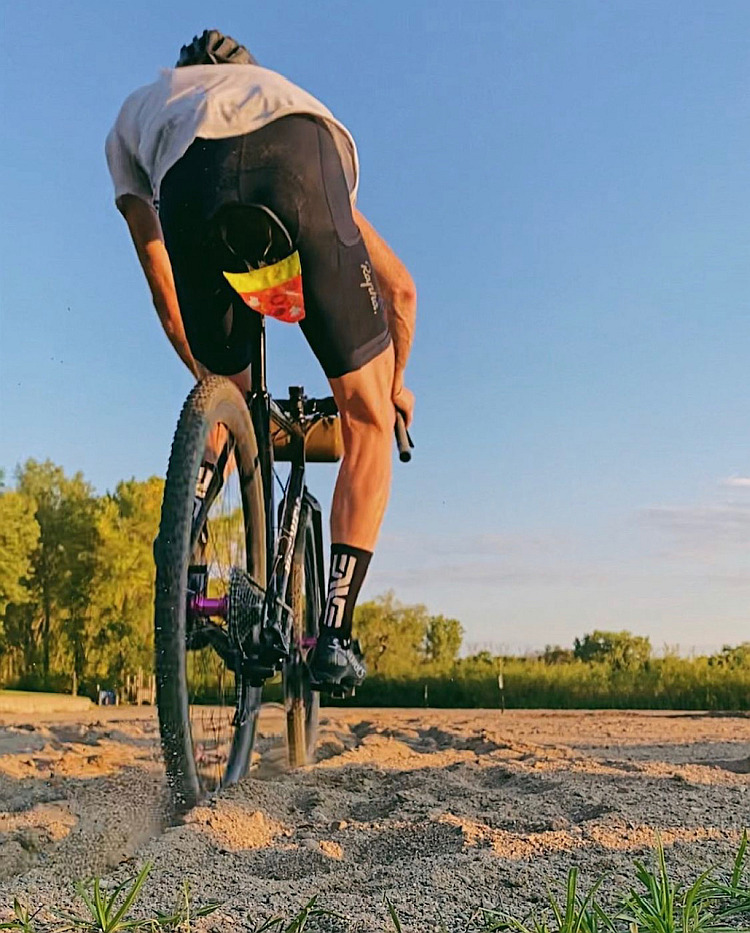 Josh Bauer who hasn't raced a mountain bike race this year comes in with some dunking fitness and hours of bicycle practice in the sand which could be a factor on the sandy portions of the course.
Six time winner Brian Matter will NOT be on the line, racing Nationals in Snowshoe, WV instead.
Bjorn Larson will be racing on a borrowed bike, the same bike Jake Richards rode at Lester. Those guys can thank Mark Sams.
Chequamegon Women's Race Favorites
Jenna Rinehart has cemented her place in Chequamegon history with seven wins, a feat which will probably never be matched. At a relatively young age of 37, it's possible that, if she continues to race, she could stack up even more wins. Rinehart has had a typical summer following the same schedule as in recent years, doing a lot of riding and having fun hitting up the fresh new trail builds in the Midwest. Taking an impressive win in the Dakota Five-O over Labor Day weekend, she made a statement on her fitness and, with the experience of the previous races, will be hard to stop and is the clear favorite.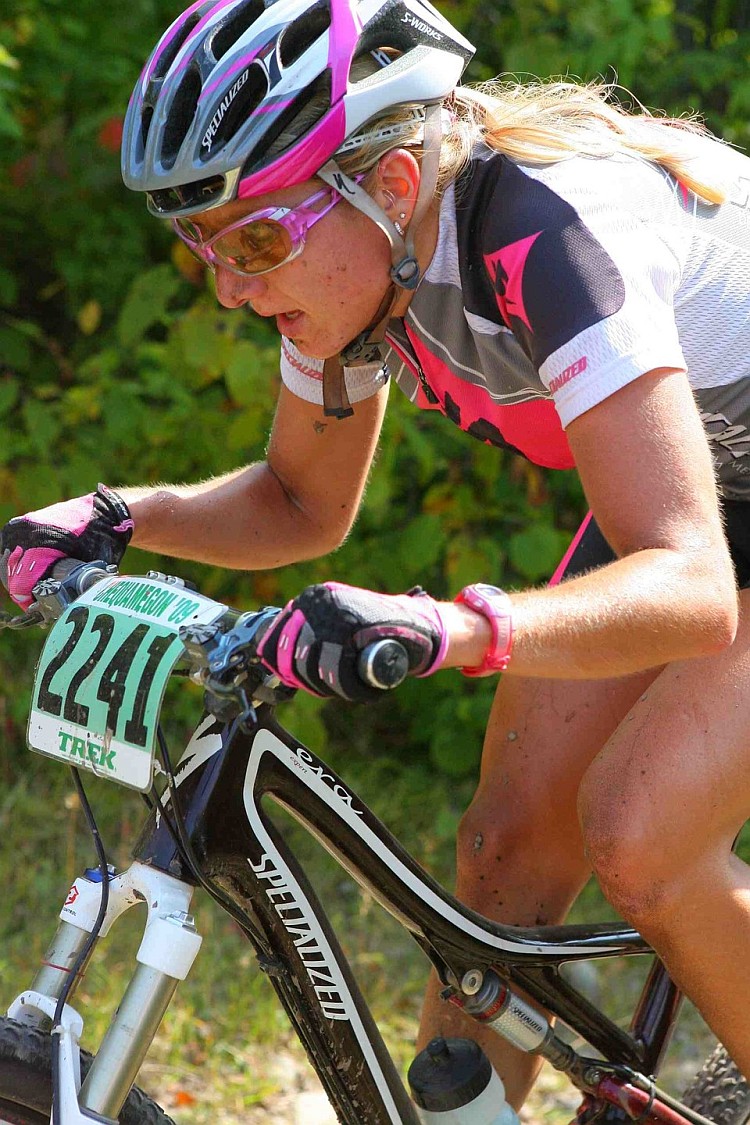 Leia Schneeberger took the win at the epic Ore to Shore in August, has had a solid summer of training, and will be making it a race with Rinehart. Even though she has only been racing mountain bikes recently, she is 5 years older than Rinehart and will be keen to take advantage of the opportunity now.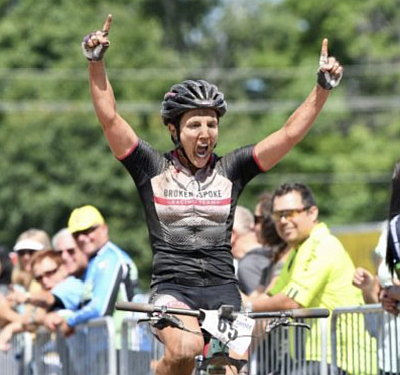 The rest of the women's Pro field is a bit lighter this year. Also on the list is Sherry Mix, Emily Flynn, and Kenzie Statz, according to the sheet provided to me.
Northwood Route
Looking for some off-season training on a truly epic adventure, check out the Northwoods Route: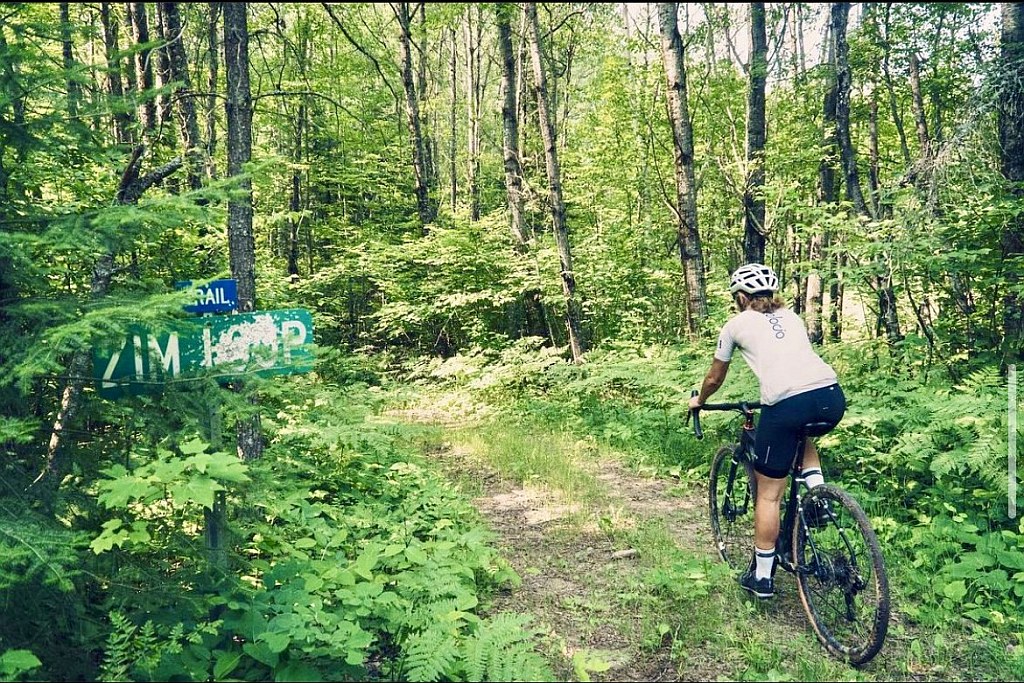 With support from Otso Cycles, the Northwoods Route from Bikepacking Roots is complete and ready for exploration. This is a 600-mile loop that begins and ends in Duluth, Minnesota, with a trip up the North Shore to Grand Portage, a ferry to Isle Royale, a ferry to the Upper Penninsula, then a ride back to Duluth via northern Wisconsin. Otso is a presenting sponsor of this route alongside Shimano because "this part of the world is literally in our backyard and it is quite special to us. Let the trip planning begin!"
Looking Ahead
Borah EPIC Festival
The American Birkebeiner Ski Foundation will continue the legacy that Borah created to offer a Tribute to the Trails and celebrate the ski trails, singletrack trails, and gravel rides that the Cable/Hayward area offers. Capitalizing on the energy of the Chequamegon this week, Borah announced registration is now open!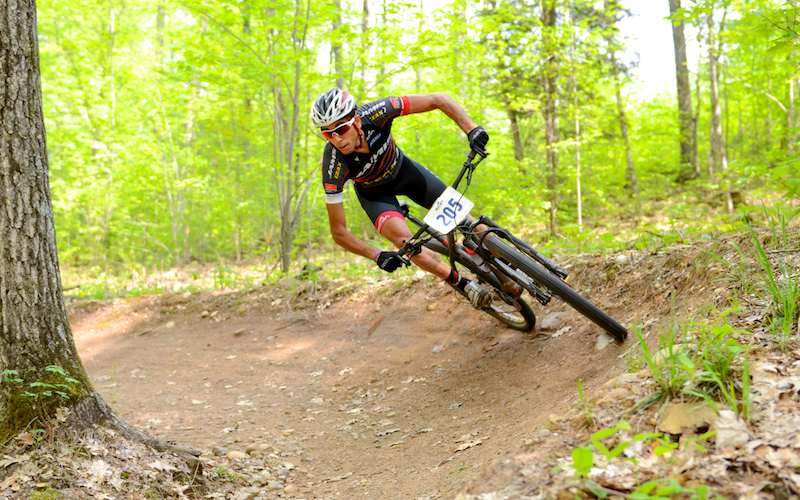 "Registration is OPEN! We are introducing an additional day of racing on Sunday. The fun will not stop with the traditional Epic Singletrack event. Get ready for a cycling festival weekend that will challenge you in additional ways while being fun for your entire family and friends."
Keep the wheels moving!
About the author...

Jay Richards maintains a very active lifestyle. He somehow finds time between managing a full-time resort (Maplelag) and bringing up a family of four boys with his wife Jonell, to compete in both mountain bike and a few cross-country ski races. Jay rides for Maplelag Resort, manages the Maplelag mountain bike team and enters his 31st year of racing and promoting mountain bike races.

Have an event or mountain bike related information to share from the Midwest? Feel free to contact Jay at