World Cup Report: Ruka Recap, Lillehammer Preview
Rocked by subzero temperatures and close finishes, the World Cup opener has concluded with a bang in Ruka, Finland. Unlike the Midwest, Ruka had no problem with snow coverage this early in the season, but the near-arctic conditions and difficult climbs certainly made for challenging racing.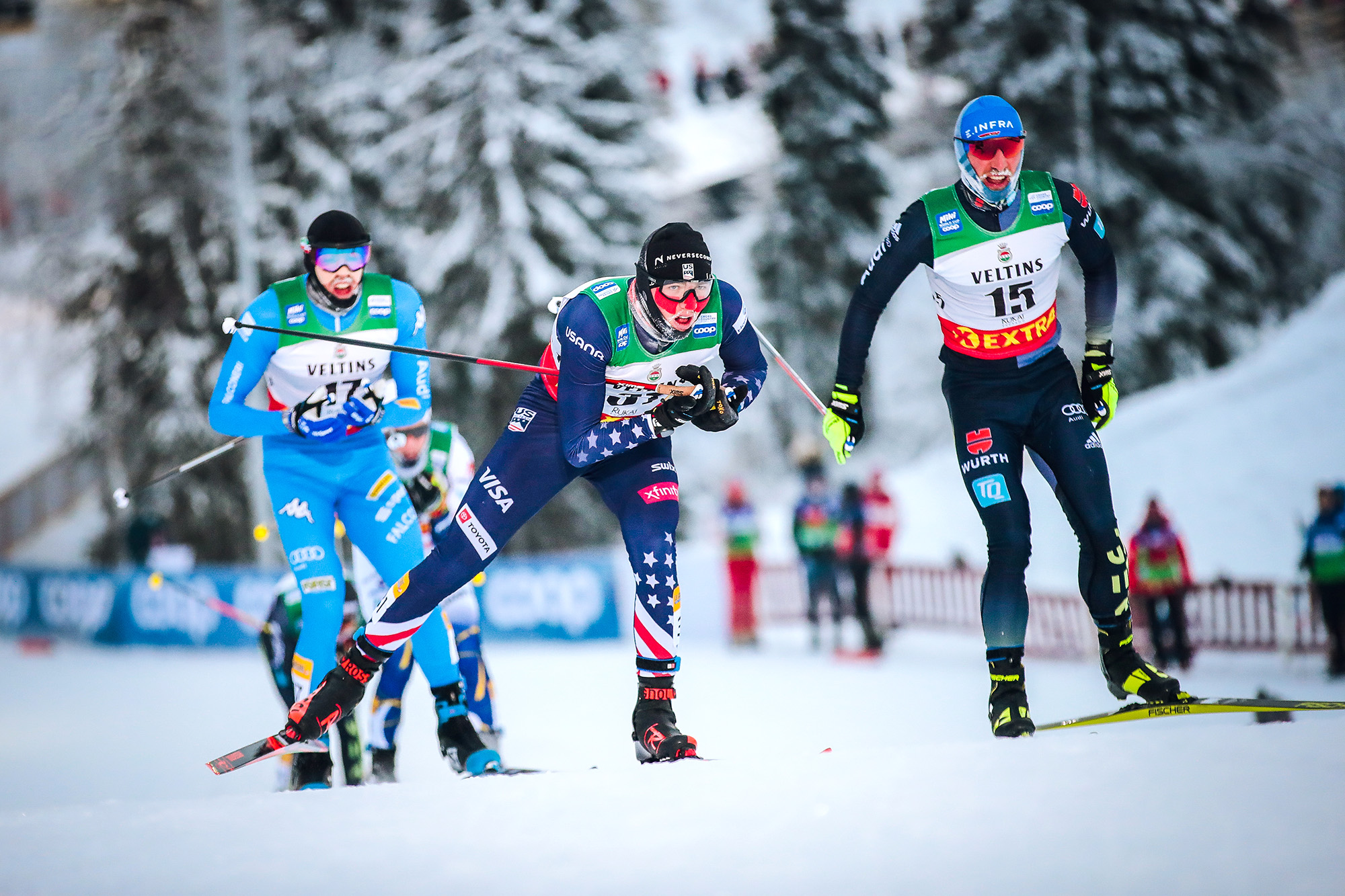 Ruka
November 26 Classic Sprints
November 27 Classic 10/15km Individual Start
November 28 Freestyle 10/15km Pursuit
Classic Sprints
The US team posted a strong start to the season in the classic sprints with Jessie Diggins taking the top spot in the qualifiers and Rosie Brennan close behind in eighth. J.C. Schoonmaker demonstrated his sprinting prowess once again, placing fifth in the qualifier with teammate Ben Odgen close behind in eighth. Usual favorites Johannes Høsflot Klæbo of Norway and Maja Dahlqvist of Sweden were predictably fast as well; Klaebo posted the third fastest men's time while Dahlqvist was second for women. It was the young Russian Alexander Terentev, however, who took the top spot in the men's field.
Friday's sprint races took place in the mildest climate of the weekend with temperatures around 16ºF. The notoriously difficult 1.4km sprint course started with an initial hill midway through the course, with tactics on the final climb leading into a flat finishing stretch proving to be especially important. The American men showed off their continual yearly improvement in sprinting as Schoonmaker advanced to the semifinals thanks to an impressive finish in his heat. Ogden and teammate Luke Jager were knocked out taking third and fourth respectively in heat five, but their times were fast enough to land them both top 20 finishes overall. The Norwegians displayed a characteristic strong performance, qualifying three to the final including Klæbo and Erik Valnes. Terentev continued to ski fast as well, sitting in the pack and attacking on the final climb to advance to the final round. Teammate Bolshunov, however, was unable to move on from the quarterfinals, a surprising turn of events after finishing third in the sprint cup last season. The final was an exciting tactical race; after the pack slowed up when no one took the lead on the first major descent, Klæbo used his signature running technique to surprise everyone from the back and gap the field. His form wasn't quite strong enough to hold off Terentev's victory-clinching performance on the last climb, but Klæbo held on to second place with Valnes in third.
Between the three American women in the heats, none were able to advance to the semis, with Diggins and Julia Kern taking early leads in their rounds but struggling to kick on the final climb. Brennan came close with a third place finish in the quarterfinals, but her time was too slow to clinch a lucky loser spot. She was the highest finishing American woman in 15th place overall. The women's quarterfinals were a bit chaotic for everyone with a false start, a few issues following the course, and several obstructions, but none resulted in relegation or disqualification. From the beginning, Dahlqvist dominated the race, winning her heat and semifinal rounds decisively with a strong punch on the final climb. Despite Linn Svahn's absence, the Swedish team performed well with Johanna Haegstrom and Frida Karlsson accompanying Dahlqqvist to the final. The Finnish team also posted great results on their home course, qualifying Johanna Matintalo and Katri Lylynpera to the final, but they just missed out on a spot on the podium, taking fourth and fifth respectively. Dahlqvist took the lead early on in the race, maintaining her position and opening a gap to take a decisive 1.77 second victory with her teammate Haegstrom taking second. Renowned sprinter Maiken Casperson Falla of Norway rounded out the podium in third.
"I'm super happy, I had a really good shape," said Dahlqvist in an interview with FIS. "It was like, I couldn't wait for an uphill, and that's never happened to me before."
Classic distance
The weather for Saturday's race proved to be a significant challenge for many with temperatures at -1.3ºF for the women's race. Many athletes could be seen sporting beards of frost and colorful face tape, including the Finnish team's cow print pattern. Frida Karlsson was undeterred by the frigid climate, building on her strong sprint performance on Friday with an outstanding 13.7 second win over the previously unstoppable distance queen Therese Johaug of Norway. German Katharina Hennig was close behind in third with a 1.5 second gap to Johaug, earning her third ever World Cup podium. Brennan was the highest-placed American in sixth, proving her ability to perform well early in the season once again, with Diggins next in 18th place.
The men's race was barely warmer at 1.4 degrees, and coupled with the hilly course it certainly didn't make for an easy opening distance race. The top skiers maintained close times throughout the 15km with places switching around, but it was home favorite Iivo Niskanen who won in the end. Russian skier Alexey Chervotkin took second 8.3 seconds behind, and Bolshunov improved upon his sprint performance to pull off a strong third place. Klaebo was unable to defend his 2020 title, placing ninth 42 seconds off the leader. Normally a classic 10km specialist, Schumacher placed a bit lower than expectations as the first American in 32nd, with teammate David Norrus next for the US in 51st.
Freestyle pursuit
Temperatures continued to affect racing on Sunday with air so cold that the women's race was postponed multiple times until it finally reached -1.3ºF, above the FIS cutoff of -4ºF. This resulted in the absence of a substantial number of competitors, with 13 women opting out of the race and three who didn't finish. Nevertheless, the front of the race was as competitive as ever with Karlsson and Johaug battling it out for the win. Despite starting within 15 seconds of her, it took Johaug half the race to catch Karlsson, and even then Johaug was unable to drop her like we've seen so many times before. Just after the 6.1km mark, Johaug began to pull ahead on the climb, but Karlsson didn't let her get away easily. Johaug stayed within sight at about an 8 second gap, but was able to hold it to the line and take the pursuit win. The second group was well behind with about a 40 second gap to the lead, but the group of five was not without excitement. Norwegian Heidi Veng delivered a phenomenal performance with the top skate time of the day, catching the second group after starting a minute off the leader and sprinting to finish third. Americans Brennan and Diggins also had a strong showing, placing fifth and eleventh respectively.
Although the men's race started on time with temperatures at -1.3ºF, 17 athletes chose not to start, including classic 15km winner Iivo Niskanen and the entire Norwegian team. With so many top racers absent, the Russians dominated the race; a group of five Russians started the race with a 40 second gap to the next competitor. The group chose not to push the pace, however, and was caught by a group of three just before the halfway point. The eight stayed together until the final few kilometers when growing tensions resulted in attacks that popped the weakest athletes. Bolshunov's decisive push on the final climb gave him and teammates Sergey Ustiogov and Artem Maltsev a gap that led to a Russian sweep of the podium in that order. Schumacher was the top placing American, moving up to 11th after a strong race, followed by Norris in 37th and Zander McMullen in 40th.
"It was complicated since it was not known if the race would happen or not, but I still made it a task to do the best I could... Really happy for the victory," said Bolshunov in an interview with FIS.
Lillehammer Preview
December 3 Freestyle Sprints - heats 5:30 am CST
December 4 10/15km Freestyle - men's 3:00 am CST, women's 5:00 am CST
December 5 4 x 5/7.5km Relay, Mixed Technique - men's 2:20 am CST, women's 4:45 am CST
Racing continues next weekend in Lillehammer, Norway on yet another difficult course. With no classic individual races, kick wax will be less of a factor on the hilly sections, but strong climbing abilities will certainly continue to be important. Sunday's relay offers the first real sense of every team's depth this season, and with the Olympic relay medal up for grabs in just a few months the pressure is on. Norway and Russia will likely be each other's main competitor on the men's side, but things are a bit more up in the air for the women. Sweden and Norway should never be counted out, but after Finland's strong performance in Ruka they will undoubtedly be vying for a medal as well. The US women will be testing some new relay dynamics after last year's retirement of Sadie Bjornsen and Sophie Caldwell, but with so many fresh young athletes, no place is out of reach for them.
About the author...

Erika Peterson is a senior at South High School in Minneapolis. She skis for Loppet Nordic Racing as well as her high school team. When she's not out on the trails, you can find her listening to Lorde and creating oatmeal recipes.