US Elite Racing: Duluth SuperTour Recap
American domestic racing kicked off this past weekend with a pair of skate races in Duluth, Minnesota. These races drew elite skiers from around the US, each with hopes of earning an international starting berth. The culmination of results from the Duluth races and the SuperTour races in Cable this upcoming weekend will determine who is moving up to Period II of the World Cup. Additionally, strong performance on the SuperTour opens the possibility of qualifying for the US Olympic Team.
The Duluth SuperTour consisted of a skate sprint race on Saturday, December 5th and a skate distance race on Sunday, December 6th. As per usual, following a sprint qualifier on Saturday morning, the top 30 men and women competed in heats following a brief break. The course was two laps with one gradual uphill, followed by a winding downhill and a high-speed hairpin turn into the finish. In the women's race, Alayna Sonnesyn of SMST2 blazed the qualifier, finishing first with a massive 10 second lead over Becca Rorabaugh of APU. Rosie Frankowski, also from APU, qualified in the third position.
Following the qualifier, the women competed in six-person quarterfinals in which the top two positions from each heat advanced automatically. Two lucky losers, or the two skiers with the next fastest times from all quarterfinal heats, also advanced to one of two semifinals. The top two finishers in each semifinal, as well as two lucky losers, moved on to the final. As expected based on the qualifier, Sonnesyn, Rorabaugh, and Frankowski all advanced to the final. Joining them were Julia Richter of the University of Utah (UU), Sarah Goble of the Sun Valley Gold Team (SVSEF), and Katerina Hyncicova of Northern Michigan University (NMU). The final came down to the wire, as Rorabaugh came from behind to edge out Sonnesyn for the win in 3:11.49. Sonnesyn skied the final in a time of 3:11.96. Frankowski was third in 3:16.29. Goble finished fifth in 3:20.57.
Sonnesyn checks in after her strong weekend performance, "The Duluth races were super fun, great to be back at a 'normal race' after such a long time and to be in front of a home crowd made it feel extra special! Really excited about my sprint qualifier but wish I could have executed the rest of the weekend just a little bit better. I feel like I'm in a good place opening the season and am excited to build on it!"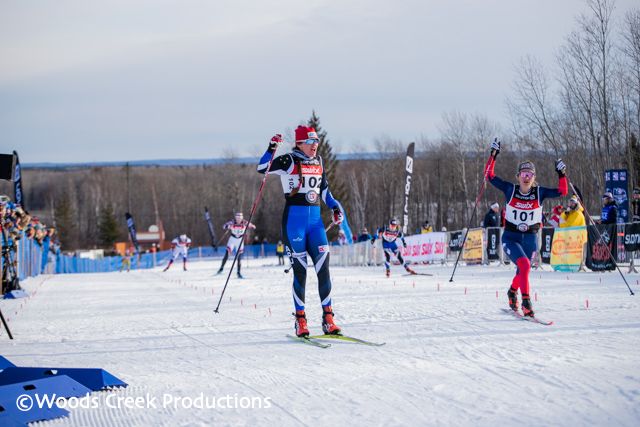 Former and current Midwest athletes that advanced to the semifinals were Amanda Kautzer (Crosscut Biathlon Team), who finished in 9th place, Anabel Needham (Michigan Tech University- MTU) in 11th place, and Ingrid Thyr (Team Birkie) in 12th place.
In the men's sprint race, Tyler Kornfield of APU, Logan Diekmann of BSF Pro, and Bill Harmeyer of SMST2 all qualified strong in the first through third positions, respectively. Again, all the top three qualifiers moved through to the final heat. The men stayed together through much of the first lap before Kornfield and Noel Keefe (UU) began to form a small gap as the second lap progressed. Coming into the homestretch, Kornfield had a slight lead over Keefe and was able to maintain his advantage to win in 2:47.44, followed closely by Keefe in 2:47.67. Adam Witkowski (MTU) rounded out the podium with a time of 2:50.34. Harmeyer finished fourth, Diekmann was fifth, and Kjetil Banerud (NMU) placed sixth. Ian Torchia (SMST2) qualified for the semifinals, ending the day in 11th place.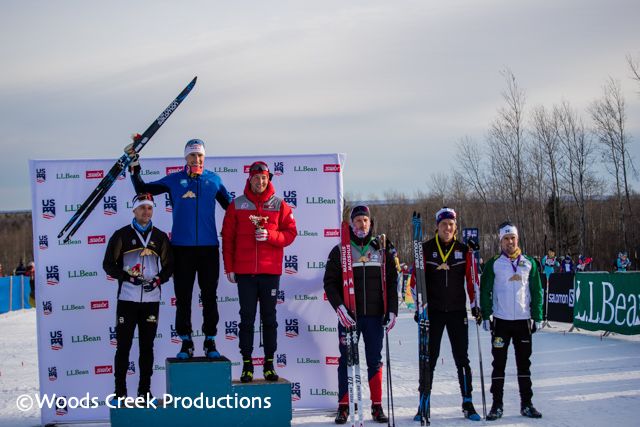 Final Men and Women's Sprint Results
Men's and Women's Sprint Video Recap
Saturday night and Sunday morning brought long-anticipated snow to Duluth, setting the skate distance course up for soft and slow conditions. The women skied three laps of the approximately 2.2 kilometer distance course for a total of around 6.6 kilometers and the men skied five laps for around 11 kilometers.
Snow continued to fall throughout the day's races, turning into soft pellets during the women's race and flirting with sleet during the men's race. The distance course boasted far more elevation than the previous day's sprint course, with two climbs early on in each lap, a rolling section at the top and a downhill back into the stadium.
In the women's interval start race, Frankowski posted the top time of the day in 18:59.1. Less than one second behind was Alex Lawson of the Craftsbury Green Racing Project (CGRP) in 19:00.8. Finishing on the podium for the second time last weekend was Sonnesyn in third at 19:05.2. Abby Jarzin (UU) skied to fifth place in 19:26.3, followed closely by Margie Freed (CGRP) in sixth with a time of 19:31.8. Michaela Keller-Miller (CGRP) finished in 11th place in 19:46.8, Hannah Rudd (BSF Pro) was 13th in 19:57.3, and Sarah Goble (SVSEF) placed 14th in 20:11.5.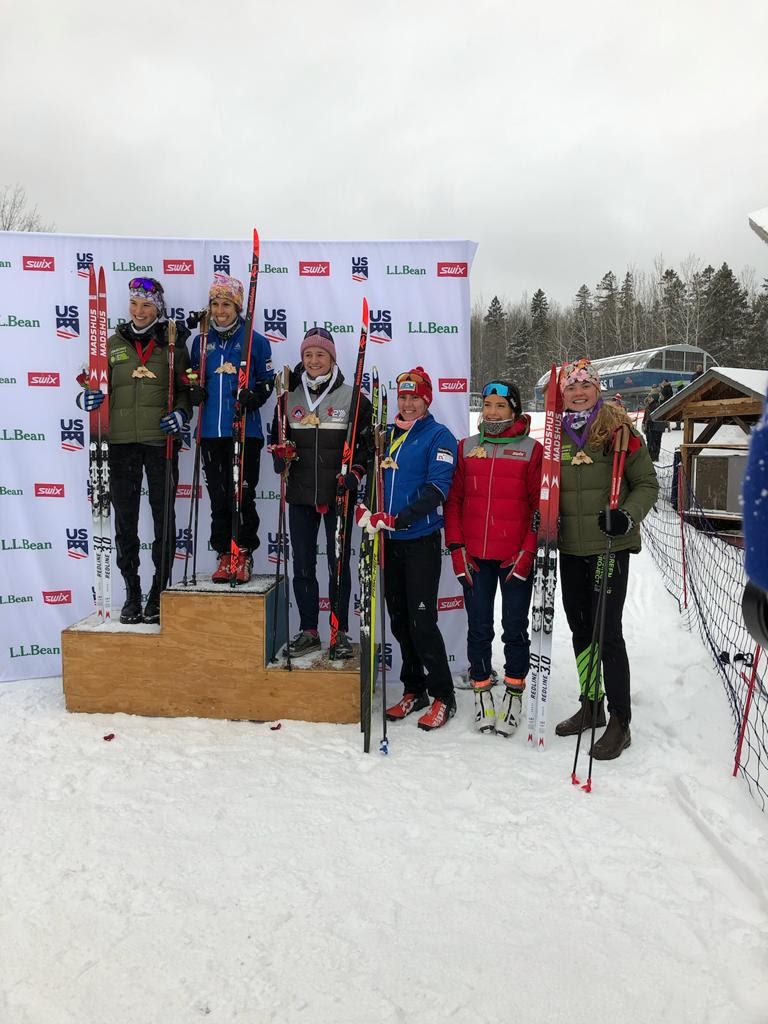 Women's and Men's Distance Video Recap
The men raced next, with Zak Ketterson of Team Birkie skiing to the win in 26:33.4. Following just three seconds behind was Banerud of NMU in 26:36.8. Adam Martin (CGRP) started the distance season off with a third-place finish in 26:42.0. Reid Goble (BSF Pro) finished in the top 10, placing 7th in 27:11.6. Torchia was 16th in 27:40.4.
Ketterson reports on the weekend, echoing that "the conditions were very tricky with a good amount of fresh snow from the morning in addition to the fact that it was actively pouring down freezing rain." Regarding the distance skate race, Ketterson says, "I ended up feeling really solid during the race — I took it out very hard and ended up holding on just enough to win. Distance races, especially 10Ks, are always a balance between going too fast and not going fast enough. I was really happy to see my former teammates Kjetil and Adam in 2nd and 3rd."
Looking forward to this upcoming weekend, expect to see the same athletes face off again in a three-day string of races from Friday through Sunday in Cable, Wisconsin. Racing begins Friday with a skate distance race, followed by a classic sprint on Saturday, and a classic distance race on Sunday.
About the author...

Michaela Keller-Miller, a graduate of Wayzata High School and the University of Alaska Anchorage, skis for the Green Racing Project based out of Craftsbury, Vermont. Her ideal day would probably involve a long trail run followed by a stack of pancakes with maple syrup and a chai latte.