US Elite Racing: Cable SuperTour Recap
The SuperTour continued its stay in the Midwest this past weekend, moving from Duluth, Minnesota, to Cable, Wisconsin. The weekend's races were coined the Gitchi Gami Games SuperTour and started Friday with a 15 kilometer skate mass start for both the men and the women. Racers toed the line for a classic sprint on Saturday and finished the weekend on Sunday with a 10 kilometer classic race for the women and a 15 kilometer classic race for the men.
The combination of recent snowfall in Cable and the hard work of the groomers, trail crew, and race organizers made for great conditions on exciting new courses. The distance course was full of climbing, alternating between steady uphills and oftentimes technical downhills. The sprint course overlapped with much of the distance course, providing for a challenging 1.3 kilometer loop.
Friday's skate 15 kilometer race marked the return of mass start racing for most skiers after a pandemic-related hiatus the previous season. The men started the day, skiing six laps of the 2.5 kilometer course. The top skiers formed a large lead pack early on, letting the race play out on the final lap. After a strong push going into the last lap, Braden Becker (CGRP) created a several meter gap on the rest of the field. Ultimately, the trailing pack worked together to close this advantage, and Canadian skier Philippe Boucher had the strongest finishing kick, taking the win in 35:00.6 by less than three seconds over Adam Martin (CGRP) in 35:03.08. Zak Ketterson of Team Birkie rounded out the podium a boot-throw behind Martin in 35:03.75. Becker held onto the fourth position in 35:04.58. Reid Goble of BSF Pro finished in 17th place in 35:52.90. Of note, the top 13 finishers crossed the line in the span of 30 seconds.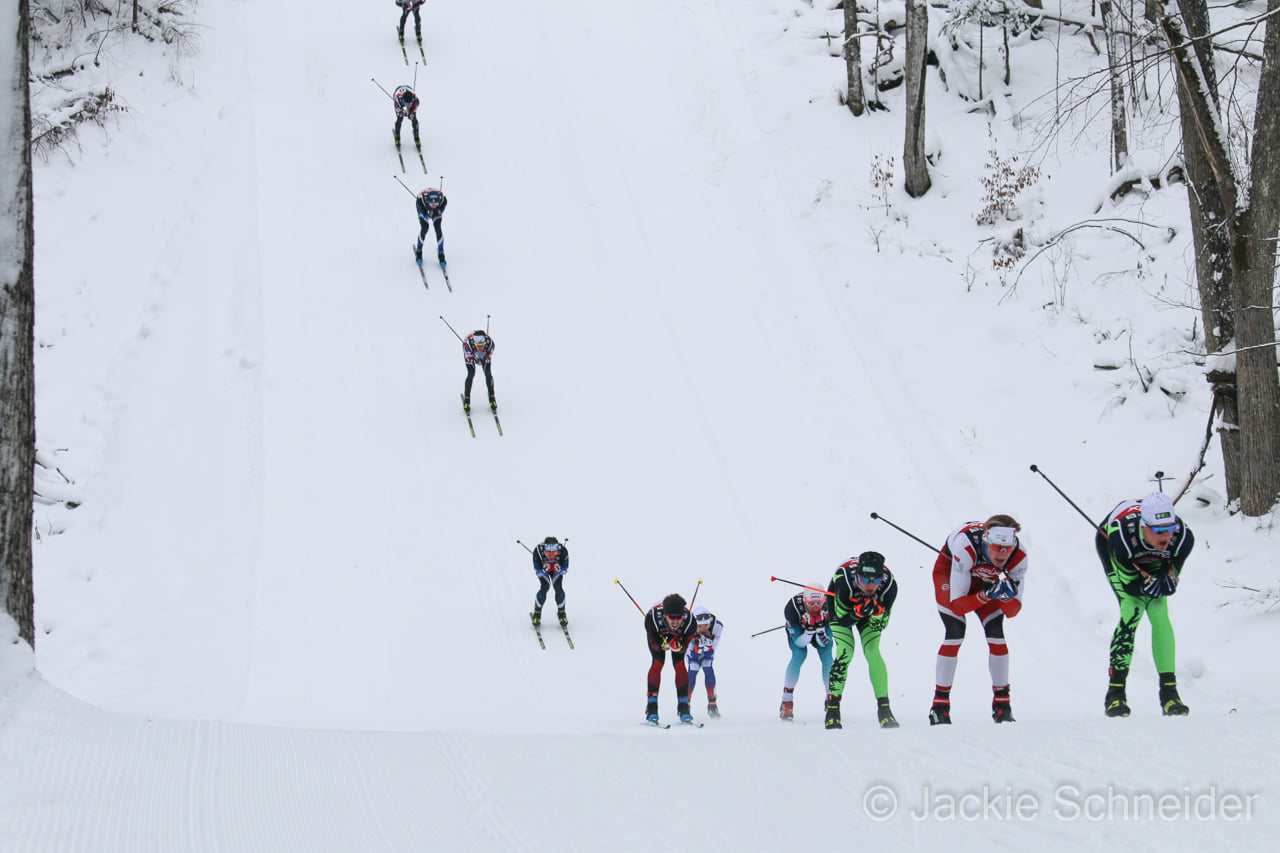 Following the men's turn on course, the women also skied six laps for a 15 kilometer race. Rosie Frankowski (APU) took the race out hot, with a pace only matched by a few athletes. A strung-out chase pack formed, with skiers off both the front and back. Frankowski created a gap on her chasers during lap two, followed closely by Alayna Sonnesyn (SMST2) and Abby Jarzin (University of Utah). Sonnesyn powered throughout the race, attempting to chip away at the early lead by Frankowski and sitting comfortably in second position. Frankowski held her lead to the finish line, racing to a time of 40:19.99. Sonnesyn ended second in 40:44.29. Mariah Bredal (BSF Pro) cracked the podium in third with a time of 41:16.05. Jarzin finished just five seconds behind in fourth in 41:21.96. Margie Freed (CGRP) finished a strong 8th place in 41:41.56. Hannah Rudd (BSF Pro) was 12th in 42:54.30, Sarah Goble (SVSEF Gold) placed 13th in 43:01.09, Anabel Needham (Michigan Tech) finished 14th in 43:03.41, and Michaela Keller-Miller (CGRP) was 15th in 43:05.83.
Jarzin checks in after a strong showing in Period I, "I thought that the first races went very well. It was fun to get on snow since we didn't have any in Utah before we left. It's been fun traveling with the team as well even though we are missing some athletes who are in Europe racing right now. I thought that the skate distance race went really well. It was fun to race fast and hard with lots of other women. My main focus has been on enjoying training and not stressing about it! I think finding that balance is important. I'm looking forward to more races soon and especially for more sprinting since I feel that it's something I could use some work in."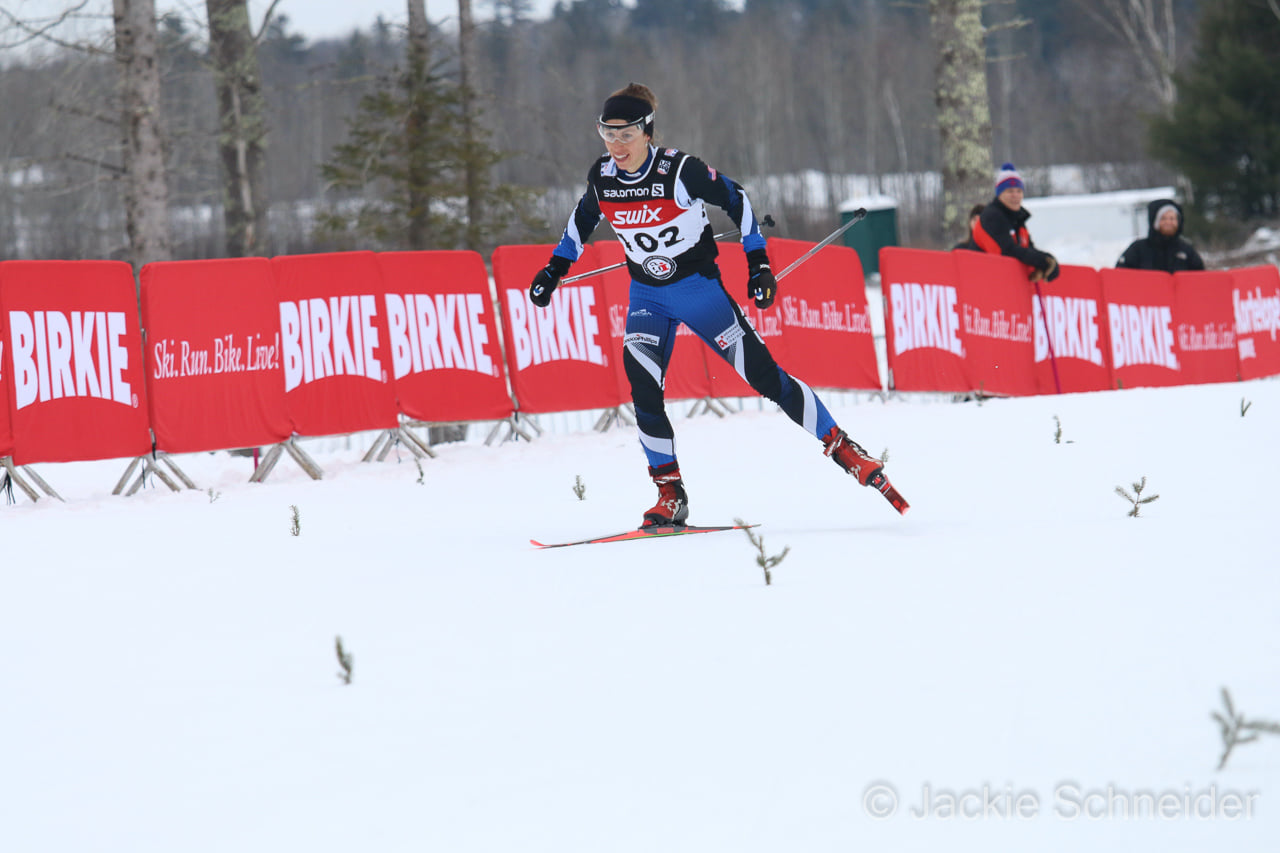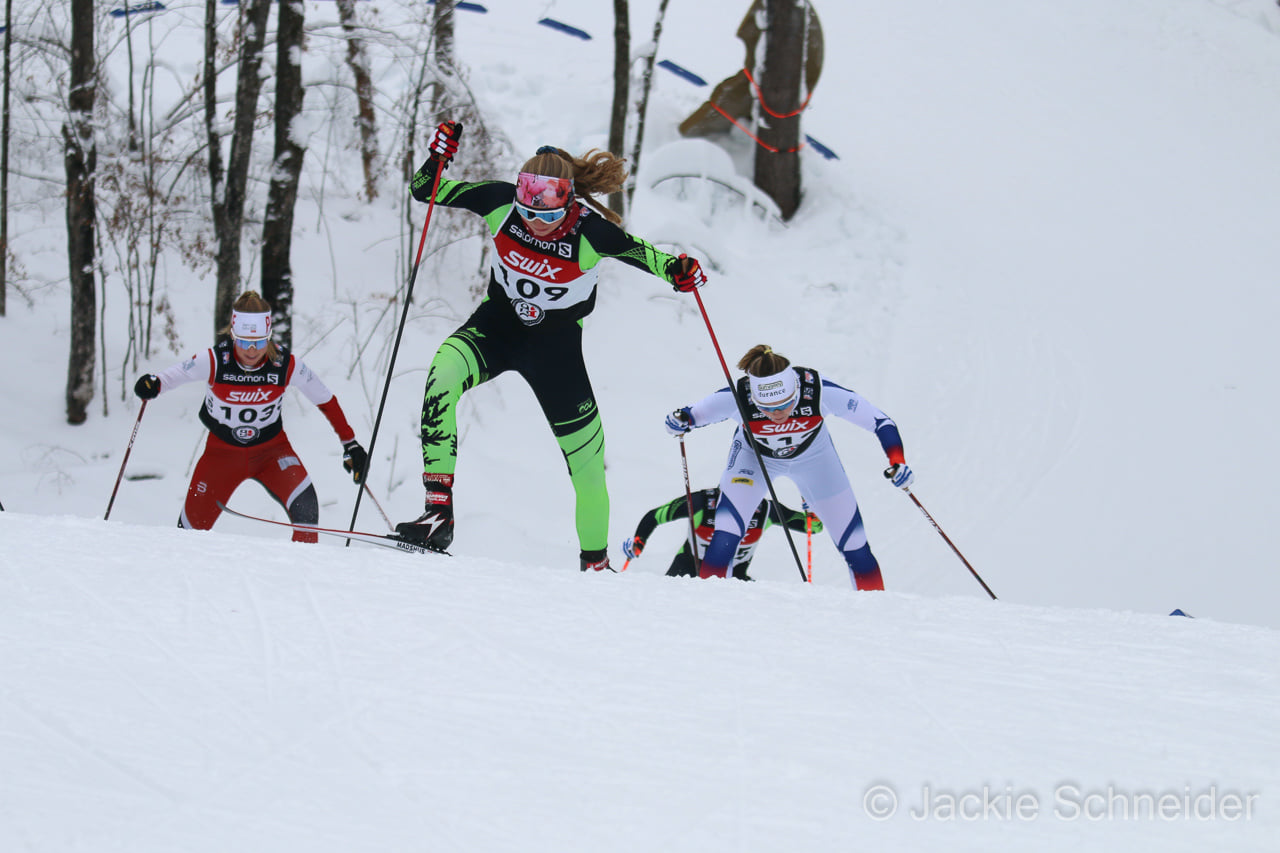 On Saturday, skiers returned to the trails for the first SuperTour classic race of the season. Starting the day with a 1.3 kilometer qualifier, the top 30 men and women advanced to quarterfinal heats. Sonnesyn continued her theme of impressive qualifiers from the previous weekend, topping the women's field in 3:38.97. Also qualifying strong were Margie Freed in 6th place in 3:50.64, Sarah Goble in 7th place in 3:52.38, Anabel Needham in 9th in 3:53.99, and Hannah Rudd in 11th in 3:54.84. Moving through to the semifinals were Sonnesyn, Rudd, Goble, Freed, Needham, and Frankowski. Just missing out on a lucky loser slot in the semifinals was Jarzin, who was 0.11 seconds from moving past the quarterfinals. The semifinals again saw smart and fast racing from Sonnesyn and Frankowski, who both moved to the final. Rudd was the first skier to not move through to the final, as Frankowski beat her out for the final lucky loser position.
In the final heat of the day, Lauren Jortberg (BSF Pro) pushed the pace out of the gates, followed closely by Sonnesyn, Frankowski, and Alex Lawson (CGRP). Sonnesyn quickly matched Jortberg's pace, pulling ahead and going on to win by nearly two seconds in 3:40.59. Jortberg finished second in 3:42.06, and Frankowski captured her second podium finish of the weekend in 3:45.90.
Reflecting on the weekend as a whole, Freed comments, "I am happy with all of my results, but the sprint day may have been my favorite because I have never had strong sprint results. My coach Pepa has been working with me on speed training, and it seems to be paying off."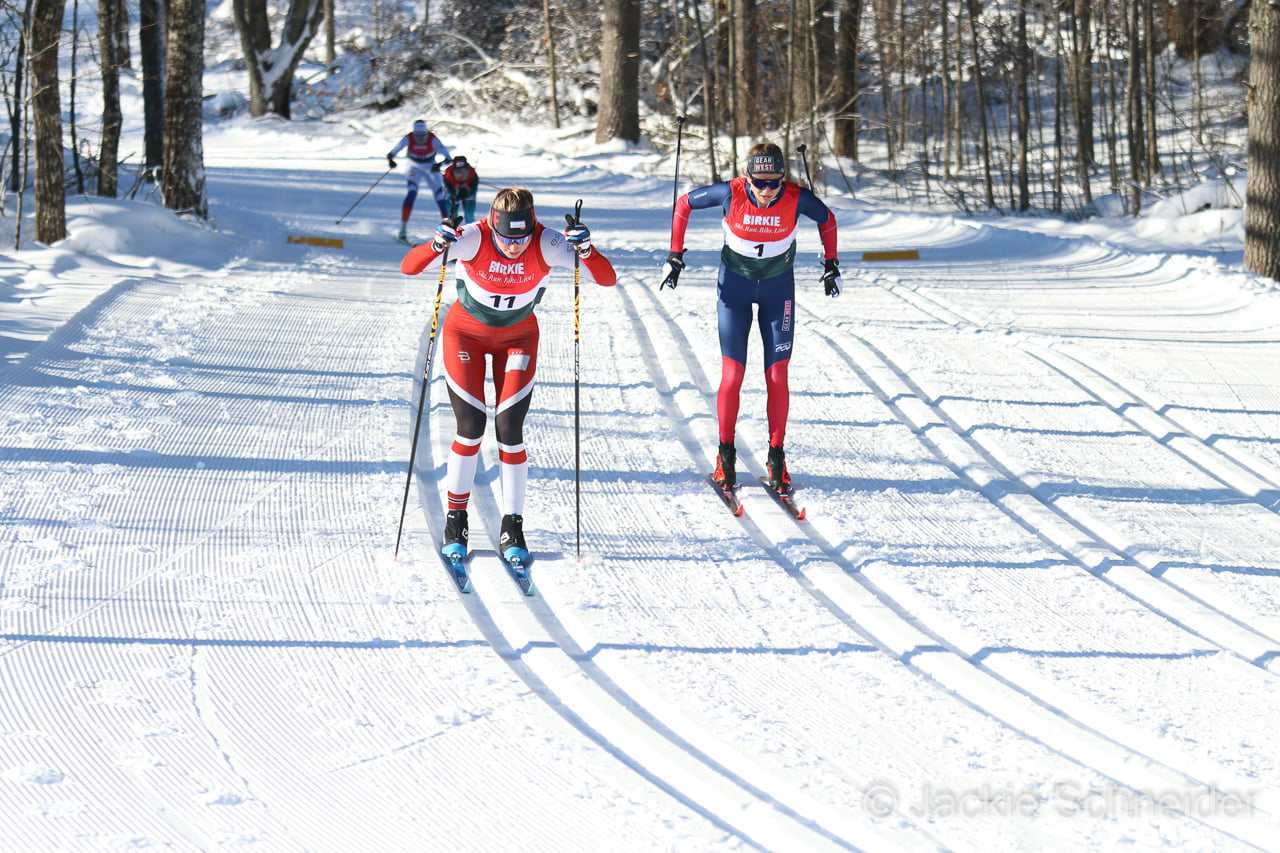 The men also raced classic sprints on Saturday. The top qualifier time of the day went to Ketterson in 3:02.13. Goble qualified in the 9th position in 3:12.40 and Martin was 11th in 3:13.25. Replicating their strong qualifiers, Ketterson, Goble, and Martin all moved on from their quarterfinal heats into the semifinals. Ketterson led the first semifinal from start to finish, advancing to the final. Martin, a traditional distance skier, followed close behind in fifth, missing out on a spot in the final. Goble raced in the second semifinal, fighting for a qualifying position, and ending his heat in fifth place.
The final was a showdown between Ketterson, Bill Harmeyer (SMST2), Canadian Antoine Briand, Daniel Streinz (NMU), Logan Diekmann (BSF Pro), and Noel Keefe (University of Utah). Ketterson took the lead from the start, forcing a relentless pace for the field to match. Briand and Harmeyer were the closest challengers, trailing Ketterson into the homestretch. Ketterson skied to a commanding victory in 3:05.01, followed by Briand in 3:09.41 and Harmeyer in 3:11.33. Streinz was fourth in 3:12.56, then Diekmann in 3:14.16, and Keeffe in 3:32.90.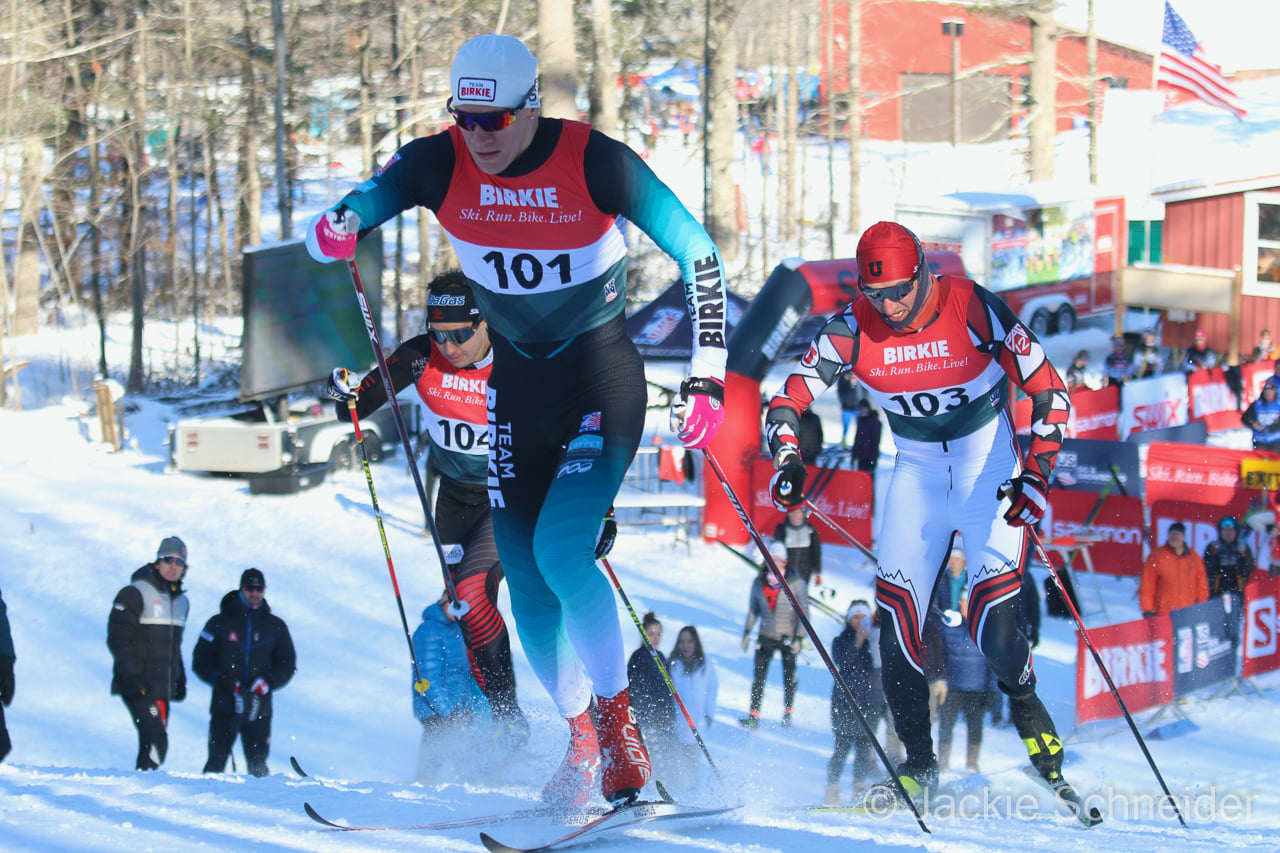 Sunday brought the final race of the Gitchi Gami Games SuperTour. The men again started the day, racing a 15 kilometer classic interval start, whereas the women raced a 10 kilometer interval start. The distance course differed slightly from Friday's course, as the men completed four laps of a 3.75 kilometer loop, an extended version of the 2.5 kilometer course that included additional steep climbs and downhills. Martin of the Craftsbury Green Racing Project had the race of the day, starting fast and steadily increasing his lead, finishing first in a time of 36:48.26. Martin finished 35 seconds ahead of Ketterson, who flew through the course in 37:23.31. Boucher rounded out the podium in 37:26.45. Goble finished an impressive 8th place in 38:15.01. Ian Torchia (SMST2) raced to 13th place in 38:38.58.
Martin provides insight into his race, "I love individual classic races, so I've been looking forward to this race today. The conditions were perfect, I had great skis, and I like the new Cable courses. It feels great to find a good skiing and racing feeling and race the SuperTour again!"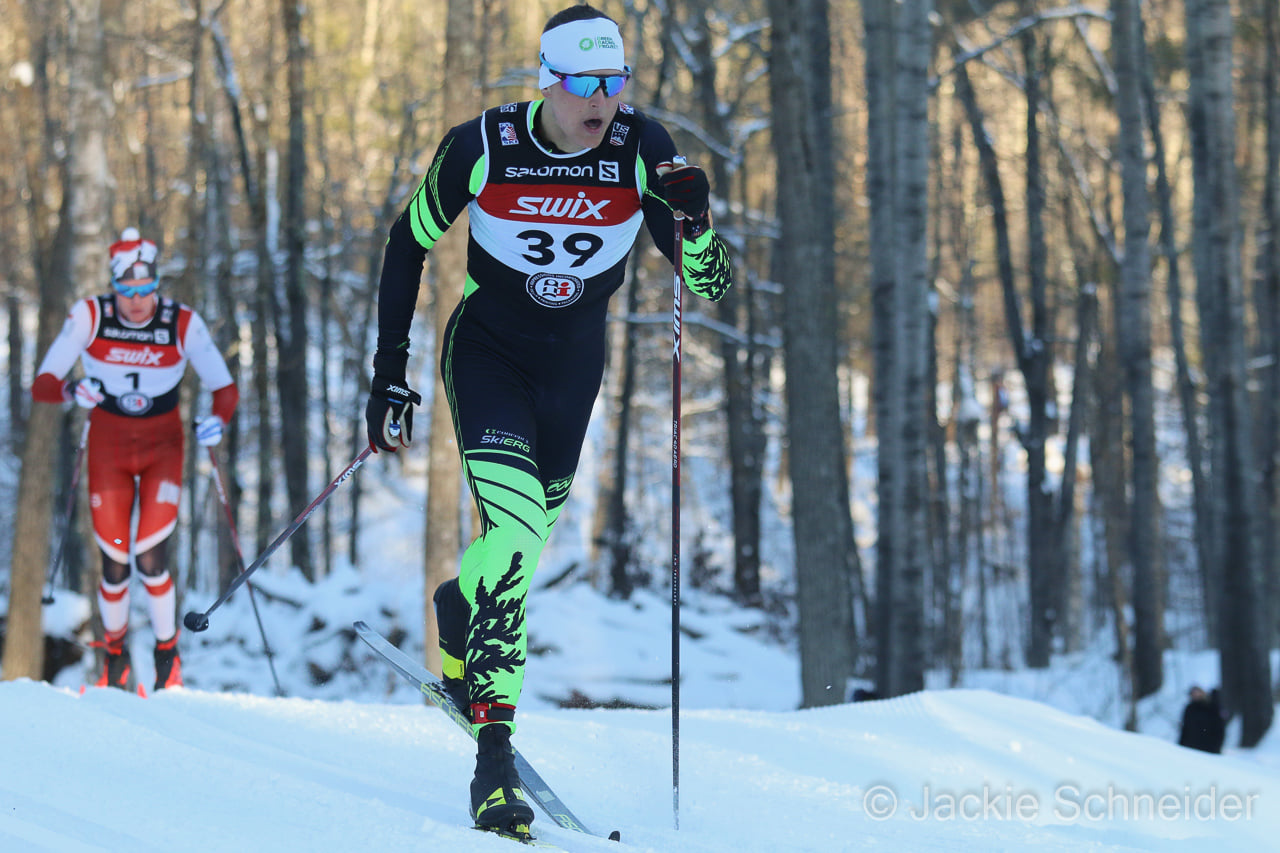 The women's 10 kilometer race also used an extended version of the 2.5 kilometer course, as the women raced three laps of a 3.3 kilometer course. Sonnesyn, looking to pick up a pair of back-to-back wins, lapped through the first 3.2 kilometers with the top split and held onto her lead to win in 30:17.66. Becca Rorabaugh (APU) showed her prowess, finishing eight seconds behind Sonnesyn in 30:25.84 for second place. Frankowski collected her third podium finish of the weekend, placing third in 30:29.37. Freed continued her impressive debut SuperTour season and was fifth place in 30:59.63. Rudd powered to the finish in seventh place with a time of 31:46.67. Also in the top 10 were Jarzin in ninth and Goble in 10th, with times of 31:58.51 and 32:11.87, respectively. Keller-Miller placed 12th in 32:13.63.
Freed continues her reflection of the weekend, noting that "this weekend was a great way to round out the Midwest SuperTours. I thought I would miss the old Telemark trails I raced in high school, but the new Birkie Trailhead ones were just as good, maybe even better! Now that people from around the country have zoomed around tight turns and up steep hills, they won't be able to say the 'Midwest doesn't have hills' anymore. I'll miss the hometown fans as I head out on the rest of the SuperTour circuit."
This past weekend's races marked the end of Period I of the US SuperTour. The top overall man and woman from Period I automatically earn a starting spot on Period II of the World Cup, which is the Tour de Ski from December 28th through January 4th. The current SuperTour leaders, earning World Cup starts, are Alayna Sonnesyn and Zak Ketterson. The skiers remaining on the SuperTour circuit will next race at US Nationals at Soldier Hollow in Utah from January 2nd through January 7th.
About the author...

Michaela Keller-Miller, a graduate of Wayzata High School and the University of Alaska Anchorage, skis for the Green Racing Project based out of Craftsbury, Vermont. Her ideal day would probably involve a long trail run followed by a stack of pancakes with maple syrup and a chai latte.