Collegiate Racing Season Preview
"Hope deferred makes the heart sick, but a longing fulfilled is a tree of life." - Proverbs 13:12
Last year's season for some was different. For others, deferred. But now it's time for the return to competition so many of us have longed for. It's time to realize dreams, to act in hope, to search out success. It's time for the opportunity to take the training of the past year, or for some the past two years, and finally express it in racing. We've waited, we've wondered, and now we will watch. We will watch a myriad collegiate skiers, cut from Midwestern flannel, embark on this season's journey. And we will cheer, rooting for each of them to make their mark and let the experience make its mark on them.
Collegiate racing, at least on the surface, is back to normal this year. Each conference has rolled out a full racing schedule with full participation from each school. No doubt each team's school and training environment has changed but all are thankful for the upcoming winter. Here is a look at each of the three racing regions.
CCSA
These past two weekends of racing - the SuperTour's first stop in Duluth (for a skate sprint and skate 5/10ks) and then the Gitchi Gami Games in Cable (also a SuperTour which included a 15k mass start, classic sprint, and a 10/15k classic individual start) - gave us a good look at many skiers' early season form. On the women's side, Anabel Needham (MTU) started the season strong with three top-twenty performances. Look for Needham to lead a strong team of MTU women throughout the CCSA season. This team may in fact be the favorites this season but NMU, with Savanna Fassio leading the charge, will undoubtedly put up a fight.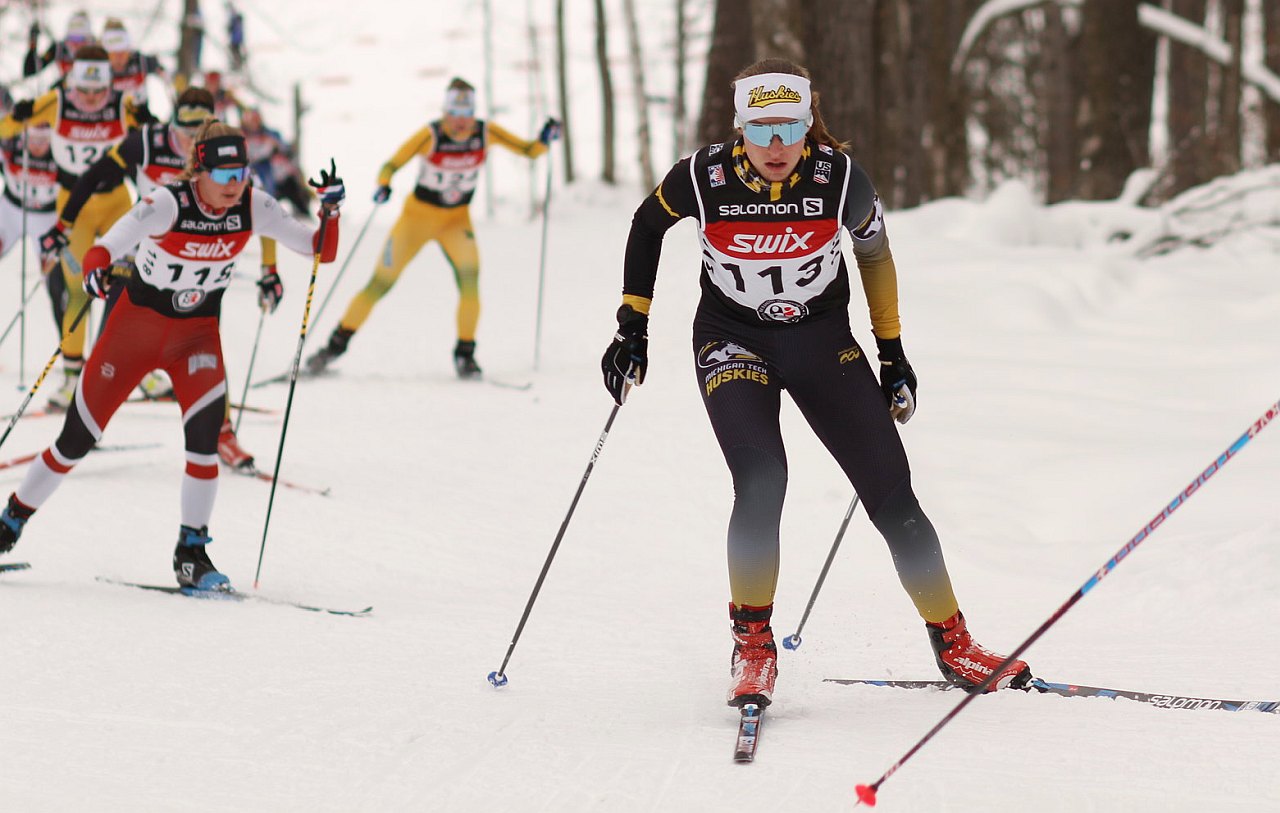 On the men's side, Kjetil Banerud (NMU, NOR) had the best singular result through the two weekends, placing second in the Duluth 10k skate. When Kjetil is on, he's hard to beat. That performance even put him ahead of RMISA stars and the top 2021 NCAA finishers Magnus Boe (CU, NOR) and Sam Hendry (UU, CAN). Emil Bratbak (CSS, NOR) knows how to perform when it matters so look for him later this season. Colin Freed, who placed second at the State Meet last year for Wayzata, joins the MTU squad.
This season could actually see NMU, MTU, and CSS all be in the mix for winning any given racing weekend. The old status quo in the North is being challenged. It's not just talk anymore.
While these races in the Midwest were a great chance to test out early season form and must have been some of the most competitive races we've seen in the Midwest for a few years, the real collegiate racing does not start till January. The 10/15k classic race at Nationals at Soldier Hollow will be the first race that counts for NCAA qualification for the CCSA racers.
The CCSA will follow standardized non-fluoro waxing protocols starting with the Mt. Itasca CXC Cup on January 22nd.
Related:
Here's a look at skiers from the Midwest racing for CCSA schools:
The College of St. Scholastica (CSS)
Gavin Blauch (Ely, Stratton Mountain School), Fr.
Ben Boelter (Sartell), So.
Calvin Boone (St. Paul, St. Paul Highland Park HS), So.
Lars Dewall (Lakeland, Stillwater HS), Jr.
Drake Hacker (Lisbon, WI), Jr.
Nick Kjome (Maple Grove, Osseo HS), So.
Joe Lynch (St. Anthony), Jr.
Gus Schatzlein (Savage, Prior Lake HS), Jr.
Cody Schneider (Arbor Vitae, WI, Lakeland HS), Jr.
John Schwinghamer (Mora, South Dakota State), Jr.
Mia Case (Minocqua, WI, Lakeland HS), So.
Johanna Craig (Tomahawk, WI, Lakeland HS), Fr.
Katelyn Gramstad (Elk River), Fr.
Maj-Lis Helmer (Duluth, Duluth East HS), So.
Mackenzie Hollman (Waukesha, WI, Mukwonago HS), Jr.
Hazel Kemp (Duluth, Duluth East HS), Fr.
Julia Schwinghamer (Ely), Fr.
Emma Stertz (Grand Rapids), Jr.
Violet Tessier (Lakeville, Lakeville South HS), Jr.
Avery Tolbert (Mukwonago, WI), Fr.
Linnea Urban (Hastings), Fr.
Northern Michigan University (NMU)
Matthew Bourne (Lake Elmo, MPA), Jr.
Cooper Lennox (Mora), So.
Xavier Mansfield (Minneapolis, St. Anthony HS), Sr.
Gretchen Haggenmiller (Duluth, Duluth East HS), Jr.
Lauren McColler (Wayzata), Fr.
St. Olaf
Peter Carlen (St. Paul, Minnehaha Academy), Sr.
Eric Crosby Lehmann (Edina), So.
Ian Derauf (Duluth), Jr
Forest Dorsey (Lake Tomahawk, WI, Lakeland HS), So.
Tor Hanson (Minneapolis, Armstrong HS), Jr.
Noah Johnson (St. Paul, St. Paul Central), Jr.
Kieran Mullen (Hazelhurst, WI, Lakeland HS), Sr.
Brian Olson (Lakeland, Stillwater HS), Sr..
Sean Rogers (Osceola, WI), Graduate Student
Lily Hubanks (Madison, WI, Madison West HS), Fr.
Kaitlin Johnson (Stillwater), Jr.
Erica Meyers (St. Paul, St. Paul Highland Park HS), Sr.
Kena Nguyen (Crystal, Osseo HS), Jr.
Kristina Rohrer (Madison, WI, Madison West HS), So.
Louise Rosenbaum (Wayzata, Osseo HS), So.
Lucia Wyland (Grand Rapids), Jr.
University of Wisconsin Green Bay (UWGB)
Declan Rodefeld (Blaine, Irondale HS), Fr.
Ryan Thieme (Green Bay, WI, Bay Port, HS), So.
CJ Young (Maple Grove), So.
Michigan Tech University (MTU)
Mitch DeLong (Houghton, MI), Jr
Colin Freed (Plymouth) Fr.
Hunter Dercks (Sun Prairie, WI), Jr.
Jasper Johnston (Ely), Fr.
Mark Ousdigian (Shoreview, Moundsview HS), Sr.
Henry Snider (St. Paul, SPA HS), So.
Tryg Solberg (White Bear Lake), Fr.
Ingrid Halverson (Wayzata), Fr.
Mary Lyon (Traverse City, MI), Sr.
Anabel Needham (Houghton, MI), Jr.
Saint Cloud State University (SCSU)
Cheresa Bouley (Zimmerman, Elk River HS), Jr.
Anna Stockinger (Cedar, Forest Lake HS), Sr.
EISA
There has not been as much head to head racing within the EISA yet this year. However, based on last year's results and what we've seen in the last weekend or two, UVM and UNH will compete as the top women's teams. Look for Minnesotans Luci Anderson (UNH) and Erin Biano (CBC) to be near the top of the EISA. These two women went one-two at the Quarry Road Open in early December. Renae Anderson, in her last year competing for Bowdoin, will be in contention for consistent podiums.
UVM and UNH should also be the teams to watch for the men. Scott Shulz led the way for UNH last year at NCAAs but a major factor in the East will be rising star and 2018 NCAA Champ Ben Ogden, once he returns from World Cup racing to don the Catamount uniform. Foss Kerker started the year off strong with a second place at Quarry Road. 2021 Minnesota State High School Champ Roger Anderson will make his college debut for UNH.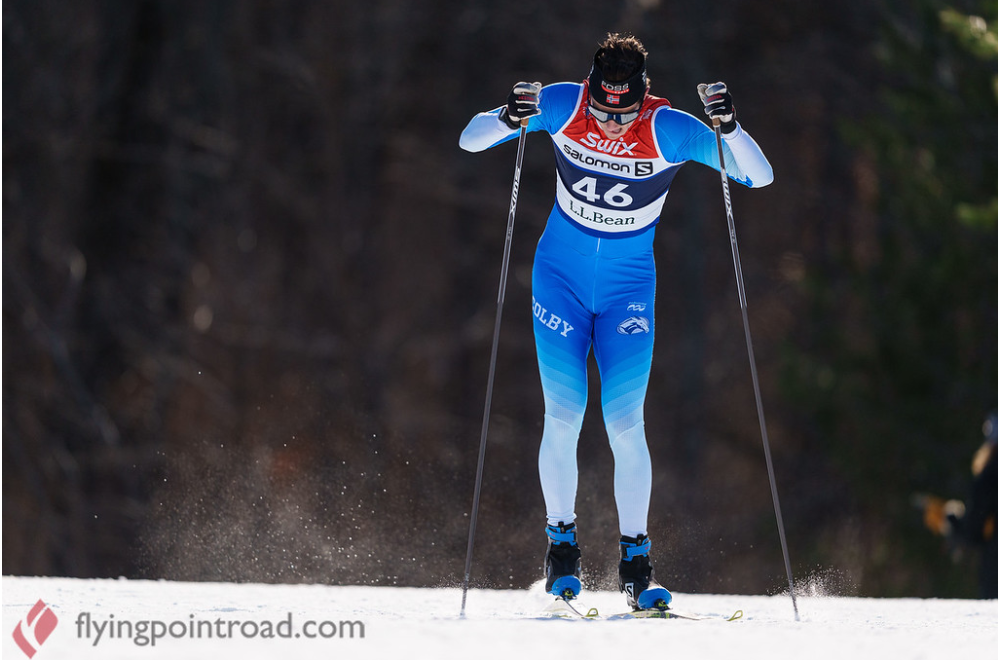 The EISA will be completely non-fluoro this year and will start their season with the Colby Carnival on January 14th.
Related:
Midwesterners racing in the EISA:
Dartmouth College (DAR)
Alex Nemeth (Sartell, St. Cloud Cathedral-Sartell), Jr.
Luc Golin (Wayzata), Sr.
Mara McCollor (Wayzata), Jr.
University of Vermont (UVM)
Libby Tuttle (Mahtomedi), So.
University of New Hampshire (UNH)
Roger Anderson (Golden Valley, Robinsdale-Armstrong), Fr.
Eli Gore (Madison, WI, Sun Valley Ski Education Foundation), Fr.
James Schneider (Plymouth, Loppet Nordic Racing), So.
Anders Sonnesyn (Wayzata), Sr.
Luci Anderson (Golden Valley, Robbinsdale-Armstrong), Jr.
Amelea Hauer (Forest Lake), Fr.
Alice House (Madison, WI, Blackhawk Nordic), So.
Colby College (CBC)
Torsten Brinkema (Minneapolis, Southwest), Sr.
Cole Johnsons (St. Paul, Highland Park HS), So.
Foss Kerker (Minneapolis, Southwest), Sr.
Zach Nemeth (Sartell), So.
Victor Sparks (Minneapolis, Southwest), Fr.
Erin Bianco (Ely, Ely Memorial School), Sr.
Isabel Seay (Sussex, WI, Hamilton), Jr.
Bowdoin (BOW)
Renae Anderson (Golden Valley, Hopkins), Sr.
Morgan Richter (Edina), So.
St. Lawrence University (SLU)
Charlie Reinhardt (Spring Park, Mound Westonka), Jr.
Charlotte Brown (St. Paul, Green Mountain Valley School) Fr.
Etta Leugers (Minneapolis, Washburn HS), Fr.
Sydney Peterson (Lake Elmo, Stillwater HS), So.
Claire Wagner (Edina), So.
St. Michael's College (SMC)
Joey Del Toro (Woodbury, East Ridge), Jr.
Declan Hutchinson (Duluth, Marshall HS), Fr.
Grace Erholtz (Baxter, Brainerd HS), Jr.
Izzy Quam (Stillwater, Mounds Park Academy), Fr.
Cecelia Schmelzle (Saint Louis Park), Sr.
Middlebury College (MID)
Will Nemeth (Sartell, St. Cloud Cathedral-Sartell), So.
RMISA
RMISA raced the most normal season last year during COVID and dominated the NCAA Championships. The University of Utah was hard if not impossible to beat in both the men's and women's divisions and will be again this year. Once more we'll need to see if Utah leaders Novie McCabe and Sydney Palmer-Leger return from the World Cup to race collegiately. Sam Hendry (UU, CAN), Magnus Boe (UU, NOR), and Brian Bushey (UU) will be the men to watch. Wisconsonite Abby Jarzin (UU) showed really impressive form the last couple weekends in the Midwest, placing fourth, ninth, and fifth in the distance races. It goes without saying in the West that there may be some new Europeans we've never heard of that surprise us.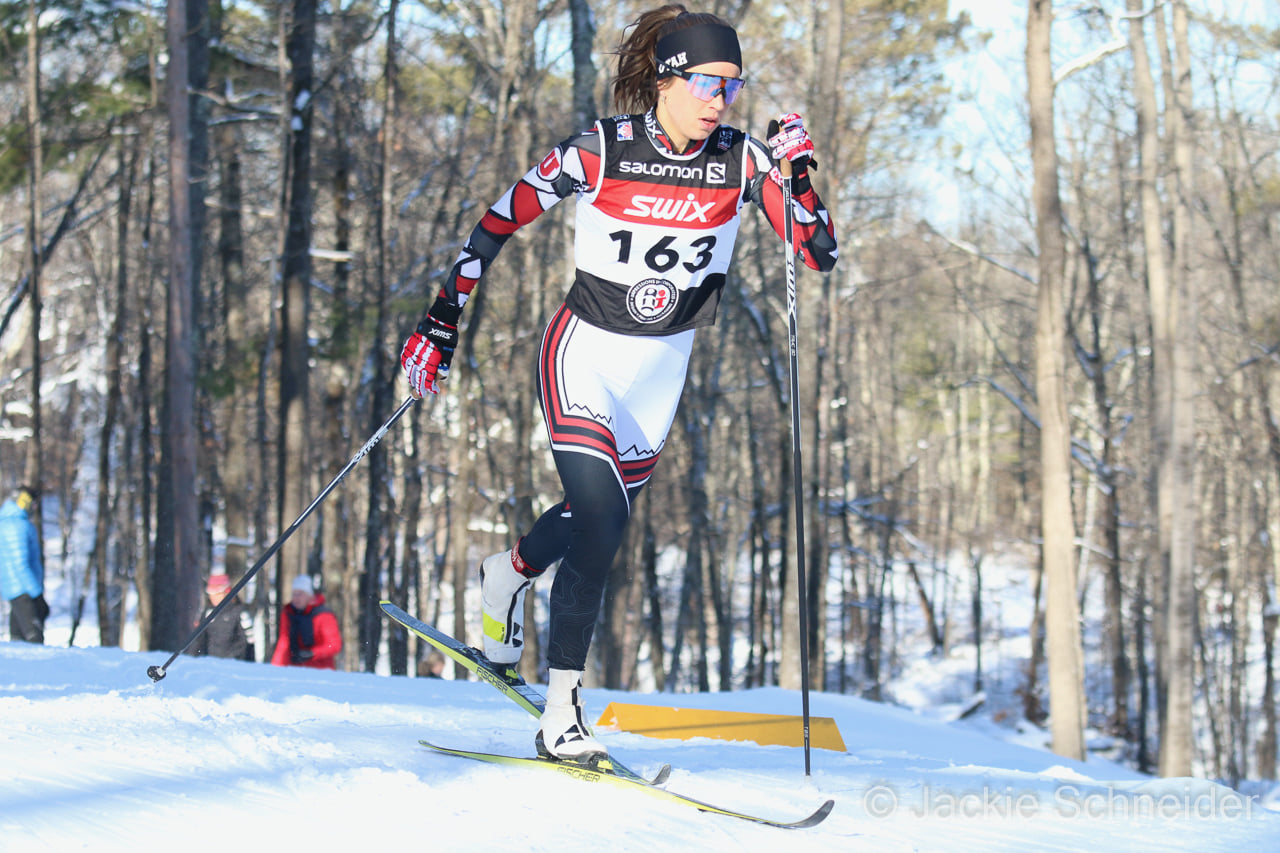 RMISA is on standardized non-fluoro wax except when the competition is part of a combined race system (such as Nationals or a SuperTour); then the USSS protocols will be followed. RMISA starts their NCAA qualification process with the skate sprint and 10/15k classical races at Nationals as a part of the Utah Invitational. The Montana Invitational, which overlaps with the Sun Valley SuperTours, follows later in January, starting on the 15th.
Related:
A sparse yet strong collection of Midwesterners in RMISA:
Montana State University (MSU)
Emma Albrecht (Stillwater), Jr.
University of Alaska Fairbanks (UAF)
Sarah Olson (Blaine), So.
University of Utah (UU)
Abby Jarzin (Green Bay, WI), Jr.
NCAA Championships
The three conferences will convene at Soldier Hollow for the NCAA Championships March 9-12. Look for a majority of colleges to send their top skiers to USSS Nationals, also at Soldier Hollow, in early January to gain racing experience that will assuredly be helpful come March.
Follow along as we keep you updated throughout the winter.
About the author...

Luke Brown, a graduate of Minnehaha Academy and Dartmouth College, is a skier and biathlete for the Craftsbury Green Racing Project. He enjoys running in the mountains, writing, and eating cereal with whole milk. He lives in Craftsbury, VT.