Collegiate Racing Recap: CCSA, EISA
The regular season winds down as the intensity of racing ratchets up. The CCSA concludes their conference racing, the EISA will race one more carnival, while RMISA also awaits a last chance for NCAA qualification. Meanwhile, a select few Midwestern collegiate athletes have stepped out of the collegiate bubble to race at the U23 World Championships: Anabel Needham (MTU), Lucinda Anderson (UNH), and Abigail Jarzin (UU) will all be representing the USA over the next week. A big congratulations to each of these athletes and best of luck!
And now, on to week seven of collegiate racing.
CCSA
The CCSA traveled to Duluth for the final conference races of the season. Faced once again with cold temperatures, races were delayed but not canceled. Skiers competed in what will be this year's NCAA Championship schedule: individual start classic races followed by skate mass starts. It was a good test of end of the season form for these Midwest college athletes.
Day 1, 5/10k Classic Individual Start
After the two temperature related race delays, Kjetil Banerud (NMU, NOR) won the men's 10k by thirty one seconds over a late-season-surging Xavier Mansfield (NMU). Michigan Tech's Skylar Patten placed third.
Henry Snider (MTU) was 5th, with Cooper Lennox (NMU) in 9th, CJ Young (UWGB) 11th, Colin Freed (MTU) 12th, and August Schatzlein (CSS) in 14th.
Even with Needham gone for U23s, Michigan Tech went one-two in the women's 5k: Nea Katajala (FIN) won by thirty seconds over Henriette Semb (NOR). Merle Richter (NMU, GER) placed third.
Mia Case (CSS), a graduate of Wisconsin's Lakeland High School, placed 7th. Case is strong in shorter distances and was hoping for a top-9 in the 5k. "One of my goals for the race was to work on transitions," said Case, "such as more poling at the crests of hills to have a faster downhill along with being consistent going up Electric Chainsaw [the big climb on Tech's course] on both laps. I was super stoked when I saw that I placed seventh. This season has been all I could ask for. I have been able to watch all my hard-work come into play."
When asked about her biggest takeaways from the season, Case had some wisdom to share. "I learned to do my best even when things are out of my control. The biggest part of skiing is giving everything you have for that race and leaving it all out there. There is nothing more satisfying than knowing you did your best. Racing is hard, mentally and physically. It builds grit. When I have bad races, I take those days as experience to learn from. Without those days, I would never get better."
Fellow Midwesteners and first-years Linnea Urban (CSS) and Lauren McCollor (NMU) placed 9th and 12th respectively.
Day 2, 15/20k Skate Mass Start
Kjetil Banerud (NMU, NOR) continued his winning streak on Sunday, taking the victory in the 20k. Skylar Patten rounded out a strong weekend of racing, placing second. Tobias Moosmann (NMU, AUT) placed third.
Colin Freed (MTU) was 4th, Xavier Mansfield (NMU) in 5th, and Tryg Solberg (MTU) in 6th. Solberg, a freshman, focused on maintaining a positive mindset while having fun. "I knew I could fight for the top of the group in the skate race and focused on conserving as much energy as possible and not losing the pack," he said. "I've learned so much in my first year of college racing. Ski picking, and pre-race routines are crucial along with all of the little things that add up the week before the race (nutrition, sleep, positivity, etc). I want to continue working on my long-term training and racing goals and am very thankful that I ended up skiing for the Huskies! Above all this past year, I've learned how training with a group makes training so much more fun and I'm so glad I've gotten the chance to train with Team Birkie and Michigan Tech." Train on, Tryg!
Henry Snider (MTU) finished in 10th, with Benjamin Boelter (CSS) in 11th, Lars Dewall (CSS) 12th, and Drake Hacker (CSS) in 15th.
In the women's 15k, it came down to a finishing sprint between three skiers. Henriette Semb (MTU, NOR) outlunged Hilde Eide (NMU, NOR) with Nea Katajala (MTU, FIN) just two seconds back.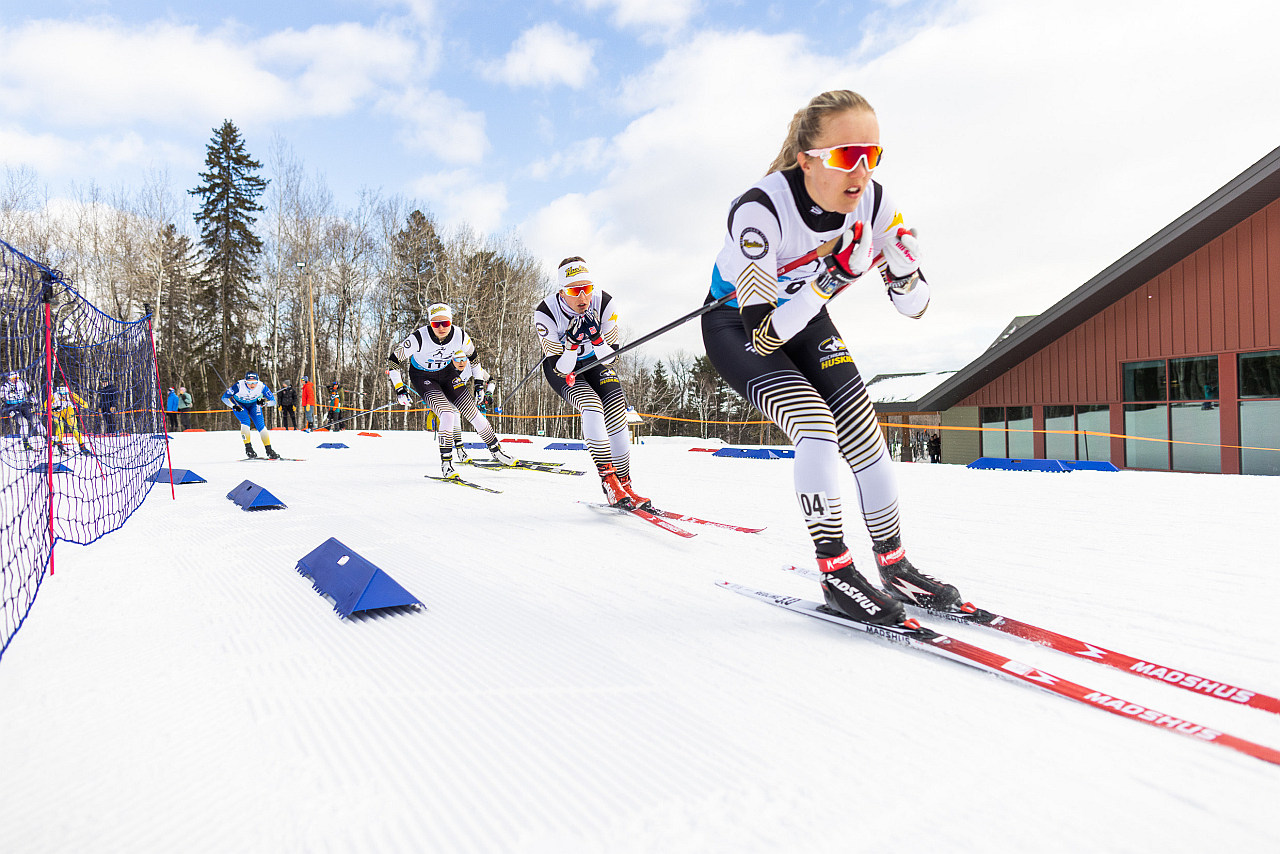 Cheresa Bouley (SCSU) placed 8th with Linnea Urban (CSS) in 15th.
The CCSA races next at the NCAA Championships at Soldier Hollow, March 9-12.
EISA
The carnival circuit traveled to the Rikert Nordic Center for the Middlebury Carnival this past weekend.
Day 1, 5/10k Classic Individual Start
The UVM Catamounts came out swinging and swept the women's podium. Anna Bizyukova (UVM, RUS) won with Waverly Gebhardt twelve seconds back. Phoebe Sweet rounded out the podium in third.
Colby senior Erin Bianco placed 5th. Bianco shared, "Over my college career, classic races have definitely been my strong suit. I am always excited to see if I can push a little harder in every race. This last weekend I had the goal to be on the podium. I skied a strong first half of the race and started to fade a bit in the second half. I was happy with my result as times were super close! It was fun to go out hard and see how long I could maintain that pace. I'm looking forward to another chance this weekend at Regionals!"
Renae Anderson (BOW) was 6th, Libby Tuttle (UVM) 9th, Mara McCollor (DAR) 16th, and Alice House (UNH) placed 29th.
Jacob Nystedt (UVM, SWE) took the men's victory by four seconds over Middlebury's Peter Wolter. Elliot Ketchel (BOW) placed a strong third.
Midwesteners Will Nemeth and Roger Anderson (UNH) placed 9th and 21st respectively.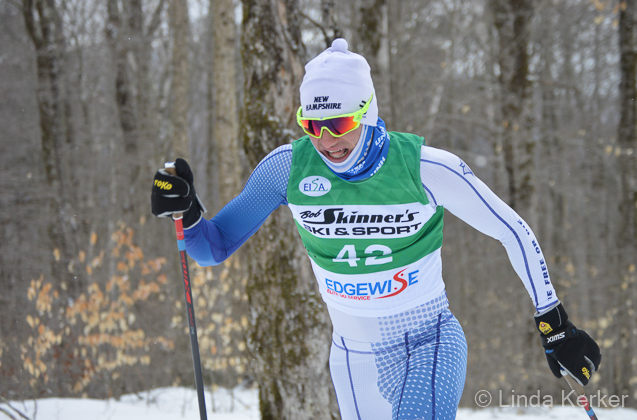 Day 2, 15/20k Skate Mass Start
Dartmouth's Molly Gellert broke from a lead pack of seven races to win the day by fifteen seconds. Haley Brewster (UVM) finished in second, just one second ahead of Garvie Tobin (DAR).
Renae Anderson (BOW) placed 5th, Mara McCollor 7th, and Libby Tuttle (UVM) was 8th.
"Saturday's race was really fun," said Tuttle. "It had been a while since we had raced a mass start, so it was really great to be able to pack up and work with my teammates during the race. The conditions made for a tough race, but I think my team was generally pretty happy with how everyone raced!"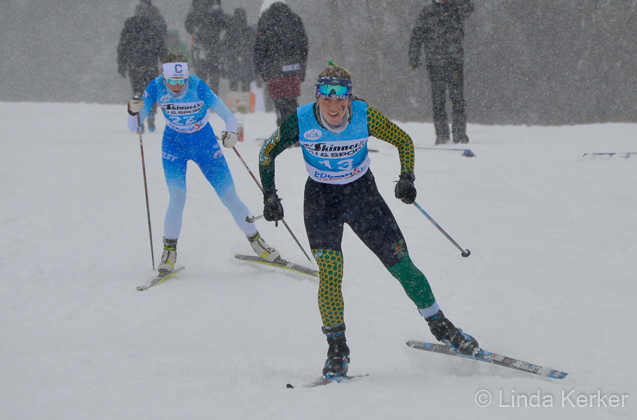 Erin Bianco (CBC) placed 14th with Alice House (UNH) in 15th.
Jacob Nystedt (UVM, SWE) won for the second day in a row, this time over UNH's Scott Schulz. Peter Wolter (MID) placed third.
Will Nemeth (MID) posted a career best result, finishing in 7th with Roger Anderson (UNH) placing 11th. Anderson said, "The 20k was a long brutal race for me. I didn't feel very fast at any point during the race but I just kept grinding through it and ended up with a pretty good result. Unfortunately I was out sprinted to the finish for 10th place. The highlights of the weekend were the brats and soup I got after the race for sure."
Victor Sparks (CBC) placed 17th, Foss Kerker (CBC) 26th, and Alex Nemeth (DAR) was 28th.
EISA races next on February 25th and 26th in Jackson, NH for the UNH Carnival.
RMISA
RMISA took another weekend off of racing to prepare for Conference Championships on February 25th and 26th at Howelson Hill in Steamboat Springs, Colorado.
About the author...

Luke Brown, a graduate of Minnehaha Academy and Dartmouth College, is a skier and biathlete for the Craftsbury Green Racing Project. He enjoys running in the mountains, writing, and eating cereal with whole milk. He lives in Craftsbury, VT.