Collegiate Racing Recap: EISA, RMISA
This is it. The last weekend of racing before NCAA's. Hopes fulfilled and dreams differed. Goals achieved and longings left unfinished. While some skiers will wrestle with the tension in only partial success, I hope that all these collegiate athletes will look back at their striving this season with pride and gratitude. Because even just stepping to the line for the ultimate test - a race - is worth rewarding. For a select group of athletes, the biggest challenge this season is ahead - at Soldier Hollow in March for the NCAA Championships.
So let's join together in celebrating the success of this past season while waiting in expectation for the competitions ahead. Welcome to week eight!
EISA
The EISA headed to Jackson, New Hampshire, with fresh snow on the ground for the UNH Carnival. The windy and hilly venue which hosted last year's NCAA Championships always provides exciting and challenging racing.
Day 1, 15/20k Skate Mass Start
The men opened up the weekend of competition and it was returning Olympian, Ben Ogden (UVM), who took the victory. Ogden broke away after ten kilometers of racing and didn't look back, winning by thirty-seven seconds. Scott Schulz (UNH) who has proven his skating ability again and again, placed second, with UVM's Jacob Nystedt (SWE) in third.
For Midwesteners, Roger Anderson (UNH) led the way, placing 11th, with James Schneider (UNH) in 21st, Will Nemeth (MID) 23rd, Torsten Brinkema (CBC) 28th, and Victor Sparks (CBC) placing 30th.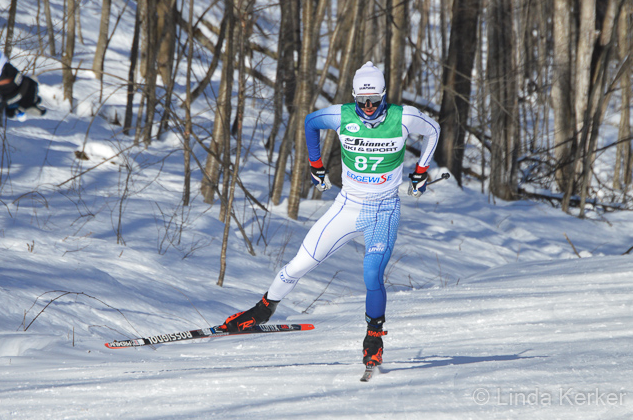 Dartmouth's Molly Gellert took the women's win by six seconds over UVM's Anna Bizyukova (RUS). Bizyukova had broken away early but came back to a group of ten racers who stayed together for much of the race. Waverly Gebhardt (UVM) rounded out the podium in third.
Erin Bianco (CBC) had a strong performance, placing 4th, with Libby Tuttle (UVM) in 6th, Renae Anderson (BOW) in 9th, Mara McCollor (DAR) 11th, and Alice House (UNH) was 25th on her home course.
Day 2, 5/10k Classic Individual Start
Ben Ogden (UVM) showed his forte in classic racing, winning the men's ten kilometers by a minute over Middlebury's Peter Wolter and UVM's Jacob Nystedt (SWE). Only twelve seconds separated second and third.
Roger Anderson (UNH) was once again the top Midwestern guy, with Will Nemeth (MID) in 23rd, Victor Sparks (CBC) in 25th, Alex Nemeth (DAR) in 28th, and James Schneider (UNH) in 30th.
Anna Bizyukova (UVM, RUS) got the victory this time, winning the women's five kilometer by twenty-three seconds. The next four races were only separated by four seconds. Waverly Gebhardt (UVM) placed second with Erin Bianco (CBC) in third.
Mara McCollor (DAR) placed 5th with Renae Anderson (BOW) finishing in 19th. Anderson, who is rounding out a stellar EISA career, reflected on the weekend, "It was a super fun last carnival with the EISA for me and I'll miss that atmosphere! The mass start was exciting and chaotic with people switching positions almost the whole time, and nothing was more fun than racing that last classic race with all the teams cheering their hearts out on the sidelines! I sprinted out the first kilometer because I was so excited, the rest of the race was a little painful after that. I'm so grateful for my time in the EISA.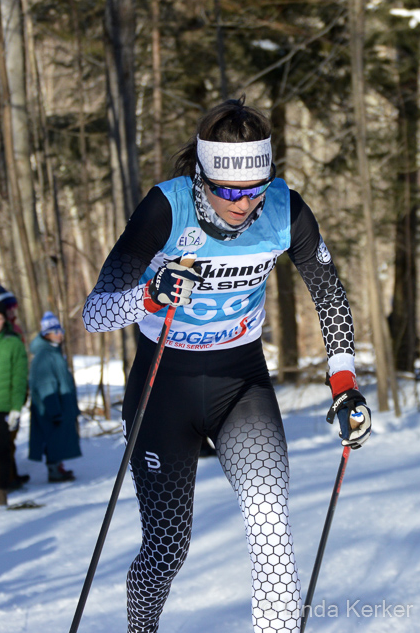 Alice House (UNH) was 16th with Libby Tuttle (UVM) placing 18th.
RMISA
Day 1, 5/10k Classic Individual Start
The Utah women left no question as to their top rank in the West, and most likely, the country. Olympians Novie McCabe and Sophia Laukli went one-two with nine seconds of separation in the five kilometer race. Ute and German national, Julia Richter, was third.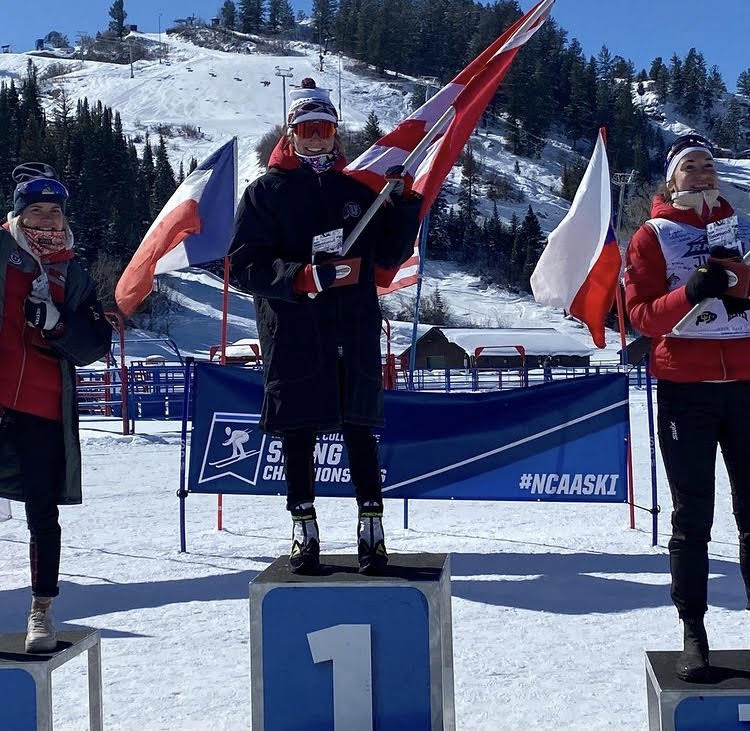 MSU's Emma Albrecht placed 21st with UAF's Sarah Olson in 29th.
Andreas Kirkeng (DEN, NOR) won the men's ten kilometer classic by sixteen seconds over former NCAA Champion, Magnus Boee (CU, NOR). Olympian Luke Jager (UU) was third.
Day 2, 15/20k Skate Mass Start
Novie McCabe (UU) and Sophia Laukli (UU) made this a two women race, going off the front and creating almost a four minute gap. This will not be forgotten by those who watched. McCabe ended up with the victory, just gapping Laukli by eleven seconds. Mariel Pulles (UAF, EST) placed third, 3:54 back.
Emma Albrecht (MSU) placed 20th. "My goals for this race season included getting my shoulder back and functioning," said Albrecht. "I tore two of my tendons more than 50% at the end of the summer and I was told I probably wouldn't have a great season or even any season at all because of it. I really took the time to do my physical therapy every day and make sure to not push my shoulder too far. I ended up being able to race the entire season. It wasn't an outstanding season but I definitely got my shoulder back and was able to get some great training under my belt for next season. We did a bunch of peaking workouts these past few weeks and they allowed me to feel my best."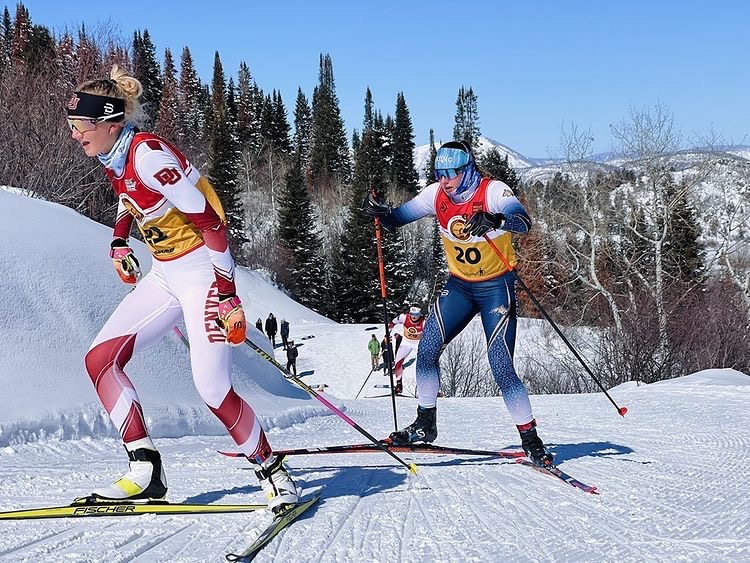 "My major take away from this past weekend was that you have to enjoy the pain," she continued. "It's going to hurt and pushing while in pain is a lesson that I definitely learned this season."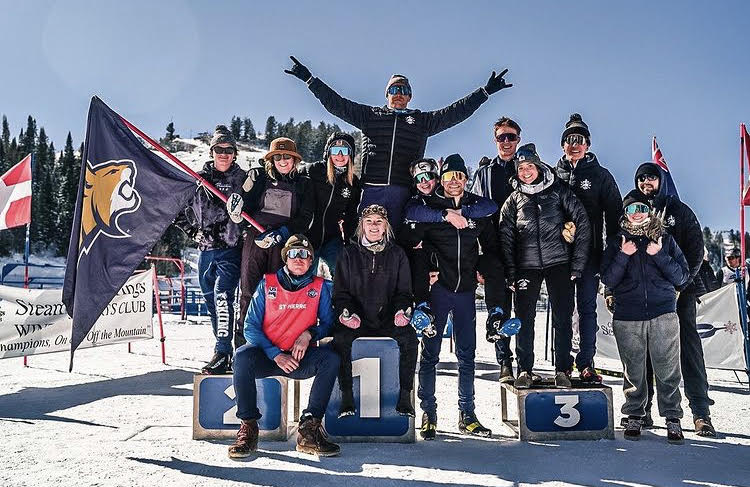 The men's mass start came down to a finishing sprint, with Luke Jager taking the victory by one second over Magnus Boee (CU, NOR). Jager did just finish in 25th in the skate sprint in Beijing… Riksaasen (UU, NOR) finished in third.
U23 World Championships
The Midwest sent three collegiate athletes to Lygna, Norway for the U23 World Championships: Luci Anderson of UNH, Abby Jarzin of UU, and Anabel Needham of MTU. This sort of international racing can provide invaluable experience for collegiate racers. A big congrats to these three skiers!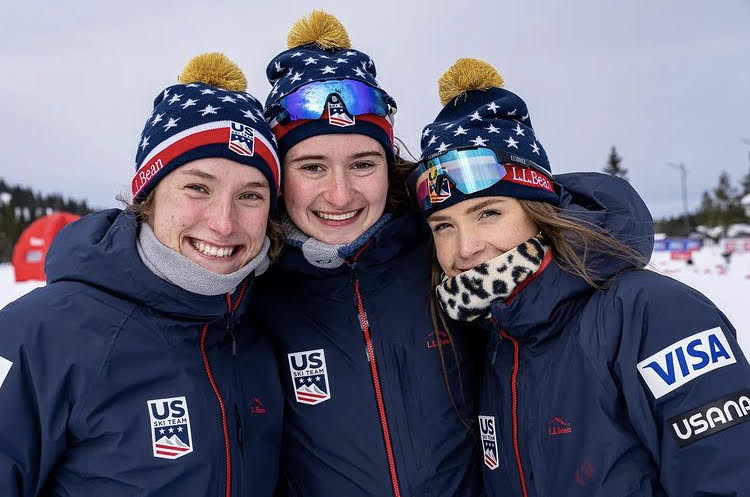 10k Classic
In a race won by Switzerland's Anja Weber, Jarzin placed 36th, Needham 47th, and Anderson 56th.
Skate Sprint
Moa Hansson (SWE) won the skate sprint just in front of Poland's Monika Skinder and Russia's Nataliya Mekryukova.
Jarzin finished in 43rd, just 3.5 seconds out of qualifying for the heats, with Anderson and Needham just behind her in 45th and 46th, respectively.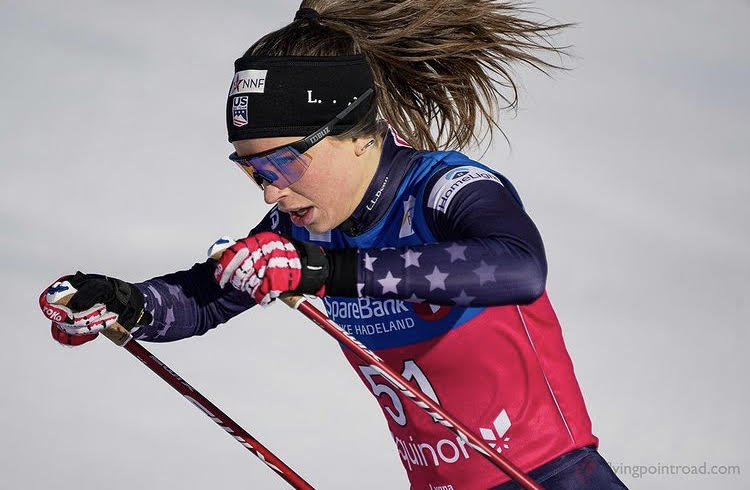 Jarzin said, "The racing was at a level that I haven't experienced yet, and it was exciting to see so many talented athletes competing. I was pretty nervous to say the least, however our coaches and my awesome wax tech Lizzie Larkins were very reassuring and helped me stay relaxed before the races. The skate sprint was rather tight between qualifying or not, and I missed heats by a few seconds. Skiing around so many fast skiers definitely drives me to keep training hard as well as reminds me of why I love the sport in the first place. The experience of racing at an international level was unmatched and I am grateful to the amazing coaching staff, wax techs, PT, doctor, and photographer, for their endless hard work and support!"
Team Relay
In the final race, a mixed-gendered 4x5k relay, the USA placed 12th with Jarzin skiing the lead leg and Needham anchoring.
Needham shared her thoughts on the race series. "It was such an amazing experience," she said. "I just had to keep reminding myself that I was in Norway, surrounded by professionals and Olympians and also some of the people that I've grown up skiing with (who are probably going to end up being Olympians!). It's hard to really express how thankful I am to have had this experience, and I couldn't have done this without all of the people that have supported me along the way!!
Norway won the event with France and Russia in second and third.
NCAA Championships
Qualified and selected athletes will head to the NCAA Championships which will take place at Soldier Hollow March 9-12.
The Midwest will send nine athletes:
Roger Anderson (UNH)
Xavier Mansfield (NMU)
Colin Freed (MTU)
Henry Snider (MTU)
CJ Young (UWGB)
Erin Bianco (CBC)
Renae Anderson (BOW)
Luci Anderson (UNH)
Anabel Needham (MTU)

A live stream and results can be found on the NCAA website. Let's cheer these skiers on!
About the author...

Luke Brown, a graduate of Minnehaha Academy and Dartmouth College, is a skier and biathlete for the Craftsbury Green Racing Project. He enjoys running in the mountains, writing, and eating cereal with whole milk. He lives in Craftsbury, VT.