US Elite Racing: Birkie SuperTour, Midwest Marathons Recap
After a three-week hiatus, SuperTour racers reconvened this past weekend in Hayward, Wisconsin for the skate 50-kilometer American Birkebeiner. With a break from racing between the Craftsbury SuperTours and the Birkie, a few elite skiers took the opportunity to tune-up their race shape at several other Midwestern ski marathons, including the Vasaloppet USA, Seeley Hills Classic, and City of Lakes Loppet.
Ian Torchia of SMST2 was one who took advantage of the racing in the Midwest, competing in and winning the Seeley Hills Classic, both the skate and classic Vasaloppet USA, and the City of Lakes Loppet. On his decision to race these marathons, Torchia says, "I honestly wasn't thinking about the Midwest marathon circuit until I messaged my best bud Leo Hipp after Nationals saying how excited I was to do a (running) marathon. He thought I was talking about the Midwest marathon skiing circuit so he brought it up and I decided to jump in them all! It was a great opportunity to test out the longer distances before the Birkie, the prize money is quite nice, and the Midwest marathon vibe is unmatched. So much fun. Other than frostbiting my nose at Mora they all went really well and I came into the Birkie with a lot of confidence."
Ramping up the Midwest marathon season was the 42-kilometer Seeley Hills Classic, where Torchia won in 1:58:42 over Brian Gregg of Team Birkie, who finished in 2:05:55. Christian Gostout, also of Team Birkie, rounded out the podium in third in 2:06:45. Caitlin Gregg, who currently coaches for Team Birkie, dominated the women's field, winning in 2:23:59.
Next on the marathon circuit was a 37-kilometer classic race at the City of Lakes Loppet. The men's and women's titles went to Torchia and Vivian Hett, respectively, in times of 1:47:31 and 2:11:51.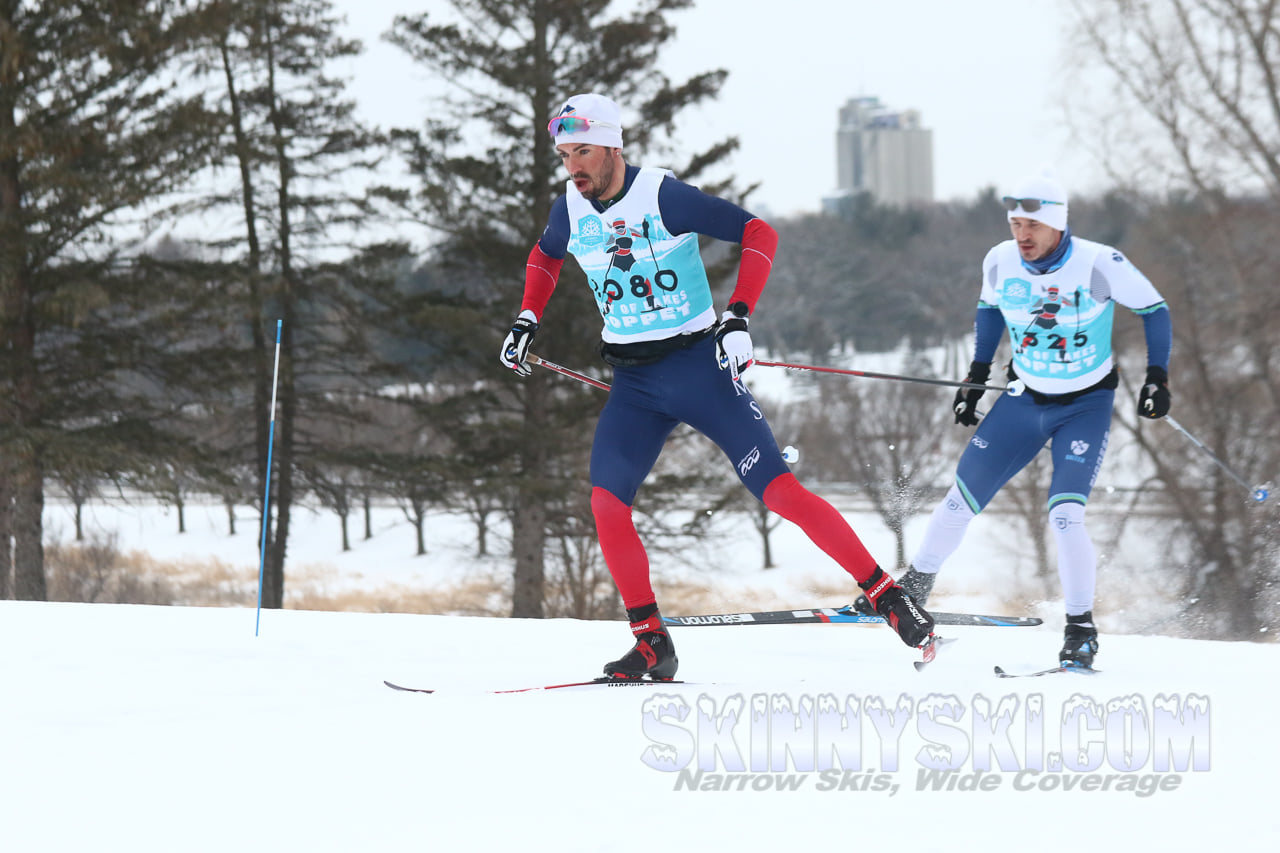 The following day, Torchia competed again in the 37-kilometer skate race at the City of Lakes. Torchia skied away with the win in 1:32:53, followed just 29 seconds behind by Matt Liebsch in 1:33:22 in second place. Brian Gregg came away with the third spot in 1:38:30. Team Birkie women took the top two spots, as Caitlin Gregg won in 1:46:25 and Abby Drach finished second in 1:48:46.
The final large Midwest marathon weekend prior to the Birkie was the 48-kilometer skate Vasaloppet USA, proving to be a much closer race than both the Seeley Hills Classic and City of Lakes Loppet in the men's division. Torchia ultimately came away with the win in 2:01:57.1, followed closely by Liebsch in 2:02:04.0. Brian Gregg put up a strong fight to finish third in 2:02:26.1. In the women's race, Alayna Sonnesyn of SMST2 crossed the line first in 2:11:18.3. Abby Drach of Team Birkie was second for the women in 2:20:15.0.
Sonnesyn reports on how the Vasaloppet prepared her for this year's Birkie, "I wanted to use the Vasa as a test event for the Birkie to practice fueling and feel how 2+ hours of racing would feel. The Vasa was SO COLD and I frostbit my ear and nose pretty badly (despite wearing face tape and a lot of layers). Also, my bottle froze after about 45 minutes and I was too cold to stop at an aid station so I just kept trucking along. In a way, this prepared me perfectly for the Birkie because 4 degrees felt balmy to me at the start line. Also, after swapping bottles at OO I took a sip from the new bottle and immediately dropped it. So I had to run on the fuel I had taken in during the first 20k. Overall, the Vasa was good practice to see how my legs would feel after racing for so long."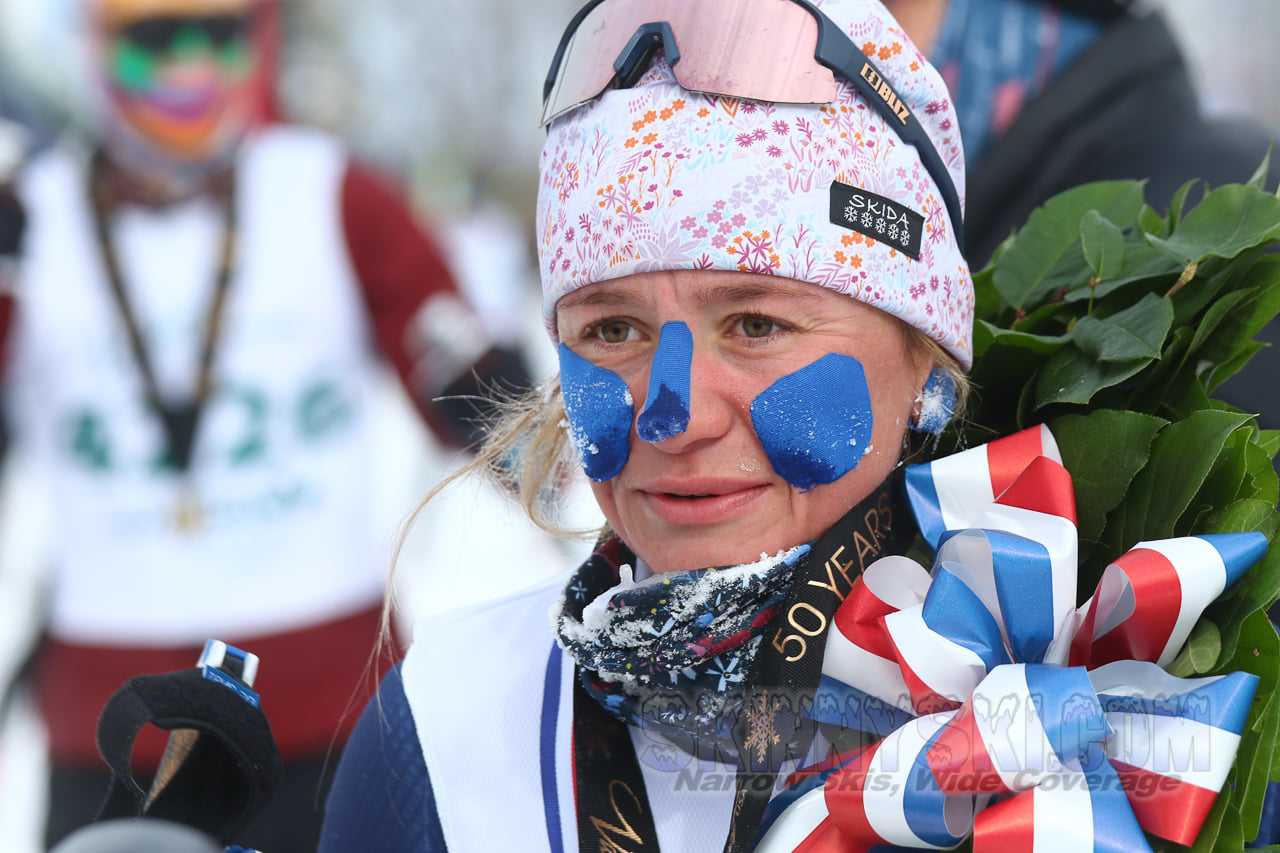 Many skiers competed again the next day, but this time at the 48-kilometer classic Vasaloppet. Torchia continued his winning streak, finishing in 2:20:18.3. Brian Gregg was close behind in 2:20:55.4. Tony Mathie of Team Birkie took the third spot on the podium with a time of 2:26:35.2. Team Birkie continued to show their prowess in the women's race, as Julie Ensrud of Team Birkie won in 2:52:54.7, followed by Caitlin Gregg in second in 2:54:03.2.
Others used the lapse in racing as an opportunity to focus on training and mental recovery. Rosie Frankowski, of APU, echoed the need for a brief break after January's racing, "I figured I would just head home to Anchorage for a couple of weeks to get a nice mental break from traveling and racing all year. I always forget how taxing it is to be on the road for two months and even though the trip to Alaska from the East Coast was long, I definitely needed to get some mental space from skiing after a tough January. Racing out of Alaska you end up living more similarly to a World Cup athlete where you spend weeks on weeks down in the Lower 48 on the road, so it is hard sometimes to get true breaks."
This year's skate Birkie drew deep fields, as several French skiers joined current and recently retired Olympians and SuperTour racers. The women's elite race started first, 20 minutes ahead of the men's race so that the winners of each race would reach the finish line in Hayward, Wisconsin around the same time. In the women's race, a large lead pack of about 15 skiers formed early on, skiing at a brisk yet sustainable pace. The pack whittled down to six skiers by the OO bridge crossing, nearly halfway through the race.
Consistently at the front and trading leads were Jessica Yeaton, an Australian Olympian and former APU athlete, Rosie Frankowski, also of APU, Caitlin Patterson, a Craftsbury GRP skier who had just returned from the Olympics in China, and Sadie Bjornsen, recently retired with multiple World Cup podiums and Olympics under her belt. Taking turns at the front, these skiers pushed the pace and worked to break the field. Marking these moves were Alayna Sonnesyn, two-time Birkie winner of SMST2, and Margie Freed of the GRP.
Freed, skiing with the lead pack in her first-ever marathon race, shares her experience, "I was very nervous to do my first Birkie, but mostly about the fueling part of it. I wasn't sure how many energy chews to have, what electrolytes to put in my bottle, and being able to get these in my mouth while skiing. So my strategy was to hang on to the pack as long as I could, and get enough fuel to avoid a major bonk. I think I executed these well, having no experience with marathon racing. It was frustrating to have my muscles get so tired halfway through, and struggle to take even the littlest of steps for about 10k. Another weird thing I had never experienced was tired shoulders from skating. I felt like such a hero skiing down Main Street at the end- even though no one was in sight ahead or behind me, the crowd was going wild."
Sonnesyn provides insight into her race strategy and the course conditions, "Considering the number of elite distance racers in the field I figured the pace would be hot, which it was! I anticipated some of the other girls trying to push the pace and make a gap, but I felt like if I could respond to those moves and hang on, conserve energy by drafting as much as possible, then I had a chance at the final sprint. The course was in phenomenal shape! I don't know if I've ever skied on the Birkie trails on such a beautiful day. It was amazing."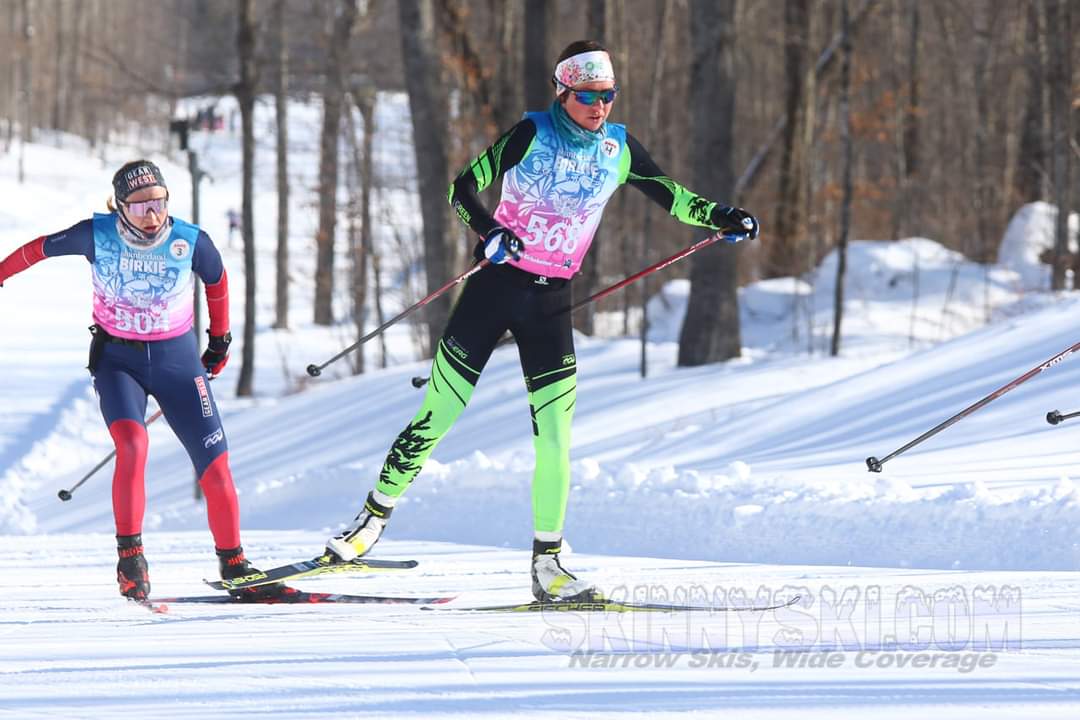 As the race progressed, it became a race between Frankowski, Patterson, Sonnesyn, and Yeaton. By the final five kilometers, the lead pack shrunk further to Frankowski, Patterson, and Sonnesyn. In the last few kilometers of the race, Patterson led, followed by Frankowski and Sonnesyn. Crossing Hayward Lake, about two kilometers from the finish line, Patterson maintained her lead into the headwind. Frankowski took a turn at the front, pushing the pace and leading as the three skiers made their way off the lake. With just the finishing uphill over the bridge on Main Street remaining, Patterson and Sonnesyn overtook Frankowski, pulling slightly ahead with the finishing sprint ahead. Neck in neck, Patterson and Sonnesyn sprinted down the homestretch, with Sonnesyn edging out Patterson just before the line for the win. With a time of 2:22:51.10, Sonnesyn picked up her third American Birkebeiner title. Patterson finished right behind in second in 2:22:53.74. Frankowski skied to third place in 2:23:00.36.
Yeaton crossed the line in fourth in 2:24:18.69 and Bjornsen was fifth in 2:24:56.06. Making up ground in the final kilometers of the race, French skier Celine Chopard Lallier was sixth in 2:29:03.10. Freed, skiing with the lead pack for most of the race, held onto seventh place in 2:29:35.49. Five-time Birkie winner Caitlin Gregg placed eighth in 2:30:44.87. Hannah Rudd of BSF Pro skied strong, placing 12th in 2:32:58.79.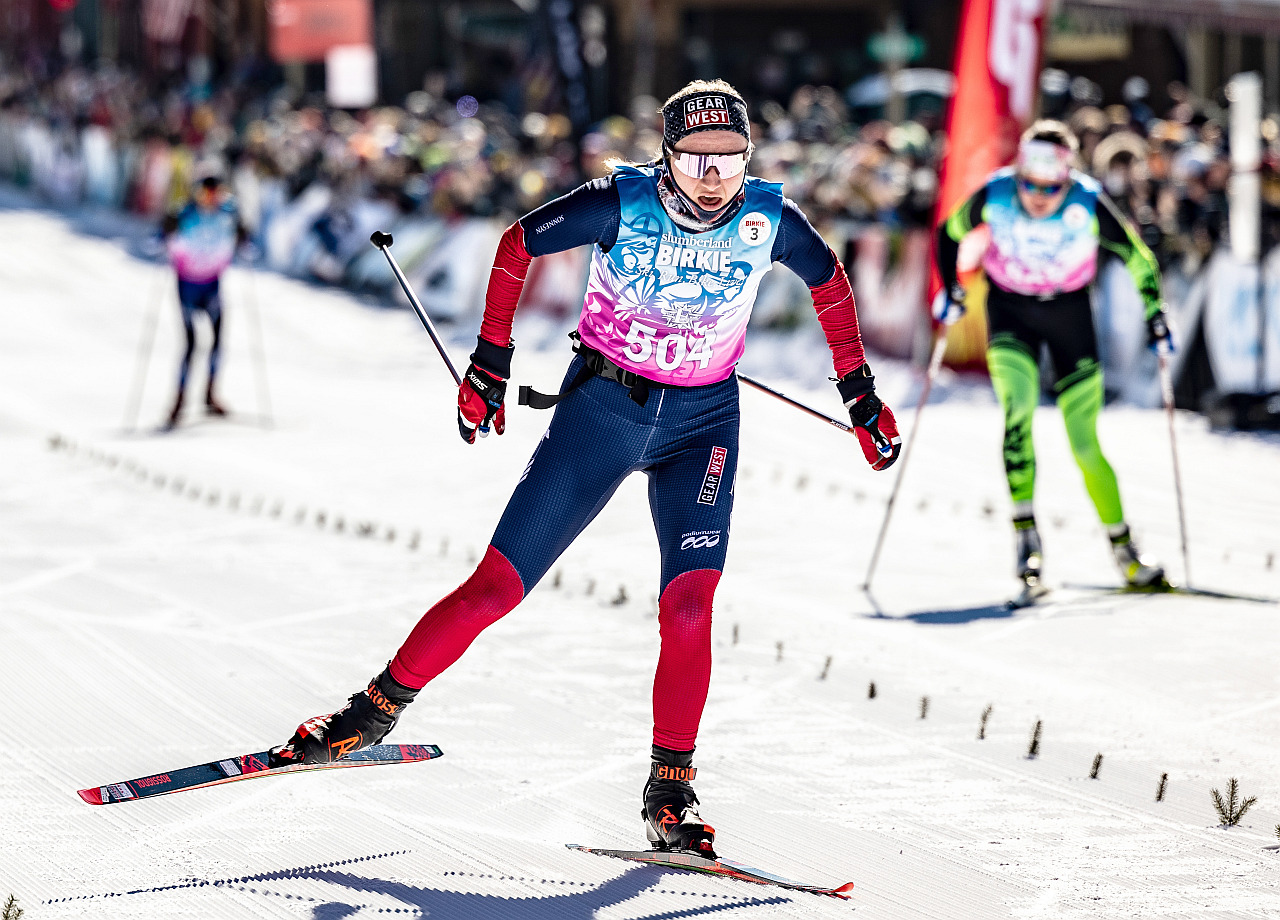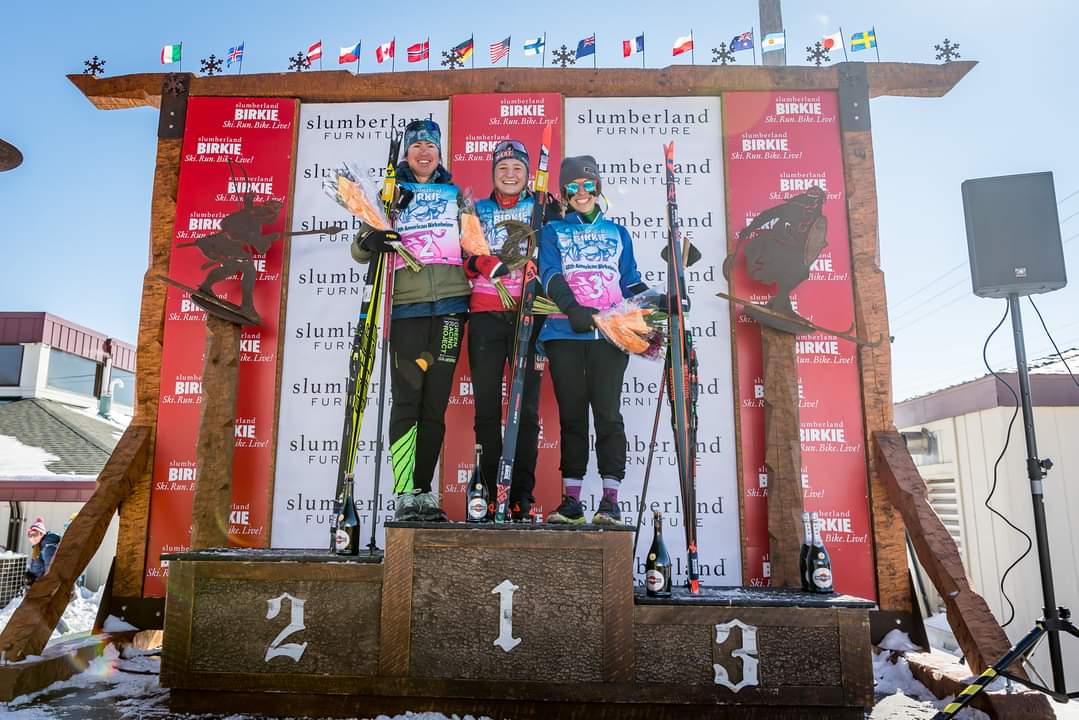 Sonnesyn reflects on her race, "The Birkie played out really well for me. I felt good during training leading up to the race but knew it was going to be an extremely deep and competitive field and that anything can happen over 50k. I was feeling good during, but at no point in the race did I think, "I've got this" until I crossed that finish line... It was fun to be in such a huge pack of elite women through the high point... I crashed with 3.5k to go - that definitely wasn't expected but I somehow got up fast enough to catch Rosie and Caitlin before the lake... There are always surprises. Coming up and over International Bridge to the screaming crowd of fans cheering will never get old. I used their energy to push me through to the finish."
Frankowski, who spent ample time pulling the lead pack, weighs in, "The Birkie was really fun. I was particularly excited to have my APU teammates Jess Yeaton and Sadie Bjornsen in the lead pack to work with and try to break the field apart. Jess did some fantastic work at the front, and I think both her and my goal was to try to get the group down to as small as possible. And Sadie kept the lightness and fun in the race by yelling out fun observations and cheers. Everyone has their own tactics and race strategy for marathons, but I just like skiing hard and going hard most of the time. Tactically it might be stupid as I often (aka almost always) get outsprinted, but I still like that style of racing and I think it prepares me well for the races in Europe where the pace is hot the entire time and you have to use fitness to stay in the pack. The best part of the Birkie was the amazing conditions we had and the ability to hold a race of that size after so many race cancellations and changes over the past two seasons. The organization, volunteers, grooming, and the crowd were all amazing and hats off to the Birkie Foundation and Hayward community for the enormous amount of work I'm sure they did."
The men's race started similarly to the women's race, as a large pack of about 20 men formed in the early stages of the race. Skiing toward the front of the pack were GRP skiers Adam Martin and Akeo Maifeld-Carucci, the latter the 2019 Birkie champion, and APU skiers David Norris (another former Birkie winner), Tyler Kornfield, and Thomas O'Harra. Also at the front were Ian Torchia of SMST2, former Olympian and APU skier Erik Bjornsen, BSF Pro skier Finn O'Connell, and French skier Gerard Agnellet.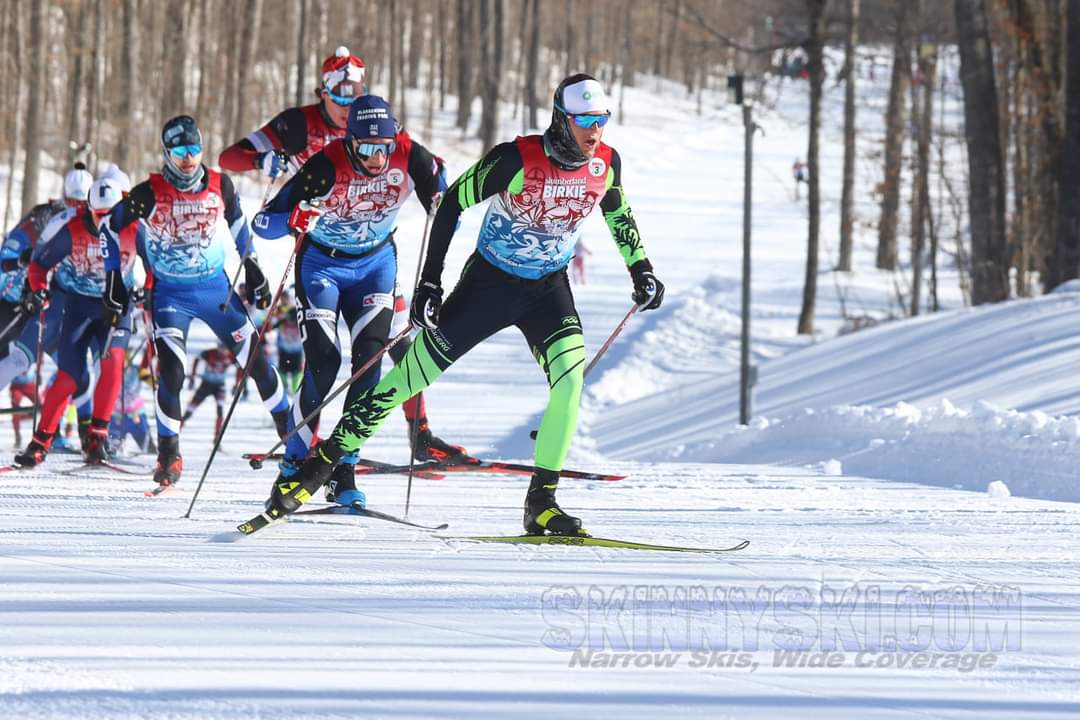 Torchia provides insight into the race, "The Birkie played out with a huge pack of 20 of us together until about 30k. It was pretty chaotic in the middle so I tried to stay near the front or the back. With about 20k to go David Norris made a really strong move that split the group up. Responding to his move caused me to start cramping, not an ideal situation with about 40 minutes of racing left! After about 6-8 of us came back together after his surge I took the lead from 38 to 45k purely out of necessity as I knew I had to ski a steady pace because another surge would cause me to cramp to an unsustainable level. The big hill after Hatchery was that move that pushed my cramping arms and legs over the limit and I lost quite a bit of time on David, Adam, and the Frenchman on the 1k climb. I slowly closed down the gap to them, including into the headwind across the lake, but they were just out of reach and by the final sprint I only took it down to 15 seconds. I am proud of the effort and for almost solo bridging while dealing with cramps."
Martin adds additional thoughts, "Going into the race I was expecting either a hard first half (like two years ago with Dyhraug) or a tactical race until the last 3 climbs. It ended up as the latter. Although winning the OO sprint bonus was a surprise! At that point in the race I was feeling really good and had a good position, and I realized I could get it without going completely all out."
With about five kilometers to go, Norris, Martin, and Agnellet had pulled away, each surging ahead at times to keep pushing the pace and growing their advantage over the chasing skiers. Torchia, Kornfield, and Maifeld-Carucci were skiing strung out behind the three leaders, attempting to close the gap. After trading leads across the lake, Martin led Norris and Agnellet off the lake and over the bridge onto Main Street. Slingshotting around Martin off the bridge, Norris sprinted ahead, leaving Martin and Agnellet to match his pace. Making for a nail biter of a finish, Agnellet made a move at the last second, just barely crossing the line in first. Norris' finishing lunge was not quite enough to hold of Agnellet, as Agnellet won in 2:07:23.62, followed just hundredths of seconds later by Norris in 2:07:23.68. Martin was close behind in third in 2:07:25.62. Torchia, closing strong across the lake, placed fourth in 2:07:38.93. Maifeld-Carucci was right behind, fighting to fifth place in 2:07:41.59. Kornfield ended in sixth in 2:07:53.81, followed by O'Harra in 2:08:10.96 in seventh, Matt Liebsch in eight in 2:08:57.22, and Bjornsen in ninth in 2:10:14.67. Reid Goble of BSF Pro, who won the Sprint Preem about one kilometer into the race, ended in 17th place in 2:15:28.66.
Martin reflects on his race strategy and the Birkie atmosphere, "Going into the race I wanted to stay near the front, so I could cover any moves. However, I also knew leading early wasn't smart. For the most part I think I executed this plan, apart from getting a bit too excited at the beginning and leading a few times. It was just too darn fun to ski at the front of the Birkie! This is one of the races I most look forward to. This year the conditions were perfect and the atmosphere fully lived up to the hype."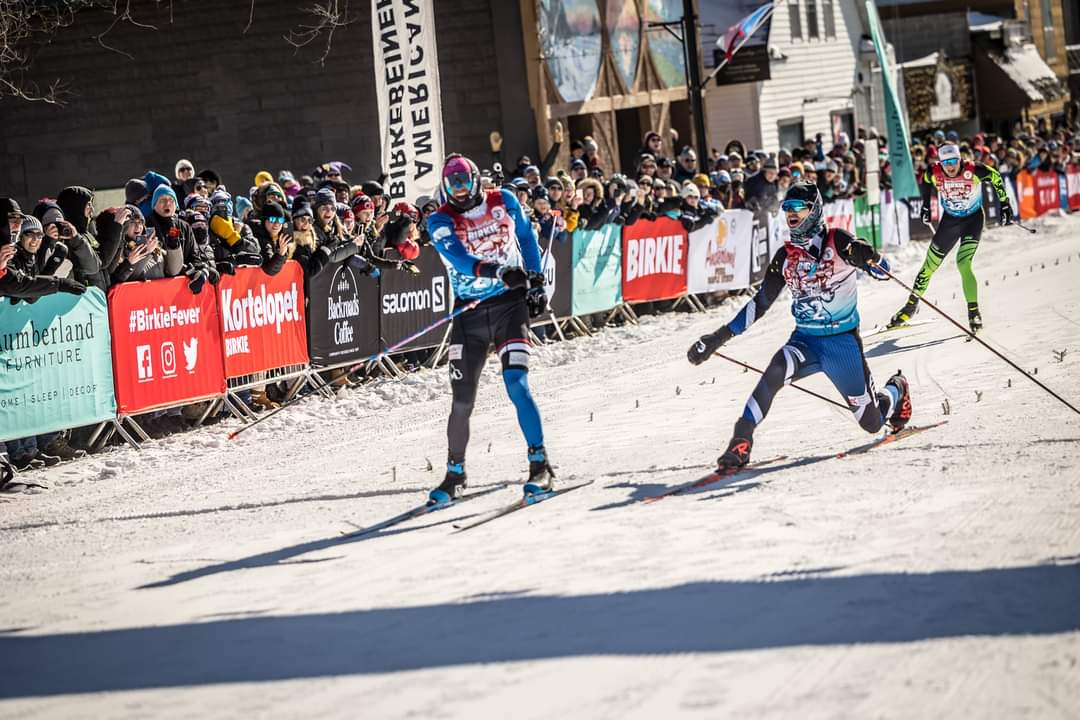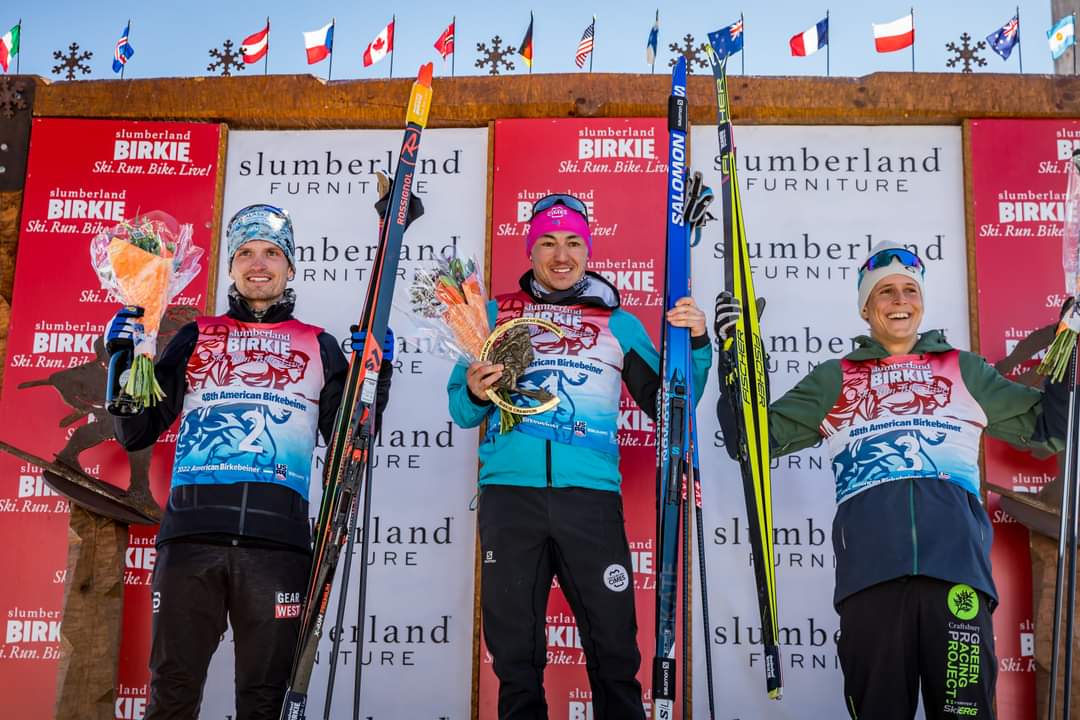 Looking ahead to the rest of the season, a few skiers who have been on the SuperTour circuit much of the year have earned start spots for the final period of the World Cup. Among them, Frankowski, the current women's SuperTour leader, is currently in Oslo, Norway for the 30-kilometer World Cup race at Holmenkollen. Frankowski says, "I'm most looking forward to just enjoying these races and trying to remember that I ski for me and not the expectations of others. This season has been really long and there have been some major highlights and some difficult times, but I especially want this last month to be more focused on the enjoyment of the amazing sport and opportunities we get to do."
Joining Frankowski on the World Cup will be Sonnesyn, Patterson, and Martin. Sonnesyn will be starting the Drammen World Cup sprint in Norway, whereas Martin and Patterson will be joining Frankowski at Holmenkollen. Zak Ketterson of Team Birkie also has World Cup starts for Period Four. Ketterson, who was notably absent from the Birkie, raced this past weekend at the World Cup in Lahti, Finland.
Torchia, who has announced that the Birkie was his last race as a professional ski racer, reflects on his career, "I am currently in Ann Arbor with my wife and pup and it's honestly been a whirlwind so far. My overall sense of my ski career has been gratitude for all those that supported and happiness at the lifelong bonds and relationships I formed during the journey. Even though I'm not racing as a professional, I'll be back at the Birkie for a long time in the future."
Other American elite skiers will be starting OPA Cup races in Europe, a racing circuit just below the World Cup. The final SuperTour racing of the season will take place in Whistler, British Columbia from March 20th through March 27th. Many American World Cup racers will be back to race, joining Canadian and SuperTour athletes for these SuperTour Finals, also known as the Spring National Championships or 'Spring Series.'
About the author...

Michaela Keller-Miller, a graduate of Wayzata High School and the University of Alaska Anchorage, skis for the Green Racing Project based out of Craftsbury, Vermont. Her ideal day would probably involve a long trail run followed by a stack of pancakes with maple syrup and a chai latte.