NCAA Championships Recap
The best collegiate skiers in the country traveled to Midway, Utah, for one last opportunity to put themselves to the test. Soldier Hollow, the home of the 2000 Olympic Cross Country and Biathlon events, features a grueling five kilometer course - hilly and high. But it also often provides its signature conditions - sunny but not sloppy - and it did so again this past weekend. The eighty person collegiate field, a combination of racers from RMISA, the CCSA, and the EISA featured five Olympians, three returning NCAA Champions, and forty-one Americans. The two races over three days combined for a thrilling and exacting culmination to these skier's seasons. It's been a long road to Utah for many and we are proud of the perseverance, determination, and passion of all the athletes we've watched, followed, and cheered on this year.
Welcome to the NCAA Championships!
Day 1: Thursday, March 10th, 5/10k Classic Individual Start
Novie McCabe (UU), who placed third in both races at last year's Championships, took the first victory of the weekend, winning the women's 5k by fourteen seconds. Anna Bizyukova (UVM, RUS) and Sophia Laukli (UU) shared the second step of the podium, finishing in an outright tie.
Anabel Needham (MTU) led the way for the Midwesteners and the CCSA with a standout performance, finishing fourth, just twelve seconds off of the podium. "I just feel so thankful to have had yet another season considering COVID and all of the other challenging things happening around the world," said Needham. "Escaping to ski racing with my team, who make me smile and laugh, and in turn make me ski a little faster, was fulfilling and joyful. This was a truly special season, and having these races to end it was really the best outcome I could imagine. It was a good year to be a Husky, and next year will only be better!"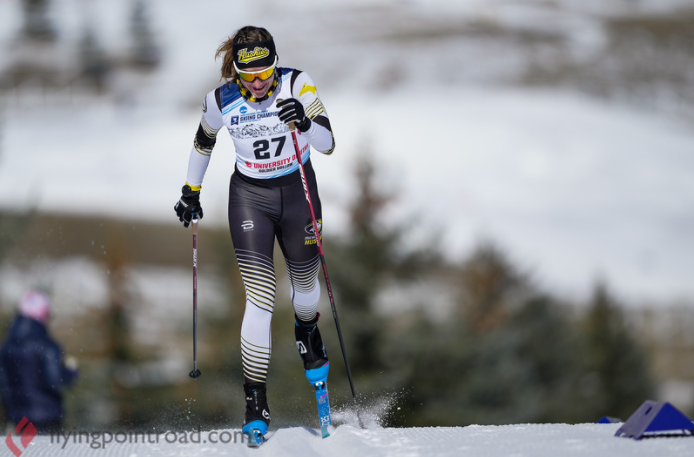 Erin Bianco (CBC) finished the day in 18th, with Renae Anderson (BOW) in 29th, and Luci Anderson (UNH) placing 33rd.
In the men's 10k, 2020 NCAA Champion, Ben Ogden (UVM), earned his second title, winning by six seconds over Andreas Kirkeng of Denver (NOR). Magnus Boee (CU, NOR), who had swept NCAA's in 2021, placed third.
Kjetil Banerud (NMU, NOR) was the top CCSA skier in 14th.
For the Midwesteners, Roger Anderson (UNH) led the way in 22nd, with Xavier Mansfield (NMU) 25th, Colin Freed (MTU) 33rd, Henry Snider (MTU) 36th, and CJ Young (UWGB) in 38th.
Day 2: Saturday, March 12th, 15/20k Skate Mass Start
It was another picture perfect day for the mass start competitions with the men toeing the line first. As the men skied their way up and down the hills on the looping trail, the pack whittled down to four, regrouped to six, and then strung out in an every-man-for-himself finish as Ben Ogden (UVM) made his move for glory on the final lap. Ogden held the lead and claimed his third NCAA title. Sam Hendry (UU, CAN) out-fought the rest, placing second, his fourth NCAA podium. JC Schoonmaker (UAA), by now a regular on the World Cup sprint circuit, found some distance legs, placing third.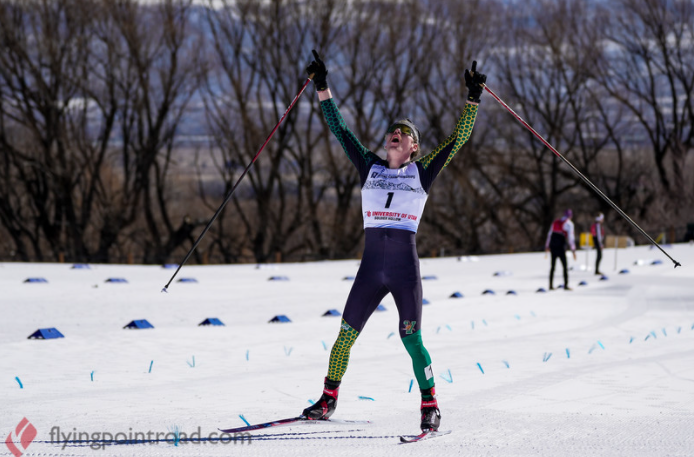 Kjetil Baanerud (NMU, NOR) was once again the top CCSA skier, placing 7th, just thirty-four seconds back from Ogden. Skylar Patten (MTU) placed 10th, earning All-American honors.
Xavier Mansfield (NMU) placed 19th, saying, "The 20k skate was pretty solid for me. I was seeded in the last row so I just went out there and raced my race and didn't force anything especially at altitude. Eventually, I started passing some people as they were dropping back, and stayed pretty close to the main group until the last two laps, but couldn't really give anything more to get back into the mix. All in all I was happy with a top 20 result at NCAAs."
Roger Anderson (UNH) finished an impressive first NCAA's, placing 27th, with Henry Snider (MTU) in 29th, CJ Young (UWGB) 30th, and Colin Freed (MTU) earning 34th.
An early breakaway by Utah's three women highlighted the women's 15k. Sophia Laukli, Novie McCabe, and Sydney Palmer-Leger gapped the field early by thirty seconds. While Palmer-Leger, who won both NCAA Championship races in 2021, eventually dropped back, Laukli broke away from McCabe, winning her first NCAA title. McCabe would finish thirty-five seconds back, in second. Jasmine Lyons (UNH, CAN) skied strong through the last half of the race, taking third.
Renae Anderson (BOW) earned All-American honors, placing 10th with Anabel Needham (MTU), once again the top CCSA performer, finishing in 12th. Erin Bianco (CBC) was close behind in 13th. "This NCAAs was the most exciting as we sent a full Colby women's team for the first time," said Bianco, "so it was awesome to be out in Utah racing with Gretta and Rose and to be a part of history. That was definitely a highlight as well as the mass start 15k. It was the best atmosphere I had ever raced in with bright sun and hills lined with people playing music and cheering. It was also one of my best skate results and was fun to ski with Renae the whole time! Getting 13th place in my last college race was a great way to go out!"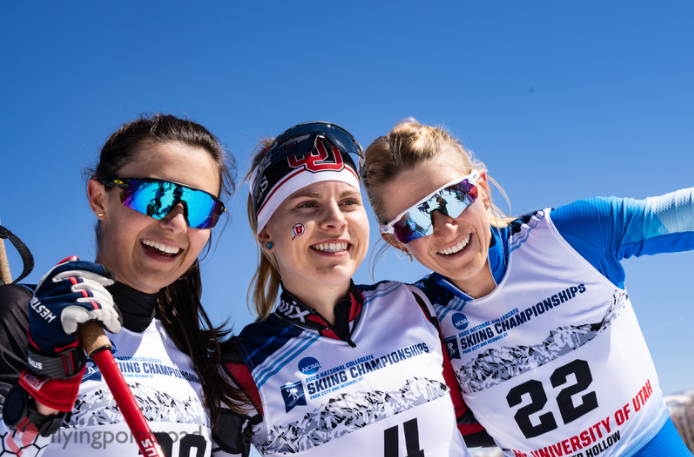 Luci Anderson (UNH), finishing out a strong season, placed 24th.
The Utah Utes won the overall NCAA Championship, which includes Alpine events. Vermont finished in second with Denver in third. For nordic-only scoring, Utah won with 321.5 points, Vermont was second with 272.5, and UAF third, earning 239 points.
Thanks to you all for following along this season. We'll see you next year, when our Midwest skiers start their journey toward Mt. Van Hoevenberg, the site of the 2023 NCAA Championships! But for now, it's time to rest.
About the author...

Luke Brown, a graduate of Minnehaha Academy and Dartmouth College, is a skier and biathlete for the Craftsbury Green Racing Project. He enjoys running in the mountains, writing, and eating cereal with whole milk. He lives in Craftsbury, VT.