Midwest MTB Report
There was no shortage of racing this past weekend, and this week's report is loaded with firsthand recaps from both the Minnesota and Wisconsin series, the Miner's Revenge in the UP of Michigan, and the Nepomark Narly in Pisek, ND, along with recaps from the USA Cycling Mountain Bike National Championships.
USA Cycling Mountain Bike National Championships
A good contingent of Midwest riders were in Winter Park, CO over the weekend, most led by Bruce Martens of the National Center for Youth Development team. Minnesota-born Pro Riders Sam Elson and John Wessling, along with Wisconsin native Caleb Schwartz, highlighted the results in the XCO race, with Elson in 14th, Schwartz in 15th, and Wessling nailing a top 20 respectively. Another result to note is that of Frederic Schmid who won the 80-85 category race!—a continuous inspiration for so many riders. Wessling recaps his race:
"This year's USA National Mountain Bike Championship was held at around 9000ft of elevation at Winter Park Resort in Winter Park, Colorado. The XC and short track courses consisted of fire road climbs, screaming fast descents, and a bit of rooty and rocky tech sections each lap. Although it was mostly the same course as the 2019 and 2021 US National Championship races, there were a few natural changes."
"Due to the thousands of laps ridden on this course in the last four years and a bit of erosion, the roots and rocks seemed a lot bigger and more noticeable this year. For reference, in 2019 I raced this same course with a hardtail which was fine at the time, but his year I had to really soften up my shock and fork on my full suspension rig to absorb the roots and rock sections. It felt like the riders with good bike handling skills had a bit more of an advantage this year compared to years past. Let's not be mistaken though… this is a pure climbers course. Starting at 9000ft and climbing up to around 9600ft each lap from one climb off the start, it really favors the west coast climbers in the USA."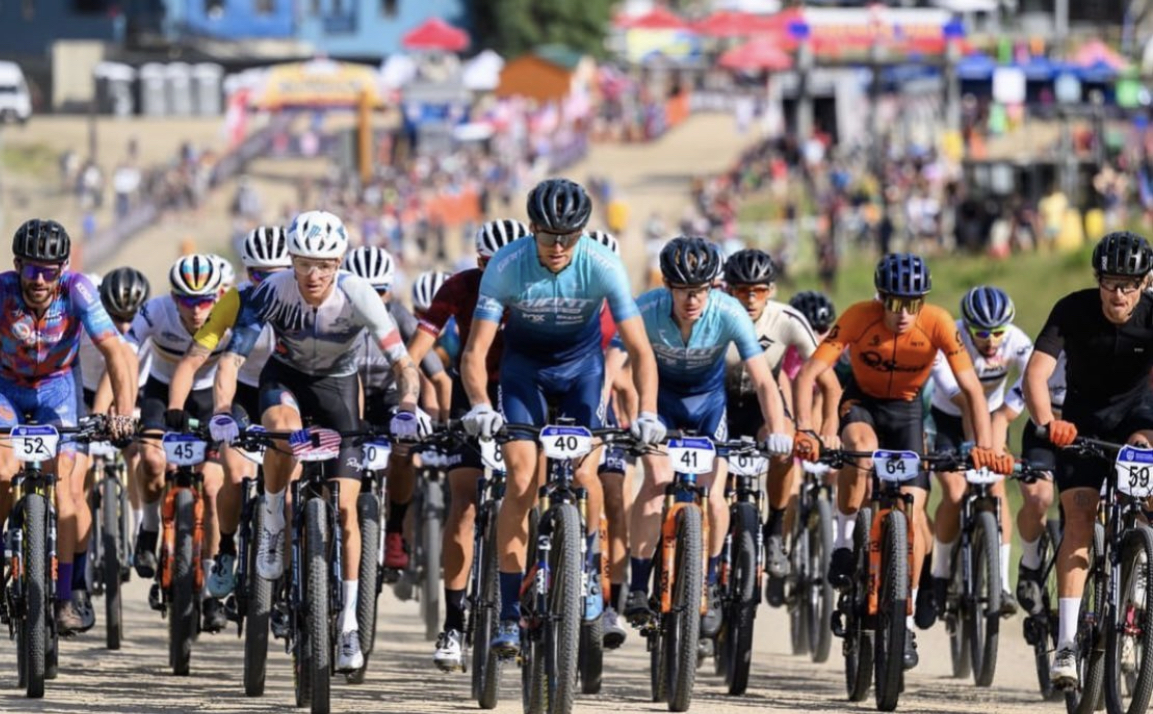 "In 2019 and 2021 at this venue, I raced in the Cat 1 category. This year I moved up to the Pro category and I immediately felt the difference blasting up the first climb in the XC race with Keegan Swenson dropping the hammer. For the first four minutes of the race I averaged 420 watts and my normalized power was 462 watts and I wasn't even at the front! All of us started the race as if it was 10 minutes long but once we entered the single track about five minutes into the climb, I knew I was at my limit and settled into a pace I could sustain (hopefully) for 90 minutes. After making passes and getting passed, some loud cheering, a few close calls, and a complete downpour the last ten minutes, I crossed the line in 20th. I was satisfied with my effort and really enjoyed the race!"
"We finished the XC race at 7pm on Saturday, and on Sunday at 12:45pm it was go time for the Short Track event. Again, the pace off the start was insane and I knew I couldn't sustain that effort for the entire 30 minute race. I backed off fairly early and I hoped the 2021 World Short Track Champion, Christopher Blevins, would set a pace only a few could hold."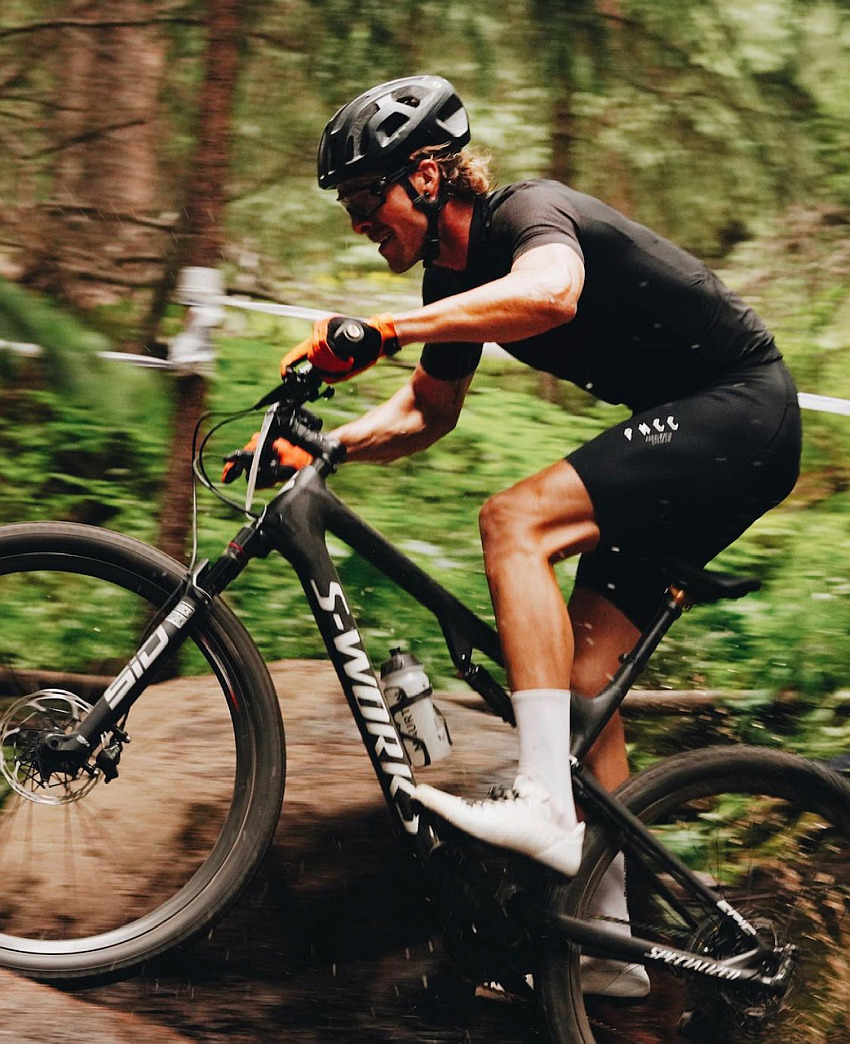 "After going into the single track close to 35th place, I knew I had my work cut out for me. Each time up the 1.5 minute climb I would pick up the pace just a bit. As I was hoping, Blevins put everyone in the hurt locker and some riders began to blow up pretty bad. After another 10 minute downpour at the end of the race, I rolled across the line in 16th place."
"The XC and Short Track races were fun to race and watch this year, but I am happy to be changing venues next season! I have been told it's looking like 2023 Nationals will be in Vermont at a course full of lots of roots and rocks. Maybe a Maplelag pre-nationals boot camp is in the future??"
USA Cycling National Mountain Bike Championships Results
Nepomark Narly
Pisek, ND was home to the second annual Nepomark Narly on Saturday, a gravel event that featured 100, 40, and 16 mile races and a cash purse over $15,000! I had no idea this event was taking place until my good friend Steve Wenzel sent me the registration link. Although I have ridden thousands of miles of gravel on a mountain bike and a cross bike, and quite a few miles with a road bike, I do not own a gravel specific bike and have never done a gravel specific event.
After talking to Steve, I decided to attend the race. I love the landscape and the numerous hidden gems among the places to explore in North Dakota, and if you only know North Dakota from traveling on the interstates of 29 and 94, you are missing out on discovering one of the most beautiful states, and in my opinion, in this country! The race was based out of the St. John Nepomucene Catholic church in Pisek, with most of the congregation helping out at registration, as course marshals, and with timing and the post-race recovery potluck.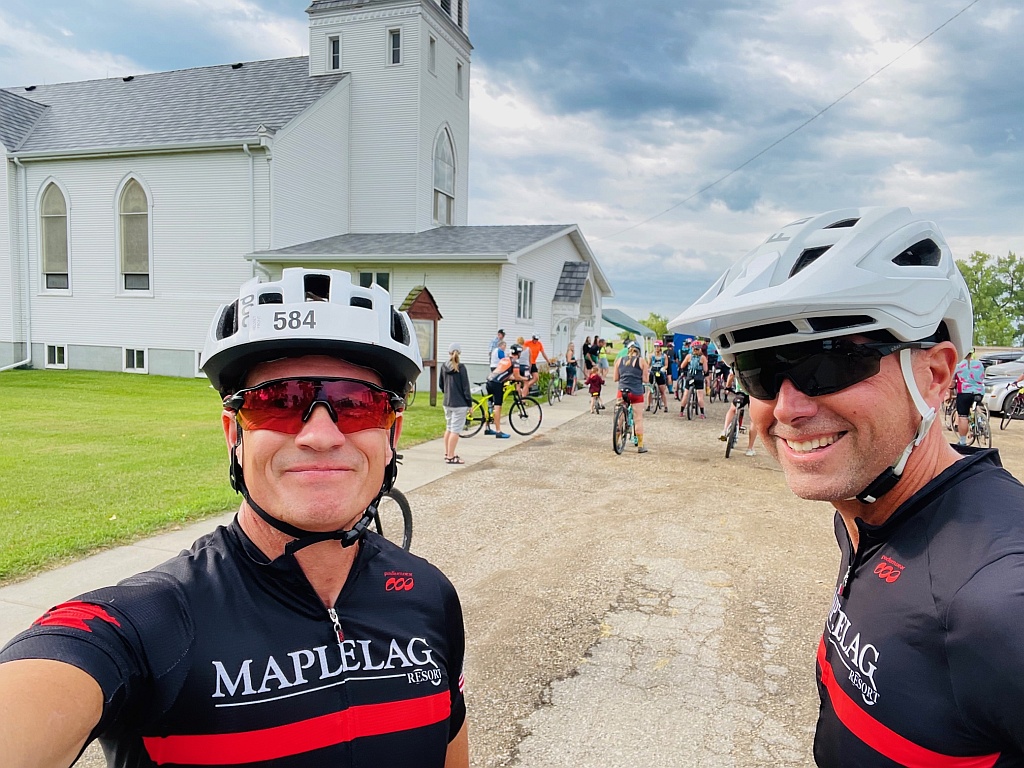 I woke up at 4am in order to make the drive north and the 9am start time. The area had received a good shot of rain overnight which made my decision on which bike to use: It would be a Otso Voytek fat bike recently set up with a 29er wheelset over the regular road bike.
The start of the race was fast and furious as I tried to stay with the front group. A two person team from WARP Cycling were drilling it at the front with the intention to break the group up as fast as possible. It worked, as around mile 7 riders were off the back, myself included. I "sat up" and slowed the pace waiting for a group as I didn't want to solo the remaining 34 miles (the total race distance was just under 42 miles).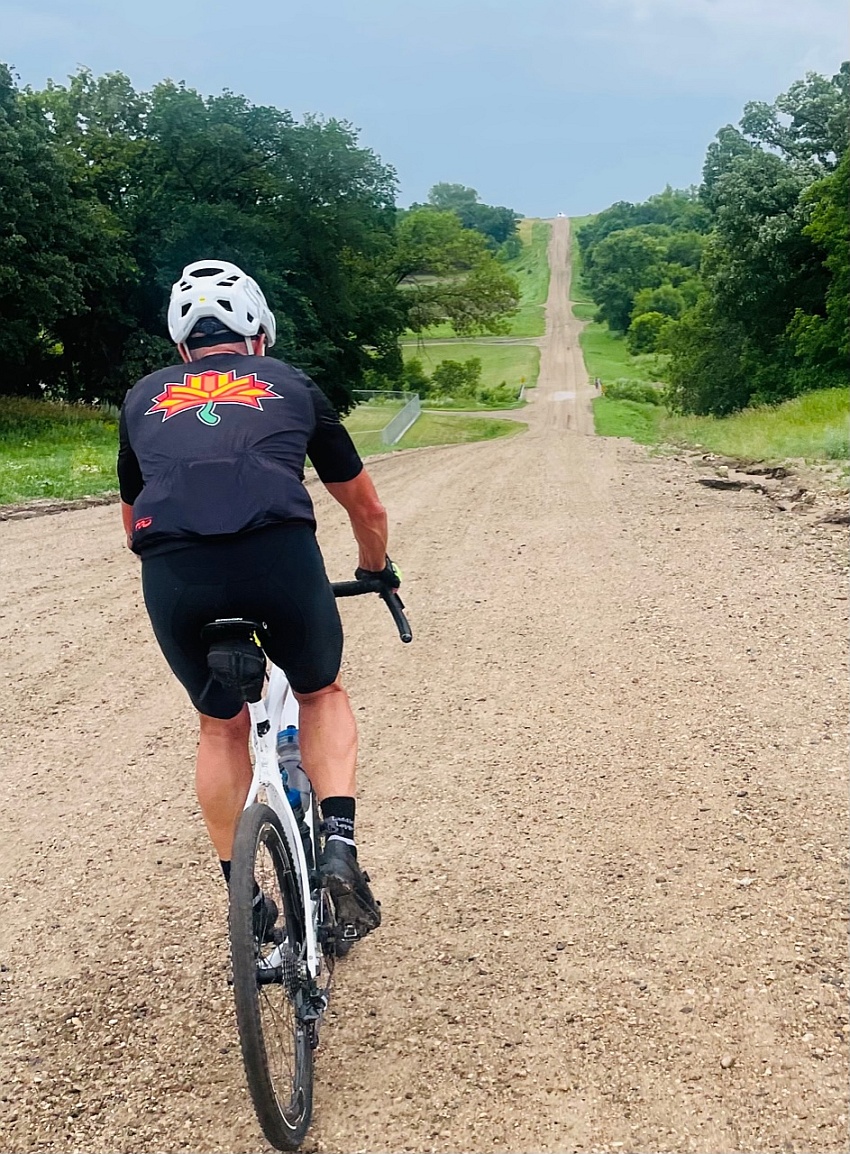 When the first rider to bridge up to me was Steve, I could not have been more relieved. Steve and I rode the rest of the race together, working with one another to bridge up to other groups. The highlight was attacking on a downhill in a coulee that had a bridge with a big lip at the bottom (which we caught some fun air off of). We caught two riders, put a attack on the ensuing climb, and continued to build a gap the remainder of the race.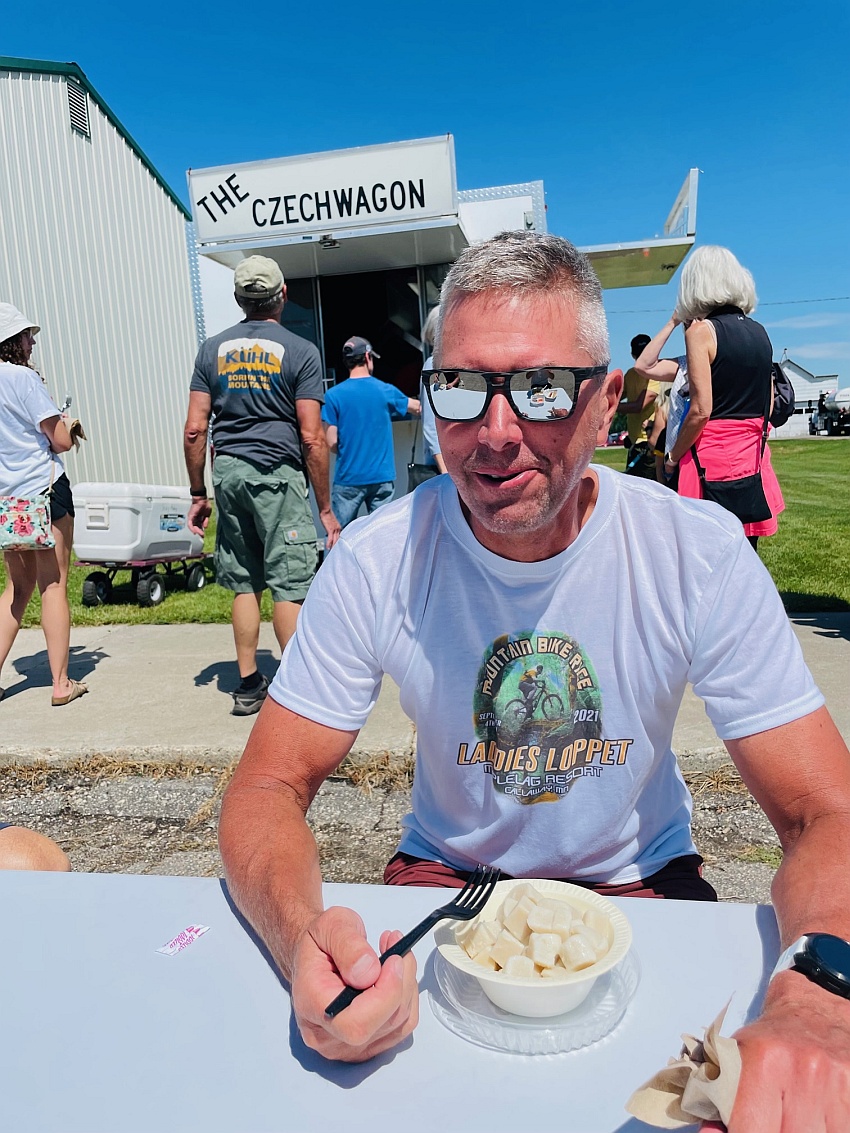 There was light rain most of the race which provided a nice cooling effect and conditions were about as good as they could get. I was extremely grateful to ride with Steve as he was a machine in the soupy gravel segments and the wind. It was a special day on the bike as Steve and I first started riding together 32 years ago. After the race the small town of Pisek celebrated their community, including multiple food trucks that the racers indulged in.
MNMBS #7: Mt. Kato
Adam Emanoff writes:
"This year's MN Series race at Mankato was a solid representation of what experience and passion can bring to an event. I've been racing mountain bikes since my Bridgestone MB-1 and when I moved to the Twin Cities, it was my first experience with a 'big', organized, racing series. There was even a poster-sized schedule hanging out in several local bike shops. Way back then, Mt. Kato was on the poster-sized schedule. If they weren't on the schedule for some reason, they were hosting their own race - Mud Madness anyone?! - They also hosted a 12-hour event. The folks in Mankato love cycling and they love to host events at Mt. Kato."
"So when racers started filling the parking lot and making their way to the front of the chalet, the organizers made sure things were ready for them and nicely laid out. Bathrooms, tents and the food truck were in place. The course was marked and racers were (mostly) ready."
"Over the years, Mt. Kato seems to have gotten a reputation for being hot. Let's try that again;"
"HOT."
"Like - standing in the shade and sweating type of HOT."
"Not in 2022."
"This year, there was an unusually comfortable temperature. In fact, some said it was a perfect day. Sun, good temps, clouds, wind and some rain the night before to help the previously dusty trails. Throughout the day, just over 250 racers navigated through the various challenges Mt. Kato offers. Of course there's the first climb from the start. We're all familiar with that. But this year the course showed some updates. It was clear the folks hosting had been putting their gloves - and backs - to good use as there were several reworked sections that offered some great additional riding. We didn't get to do the Luge this year, but I overheard a conversation from the trail crew that it also received some attention and has been reworked for an upgraded experience. The 'Luge-alternate' way down offered some great steep sharp corners followed by fast, sweeping and undulating trail to meet up with Cabin Run, which has got to be a racer favorite for its deceptively easy (ever put a wheel just a little too close to the left edge?!) section that brings you home to the final climb out of the woods."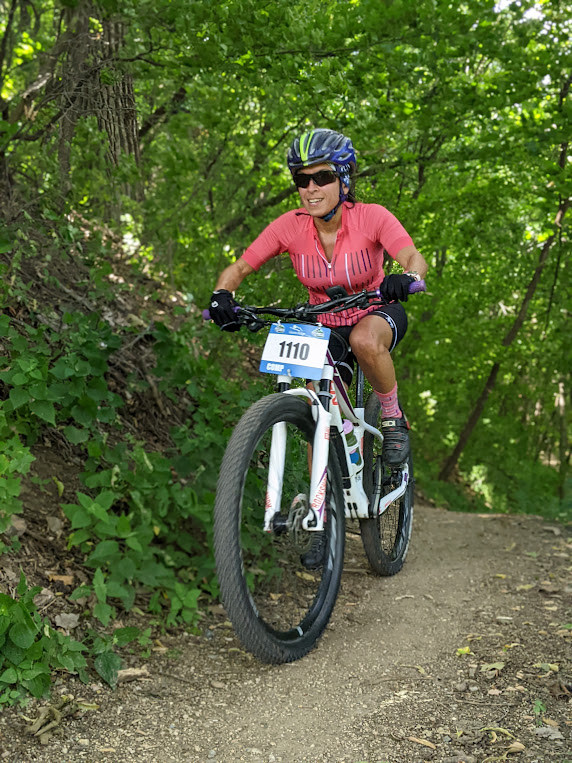 "With the rain overnight, The Maze was definitely a highlight for this racer. The long sweepers were just grippy enough so that you could really lean on the tires and carry speed into the next turn. It just felt amazing hooking up and transitioning left to right to left to right. Such a delight."
"While Mt. Kato has the reputation for being HOT, a much better reputation that Mt. Kato has is - post race frozen treats!"
"It's a wonderful thing to get after such an effort (either in the heat or just from the elevation). Whether you chomp it down right away or rest it on your neck for a bit while you recover, it's a great thing that makes Mt. Kato unique from other events. So please, join me in raising your favorite flavor frozen treat to everyone who makes Mt. Kato happen! Their experience and love of cycling is a positive contribution to our sport and we're lucky to be able to kill our legs and burn out our lungs on their fun trail system."
"I hope it continues to be part of the schedule for a long time to come - even if that schedule isn't poster-sized."
WORS #6: Mount Morris Challenge
From Marcus Warrington:
"Weather is always going to be a factor with Midwest mountain bike racing in the summertime. At 3:00 on Saturday afternoon, the ski was turning ominous in Wild Rose, WI. Together with Race Director Bill Ringenoldus, we pulled pre-riders off the mountain and closed the course. An hour later, severe storms rolled through, bringing heavy rain and high winds."
"A town a few miles to our east lost power. Trees were down on highways just a few miles south of the venue. Rainfall rates in the area were over an inch an hour."
"But at Mount Morris, everything was fine. Infrastructure held, and the course was clear of debris. In fact, by the time racing got underway on Sunday morning, trail conditions were nearly perfect."
"Nordic Mountain, once home to a Midwest stop on the pro circuit, is known for its technical riding. The elite racers climbed over 2,700 feet in four laps on the Central Wisconsin ski hill, in what was probably the toughest race all season for each category."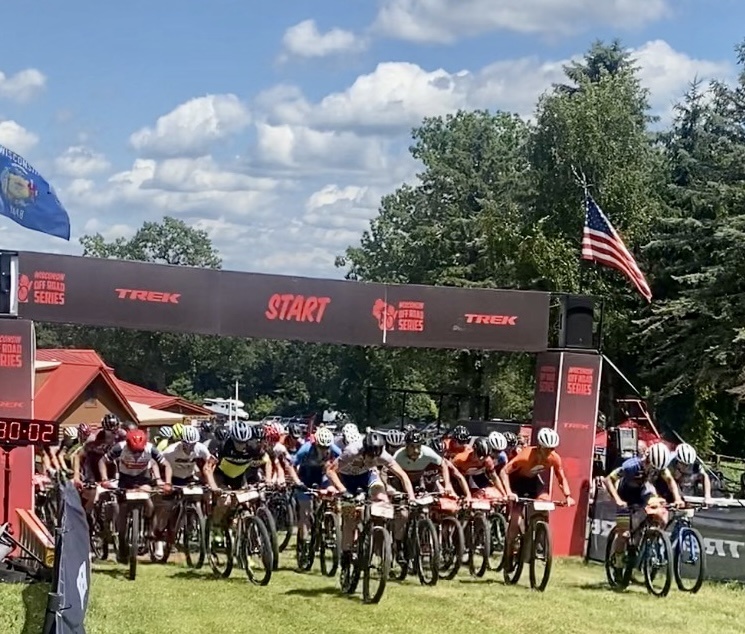 "Racing kicked off in the morning with the Junior racers, with trail conditions still a little slick. Average times for the junior field were longer than usual, but the smiles were still there as they crossed the finish line. The NICA season is approaching, and there's a lot of excitement for kids in this category, many preparing for their first year in the incredibly popular youth cycling league."
"In what has been our biggest field all season, Citizen took off at 10:00 for two laps on the mountain. Riders were reporting how noticeable trail conditions were improving just on a lap-by-lap basis, with hundreds of tires aiding the sunshine and wind to create a fast and tacky course."
"Sport was treated to a full race of fast and tacky conditions, and by the time the Elites and Comp riders took off at 1:30, it was even sandy in places. Still crazy to me how fast a trail system can dry out, especially just twelve hours after heavy rain."
"With ¾ of the season behind us, we're now entering the homestretch of WORS in 2022. In two weeks we're just outside of Green Bay for the Reforestation Rambo, before heading to Lake Geneva for the season finale, Treadfest, on August 28."
Miners Revenge
A one-of-a-kind race in the UP of Michigan, the Miners Revenge draws in the rider looking for old school singletrack, a solid grass roots vibe, and the distinction of riding through a mine!
Sam Kilpela files a recap of his race:
"This summer I added Miners Revenge back on to my race schedule after a 6 year break. A couple of weeks leading up to the race me, Justin Hoffmeyer, and Kyle Marsh headed out to the Soke Trails to scope out the race course as we heard there had been some new stuff added since we last rode there. These trails are absolutely gnarly in both how technical and rocky there are along with how steep the climbs and descents are. It is truly a unique trail system that is a must ride for anyone looking for some old school chunk and hang off the back descents. The race course is also quite an experience as it goes through a mine shaft during the race which is damp and very cool and very dark. All racers must carry a light for the underground section and really provides for a memorable race experience. Be ready for a lot of rock, out of the saddle climbs, and white knuckle downhills!"
"Leading up to race day my family was hit with a hard blow of my dad's colon cancer diagnosis. It was an emotional roller coaster the week before the race but as race morning came I was ready to smash some pedals for my dad as he is an avid mountain biker and really loves the challenge of a tough climb. The last time I raced I had taken the win and I was ready to give it all I had to try to do it again."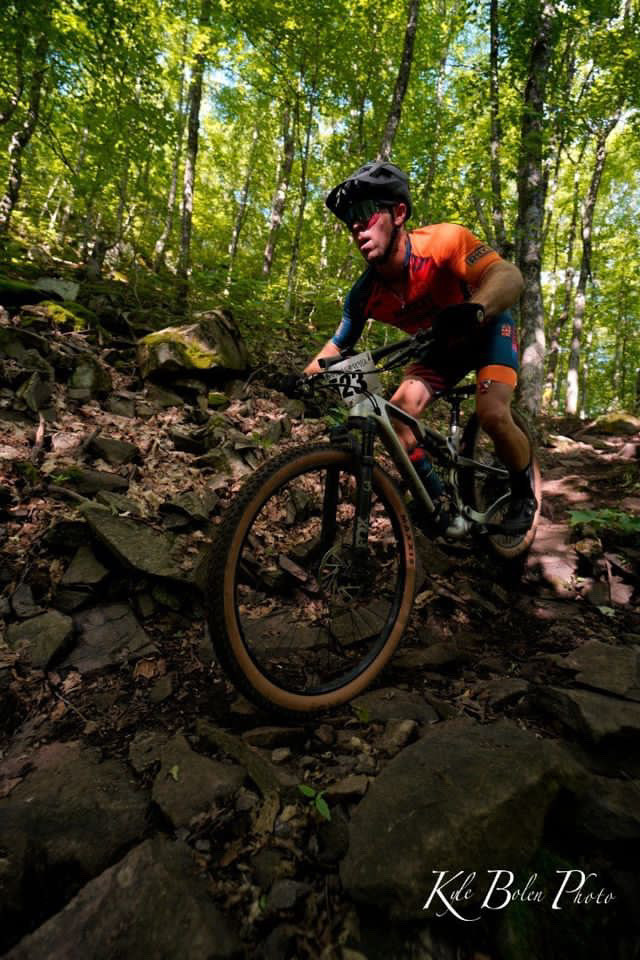 "My brother Mikael (and team rival from Marquette Ace Cycling) and I drove down a little early to scope out yet another BRAND new section of trail and get the legs warmed up. Fellow Red Jacket Cycling teammate Justin Hoffmeyer met up with us and we got a chance to take a first look at an extremely technical section of singletrack off the first big climb. The temps were quickly warming up for race start as we lined up. The expert field (3 laps of ~6 mile loop) wasn't large and we were missing one of our top RJ riders Mattison Brady as his MTB was in the shop for repair with a cracked frame, but there were some strong riders there and I was excited to battle it out. As the start gun went off we got onto the start loop and Peter Valler of Boyne City jumped to the front of the pack. I settled in on his wheel but before the first bit of singletrack and hammered and got out front to dive in first. I put down a hard effort in the first bit and then we got up to the mine entrance. Lights on and we rode through. The first big climb up Lion's Back is a tough one and I kept on the pressure and opened up a gap. On the first long descent I could hear and see the next 4 riders behind as they were slowly closing back up to me. Once to the bottom I picked it back up again we climbed a bit and started down the notorious Dangerour Curves descent. I was happy I had recently ridden this section and hit good lines and made it down safe. The next bit was super techy through a bunch of race ending sharp boulders and then we headed out for the second part of the lap on the second main climb. This one also has some pretty steep and technical bits but my legs were feeling good and I was able to clean it all and kick over the top. The last descent down Ragemaster is fast and steep with some smooth dirt sections on top before it turns into a sharp rocked boulder slide at the bottom. I had a clean run through and then set out on my second lap. I managed to increase the gap back to the group and by the third lap I knew my legs were strong to push hard. I finished up the race taking the win and teammate Justin Hoffmeyer crossed the line behind me in second. Peter Valler came in next in third, local Kyle Marsh rode to fourth, and my brother Mikael rounded out the top 5. It was a good day racing bikes and seeing a lot of great people enjoying the trails."
"This race is truly one of a kind and it was awesome to go back and race it again. If you are looking for an awesome race that really will challenge every bit of your technical abilities make sure you sign up for next year!"
Ten-year-old Aunders Anderson had the opportunity to do the kids race, but it didn't include riding through the mine, so he did the one lap race. His recap: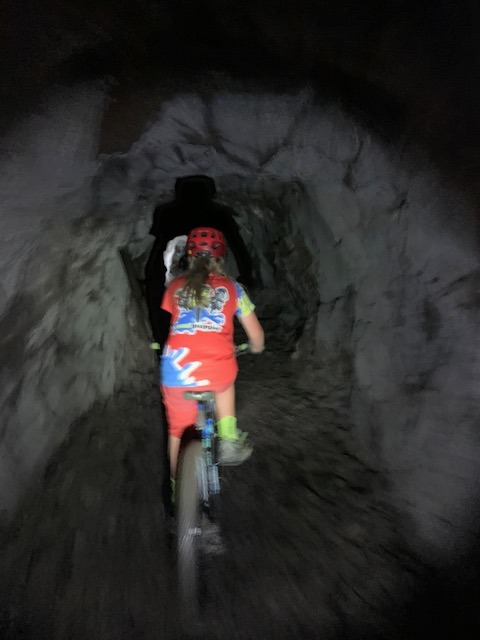 "I choose to do the full 1 lap race at the Miners Revenge since the kids races didn't go through the actual mine. Riding through the mine is super cool because there are some areas where you go by stokes and you can point your headlamp up and still not pierce the darkness. It's also pretty fun to know that you are riding through the winter home of thousands of bats! Another bonus of the mine shaft is the 48F temperature so you can cool down. After going through the mine tunnel, you get to ride through some old foundations where the miners lived and worked. The next section of the trail is pretty awesome too as you can ride up the bedrock and gnarly roots and rocks to the top of the hill. The downhills are pretty gnarly and you can work on your technical skills and balance. Towards the end you go into a trail called Rage Master which has tight switchbacks and super gnarly rocks to climb and then oddly a smoother downhill section. The SoKe trails are really unique and different from many of the more modern flow style trails and worth the trip to ride. My goal of the race was to finish and I ended up making the Top-10 of the 1 lap race so that was a bonus."
Miners Revenge Website and Results
Looking Ahead
Movil Maze Mountain Bike Race
The Bemidji High School Mountain Bike Team is hosting a team fundraising race/ride event that is being held at 11:00am on July 30th at Movil Maze Recreation Area, 8 miles north of Bemidji.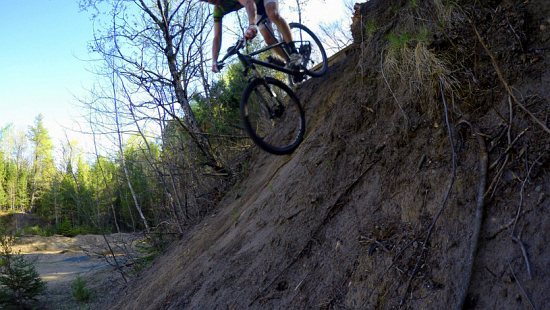 The course is approximately 10-11 miles, with 50/50 singletrack/doubletrack ski trail. There will also be an alternative, easier course option that is approximately 5 miles.
Seeley Lions Pre Fat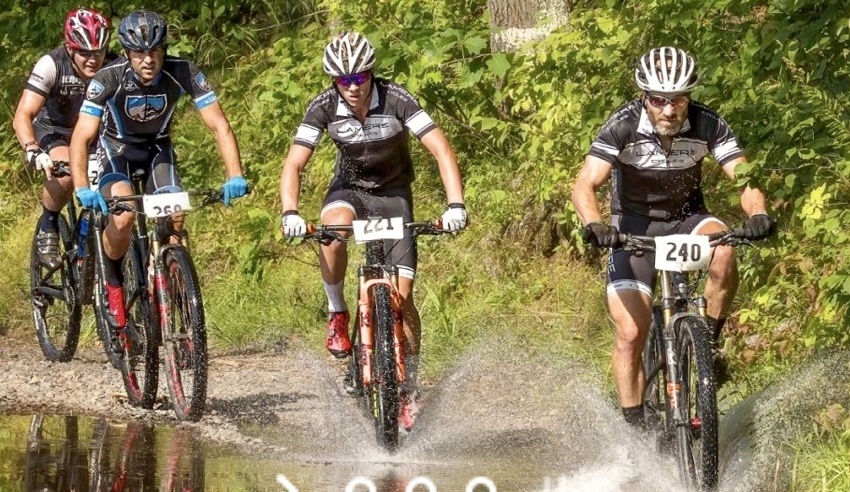 Early registration closes on August 1st for one of the best events in CAMBA country, that being the Seeley Lions Pre Fat. Full details here.
Keep the wheels moving!
About the author...

Jay Richards maintains a very active lifestyle. He somehow finds time between managing a full-time resort (Maplelag) and bringing up a family of four boys with his wife Jonell, to compete in both mountain bike and a few cross-country ski races. Jay rides for Maplelag Resort, manages the Maplelag mountain bike team and enters his 32nd year of racing and promoting mountain bike races.

Have an event or mountain bike related information to share from the Midwest? Feel free to contact Jay at