Midwest MTB Report
Boom! August! Everyone talks about how fast the summer goes, but in reality, it is pretty short . . . and with all the great events and trails to hit up, it goes by even faster! A pretty light weekend on the racing scene—it seems like a lot of people were checking out the numerous destination places in the Midwest. This week's report includes a recap from the Movil Maze Mountain Bike Race, which was a fundraiser for the Bemidji High School Mountain Bike Team; a recap from a ride in the White Earth State Forest; Singletracks.com's top 12 places to ride in the country, which includes a location in the UP of Michigan; and a look ahead as the late summer and early fall epic events start to crank up.
Movil Maze Mountain Bike Race
This past Saturday Movil Maze was the venue for the Bemidji High School Mountain Bike Team fundraiser event. Fan favorite and 2022 Section 8 Nordic ski sprint champion, Louis Morrissey, took time out of his super busy schedule to send a special recap from the day:
"At 11 o'clock Saturday morning the gun went off for our local Movil Maze fundraising race. There were two course options for riders that were similar difficulty but differing distances of 6 miles and 10 miles."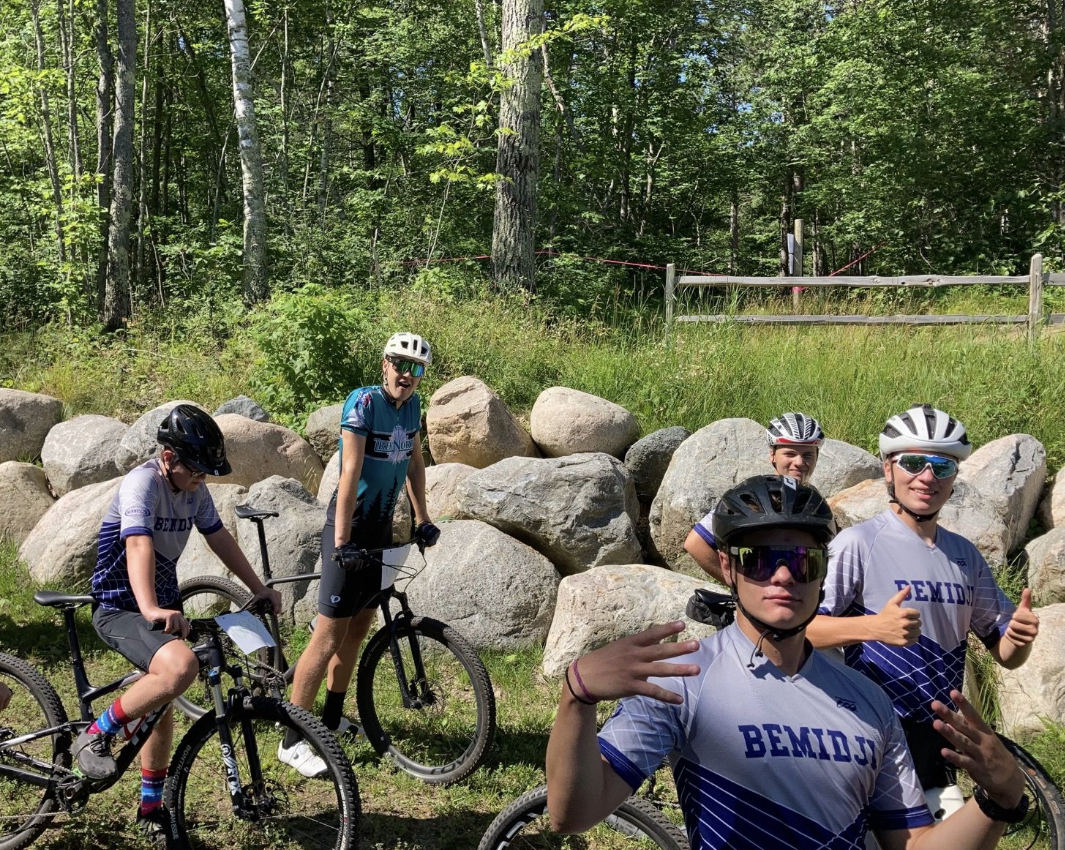 "I chose the 10 mile race to do with my riding buddies. The first quarter of the course was a fast and smooth roll out on the Mowed cross country ski trails that we use in the winter to get to the single track. Once on the single track everything seemed to blend together, and time went by very fast. In the middle tailing end of the race the trails would momentarily change to ski trail now and again to give you the perfect chance for a little sip from the bottle without fear of crashing into a tree. The whole second half of the race I buddied up with my friend Cooper to finish out the race with some company. With about a quarter mile left I asked Copper "so what's it gonna come down too? A sprint finish?" He said "ok let's try and make it as hard as possible to tell who gets second place."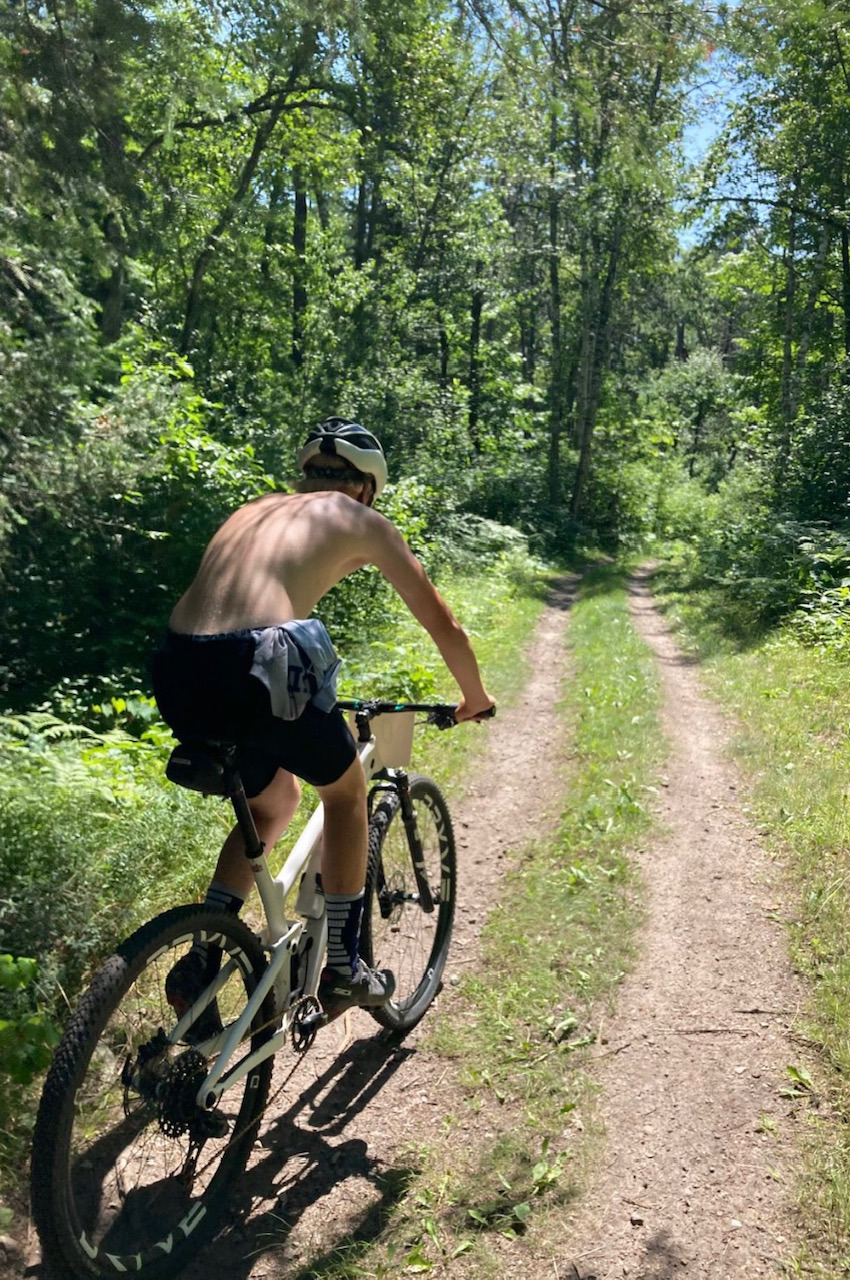 "So that's what we did. After crossing the line everyone relaxed outside with a taco in a bag and cold pops provided by the Kuzel family. After everyone digested the exciting race and their food the award ceremony was held. First place was awarded a jar of hand boiled local maple syrup and a sharp looking mason jar with a mountain bike sticker on it. Similar prizes were handed down to third place for both races. All and all a perfect way to spend a Saturday morning"
White Earth State Forest Ride
This past weekend I met up with a group from Fargo to ride in the White Earth State Forest. I've been biking there since the first year I started riding in 1990. Although there isn't singletrack, per se, there are some great deep woods forest trails with some incredible terrain and very little traffic. I don't think more than a dozen people have ridden here. Jolly Fisherman Resort used to hold a mountain bike rally back in the late 80's and 90's which would be classified as a gravel event in today's terms and you can only imagine the bikes used for that!
Our group of 7 had guys on both gravel and mountain bikes. We did a 32 mile loop, consisting of the Norris and Sawmill Lake trails, the Strawberry Mountain and Height of Land forest roads and a few non-named ATV cutover trails. The primary riding surface was nicely packed gravel, but the cutover trails were more technical with potholes, rocks, and loose sand to navigate. All great stuff!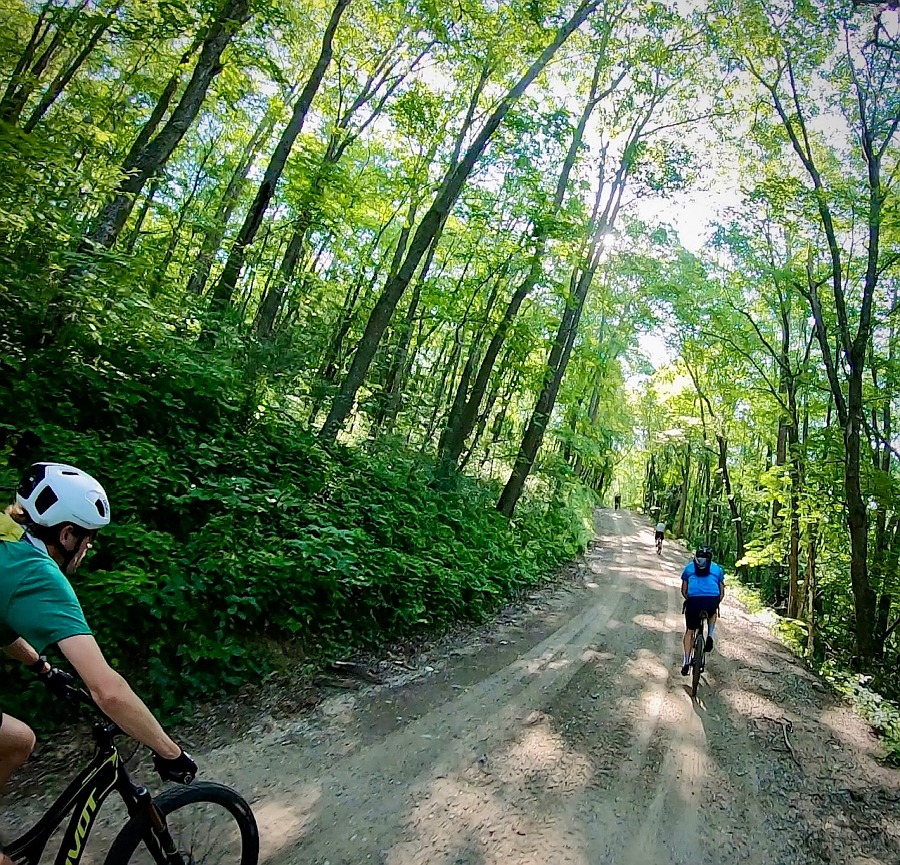 The start was a 7 mile gradual climb starting from Pinehurst Resort, ascending almost 600 feet to the third highest point in Minnesota, the Height of Land Lookout, which has a fire tower on the high point that is no longer in use. The climb up was a bit overgrown and there wasn't much of a view with the thick canopy forest, but it was a unique accomplishment to say we were at the third highest point in Minnesota and to check out the fire tower. Peakbagger, in its description of this location, states: "This point, located near the source of the Mississippi River, is one of the most isolated peaks in the United States--only 26 other summits in the "Lower 48" are more isolated. And it just beats out the 2000 feet mark, further adding to its appeal." I heard someone climbed up the tower, and I can't imagine how spectacular the view is at the top, but I can't confirm that it happened.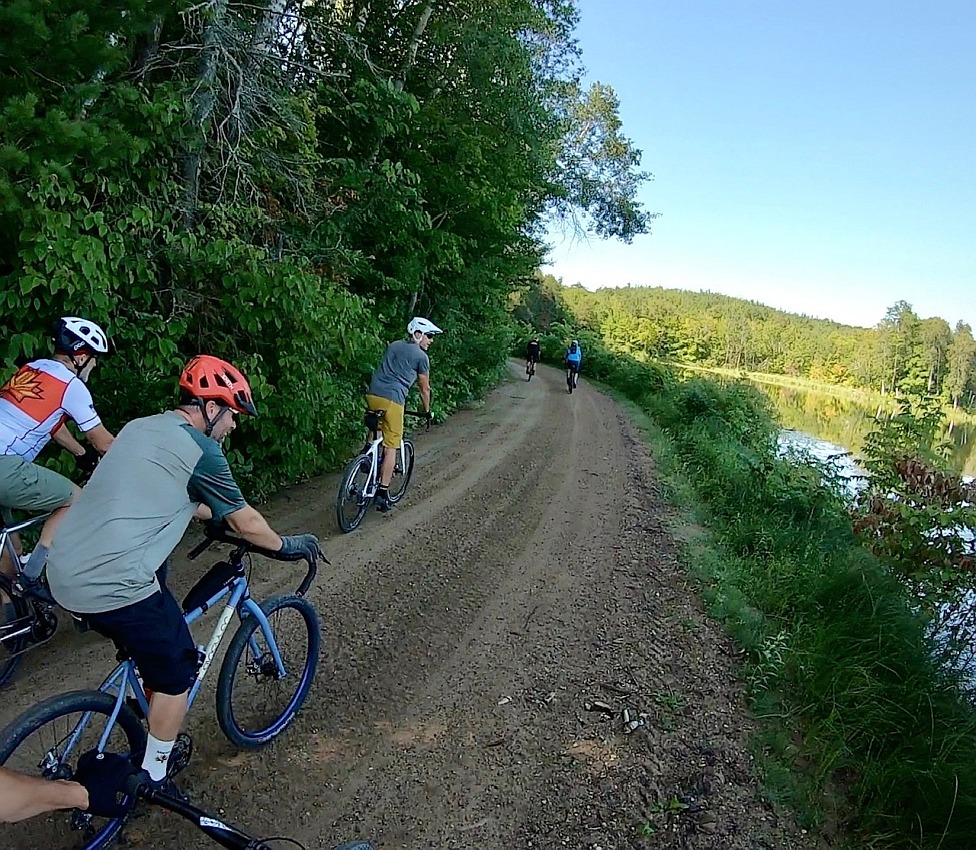 We were rewarded with a 7 mile descent as we continued on with some great rollers. The remainder of the ride was a bit more chunky and some good fun testing the handling skills. A post-ride jump in the lake and burgers off the grill capped off a great morning. If local riders are looking for some late season training for Chequamegon or other endurance events, this is a place to check out!
White Earth State Forest Map and General Information
Peakbagger.com: Height of Land Lookout, Minnesota

Singletrack.com's Top 12
Singletrack.com recently published an article highlighting the top 12 mountain bike destinations in the country. That is no easy task considering the plethora of trail systems in the country. Making the list locally was Copper Harbor. I have been to the Harbor once and it was definitely a special trip with three days of riding. There was a special feel to the big Lake Superior there, and the vibe of the town along with the sweet trails made it most memorable.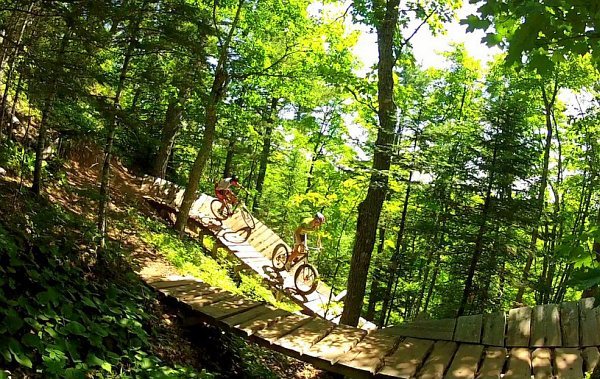 Jeff Barber writes:
"So what makes for a top mountain bike destination? For starters, it's about much more than just having a lot of trails, and the best mountain bike destinations have a vibe that can be felt the moment you roll into town. From the bike shops to the restaurants and local watering holes, there has to be more of a scene than just the mini-bar in your room at the Holiday Inn near the interstate. Mountain bike destinations are just that — destinations — that riders seek out for riding, and they're not the places we ride just because we're in town visiting the in-laws"
I asked rider Eleanor Bacso, who just spent the last weekend riding Copper Harbor with friends, what she likes about the system. Keep in mind, Bacso lives in the city of Duluth, which itself could be argued as a top 12 destination. Bacso shared her thoughts on the Harbor:
"My first trip to Copper Harbor was about 7 years ago over Memorial Day weekend when a group of friends went for the extended weekend. The first time we went riding out on the trails we were absolutely hooked. Many of the trails were rideable for our group but there were still trails that really challenged our technical ability. For a number of years after, we headed up to Copper for that same weekend to have fun and ride our bikes all day."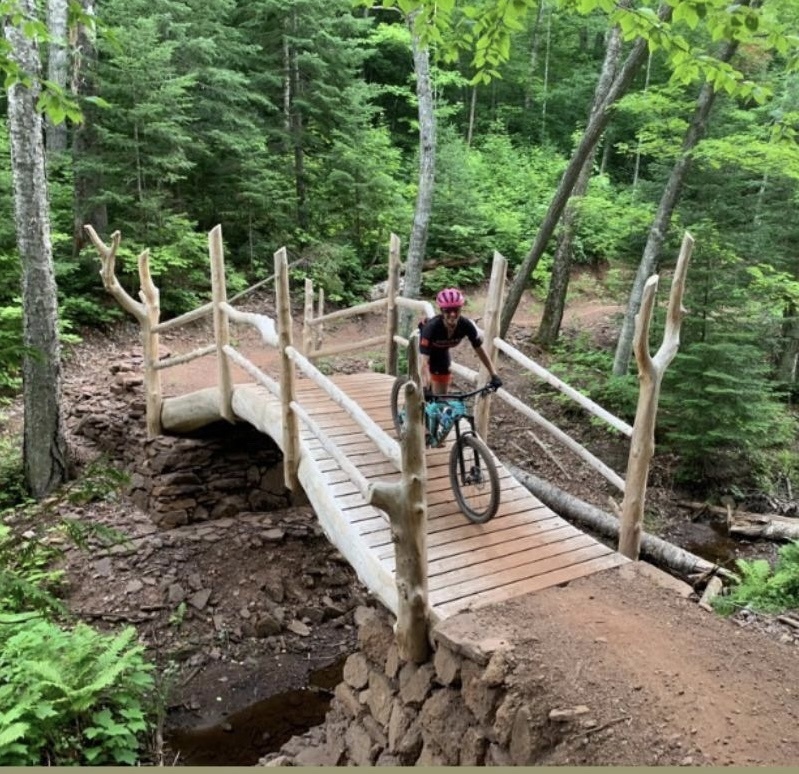 "I haven't been to Copper Harbor in the past 2-3 years but I went up this past weekend with a group of 12 women. I was so excited to see some new trail additions and the old favorites. What I really enjoy about Copper Harbor is the wide variety of trails. There are a number of nice XC trails that you can just simply ride and really enjoy the day. Or you can challenge yourself on numerous technical trails such as Overflow or my new favorite, Danimal which has bridge drops and huge table tops galore. Additionally, there is a shuttle option through the Keweenaw Adventure Company that will bring you to the top of Brockway mountain and you can ride downhill all day to your heart's content! Additionally, during this weekend, there was a women's clinic going on and the stoke for women's mountain biking was high! Never before have I ever seen more women than men riding at a trail center all weekend and it was absolutely incredible. It has been amazing to see the sisterhood of mountain biking growing over the past few years and the positivity from these groups was phenomenal. Everyone in these groups were stoked on working on trail features together and cheering on the folks who rode by."
"Lastly, in addition to the incredible variety of trails Copper has to offer, it is great to get away from the noise of everyday life. Most people don't have cell phone service which makes it great to disconnect and just enjoy the trails, lake and company of friends. I would highly encourage you to head up to check out Copper Harbor for your next mountain bike adventure!"
Looking Ahead
Refo Ramble
The Wisconsin Off Road Series takes the headlines for racing this weekend, heading east to the Green Bay area (which is home to the Green Bay Packers professional football team) for the Refo Ramble.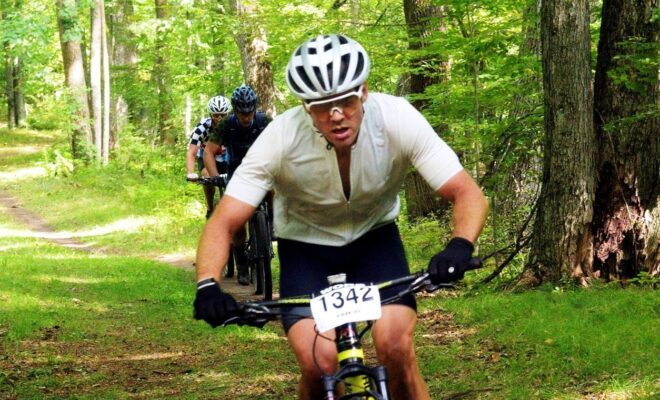 Riders need not worry about rain as the course is the closest thing to an all weather mountain bike race course. The trails are sandy and do really well with moisture.
Related: Refo Ramble competition back under Trek Bicycle umbrella
Ore to Shore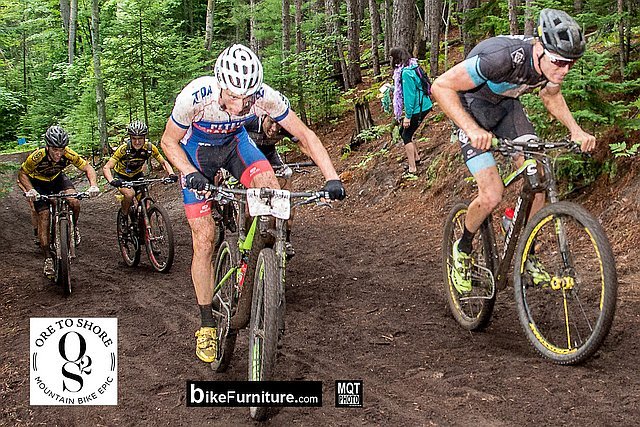 Michigan's largest point to point event, the mighty Ore to Shore, is less than two weeks away and this year promises to be one of the best yet. Registration is still open!
Keep the wheels moving!!
About the author...

Jay Richards maintains a very active lifestyle. He somehow finds time between managing a full-time resort (Maplelag) and bringing up a family of four boys with his wife Jonell, to compete in both mountain bike and a few cross-country ski races. Jay rides for Maplelag Resort, manages the Maplelag mountain bike team and enters his 32nd year of racing and promoting mountain bike races.

Have an event or mountain bike related information to share from the Midwest? Feel free to contact Jay at