Race Report: Chequamegon 40 - Casey Hildebrandt
I came into this weekend with some extra confidence after a big win last weekend in an epic mudder ahead of Brian Matter at the Wisconsin Cyclocross Series opener down by Milwaukee. After a quick week of teaching, I made the drive up Friday afternoon and met up with Josh Bauer at Telemark. After picking up the number plates and dialing in tire pressure, we set off backwards on the course for some course recon. Last year, I was late getting up to Cable and made it to pre-ride Firetower, but the sun went down quickly and before I knew it we were riding back in the dark without lights. This year, I was able to get out of work and head up so we could pre-ride with plenty of daylight.
We rode the last few miles backwards to Telemark Road, west on Camp 38 Road, and the south back towards Telemark to check the last section before Firetower. Once we made our way down to the tricky, washed out section off of Telemark we made our way over the final 12 miles of the course including a trip up and over Firetower. Things were extremely dry and fast so I started making a race plan with these conditions in mind. I capped off the night with some good food and laughs with Jake, Jay, Joe, and Sam.
There was a bit of rain overnight, but everything looked fairly dry and I thought things would be pretty similar to Friday's pre-ride based on how dusty things were. Our start was a bit different this year - instead of starting in downtown Hayward, we actually started a couple of miles in towards Fish Hatchery Park.
My race plan was:
Have a good warm-up and be ready for potential fireworks at the start
Make the lead group, but save as much energy as possible
Stay in good position and be smart through Lake Helane (mile 24), but really fight here to the bottom of Firetower
Hang on as long as I can, fight, and try to be in a group at the end of the Birkie Trail
Finish as high as I can in whatever group I'm in at the finish
Things started off well with the warm-up and I watched the women's pro start to get a feel for what to expect. A minute after they went over the first climb, I headed out to ride the first two miles of course until we crossed the bridge over Highway 77. I finished my warm-up around 12:45 PM thinking I would get there fairly early and have a spot on the first row or two, but I was way off and was one of the last riders there and started in the back. I didn't panic since Tobin and Payson were a row and two in front of me and followed their wheels over the first few climbs. We were back in 25th or so and I could sense we needed to move up on the downhill before the last climb to the bridger over 77. I knew I wanted to make the lead group, but I was trying to play it smart and not go too deep five minutes into the race, which ended up being a major mistake. I thought the course was going to be similar to last year with a gravel section early on where it would all regroup, but we stayed on the Birkie Trail and it was single file ten minutes into the race. At this point, we had a small group of 5-8 riders that was about 5-10 seconds off the lead group of 15 or so. I knew I had to bridge across now if I wanted to make the lead group, but I never quite put the focus and energy into that and that was the moment the lead group rode away from ours.
Our group consisted of Kiel Reijnen, Dylan Johnson, Chase Wark, Garrett Jenema, and Will Surbaugh. I didn't realize it was Kiel until the finish, which made a lot more sense based on how hard he was pulling through. About 30 minutes in we picked up Tobin Ortenblad as Chase popped off, then we picked up Lance Haidet a few minutes later. We hit one of the gravel roads and Dylan was keen on pushing the pace. I pulled through just as hard and looked back to see no one on our wheels. We both traded a few more pulls, but Lance and Tobin came back across with Garrett and Will. Things were steady and we kept moving across OO as we flew into more greasy downhill sections. Dylan was riding drop bars and looked to be a bit more hesitant or limited on these sections and Tobin was sending it. I was feeling groovy and followed Tobin and then really ripped another downhill around him, but felt a bottle fly off and looked down to see my full and next bottle gone. I had just about finished my first one at OO and knew this wasn't good. I was at the front of the group heading into one of the toughest sections of the day - a complete slip and slide, up and down, and narrow enough to make it single file. I really pressed on here and gaps were opening between all of us, but Dylan brought everything back together as soon as we hit some more double track.
By mile 20, I was trying to take gels to make up for the lost bottle and carbs in there, but gels are tough to wash down without some H2O. We picked up Corey Stelljes next and it was down to Dylan, Kiel, Tobin, Lance, Corey, and myself. We never saw anyone behind us on any section and knew the leaders had a big enough gap, so I tried to sit on and save as much energy before Firetower as I could. Luckily, a spectator gave me a full bottle of water just before the section Josh and I pre-rode Friday afternoon and I downed that right away. I saved just enough to slam another gel and finished the bottle before this section, but started to get gapped off. They put 10 seconds into me, but I took a great line into Firetower and just about made contact with Dylan and Corey on the back as we hit the first pitches.
Dylan was traversing side to side in search of any traction as Corey jumped off and ran one spot. I knew if I could keep traction I would make contact with Corey and be in a better place, but I also lost the rear wheel and had to get off. I was so cooked that I had to walk for a few seconds before I could run and remount, but 30 seconds later I was off running again. I went over the top in no man's land, but knew I had to keep pushing. I didn't think I'd catch that group again, so I stayed focused to and through the Birkie Trail to the next water station where I was able to get a few cups that needed to last me to the finish. I pushed solo for a half hour or so before Garrett bridged back up to me with a few miles to go. He pushed the pace and put in a move with a half mile or so to go, but we hit the last few turns that were absolutely wild. I managed to slice and dice from left to right and find a bit of traction to put in one last punch that held to the line for 23rd place (Strava link). My group must have picked up a few more guys and shattered on the Birkie trail as Tobin led the group in with 17th, Kiel for 18th, Corey for 19th, Lance for 20th, Kyan Olshove (Bear National Team) faded from the lead group for 21st, and Dylan Johnson was 22nd.
I talked to the guys from our group, saw some friends, and downed some chips and soda at the line before heading out for a short cool down spin. I made my way back and picked up some more granola bars, chips, and a beer while catching up with Josh, Peter Olejniczak, and Evan Hartig, a good friend and old collegiate teammate at Lindenwood University.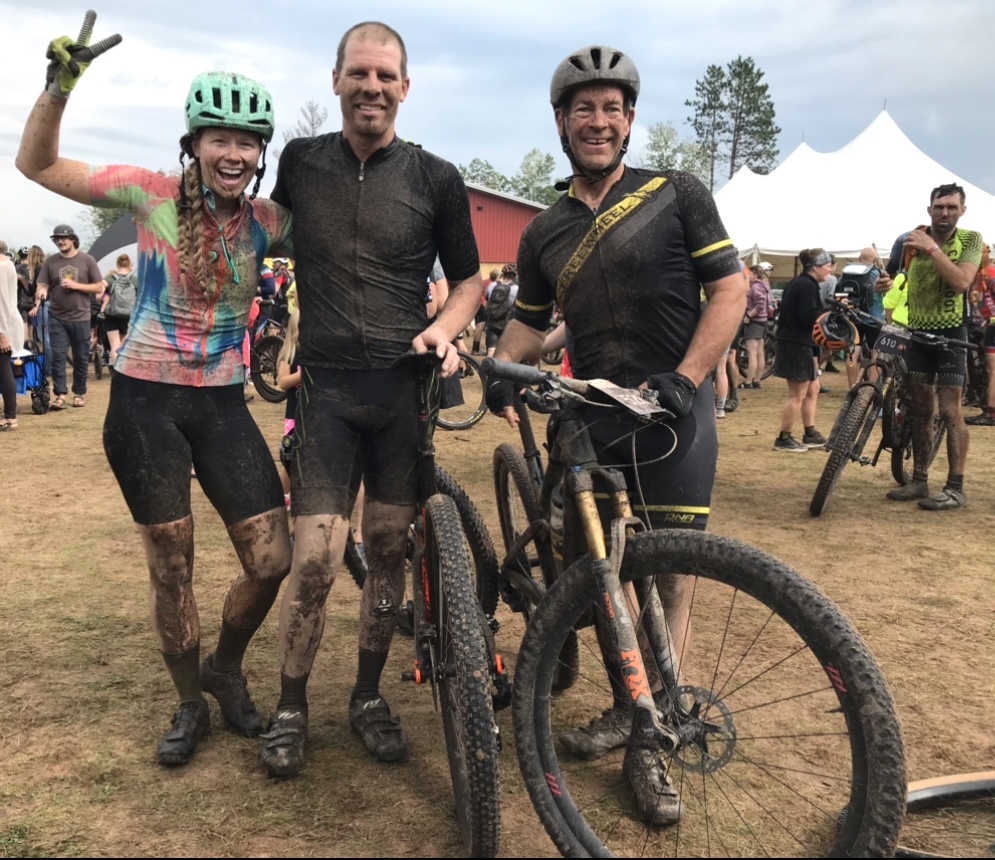 After some reflection, I'm happy with the end result of 23rd. The field was absolutely stacked and it was so good to be mixing it up with these guys. The dropped bottle certainly didn't help my cause, but I think my only big mistake of the day was the first ten minutes.
Things that went well:
Warm-up
Good group tactics: pulled through, saved energy where I could
Skills: used these to my advantage on many of the tough sections to get ahead
Mindset: stayed positive throughout, even after dropping bottle #2 and getting dropped on Firetower; pushed hard over the Birkie trail and the two track following
Finish: made my move and stuck it to the line
Things that went well (some things I'll change for next year):
Carry an extra bottle in my back pocket (like I did last year) or run my USWE pack
Go deep at the start to make the lead group; worst case I fall back to the next group
Next up for me is a couple more double weekends of the Wisconsin Cyclocross Series and then some more UCI cross weekends in Cincinnati and Indianapolis before Iceman. I'll likely take a weekend off between Trek Cup and Cincy and another after Iceman before defending my title at the Wisconsin State Cyclocross Championships and a trip out to the east coast for the Cyclocross National Championships.
I'm pretty excited to finally make a trip to Europe and race the iconic Kerstperiode in Belgium in late December and early January. I'll be there for three weeks and doing roughly ten races in that short time span.
Thanks for reading and following along - I'll have my race recap video on YouTube sometime soon.