Midwest MTB Report
A big-time weekend of mountain bike racing in the Midwest: the Chequamegon Mountain Bike Festival/Lifetime Fitness Grand Prix was front and center in Cable, WI; and although it's not as big of an event as far as participation, but observed by many, the grueling Marji Gesick took place in the UP of Michigan. Add in a high school mountain bike race and there were plenty of wheels moving. This week's report includes exclusive firsthand recaps from the Chequamegon, and also the Marji.
Chequamegon Mountain Bike Festival
The Chequamegon Mountain Bike Festival had a special twist this year with its inclusion in the Lifetime Fitness Grand Prix. The Grand Prix is a new race series taking place this spring, summer, and fall, featuring select riders racing for serious cash in various events throughout the country.
Jenna Rinehart, multi-time winner in the 40, explained in a post her spin on the new format:
"The race always attracts the best of the Midwest along with a couple national level racers but never has it been this deep. This year the race was part of the Lifetime Grand Prix series which means the field was stacked with many of the best mountain bike and gravel racers in the US. The women's roster included 4 Olympian's from Tokyo, a rider from this years women's Tour de France, the current Cross Country and Marathon National Champions, the winner of Cape Epic and Unbound, a couple women fresh of some top 10 results on the World Cup circuit, winners of Leadville and many more accomplishments among the field."
Rinehart would go on to place in the top 10 among the countries best, putting in the strongest showing among the Midwest riders.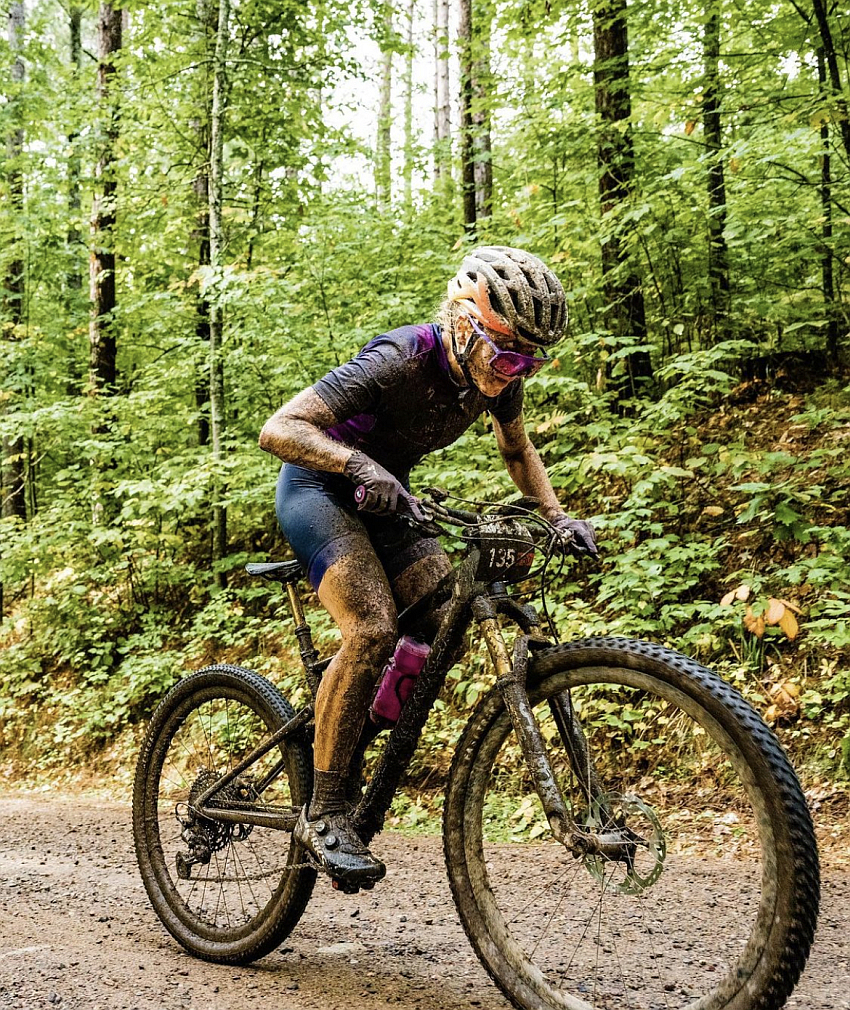 Another rider from the Midwest, Casey Hildebrandt, had ambitions to be near the top and delivered with a solid 22nd place. Hildebrandt goes deep on the recap with full details:
"I came into this weekend with some extra confidence after a big win last weekend in an epic mudder ahead of Brian Matter at the Wisconsin Cyclocross Series opener down by Milwaukee. After a quick week of teaching, I made the drive up Friday afternoon and met up with Josh Bauer at Telemark. After picking up the number plates and dialing in tire pressure, we set off backwards on the course for some course recon. Last year, I was late getting up to Cable and made it to pre-ride Firetower, but the sun went down quickly and before I knew it we were riding back in the dark without lights. This year, I was able to get out of work and head up so we could pre-ride with plenty of daylight."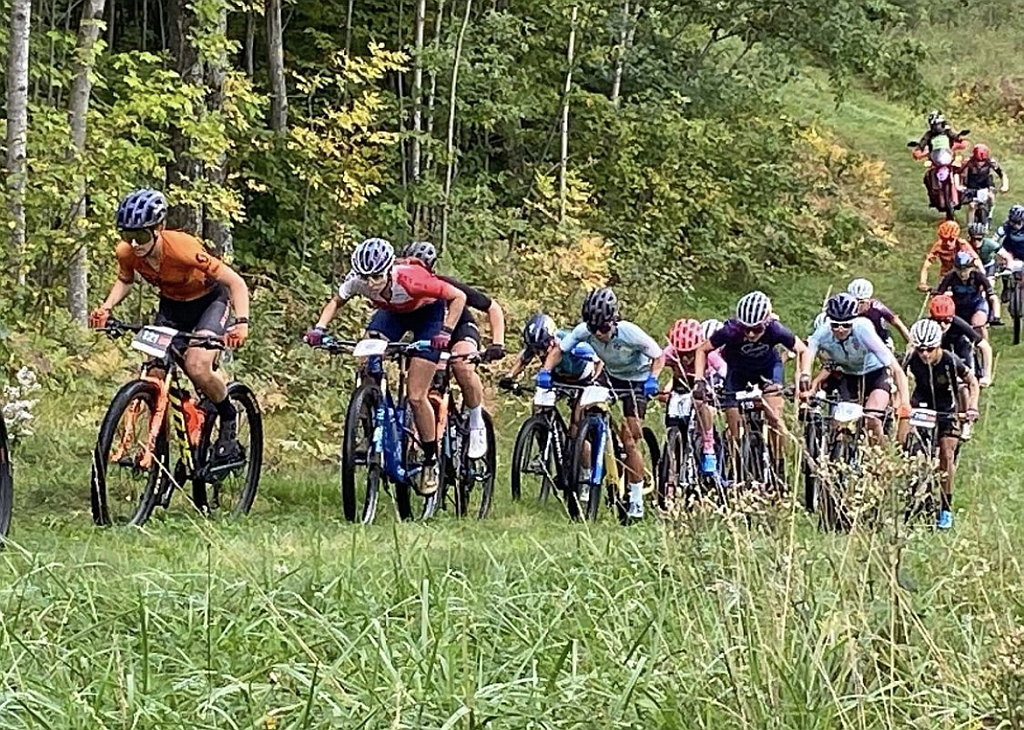 "We rode the last few miles backwards to Telemark Road, west on Camp 38 Road, and the south back towards Telemark to check the last section before Firetower. Once we made our way down to the tricky, washed out section off of Telemark we made our way over the final 12 miles of the course including a trip up and over Firetower. Things were extremely dry and fast so I started making a race plan with these conditions in mind. I capped off the night with some good food and laughs with Jake, Jay, Joe, and Sam."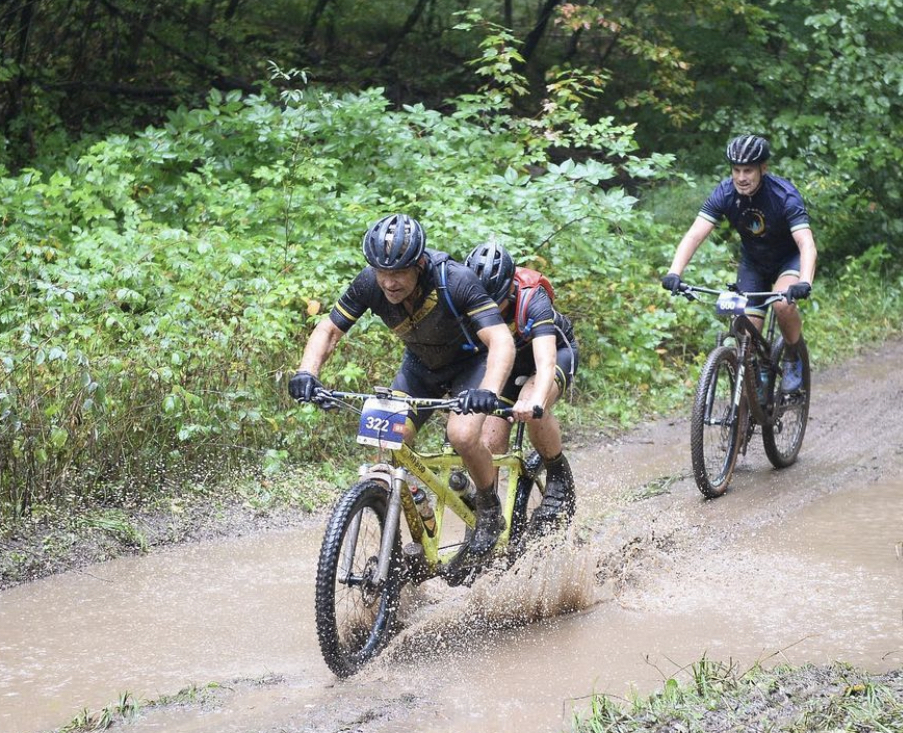 "There was a bit of rain overnight, but everything looked fairly dry and I thought things would be pretty similar to Friday's pre-ride based on how dusty things were. Our start was a bit different this year - instead of starting in downtown Hayward, we actually started a couple of miles in towards Fish Hatchery Park. My race plan was:
Have a good warm-up and be ready for potential fireworks at the start
Make the lead group, but save as much energy as possible
Stay in good position and be smart through Lake Helane (mile 24), but really fight here to the bottom of Firetower
Hang on as long as I can, fight, and try to be in a group at the end of the Birkie Trail
Finish as high as I can in whatever group I'm in at the finish"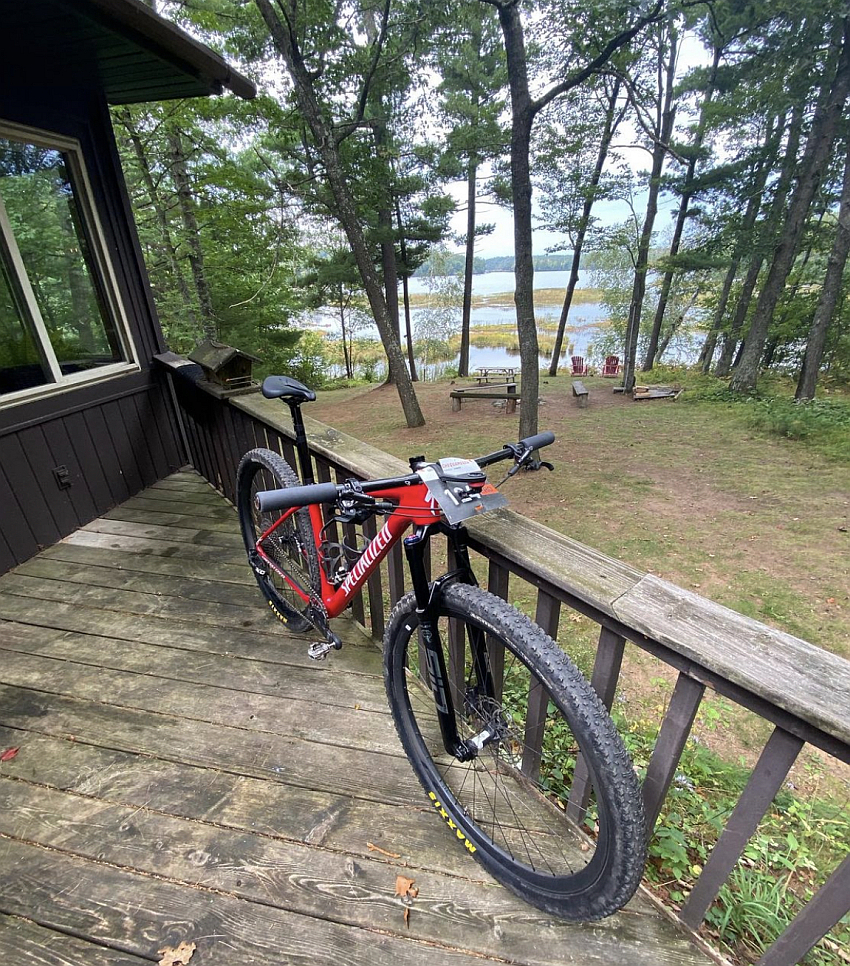 "Things started off well with the warm-up and I watched the women's pro start to get a feel for what to expect. A minute after they went over the first climb, I headed out to ride the first two miles of course until we crossed the bridge over Highway 77. I finished my warm-up around 12:45 PM thinking I would get there fairly early and have a spot on the first row or two, but I was way off and was one of the last riders there and started in the back. I didn't panic since Tobin and Payson were a row and two in front of me and followed their wheels over the first few climbs. We were back in 25th or so and I could sense we needed to move up on the downhill before the last climb to the bridger over 77. I knew I wanted to make the lead group, but I was trying to play it smart and not go too deep five minutes into the race,which ended up being a major mistake. I thought the course was going to be similar to last year with a gravel section early on where it would all regroup, but we stayed on the Birkie Trail and it was single file ten minutes into the race. At this point, we had a small group of 5-8 riders that was about 5-10 seconds off the lead group of 15 or so. I knew I had to bridge across now if I wanted to make the lead group, but I never quite put the focus and energy into that and that was the moment the lead group rode away from ours.I knew I had to bridge across now if I wanted to make the lead group, but I never quite put the focus and energy into that and that was the moment the lead group rode away from ours.I knew I had to bridge across now if I wanted to make the lead group, but I never quite put the focus and energy into that and that was the moment the lead group rode away from ours."
Continue reading Casey's full recap here.
Before the Pro races went off later in the day, the "people's race" started on Main Street like years past. After winning the Short and Fat last year, Mandi Hibbert signed up for the Forty for a first time go. I sent some questions off to Mandi and she replied below:
Last year you won the Short and Fat and made the decision to compete in the 40 for this year. What was the thought process and inspiration behind that decision?
"The Short and Fat last year was the perfect race to me. I'm not sure I'll ever be able to replicate the feeling of joy and satisfaction I had winning that race. After racing the 16 for so many years, the win felt like the end of a chapter. I was torn because I didn't feel driven to race the 16 again but the 40 remained intimidating. It would be the longest race I've ever done and the start scared me. It took me a couple months to decide to do the 40. Even after signing-up, I second-guessed my decision many times."
What was your training approach for this year?
"I'm all-in. I've been working with a cycling coach the last two years. We've built a good relationship and I trust her. I've always been an active person but never had true fitness, especially endurance fitness. It's new to me and it's been a slow build. This past summer things really started to shift and I finally found my groove with training and recovery. I typically ride five or six days a week – a couple days of intervals, at least one 1.5-hour aerobic ride and one longer ride ranging from two to four hours. I add in strength training at different times of the year too. I'm learning my body needs a lot of recovery so I focus on good sleep and do yoga and mobility work daily. I'm absolutely fascinated by performance and nutrition. It's been a fun process and feels like I'm just getting started!"
So how did the race go! Can you fill us in how the start was, mid race and end of race shake down?
"It was unlike anything I could've imagined!"
"Getting through the start without incident was one of my top goals. I had been nervous about the pavement rollout for months but once the race got going, I felt surprisingly calm. I made it Rosie's Field safely then promptly dropped my water bottle. I was gutted! I wanted to stop but knew the risk was high of getting hit or causing an issue for another rider. My next bottle wouldn't be until OO, at mile 17. I had to recalibrate my race strategy. It was warm and humid so riding full gas without fluids nearly half the race could be a disaster. I kept my pace in a comfortable aerobic zone. Never pushing too hard. It felt like the race was slipping away from me. It was hard to stay positive."
"I stopped at the first aid station to slam two cups of water. I knew my bottle wouldn't be far ahead but couldn't pass the opportunity to take on fluids. I was so relieved to see (and hear) my friend John with my bottle! I stopped again to drink part of an extra bottle I sent with him, took a full bottle with me and felt like I could finally start my race! A few words of encouragement from John, coupled with the lively crowd at OO, completely reset my mood. I was riding high and started making passes. Then, the rain came. And it wasn't just rain. It was a full-on downpour. It got dark and everything slowed down. It was an eerie feeling and I didn't know what to think. The group I was riding with started to hit the brakes and I heard people yelling about a down rider with a broken collarbone. That was hard to see and made me recalibrate again.It no longer felt like a race but rather an adventure ride I needed to safely navigate."
"The rain eventually let up but the damage was done. The course was a muddy mess. I have very little experience riding in mud but knew I needed to focus on a few things – keeping constant pressure on the pedals, riding with momentum, being smart with line choices and gentle with shifting to prevent a mechanical failure. It worked! I just kept rolling and found myself having an absolute blast. At one point I hollered out loud, "Now this is a real mountain bike race!". Riders around me probably thought I was nuts. I was giggling while bombing down hills and sliding around corners. John met me at the top of the Seeley climb and again at the end of Birkie climbs with more bottles and encouragement. It was super fun to have a friend on course supporting me!"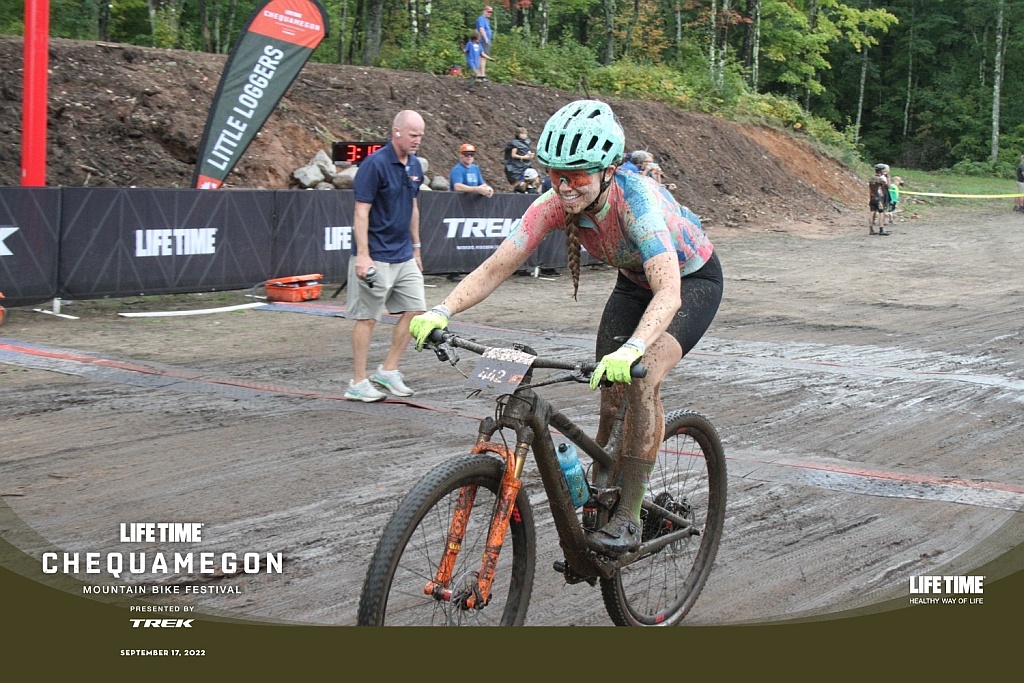 "I wanted to finish the race riding hard. It's the way I pre-rode the course in August and there's something really satisfying about ending a race full gas. I hit the last long section of gravel all alone, put my head down and pedaled as hard as I could. It felt like I was flying. I didn't get to use the drafting skills I'd been working on all summer but found myself in a familiar place. I ride gravel alone often and enjoy it. It was cool to know there were over a thousand riders on course and here I was, all alone, riding my heart out."
"Fatigue finally set-in and set-in hard with a couple miles to go. I was ready to see the finish knowing I had done everything I could to ride a smart, safe race."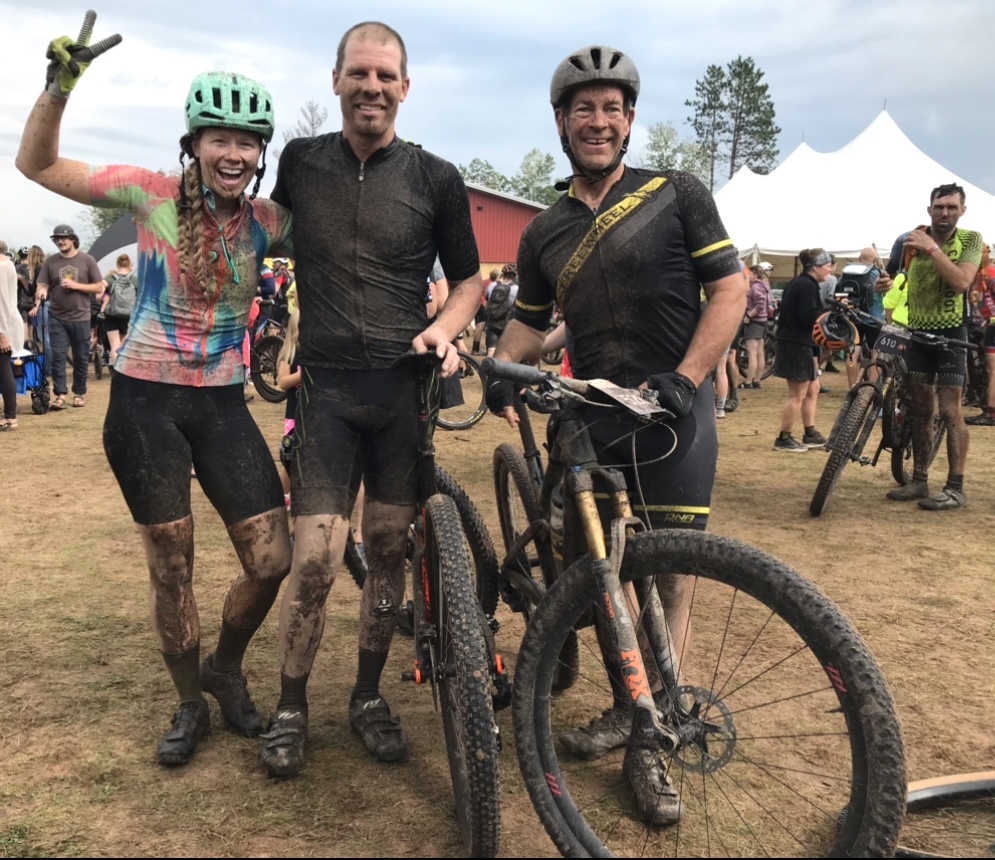 The full interview with Mandi can be found here.
Chequamegon Mountain Bike Festival Results, Photos
Marji Gesick
The "Marji" has been billed as one of the toughest mountain bike races in the country. Only a select few finish each year and this year only 10 riders finished the 100 mile race under 12 hours. Although it is a smaller event as far as participation, it is talked among the mountain bike circles as one of the most respected events around.
Jordan Wakely was on of the ten finishers to complete under 12 hours and posted: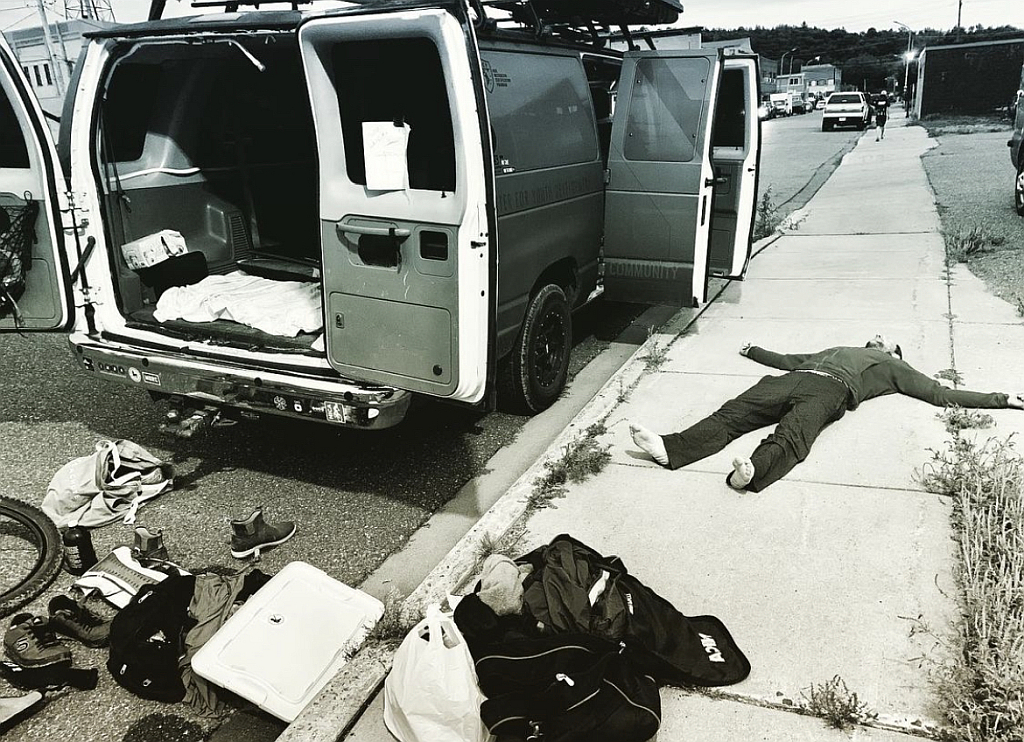 "Marji Gesick 2022 in the books!"
"4th overall on the day and 1 of 10 sub 12 hour buckle finishers."
"Found myself in the lead 80 miles in only to completely blow up and barely be able to push my bike up some of the steep hills 5 miles later."
"Big thanks to Heather for keeping me going out there and feeding me gummy bears and Red Bull."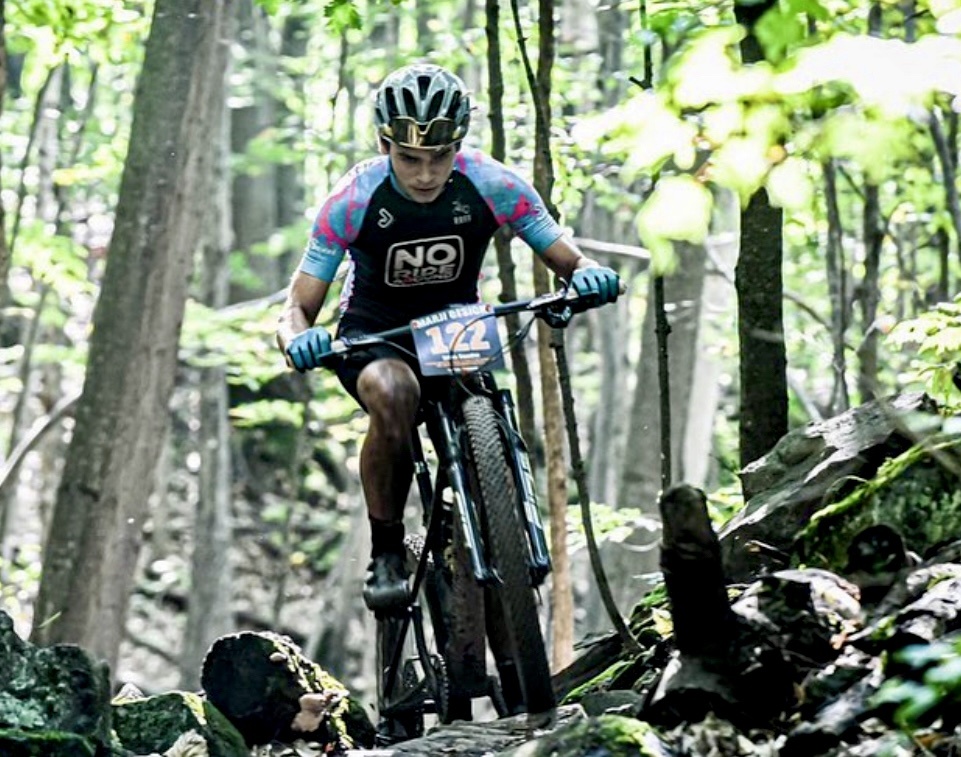 "Marji is a beast, quite possibly one of the toughest races I've ever done. Huge congrats to everyone that even toed the starting line and attempted that monster."
"Already looking forward to next year!"
Keep the wheels moving!
About the author...

Jay Richards maintains a very active lifestyle. He somehow finds time between managing a full-time resort (Maplelag) and bringing up a family of four boys with his wife Jonell, to compete in both mountain bike and a few cross-country ski races. Jay rides for Maplelag Resort, manages the Maplelag mountain bike team and enters his 32nd year of racing and promoting mountain bike races.

Have an event or mountain bike related information to share from the Midwest? Feel free to contact Jay at