FOR IMMEDIATE RELEASE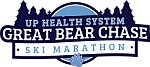 Great Bear Chase Announces Registration, New Bib Policy
[Calumet, Michigan] -- A return to the traditional in-person pasty luncheon and a new bib re-use policy are two highlights for the 2023 UP Health System Great Bear Chase, March 11, 2023, at the Swedetown Trails in Calumet, Michigan. The Great Bear Chase features a 50km skiathlon (25km of each technique), and 50km, 25km, and 10km events.
For the past two years, volunteers have managed a drive-through registration process and a drive-through luncheon. Organizers are pleased to reopen the Calumet High School gym in 2023 for skiers and friends to gather in person and relive their races.
"While our dedicated volunteers did an outstanding job with our drive-through system, we are thrilled to be moving back to the friendly atmosphere of our in-person lunch," said Race Director Angela Luskin.
The Great Bear Chase organizing committee has also announced a move to reduce waste by collecting bibs at the finish line, to be laundered and used in subsequent years. Skiers can choose to purchase their bib at registration, should they wish to keep it as a memento of the race. Proceeds will cover the cost of replacing those bibs for the 2024 race.
"Purchasing bibs is a significant cost for any race, and many skiers probably have a number of old bibs sitting in a dresser drawer," Luskin said. "This allows us to reduce waste and save money, while still allowing people to keep their bibs if they so choose. Since all race proceeds go to maintaining and improving the Swedetown ski trails, this allows us to make an even larger contribution to that goal."
The Great Bear Chase includes door prizes, a 2023 GBC t-shirt with a custom design, the post-race pasty feast, and free photo downloads. Comments from recent participants include:
- "I've skied this race for 15 years and it is always my favorite. I love the laid-back vibe."
- "Very well organized. Great communication vis emails prior to race day. Excellent volunteers – friendly, helpful, encouraging. The trails were very well groomed."
Skiers can take advantage of the lowest registration fee through November 30, 2022, when prices will increase. For more details and to register, go to GreatBearChase.org.