US Elite Racing: US Nationals Recap
US Nationals Recap
The 2023 U.S. Cross Country National Championships wrapped up last week in Houghton, Michigan. The events held on the Michigan Tech campus provided plenty of excitement as skiers raced for National Championship crowns and SuperTour points. APU's Hailey Swirbul dominated the women's events, going undefeated in all four of the weeks races. The men's events held a little more variety. Even so, Luke Jager of the University of Utah was the top American in all but the first day, taking home two national championship titles. Midwestern skiers represented well with a number qualifying for sprint heats and several top-ten finishes. Happily for fans of cross country skiing, CXC provided livestreaming for all the races with commentary by Adam Verrier.
10km Freestyle Interval Start
The 10 km interval start race is the essence of cross country skiing; what better way to kick off the new year and championship week. Skiers took to the Michigan Tech trails on Monday, January 2nd for the freestyle interval start race consisting of two 5 km laps.
In the men's race, Andreas Kirkeng (University of Denver, NOR) posted a commanding win, finishing 33.3 seconds ahead of John Steel Hagenbuch (Dartmouth). Hagenbuch was in 5th after the first lap, but picked up the pace enough in lap two to hold onto 2nd and the National Championship title by 2.5 seconds when David Norris, semi-retired coach of Steamboat Springs Winter Sports Club, crossed the line. Reid Goble (BSF) had a good showing in a tight race, finishing 74.3 seconds off the leader in 11th. Junior skier from Stillwater, Minnesota, Adrik Kraftson (Northern Michigan) came in at 26th. Brian Gregg of Team Birkie rounded out the top 30 just over 2 minutes down.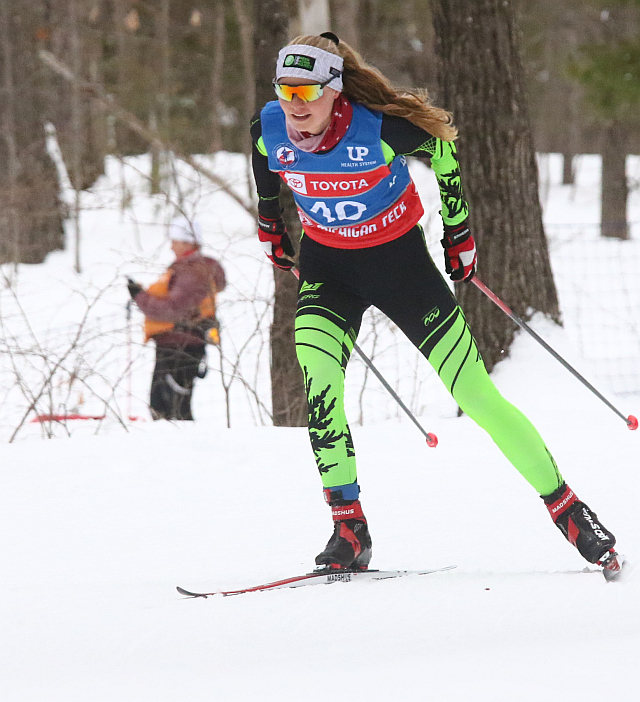 For the women, Sarah Goble (BSF), the 21st skier on the course, lunged across the finish line with a short-lived lead. However, having erased Goble's 60 second head start, Sydney Palmer-Leger (University of Utah) crossed the line moments later with Hailey Swirbul, who had started 30 seconds behind Palmer-Leger. Novie McCabe finished a few minutes later and posted a time 10.2 seconds faster than her University of Utah teammate, Palmer-Leger, relegating Goble to 4th place. This result stood, with the podium consisting of Swirbul, McCabe, and Palmer-Leger. This is McCabe's first SuperTour appearance this season after she spent period 1 on the World Cup circuit. She joins Swirbul who chose to step back from international racing to refresh her relationship with skiing by staying closer to home. In addition to Sarah Goble's 4th place finish, Midwestern women had a strong showing with Margie Freed (GRP) in 6th at 92.7 seconds back, Erin Bianco (Team Birkie) in 14th just under 2 minutes back, and Michaela Keller-Miller (GRP) in 24th, Two and a half minutes behind Swirbul.
Classic Sprint
Wednesday brought more exciting racing with the classic sprint. New snow started falling harder as the day went on, making for challenging waxing conditions. Some skiers, especially in the men's field, opted to sacrifice kick for more glide, going as far as racing on skate skis, made evident by the flying herringbone technique on display in the classical technique zone enforced on the course's two climbs - one per 1.2 km lap. In addition to the snow, 35 mph wind gusts made things challenging for skiers.
Luke Jager (University of Utah) and Kristoffer Karsrud, a Norwegian skier for Northern Michigan University, kicked off the heats, advancing to the semi-finals alongside lucky loser Finn Sweet (University of Vermont). Garrett Butts (APU) and Hugo Hinckfuss, Australian skier for University of Colorado, advanced out of quarterfinal 2. Estonian skier Christopher Kalev (UAF) snuck in ahead of Sweet as lucky loser. Michael Earnhart (APU) and Norwegian Sigurd Roenning (UAA) advanced out of quarterfinal 3. Quarterfinal 4 was the choice for the two Midwestern men to qualify for the heats, Reid Goble and John Schwinghamer, Mora, Minnesota native who skis for St. Scholastica. They came close to qualifying but ultimately were beaten out by Magnus Bøe (University of Colorado, NOR), Peter Wolter (Sun Valley). Schwinghamer finished 3rd and Goble came in 4th just behind him. Zanden McMullen (APU) and Will Koch (University of Colorado) advanced out of quarterfinal 5.
Semi-final 1 was a showdown of young skiers: all of them U23 including Hugo Hinckfuss, who is U20. Luke Jager and Kristoffer Karsrud advanced to the finals after the heat took a leisurely start. Semi-final 2 turned into a battle between Buffs, the two University of Colorado teammates, Will Koch and Magnus Bøe, two strong double polers who stuck with zero kick, came to the finish together, careful to conserve a bit of energy for the final. They would be joined by Zanden McMullen and Christopher Kalev; both lucky losers coming out of the second semi-final.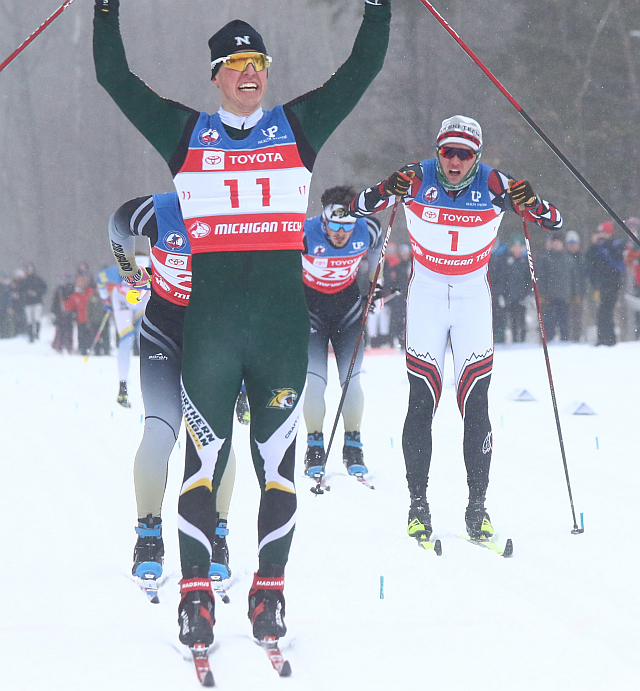 In the finale, Luke Jager chose to change strategies and opted for skis with more kick. This seemed to pay off during the race, when he was able to run away from the field on the first climb and go into the downhill in excellent position. On the second lap, Jager again had the advantage on the climb, this time however, Karsrud went with him and pulled ahead on the final straightaway, taking the win. Bøe, trusting his double pole and sticking with skate skis, tucked in behind Karsrud and was pulled to a 2nd place finish over Jager. Despite falling to 3rd in the final meters behind the two Norwegians, Jager still had cause to celebrate as he claimed the National Championship crown. Rounding out the national championship podium, also the only other two Americans in the final, were Will Koch and Zanden McMullen.
Seven Midwestern women qualified for the heats. Two Team Birkie Skiers chose the first quarterfinal, Erin Bianco and Ingrid Thyr, who finished 3rd and 6th in the heat, respectively. Mariel Pulles (UAF, EST) and Sydney Palmer-Leger advanced. Margie Freed fought for 2nd in quarterfinal 2 behind Kendall Kramer (UAF), narrowly beating Sarah Goble who finished in 3rd. Houghton, Michigan native Anabel Needham (Michigan Tech) got 5th in the heat. Hannah Rudd (BSF) finished her day 6th in quarterfinal 3, behind Weronika Kaleta (University of Colorado) and Karianne Dengerud (University of Utah, NOR) who moved on from quarterfinal 3. Quarterfinal 4 was especially fast, led by Tilde Baangman (Montana State, SWE) and Novie McCabe. Samantha Smith (Sun Valley) and Lauren Jortberg (SMST2) snagged both lucky loser spots. Renae Anderson finished 5th and Michaela Keller-Miller finished 6th in the aforementioned quarterfinal 4. Hailey Swirbul made the somewhat risky choice of opting for quarterfinal 5: trading rest time for a possibly less competitive heat, she advanced with Alexandra Lawson (GRP).
Semi-final one was the faster of the two, Mariel Pulles and Weronika Kaleta qualified automatically with Sydney Palmer-Leger and Kendall Kramer holding onto the lucky loser spots. Hailey Swirbul remained calm and collected in the second semi-final easily moving on. Also qualifying for the finals was Tilde Baangman. Margie Freed finished the heat in 6th place for 10th on the day.
The final was an exciting battle. Swirbul and Pulles used the last hill to their advantage and pulled away from the other four. Swirbul outsprinted Pulles for the win and the National Championship crown outright. Baangman rounded out the top three for the race. Palmer-Leger and Kramer got the consolation prize of 2nd and 3rd on the nationals podium as the next fastest Americans.
20km Classic Mass Start
With cold, fresh, snow on Friday and temperatures around 18 degrees F, there were great conditions for more classic racing with the 20 km mass start, consisting of four laps around the 5 km course.
The men started the day and a group of 7 formed early in the race. David Norris and Luke Jager started to apply pressure at the end of lap one. By the end of the second lap a group of four had broken away consisting of Norris, Jager, Zanden McMullen, and Peter Wolter (Sun Valley) with Reid Goble and Magnus Bøe not far behind. At the end of lap three the same group persisted at the front with Bøe still chasing. Goble started to lose time at this point and John Steel Hagenbuch, recovering from a slow start in the first half of the race, managed to ski his way into 7th. Over the course of the final lap, the front four added time on the chasers. Norris, Jager, and McMullen came up the final climb together having managed to drop Wolter. Jager won the three-way sprint to the line and took the title followed by Norris and McMullen. Goble held and finished in 7th place just over a minute off of the leaders.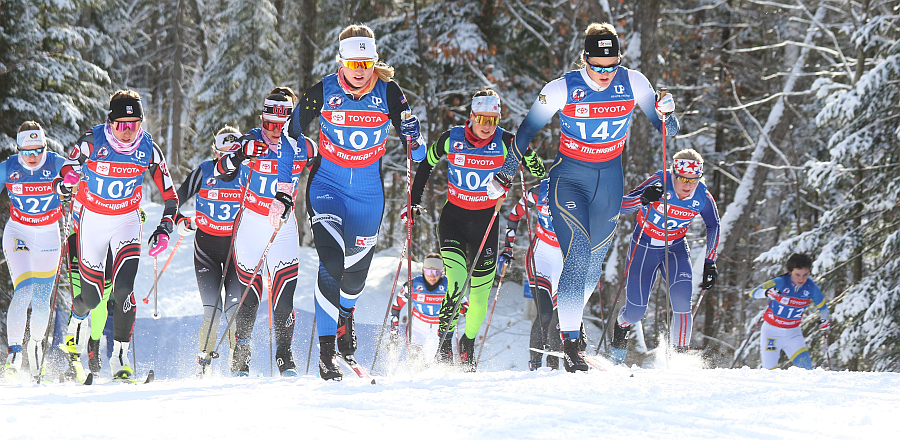 The women's race played out similarly to the men's despite taking a bit longer for a front group to establish. Hailey Swirbul, Novie McCabe, Sydney Palmer-Leger, and Alexandra Lawson gained a 9 second advantage over Samantha Smith and Kendall Kramer around the halfway point in the race. Going into the final lap Swirbul, McCabe, and Palmer-Leger broke away from Lawson and gained some time in the final 5 km. The finale was a familiar scene in this year's SuperTour, a sprint between Swirbul and Palmer-Leger. Coming into the stadium, Palmer-Leger appeared to have the advantage as she double-poled ahead of Swirbul. Swirbul, however, trusted her legs and opted for diagonal stride in the final 100 meters, taking the lead. Palmer-Leger tried to match, switching briefly to striding, but it was too late. Swirbul double poled the last three strokes across the line, beating Palmer-Leger by a ski-length. McCabe rounded out the podium 10 seconds later. Hannah Rudd and Margie Freed both had good showings, spending much of the race in 8th and 9th, they held on to finish in 11th (+42 seconds) and 12th (+54 seconds), respectively. There were six Midwestern women in the top 25 with other top finishes including: Sarah Goble in 19th, Erin Bianco in 21st, Renae Anderson in 23rd, and Michaela Keller-Miller in 24th.
Freestyle Sprint
The final race of National Championship week was not actually a championship event. However, with a tight field and double SuperTour points on the line, skiers still had plenty to race for in Saturday's freestyle sprint.
The men's quarterfinals saw a mix of new faces move on to the semis. Adam Witkowski and Graham Houtsma (BSF) moved on from quarterfinal 1. John Schwinghamer again had a respectable showing coming in 3rd in the heat as the lone Midwest native. Tom Mancini (University of Utah, FRA) came out strong in quarterfinal 2 after a quiet week, advancing with Canadian Julian Smith of NTDC Thunder Bay, and lucky loser Michael Earnhart. Kristoffer Karsfud, hoping for a repeat sprint victory took quarterfinal 2 with Ari Endestad (UAA) coming in 2nd. In quarterfinal 4, Thomas O'Hara (APU) and Will Koch advanced. Quarterfinal 5 was the fastest and Andreas Kirkeng advanced with Luke Jager and lucky loser Logan Diekmann (BSF).
Tom Mancini and Kristoffer Karsrud finished 0.03 seconds apart in a tight first semi final. The second semi-final, however, provided both lucky losers, with Luke Jager, Andreas Kirkeng, Thomas O'Harra, and Logan Diekman advancing over Will Koch and Ari Endestad.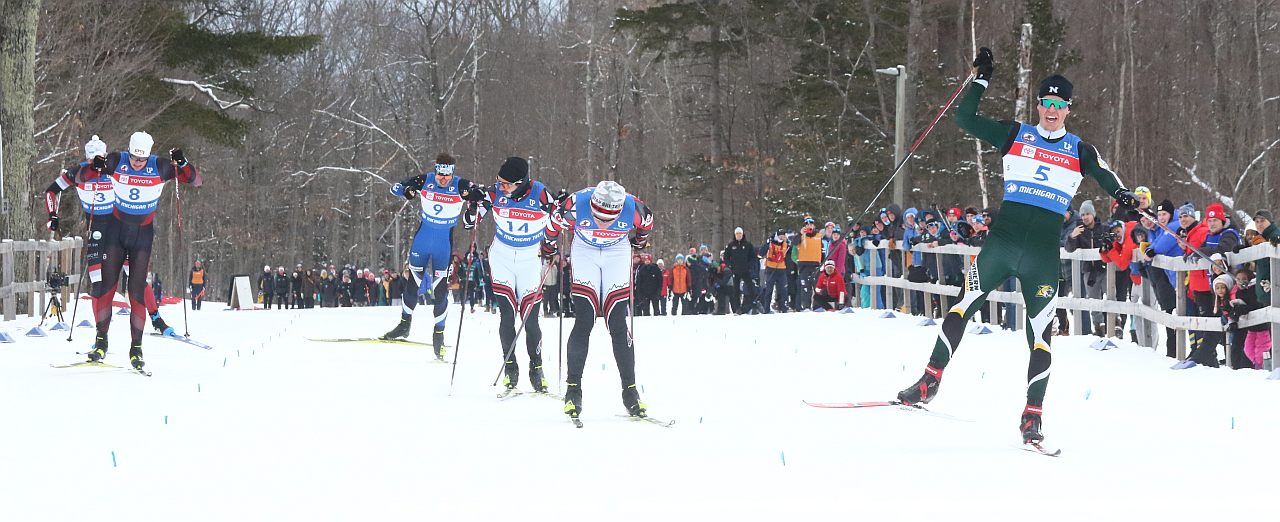 The final was an exciting race but ultimately had a familiar result. Thomas O'Hara had fast skis and led most of the race, but on the final climb was overtaken by the charging Jager, Karsud, and Mancini. In the end Kristoffer Karsrud was the fastest to the line as he put an exclamation mark on his sprint dominance this week as Luke Bodenst.. I mean Jager gave his all for 2nd place. Tom Mancini took 3rd.
Midwestern women again had a strong sprint showing, with nine qualifying for the heats. Margie Freed moved on from the quarterfinals again, coming in 2nd behind Lauren Jortgerg (SMST2) in the first heat. In quarterfinal 2, Ingrid Thyr came in 3rd in a strong heat behind Weronika Kaleta (University of Colorado, POL) and Hailey Swirbul. Novie McCabe and Karianne Dengerud advanced out of quarterfinal 3 ahead of Renae Anderson in 3rd, Plymouth, Minnesota native Lauren McCollor (Northern Michigan) in 4th, and Hannah Rudd in 6th. Erin Bianco had a strong showing in quarterfinal 5, coming in second behind Mariel Pulles and beating Sydney Palmer-Leger, who took lucky loser. Anabel Needham took 4th on her home course. Tilde Baangman moved on from quarterfinal 5 with Sarah Goble, who became the third Midwestern woman to advance to the semi-finals.
The first semi-final proved to be the faster of the two, providing both lucky loser spots. Novie McCabe and Hailey Swirbul took the first two spots, followed by Lauren Jortberg and Weronika Kaleta. Margie Freed finished her nationals trip with 6th place in the heat. There was some drama in the second semi-final. Mariel Pulles finished second but was relegated after impeding Karianne Dengerud, causing her to fall in the finishing sprint. Unfortunately for Dengerud the fall cost her a spot in the finals, finishing in 5th. In the end Tilde Baangman and Erin Bianco advanced to the final. Sarah Goble finished 3rd in the heat and 7th overall.
The women's finale did not disappoint. Lauren Jortberg had good skis and spent most of the two laps ahead of the field. Hailey Swirbul was not to be denied a clean sweep, however and showed her experience, staying in perfect position behind Jorberg before taking over on the last climb. Novie McCabe also positioned herself well and was able to outsprint Jortberg for 2nd place. Erin Bianco finished 5th in what she said was the highlight of her week. "I love how tactful the heats can be and the lapped course made for some excitement." She applied some tactics, saying "I really worked on sitting behind and coming on strong at the end of the heats on the uphill finish!"
Championship Team Selections
The first three junior races in Houghton, in addition to being National Championship events, served as selection criteria for two international championship teams.
The U18 trip to the Nordic Nations Cup is regarded by U.S. Ski Team Cross Country Program Director Chris Grover as one of the reasons for the United States' growth and development in cross country in the years since its genesis (Threshold Podcast with Chad Salmela, November 18th, 2022). Developing skiers will travel to Jyvaskyla, Finland February 17th to 19th for a chance to race against some of the best young skiers in the world. Sydney Drevlow who skis for Loppet Nordic Racing qualified for the trip with strong performances in the 10 km freestyle and classic events over the week. Another Twin Cities skier, Davis Isom qualified for the boys. Isom races for Minneapolis Ski Club and posted 3rd place in the 10km freestyle individual start and two other 10 ten finishes. Other qualifying girls include: Samantha Smith (Sun Valley), Nina Schamberger (Summit Nordic Ski Club), Rose Horning (Ski and Snowboard Club Vail), Ally Wheeler (Casper Nordic), Neve Gerard (Mt. Bachelor). With Alternates Lena Pduska (Jackson Hole Ski and Snowboard Club), and Delaney Jackson (Mt. Bachelor). Other qualifying boys: Tabor Greenberg (Green Mountain Valley School), Benjamin Barbier (Steamboat Springs Winter Sports Club), Finegan Bailey (Stratton Mountain School), Owen Young (Alaska Winter Stars), Landon Wyatt (BSF), and alternates Murphy Kimball (Alaska Winter Stars) and Justin Lucas (APU).
The World Junior Championships are in Whistler, British Columbia, Canada from January 28th to February 4th. Minneapolis Ski Club will be sending Greta Hansen as first alternate after she posted two top ten finishes last week: 6th in the 10 km freestyle individual start and 7th in the classic sprint. The top qualifier for the boys is Adrik Kraftson, Stillwater, Minnesota native skiing for Northern Michigan University. Kraftson had a great week in Houghton. He was the 4th junior American in the 10 km classic interval start and won the junior classic sprint and classic mass start. Qualifying for the girls: Samantha Smith (Sun Valley), Nina Schamberger (Summit Nordic Ski Club), Haley Brewster (University of Vermont), Ava Thurston (Dartmouth), Rose Horning (Ski and Snowboard Club Vail), Hattie Barker (University of New Hampshire), and Second Alternate Emma Reeder (Dartmouth). For the boys: Anders Weiss (Montana State University), Max Kluck (BSF), Jack Lange (Dartmouth), Tabor Greenberg (Green Mountain Valley School) - declined, Jack Conde (Montana State University), Jack Conde (Montana State University), and Luka Riley (University of Colorado) - taking Greenberg's spot, with alternate Trey Jones (Steamboat Springs Winter Sports Club).
World U23 Championships will take place in Whistler alongside World Juniors. All four races in Houghton, including the freestyle sprint were part of the selection criteria for this team. Sophia Laukli and Novie McCabe automatically qualified with their top 30 results on the World Cup. Sydney Palmer-Leger also auto-qualified with two races under 60 FIS points, which she achieved during the first SuperTour weekend in Sovereign Lake. Kendal Kramer qualified based on her nationals week results, she declined the spot. Houghton native Anabel Needham also qualified with her placements last week, she has accepted her position. Alternates for the women are Sophia Mazzoni (Montana State University) and Waverly Gebhardt (University of Vermont) For the men, Ben Ogden, JC Schoonmaker, Gus Chumacher, and Luke Jager auto-qualified with World Cup top 30 results. Ben Ogden declined his spot. Zanden McMullen qualified with two races under 50 FIS points, which he also achieved in Sovereign Lake. John Steel Hagenbuch qualified based on his results over the week in Houghton.
Official Results:
2023 U.S. Cross Country Ski ChampionshipsChampionships Team SelectionsOverall SuperTour Standings
Next: Period 2 Continues in the Midwest
The next elite racing action will take place next weekend, January 14th and 15th, when the SuperTour joins the Seeley Hills Classic on Saturday and then with a classic sprint at the Birkie Trailhead in Cable, Wisconsin.
About the author...

Adam Bodensteiner is an Iowa native but fully accepted the cross country skiing lifestyle in Madison, Wisconsin. He is currently based out of North Liberty, Iowa and still finds snow as much as possible despite the almost tropical latitude. In addition to skiing, Adam enjoys running and taking his road bike on gravel rides.