FOR IMMEDIATE RELEASE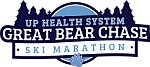 Great Bear Chase - Great Race and Great Prizes
The UP Health System Great Bear Chase is coming Saturday, March 11, at the Swedetown Trails in Calumet, Michigan. The race has a new partnership with Salomon this year that includes ski ties for all participants and a generous number of door prizes, including two pair of skis and several large backpacks.
The race includes distances of 10km, 25km, and 50km with both classic and freestyle categories, as well as a 50km skiathlon, with participants skiing 25km classic and 25km freestyle. Register now to avoid a price increase coming at the end of February.
In addition to the Salomon prizes, the U.S. Ski Pole Company has provided a pair of poles and a number of local hotels and ski shops have donated door prizes. Age group winners will receive the unique wood ski awards, with medals for the second- and third-place finishers. The overall winners of each race will receive bear paw awards.
The traditional pasty luncheon will take place after the race at Calumet High School, where there will be pasties, soup, baked goods, and fruit.
For more information and to register, visit greatbearchase.com.