Midwest MTB Report
Winter returned to the northern Midwest last week, putting a delay on dirt riding for a few more days/weeks, but more trails are opening up in the southern locales and riders are hitting the dirt as the first local races loom on the horizon. This week's report is highlighted by the fantastic finish of Jenna Rinehart as she competed in race #1 of the Life Time Grand Prix: the Sea Otter Classic. We caught up with Jenna after she returned from California with a detailed interview on how the race went down. Also included: an article on weather and mountain biking as we cash out the month of April.
Sea Otter Classic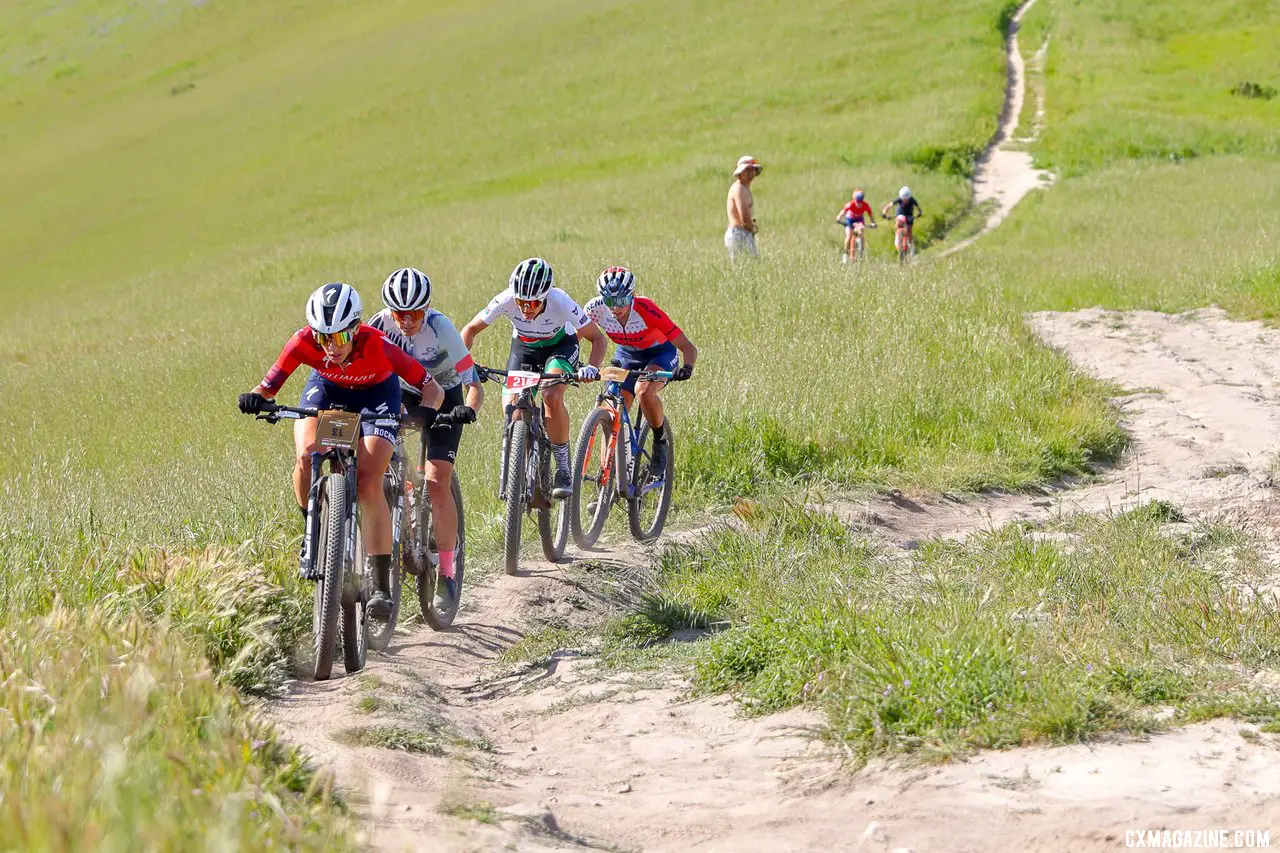 Sofia Gomez Villafane and Keegan Swenson rode to first-place finishes at the Sea Otter Classic Fuego XL cross country mountain bike race, the opening round of the Life Time Grand Prix presented by Mazda. Swenson is the reigning series champion and won at the Sea Otter Classic last year, while Gomez Villafane, who placed second in the overall and at the Sea Otter Classic last year, kicked off the series with top points.
In the women's race, a group of five racers crossed through lap one together, but that group got whittled down to just Gomez Villafane, Vera Looser and Alexis Skarda after Erin Huck and Hannah Otto dropped off. Minnesota's own Jenna Rinehart was in the mix of the top 10, putting in a great effort to finish 8th on the day and earn 5th place points in the overall standings after race one.
We caught up with Rinehart after she returned from California to get her rundown on the race.
How were the days leading up to the event?
"The days leading up to the event were honestly a bit stressful. Sea Otter was a big event when I last did it in 2009 but it's even bigger now. The expo is just massive with 1,000+ vendors, spectators, lots of media, and then all types of racing from XC, road, gravel, and gravity events. It was a challenge to just navigate though all the people to get where you needed to be. But it's really cool to see such a big cycling event and all parts of the industry coming together."
Looks like you got a new bike?
"Yes, Specialized is providing me with a mountain bike for this season. I was lucky enough to get on the just released new Epic Worldcup! The delivery and release of this bike had been delayed and getting it in time for Sea Otter came down to the wire. I wasn't able to get it shipped to MN in time before I left for Sea Otter so Specialized had it built and ready there for me. It was definitely a little nerve racking getting on a brand new bike 2 days before the event. But when I took it out for the first pre-ride I was blown away by how it climbed and handled on the descents."
Were you able to pre ride part of the course? Having raced there before, were there components of the course that were similar to last time you raced there?
"I was able to get in 2 days of pre riding the course before the race. The course was over 35 miles for one lap so this ended up being a little challenging to see as much as possible without overdoing it. The first day I rode the first part of the loop to the first feed zone which was around mile 13 and then did some navigating to find a road back to the start area and practiced the start and finish onto the track a couple times. The second day I rode back to the first feed zone and continued on the loop. I was able to see a good bit of the second half of the course but had to skip a bit as the pre-ride was getting too long for the day before the race. Looking back I probably ended up pre-riding a little too much but it was nice to get some more time on a new bike and also get familiar with sections of the course. The terrain and some sections of the course seemed familiar, but it had been a long time and the last time I raced it was a 19 mile loop. So this course definitely included some sections that I had never ridden."

What were the sensations like at the start line?
"The start line was intense. LifeTime had announced earlier this year that there weren't going to be any call ups at any of the events. Then a couple days before the race we got an email that said they would call up the LTGP riders first and only for the Sea Otter race. Well I guess the night before the race they decided to call up a few other riders who weren't part of the series but had some big results at other events. They ended up calling up these riders first and didn't mention this to the other racers. They only called up a few of the LTGP riders from last season and then it was a free for all. Some racers were pretty upset. I ended up starting about third row back."
How did the race unfold? For that long of a distance I can imagine it could be very complex?
"The start of Sea Otter is probably the hardest most important start of all the races in the series. You start on the car race track with a couple minute climb to the top where the course quickly funnels into single track. The first single track section is about 5 miles long with some good downhill sections and pretty much no room for passing. I had been nervous about this start for a long time. The LTGP brings an interesting mix of riders together from different backgrounds of cycling. I knew it was going to be super important to get on the right wheels and not get stuck behind riders that aren't as comfortable on a mountain bike. I ended up getting boxed in a little bit on the track but put in a big push toward the top to get around a bunch of riders before we hit the dirt. When we entered the single track I was about 12th place and found myself on the wheel of the woman who had won the series overall last year. I thought this would be a great wheel to follow as she is a mountain biker. Unfortunately she was not feeling great at the start and started to let some gaps open up to the riders up ahead. As soon as I could find a spot I made a pass and then passed a couple other riders. At this point a group of 4 had gotten off the front. I ended up grouping together with 3 other riders and we formed the chase group. We worked well together and took turns rotating on the gravel roads. For the first lap the gap was about a minute to the front and we brought it down to about 45 seconds at one point. The last quarter of the first lap we got caught by a couple men who started in the wave behind us. When they passed us our group tried to jump on their wheel. I quickly realized this was taking me over my limit so I backed off. Two of the women hung on for a while and one even bridged up to the front group. I ended up riding with Sarah Sturm for almost the entire race. We took turns rotating and half way through the second lap we caught back up to Evelyn who was riding with us earlier in the chase group. The 3 of us worked together for a while but with about 5 miles to go my legs really started to feel the steep climbing efforts. A couple times I was on the verge of cramping and had to back off a bit. Sarah and Evelyn pulled away from me. I was a little bummed I couldn't stay with them and lost a couple minutes in those last few miles but I was just happy to not get caught by any other riders. I think I learned a few things about fueling and I should have taken in a bit more for that long of a race. I also hadn't been on a mountain bike since the end of February. Those low cadence steep climbing efforts are hard to replicate on a gravel bike and I could definitely feel it in my legs the second half of the race. But I'm super excited with my result and kicking off the Grand Prix."
Any particulars on your bike set up?
"The new Specialized Epic World Cup comes with a standard seat post. I thought this would be just fine for this course but after pre riding it the first day I changed my mind. The single track was more rutted than usual because of all the rain California got this year and some of the descents were steeper than I remembered. I ended up putting a dropper post on for the race and I'm super happy with that decision."
Anything unusual happen during the race?
"No nothing unusual I can think of outside of normal racing things."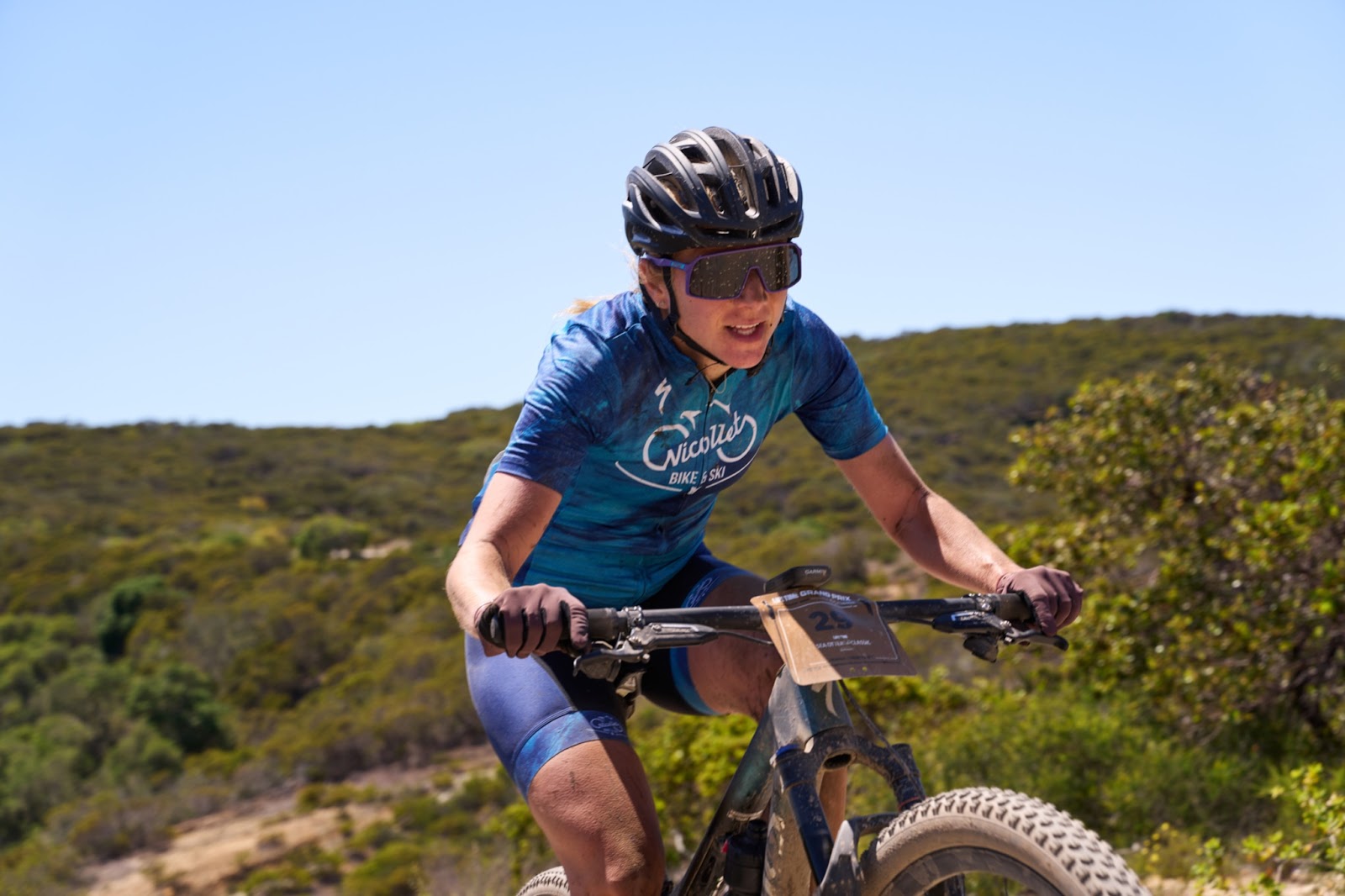 The weather can be a mixed bag. How was it this year?
"The weather was pretty much perfect for race day. About 50's when we started and warming up to the upper 60's and sunny by the end. There is pretty much always some wind at Sea Otter being so close to the coast. This helped cool you off a bit on the climbs but I was thankful to have other riders to work with in the headwind sections."
Moving forward with the next race not until June and one of the longer races, what will be your preparation until the Unbound Gravel event?
"The next race is completely different from Sea Otter. The variety of the events I think is one of the more interesting and cool things about the series. I think we will see a big shake up in the results from Sea Otter to Unbound. With the race being so different my training will definitely change up a bit. I will be backing off on the high intensity a little and focusing on getting some longer rides in. I will also be really working on nutrition because I think that is the biggest challenge. Practicing fueling and figuring out what works best for me. I also will do rides with a hydration pack as the extra weight can cause back issues over long distances if you aren't used to it. And I need to work on practicing flat fixing and going through other mechanical issues I may have to try to fix while I'm out there. The gravel is sharp at Unbound and a lot can happen in 200 miles."
Related: Sofia Gomez Villafane and Keegan Swenson Take Sea Otter Fuego XL, Life Time Grand Prix Race #1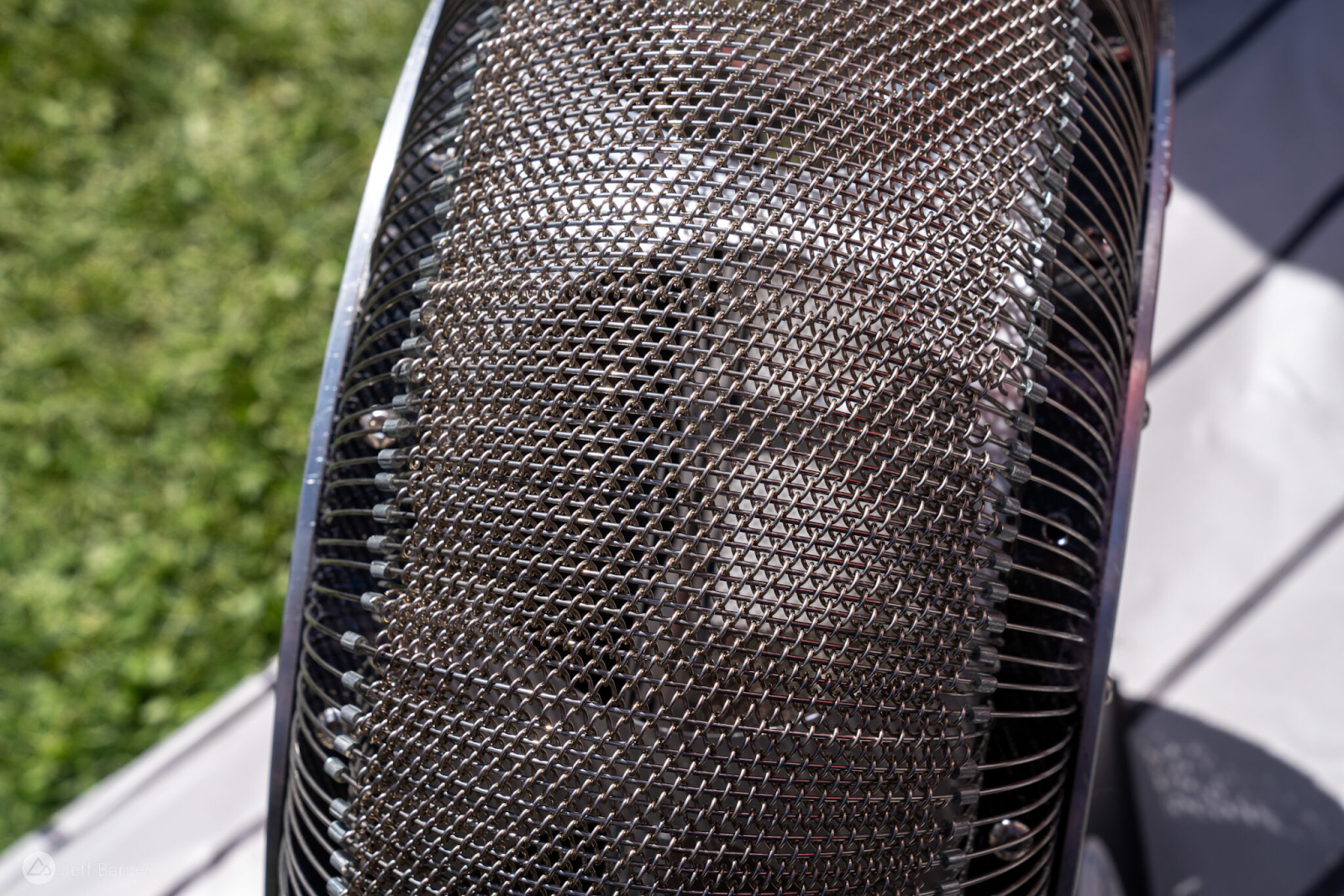 Sea Otter is always a major event for manufacturers to reveal new products. Singletracks.com highlights some of them in an article published to their website.
Whatever the Weather
Now more than ever, weather seems to factor in our day to day lives. Having access to weather information at our fingertips 24/7 has mostly been good, but I almost long for the days when we didn't really know what the weather would be exactly; it added to the element of surprise and adventure. Sometimes we get caught in weather while mountain biking which usually makes for a more memorable ride and turning out just fine. Now it seems we are almost controlled by the weather instead of controlling what we can control, and that's dressing properly and enjoying the weather we get because it's the only weather we get! Remember, we are not entitled to the weather we want but the weather we get!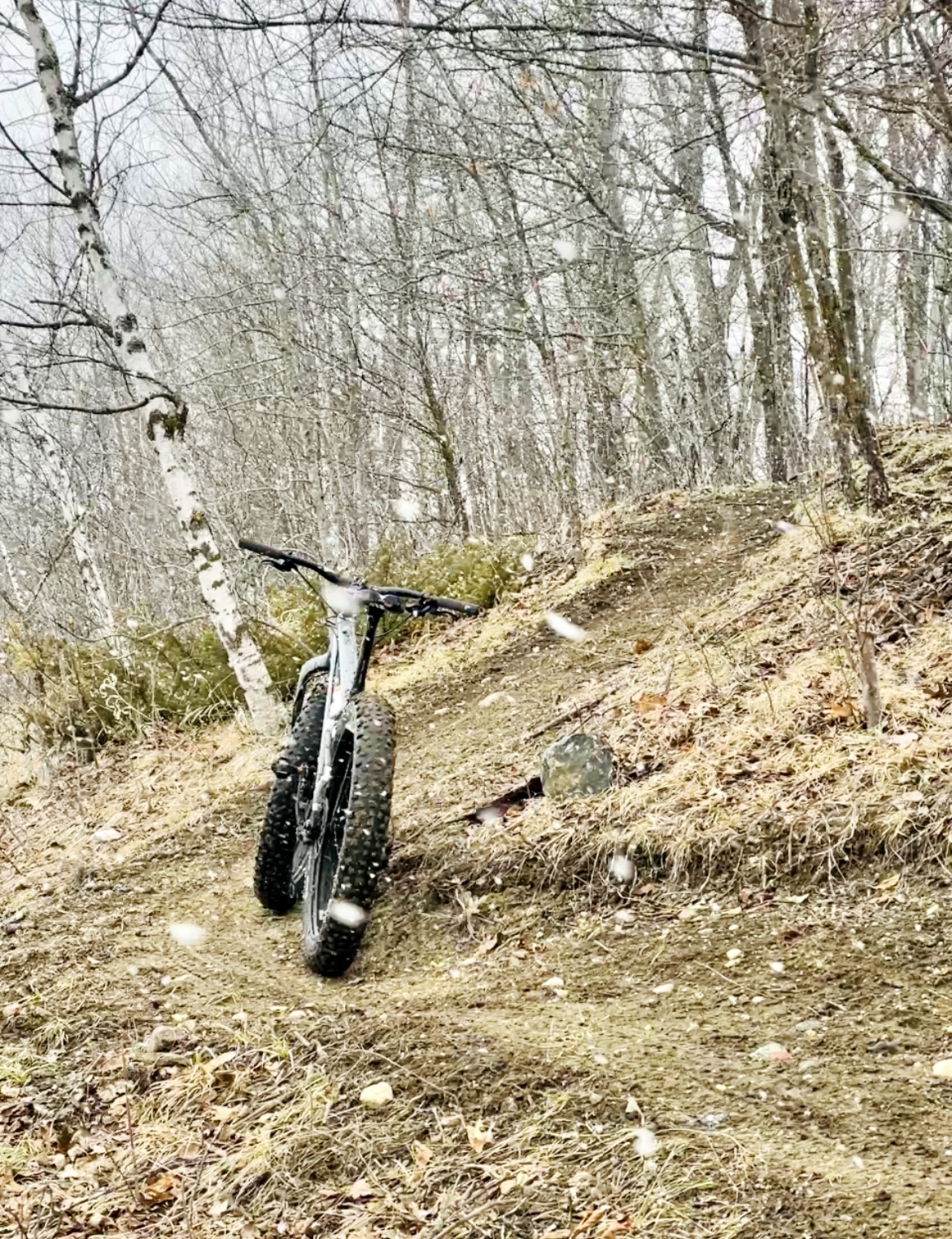 Meteorologist Kristin Clark who recently resided in Minneapolis, now living in the Pacific Northwest, highlights in an article:
"Plenty of mountain bikers style themselves armchair meteorologists, which is not surprising given how the weather impacts our rides, from trail conditions and closures to deciding what to pack and wear during the ride. An actual meteorologist, Clark has a professional understanding of weather that mountain bikers can use to ensure safe, fun rides."
World Record Ski Jump Does Not Go According to Plan
An attempt to set a world record for longest jump on a mountain bike didn't quit go as planned for Pro Mountain Biker Johannes Fischbach. Everything was going smooth until a last second nosedive at 55mph that terminated in an endo for the ages. Thankfully Johannes popped up at the bottom of The Vogtland Arena ski jump in his native Germany and seemed to be in one piece.
Keep the wheels moving!
About the author...

Jay Richards maintains a very active lifestyle. He somehow finds time between managing a full-time resort (Maplelag) and bringing up a family of four boys with his wife Jonell, to compete in both mountain bike and a few cross-country ski races. Jay rides for Maplelag Resort, manages the Maplelag mountain bike team and enters his 33rd year of racing and promoting mountain bike races.

Have an event or mountain bike related information to share from the Midwest? Feel free to contact Jay at