Haig Glacier Trip Recap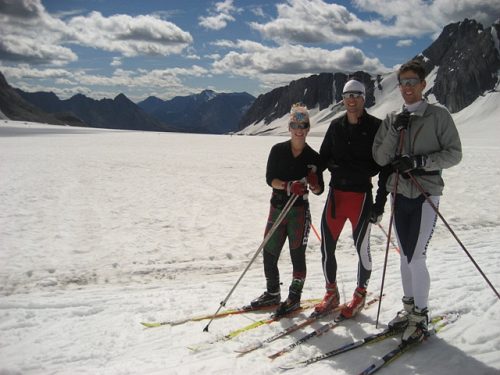 Two years ago Brian Gregg and I attended a training camp together on the Haig Glacier… a Canadian national training facility. The camp was such an amazing experience; I decided to bring back a group of skiers from the Midwest. We had a group of 9 skiers from juniors through masters.
The group drove from Gear West Ski and Run to Canmore Alberta. Once in Canmore, we checked out the Bill Warren Training Center roller ski track. After a night in the Bow River Campground we dropped our bags and skis for the helicopters and enjoyed a 3hr hike to our alpine camp.
Everyday our camp staff groomed for us and prepared 3 awesome meals which allowed everyone to focus on training and recovery. The skiing was great and we had not a drop of rain the entire trip. Afternoons were occupied with hiking, trail running or strength. Evenings included review to the day's technique video. Everyone on the camp managed to train over 30hrs for the 7 day period and a good time was had by all.
Looking forward to next year!